Easy Gingerbread Traybake Cake
Enjoy this gorgeous gingerbread traybake cake this Christmas. It's topped with ginger frosting/ ginger buttercream frosting and is packed full of Christmas flavour. As extra decorations on top of the frosting I have added the cutest gingerbread pieces and of course sprinkles! This is a great traybake recipe to make with the family and will be enjoyed by all ages.
Traybakes have started being really popular on the blog and I love making them. They are simple to make absolutely delicious to enjoy. I love how they can be casual cakes for a Saturday afternoon treat with the family. To dressed up to be gorgeous event cakes.
Plus of course, adapted for each seasonal too. Traybakes are so versatile and that is why I love them so much. Right now it's Christmas I wanted a gingerbread traybake.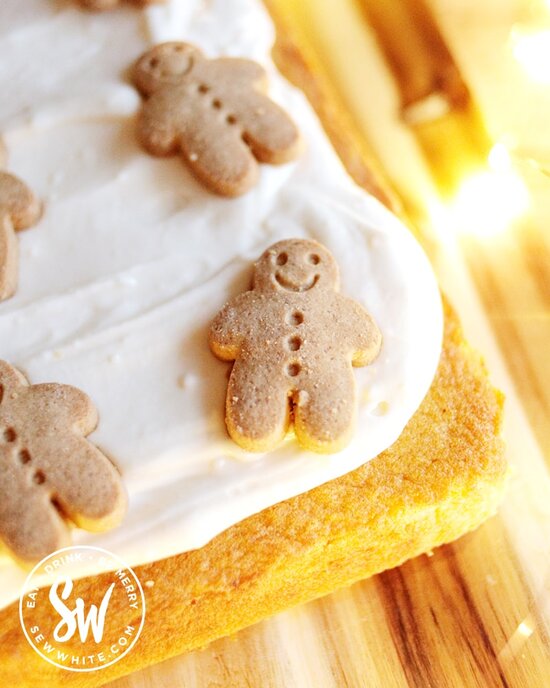 I adore ginger flavours. Gingerbread especially is a weakness of mine and I have to dive in and always buy it when I see it. Especially iced gingerbread. Oh the delicious mix of crisp gingerbread and hard royal icing. It is the best. Anyway, let's get back to the gingerbread traybake recipe.
What is the difference between Gingerbread and ginger cake?
Around the world, the names do change slightly which can make it confusing but overall they are different.
Gingerbread is usually the hard biscuit type cookie which is cut into a shape with a cookie cutter at Christmas. It's also the strong biscuit/cookie that you use to build a gingerbread house with. It is a hard and strong biscuit which is brilliant for dunking into your coffee or tea.
The ginger cake is usually a rich and moist cake. Often done as a loaf in a lot of places. Some are made with molasses or treacle to really boost that rich sugary sweet flavour that works so well with the ginger spice.
Can I freeze homemade ginger cake?
Leave to cool completely in tin before turning cake out. (To freeze: wrap in greaseproof paper, then in cling film. Freeze for up to 1 month.) To make the icing, mix together icing sugar and lemon zest, then gradually add lemon juice until you have a smooth, slightly runny icing, adding more juice, if needed.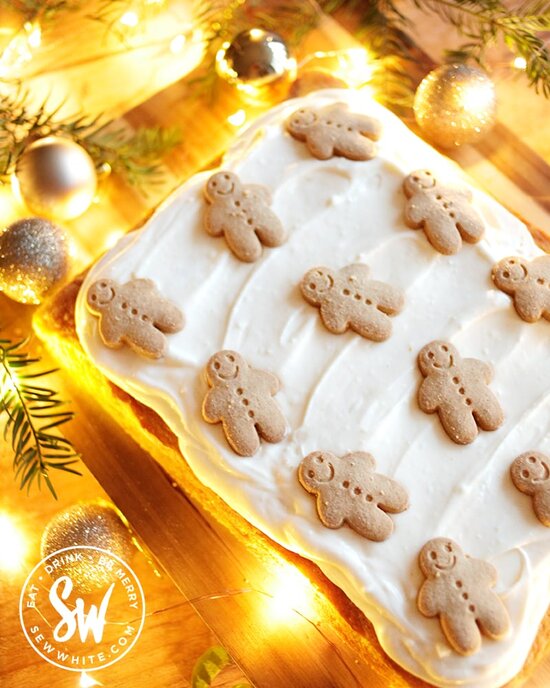 What is gingerbread spice made of?
Gingerbread spice is different from ground ginger. Gingerbread spice is a mix of the rich winter spices including ground ginger, cloves and cinnamon. For this spiced gingerbread cake recipe you could use either as they will both work. It's a lovely easy cake to make and the flavour of gingerbread in a traybake is truly delicious.
Can you freeze the gingerbread traybake?
Yes you can! The best part about this gingerbread traybake is that you can pop it in the freezer once cooked (before you put the frosting /icing on). It freezes really well and will last in there in a few months. Perfect for making ahead for Christmas.
If you are going to freeze it make sure you pop it in a plastic box or something strong to protect it from being bashed and dented as it freezes.
To freeze it wrap it in clingfilm once the cake is cooked and cold. Then pop in a box in the freezer. It's that simple!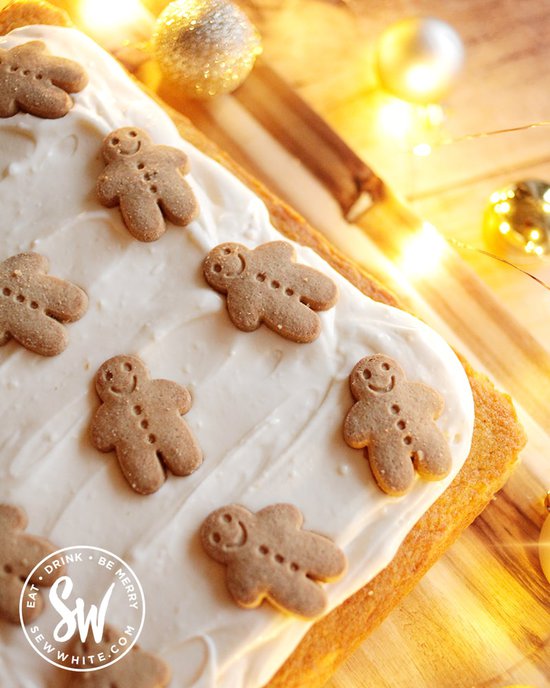 Can you freeze cake in Tupperware?
Yes, you can it works so well! Place your cake in an airtight plastic food container and pop it in the freezer. It is best to freeze this gingerbread traybake once cooked but before you add the icing. The icing can go a bit runny if frozen and then defrosted.
Freezing cake in a box helps make sure the cake doesn't get damaged or dented when in the freezer.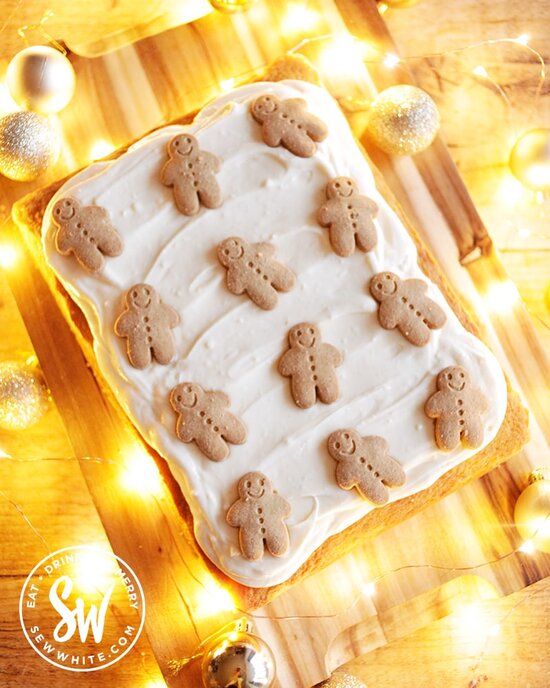 What do I need for the Gingerbread Traybake Cake?
380 g unsalted butter (or baking block like Stork)
100 g light brown soft sugar
250 g caster sugar
4 medium eggs
375 g plain flour
0.5 teaspoon baking powder
small pinch salt
3 teaspoons ground ginger
0.5 teaspoon mixed spice
150 ml semi skimmed milk
What do I need for Ginger Buttercream Cream Cheese Frosting?
I love this ginger buttercream cream cheese frosting and it so easy to make. To create it you only need 4 ingredients.
125 g unsalted butter
150 g icing sugar
1 teaspoon ground ginger
180 g cream cheese
Gingerbread traybake without treacle
I have made this traybake a few times and at first it did have treacle in to boost the rich flavours. As I know a few people who don't like treacle I decided to try and create a recipe for gingerbread traybake without it.
To add a richer warmer flavour I added soft dark brown sugar. You can also use soft light brown sugar if you don't have soft dark sugar.
Gingerbread cake recipe without molasses
In this gingerbread cake recipe without molasses I manage to create a succulent and spicy cake without using molasses. Molasses are common in gingerbread cakes but I find it overly sweet and a rich flavour. Plus I think a gingerbread cake without molasses produces a lighter ginger cake but still packed full of flavour.
Make it a lemon and ginger tray bake
If you want to change the flavour slightly and make it lighter and with a citrus taste, add some lemon to the mix. Adding the zest of one small lemon plus the juice from the lemon will give a lovely flavour to the finished traybake. A lemon and ginger tray bake transports the humble gingerbread traybake into a traybake that can be made all year round.
If you like ginger and lemon as a flavour combination you might also enjoy this recipe from my catalogue.
Lemon and Ginger Flapjacks – Royal Wedding Bake
With the Royal Wedding proving a great inspiration for baking I've joined in for my local street party with these lemon and ginger flapjacks.
Check out this recipe
Mary Berry ginger traybake
The first traybake I ever made was a Mary Berry ginger traybake. I was obsessed with ginger from an early age and I still am. Over the years my recipe has taken on a life of its own and I really adore it now.
It's so easy to eat and this gingerbread traybake cake has become a favourite even with a few friends who said they would never eat gingerbread cake, they asked for seconds. Mary Berry has definitely been the centre of so much of my baking experience and starts when I younger.
Other recipes you might enjoy during the festive period
Christmas Chocolate Traybake
If you are looking for an easy Christmas chocolate traybake then you are in the right place. This Christmas I have created a beautifully easy chocolate sponge traybake cake topped with a rich and delicious chocolate cream cheese buttercream. My Christmas traybake cake will bring a smile to everyone you share it with. It is the perfect base to add your favourite Christmas sprinkles and decorations. A great cake to decorate with kids this Christmas too. This is an easy chocolate traybake recipe that will be a family favourite and made time and time again. I really hope you enjoy this easy chocolate traybake (chocolate sheet cake) for Christmas.
Check out this recipe
White Chocolate Christmas Cupcakes
These White Chocolate Christmas Cupcakes are the cutest addition to a Christmas party. They are easy to make, taste delicious and look wonderful.
Check out this recipe
Easy Christmas White Chocolate & Cranberry Cake
It's finally Christmas season and that means it's time to enjoy this easy chocolate cranberry cake! It's fruity, sweet and creamy – and ridiculously delicious!
Check out this recipe
Cranberry Cheesecake – No Bake
My delicious Cranberry and Orange Christmas Cheesecake is a beautiful fruity and creamy dessert packed with iconic Christmas flavours.
Check out this recipe
Linked up to this week's Cook Blog Share being hosted by https://www.cookingwithmykids.co.uk
Follow me on instagram to see what I've been making recently. www.instagram.com/sewwhite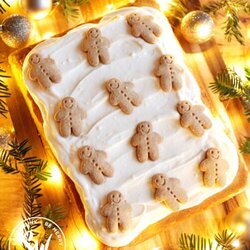 Gingerbread Traybake Cake
Enjoy this gorgeous gingerbread traybake cake this Christmas. It's topped with ginger frosting/ ginger buttercream frosting and is packed full of Christmas flavour. As extra decorations on top of the frosting I have added the cutest gingerbread pieces and of course sprinkles! This is a great traybake recipe to make with the family and will be enjoyed by all ages. An easy gingerbread sheet cake which will go into your Christmas favourites too.
Equipment
9 inch x 12 inch cake tin

greaseproof paper

Mixing bowl x 2

Wooden spoon

weighing scales

Electric whisk
Ingredients
380

g

unsalted butter

(or baking block like Stork)

100

g

dark brown soft sugar

250

g

caster sugar

4

medium

eggs

375

g

plain flour / all purpose flour

0.5

teaspoon

baking powder

small pinch

salt

3

teaspoons

ground ginger

0.5

teaspoon

mixed spice

150

ml

semi skimmed milk
Ginger Cream Cheese Buttercream Frosting
125

g

unsalted butter

150

g

icing sugar / confectioners sugar

1

teaspoon

ground ginger

180

g

cream cheese

Gingerbread men

Sprinkles
Instructions
Preheat the oven to 180ºC.

Grease and line a 9 inch by 12 inch traybake cake tin with greaseproof paper.

In a large mixing bowl cream together the butter and sugars until light and fluffy.

Sieve the flour, baking powder and the salt in to the mixing bowl.

Mix in the ground ginger. Mix them in until well incorporated.

Gently add in the milk. If it starts to curdle add 1 tablespoon of plain flour.

Pour the mix into the prepared tin and level out. Gently tap the tin on the worktop to remove any air bubbles.

Bake fro 35-40 minutes until the centre of the cake is cooked – use a cake tester or skewer to check. If the tester comes out clean the cake is cooked. If it has pieces of uncooked cake on leave the cake to cook for a few minutes more and test again.

Leave in the tin to cool for 30 minutes and then remove from the tin to cool completely.
Cream Cheese Buttercream
Make sure the unsalted butter is at room temperature as it will help make it a lot easier to make.

Using a hand mixer, mix the butter and icing sugar.

Add the cream cheese and create a smooth mix. It should be more thick than runny and will hold its shape. If it's too runny add a tablespoon of icing sugar at a time and whisk until it thickens up.

Smear the gingerbread cream cheese buttercream thickly over the cold cake.

Decorate with gingerbread men and your favourite Christmas sprinkes.
Notes
•The cake will last for up to 5 days in an air tight container.
•Store somewhere cool but not the fridge.
•For the best results use the eggs and butter from room temperature.
Nutrition
Calories:
667
kcal
Carbohydrates:
71
g
Protein:
8
g
Fat:
42
g
Saturated Fat:
26
g
Cholesterol:
162
mg
Sodium:
97
mg
Potassium:
262
mg
Fiber:
5
g
Sugar:
42
g
Vitamin A:
1332
IU
Calcium:
68
mg
Iron:
3
mg
Please note that the nutrition information provided above is approximate and meant as a guideline only.
Other traybakes you might like
Easy Blondie Recipe
This Easy Blondie Recipe will become a family favourite bake in no time. It's the best blondies recipe that can be adapted to include your favourite chocolates or candy. A blondie is a brownie without the cocoa powder and is like a delicious chunky vanilla cookie. Explore my recipes on how to make blondies at home.
This easy Blondie Recipe is perfect picnic food, easy party food and a lovely bake to make at the weekend with children. This simple recipe will be the best thing you've baked all week! I hope you enjoy my squidgy blondies recipe.
Check out this recipe
Raspberry White Chocolate Cookie Traybake
This is an epic chunky cookie! It is my super easy to make raspberry white chocolate cookie traybake. Now a family favourite and the perfect bake for relaxed afternoons or even a party.
Check out this recipe
Mini Egg Cookie Traybake
My Mini Egg Cookie Traybake takes my cookie tray bake recipe and gives it a super Easter twist. It's pretty much a chunky cookie dotted with mini eggs.
Check out this recipe