Slow Cooker Venison Sausage Stew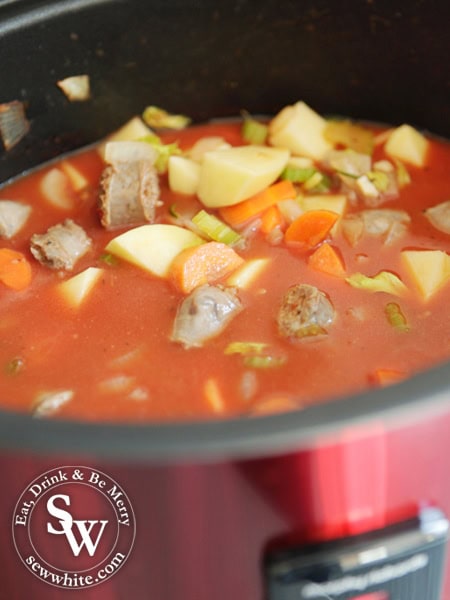 My Slow Cooker Venison Sausage Stew is a delicious and filling dinner perfect for Autumn and Winter nights. Venison sausages or cubes both work really well.
It's winter and a good stew is definitely calling. I also love that I can pop it all in the slow cooker and a few hours later it's ready. Easy food is definitely a winner in my eyes. I do love the addition of the celery leaves it adds a natural pepperiness which works so well. Earthy and delicious flavours are what makes this recipe so great.
Since I bought my slow cooker I have been a bit obsessed with trying out new recipes. The slow cooker I bought was the Morphy Richard's Sear and Stew (affiliate link). I decided on this one because the metal dish can be taken out and used on the hob like a normal pan before being placed back in the slow cooker. I've found this so useful for softening onions and for searing meat before setting it on it's slow cooking journey.
For this meal I seared the sausages off first. I then added the onion and reduced the heat on the hob to help soften them. Once they were done I put the dish back into the slow cooker, added the other ingredients and left it like usual. Slow cookers are so useful and I've loved owning one. I definitely plan to use it more this year.
Slow Cooker Venison Sausage Stew Recipe
Slow Cooker Venison Sausage Stew
My Slow Cooker Venison Sausage Stew is a delicious and filling dinner perfect for Autumn and Winter nights
Ingredients
10

venison sausages cut into 2cm chunks

olive oil

2

onions

2

cloves

of garlic

2

carrots

2

sticks celery

handful of celery leaves

2

sprigs of rosemary whole

2

beef stock cubes

1

vegetable stock cube

Glug of red wine

500

g

passata

3

baking potatoes
Instructions
Remove the dish from the slow cooker and put on the hob and put it on a medium heat. Add a little oil and add the sausages.

Chop the onions and add them to the pan when the sausages are cooked. Put them on a lower heat to soften them.

Remove the sausages and chop into chunks.

Turn the slow cooker on to a medium heat and put the dish back inside.

Chop the garlic, celery, carrots and potatoes (above 3cm squares) and add to the pan.

Boil the kettle and make up stock using the stock cubes and about 500ml of water and add to the slow cooker with the red wine.

Add the passata and stir in the celery leaves and rosemary.

Season with salt and pepper.

Leave on a medium heat for 5-6 hours. Giving it a stir when you can and topping up with a bit of water if it needs it.

Enjoy with a glass of red wine.
This is my first ever entry for the #slowcookedchallenge being run by Farmer's Girl Kitchen and Baking Queen 74 . They have a brilliant monthly round up of the best slow cooker recipes including main meals and even cakes! I really need to try some of the cakes 🙂

Follow me on instagram to see what other cakes I've been making recently. www.instagram.com/sewwhite
Other recipes you might enjoy from my collection.
Easy Slow Cooker Lamb Stew
My easy slow cooker lamb stew is a delicious and easy spring dish. Pop everything in the slow cooker and leave it cook all day.
Check out this recipe
Beer Pulled Pork Recipe
Pulled pork is incredibly popular at the moment and making it in a slow cooker is really easy. The Beer Pulled Pork can be used in so many different ways but a family favourite is using it in burgers.
Check out this recipe
Quick & Easy One-Pot Tomato Olive Pasta
This easy one-pot tomato olive pasta is a quick and delicious dinner that only takes 20 minutes to cook! It's perfect for dinner any day of the week!
Check out this recipe
Christmas One Pot Chicken
Christmas is stressful when it comes to cooking so I've come up with a really simple one pot chicken recipe which keeps the Christmas flavours.
Check out this recipe
Easy Toad in the Hole
September and slightly cooler weather is bringing in the love of oven bakes. The favourite in our house is Toad in the Hole and it's so easy to make.
Check out this recipe
Sausage and Lentil Pasta
A rich and warming dish for winter nights is my dad's Sausage and Lentil Pasta. Cooked with chorizo and tomatoes it's a great healthy and tasty dish.
Check out this recipe