Spicy Bean Beef Stew
Branston Beans are celebrating their 10th birthday and I've been involved in creating a delicious dinner to showcase how they can be used in other meals than the delicious and famous beans on toast. I give you my delicious (if I do say so myself) Spicy Bean Beef Stew.
Branston beans are a brilliant item to have in the cupboard as they can be added to so much more than most people think. You can add them to chilli con carne, shepherds pie and even my favourite beef stew. They can add a lovely addition to any dinner and as they are already cooked through you don't have to wait for ages for them cook in a dinner.
The Branston beans have recently been voted by the Good Housekeeping Institute as the best beans! After trying them in the stew I can see why.
My beef stew is very easy and you don't need to get too much from the supermarket. This meal cost £15 including wine and fed 4.
Ingredients
-1 tin of Branston Beans
-500g diced beef
-2 red onions
-2 carrots
-2 parsnips
-fresh chilli to taste
-2 beef stock cubes
-300ml hot water
-2 tins of tomatoes
-salt and pepper
-half a teaspoon of dried thyme– a good glug of worcester sauce
-a good glug of red wine (optional)
Method
-Preheat the oven to 150 degrees.
-Chop up the red onion and in a casserole dish on a medium heat soften with a little oil.
-When the onion is soft add the beef.
-Peel and chop the carrots, chilli and parsnips.
-When the beef is cooked on most sides add the carrots and parsnips.
-As they start to soften add the stock cubes and the water. When it starts bubbling at the tomatoes, salt, pepper Worcestershire sauce and thyme.
-Pop the lid on the casserole dish and pop in the oven for 1hour 30minutes. (The dinner will be ready in 2 hours from when it goes into the oven).
-If you want dumplings make them according to the Atora beef suet pack. If you want potatoes with it instead, time them to be ready 2 hours from when the stew goes into the oven.
-After 1 hour 30 add the Branston beans and the dumplings. If you add the beans too early they will turn to mush in the stew. Adding them at this moment helped keep them whole but hot.
-Cook for 30 minutes more.
-Serve with a good glass of red wine and enjoy on a cold autumn night.
The Branston beans really added a delicious extra taste and texture to the finished stew and everyone who ate it commented on how nice they were. I've already had to give this recipe to all who tried it with two wanting me to cook it for them again next weekend.
A little thing as a bonus; I really liked how the tomato sauce helped thicken up the stew in it's last 30 minutes in the oven.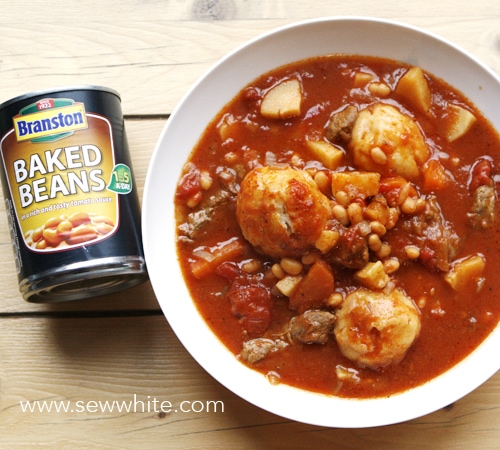 This is one very happy delicious bean filled dinner!
#LoveBranstonBeans
Disclaimer; this is a sponsored post.