Cranberry and Lime Hot Cross Buns
My Cranberry and Lime Hot Cross Buns are a super twist on the classic treat for Easter.
I have never made hot cross buns before but when given the opportunity to add my own twist on the classic I couldn't say no. I love the flavours of cranberry and lime and it worked so well in the hot cross buns. I've already got family orders to make more this week.
I loved my wicker basket filled with hot cross buns, it was too cute!
How to make Hot Cross Buns
The gorgeous fruit and spices ready to be kneaded into the dough. The colours and smells were a feast for the senses.
Even at this time the dough looked and smelled and incredible. Even with all the fruit I was so surprised how much the dough rose when it was proving.
I loved drawing the crosses on the buns although I made the flour paste a little too runny but it worked! I think out of the whole recipe this is the bit I need to master. I don't think they've ever looked bad yet. If they did they were eaten. So they didn't exist!
After baking the kitchen smelled divine and I desperately waiting for them to cool so I could eat one. They were so shiny when they were fresh out of the oven. The glaze worked beautifully. We all ate them when they were still warm and they were amazing. What a treat!
Cranberry and Lime Hot Cross Buns Recipe
Print Recipe
Cranberry and Lime Hot Cross Buns
My Cranberry and Lime Hot Cross Buns are a super twist on the classic treat for Easter.
Servings:
12
hot cross buns
Ingredients
500

g

strong white bread flour

plus extra for dusting

10

g

salt

10

g

instant yeast

80

g

caster sugar

50

g

unsalted butter

2

medium eggs

120

ml

warm semi skimmed milk

100

ml

cool water

75

g

cranberries

75

g

currants

80

g

chopped mixed peel

Zest of 2 limes

2

teaspoons

of mixed spice

1

teaspoon

of cinnamon
For the crosses
75

g

plain flour

75

ml

water
For the glaze
100

g

Hartleys's smooth apricot jam
Instructions
Sieve the flour into a large bowl and add the salt, sugar and yeast.

Add the soft butter, eggs, milk and half the water. Here is where it gets messy. With one hand start bring all the mix together. Add a little more water if you need it to make a soft but not soggy dough

Tip the dough from the bowl and knead for 5-10 minutes with a little flour to stop it sticking to the work top until smooth.

Add the cranberries, currants, mixed peel, lime zest, mixed spice and cinnamon to the dough and knead in until evenly spread through the dough.

Pop the dough into lightly oiled bowl and leave for at least an hour until doubled in size. I left it for 2 hours.

Take the dough from the bowl and give it a quick knead to get the air out.

Line a baking tray with greaseproof paper.

Divide into 12 and place the balls on the tray with about a 1cm gap between them.

Place the baking tray somewhere warm for 1 hour for the buns to rise.

Meanwhile, heat your oven to 220°C/200°C fan.

For the crosses mix the flour and water in to a thick paste. Pop the flour paste into a piping bag and draw the crosses across the buns.

Bake for 15-20 minutes until golden brown.

While the hot cross buns are baking warm the apricot jam as soon as it's baked remove from the oven and brush over the tops of the warm buns to glaze.

Leave to cool slightly before tucking in.
Pin me for later
I'm entering these hot cross buns into Lucy at Supergolden Bakes weekly round up #CookBlogShare.
I am also entering these cookies into the Tea Time Treat being hosted by Janie at The Hedgecombers and Karen at Lavender and Lovage.
The theme this month is biscuits and cookies. #teatimetreats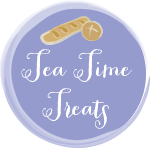 Speckled Easter Pinata Cake
A wonderful Easter cake. Duck egg blue icing is speckled with cocoa powder. Inside there is hidden Easter eggs in this delightfully fun cake perfect for a fun Easter cake.
Check out this recipe
Avocado Easter Egg
Who wants to make an Avocado Easter egg? I love Avocados and the chance to try making an Avocado Easter egg was just something I couldn't pass up.
Check out this recipe
Mini Egg Cookie Traybake
My Mini Egg Cookie Traybake takes my cookie tray bake recipe and gives it a super Easter twist. It's pretty much a chunky cookie dotted with mini eggs.
Check out this recipe
Brilliant Chocolate Bundt Cake
I love chocolate cake so I created this beautiful chocolate bundt cake. For Easter I turned it into a chocolate nest and filled it with mini eggs.
Check out this recipe
Hot Cross Bun French Toast
With all the fruits and spices it's safe to say Hot Cross Bun French Toast is a brilliant breakfast and super Easter treat.
Check out this recipe
Creme Egg Pancakes
Creme Eggs are so popular that I couldn't help trying to turn them into pancakes. Creme Egg stack of pancakes are easy to make and so moreish!
Check out this recipe
Easter Chocolate Fridge Tray Bake
These Easter Chocolate Fridge Tray Bake are always a fabulous addition to an Easter party or event. Quick to mix up and they fridge bake in about an hour.
Check out this recipe