Tea and Biscuits – Smarties Cookies
I love smarties cookies and I thought Id' share my recipe for them.
There should have been more smarties on the cookies but I ate them as I was mixing the mixture.

Ingredients
60g of unsalted butter
40g dark brown sugar
50g caster sugar
1 medium egg
100g plain flour
¼ tsp of baking powder
tiny pinch of salt
60g rolled oats
½ tsp of ground cinnamon

150g smarties
If you want to make them more chocolatey, remove 20g of flour and add 30g of cocoa powder.
Method
-Preheat the oven to 180 degrees, 160 degrees fan
-Cream together the butter and sugars until light and fluffy. Mix in the egg.
-Sieve in the flour, baking powder, cinnamon and salt.
-Add the oats and 100g of the smarties.
-The consistency should be slightly sticky. Add a little splash milk if it is too dry.
-Put heaped half teaspoons on to greaseproof paper lined baking tray and push down slightly and stud with the remaining smarties. Make sure the cookie heaps are far away from each other as the cookies will spread.
-Bake for 10-15 minutes until golden brown.
I am entering these into the Chocolate themed Tea Time Treat being hosted by Janie at The Hedgecombers and Karen at Lavender and Lovage.
#teatimetreats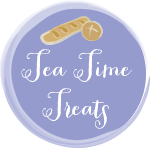 My favourite place to store my bakes at the moment is this fabulous biscuit looking box from Snips. It looks like a giant biscuit! Everyone who has spotted this in my kitchen has loved it!
 It's incredibly air tight. So much so that it's rather tricky to get the lid off. I absolutely love it and makes me smile everytime I see it my kitchen. Plus being able to see the cookies in it makes me happy too.
What goes well with cookies? Tea of course!
To go with my incredibly brilliant biscuit box is this superb tea caddy. It's air tight too and the lid is silicone so it can be stored on it's side in the tea cupboard which makes it easy to get out without having to move everything. It has been designed to fit the individual packets in. I have had tea caddies before which were just a tad small to fit the tea in – that seemed rather pointless so in the end I got rid of it. I love that tea caddy box has dividers too which makes my OCD tea organising happy.
 I love the silicone teapot design on the top and that it says exactly what it's for.
I really love the kitchen gadgets from Snips. The items are so quirky but so brilliantly useful.
I was given the products to review. All opinions are my own as is the recipe.