Cakes by Robin in Wimbledon produce incredible cakes and I was lucky enough to try their beach cake.
The bake off is back and the summer is filled with cake again. This amazing cake from Cakes by Robin from Southfields in SW London combines the two perfectly. It is a lovely beach scene with golden sand, blue sea, shimmery shells, a beach hut, beach ball and bucket to build sandcastles with plus a melting ice cream!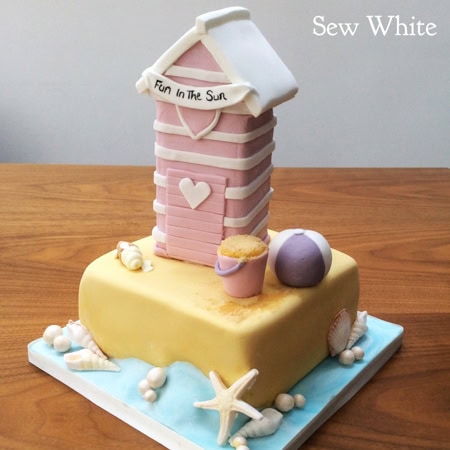 This is a very special cake and was made more specials by the gorgeous details.
The shells and pearls were so cute especially with the gold and silver shimmer on.
They really caught the light and made the cake a lot more elegant.
The little details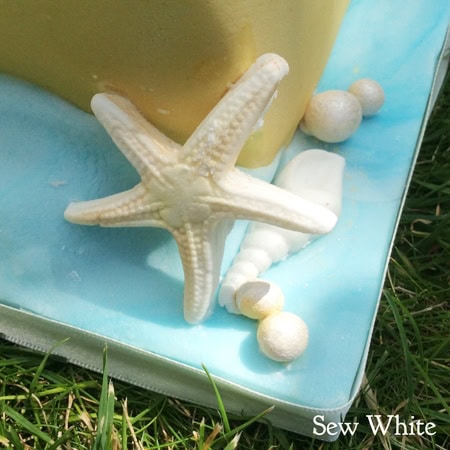 The little banner on the beach hut was one of my favourite little details. I love it!
It's so cute and makes the cake even more special.
We were a little sad to find the hut wasn't made of cake but we sure did enjoy the main cake a lot!
My favourite little detail was the bucket full of sand. I love the texture created by the sugar and the little handle makes it adorable too.
This cake would be fabulous to enjoy at a party or summer barbeque.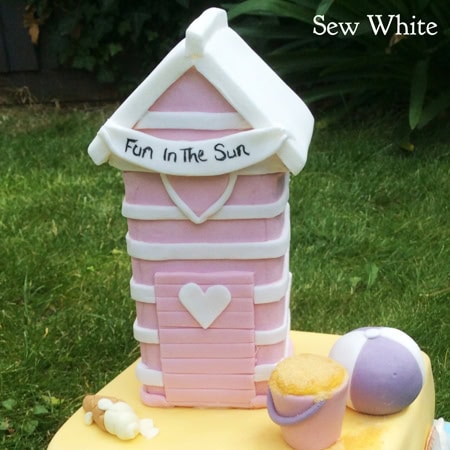 The sponge cake by Cakes by Robin
 The cake was a gorgeous chocolate sponge cake with chocolate fudge filling and covering then covered with sugarpaste. I never would have guessed looking at the cake that it was chocolate inside. Cakes by Robin really manages to keep the icing clean and chocolate free. I would have bet it was a vanilla cake inside!
I am very glad I was wrong. The chocolate cake was splendid. I loved it and would have gladly eaten many many more slices. There was a perfect cake to sugar paste icing ratio. There was a very happy sugar high to be had.
 The details were lovely and the use of golden sugar to act as sand was genius. There was a light covering all over the cake and it added a really nice little extra texture to gooey chocolate and soft sugarpaste.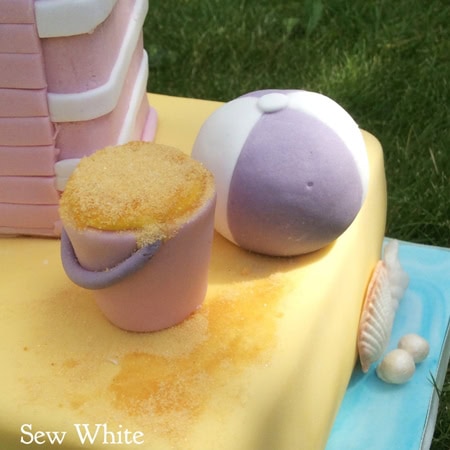 I will visiting Cakes by Robin in Southfields soon to see their shop and little cafe.
It will be lovely to see where all their incredible cakes are made. I need more cake!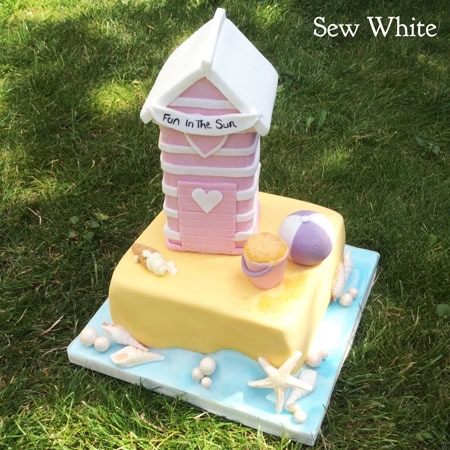 Check out the amazing cakes at www.cakesbyrobin.co.uk and if you're near Southfields and Wimbledon you must visit too!
Thank you Cakes by Robin for allowing me the great opportunity to try and enjoy one of your amazing cakes.
Follow me on Instagram to see what I've been making recently. www.instagram.com/sewwhite