Mother's Day gift guide for 2020! My gift guide gives you 6 ideas for more unusual gifts ideas for mum that move away from flowers and chocolates.
Sparks & Daughters Personalised Linen Apron in the Mother's Day Gift Guide
I love a good apron and with so much choice out there, my choice would have to be one that stands out among the others. The best way to do that is with a quality apron but getting it personalised takes it up to the next level.
Sparks & Daughters have gifted me a personalised linen cross back apron and I honestly fell in love with it. With a name like Sisley I don't get a lot of personalised items so it meant so much to me to have an apron I will use day in and day out with my name on. The linen is beautiful and light. The cross back means you don't have to tie it on allowing it flow and feel so much more comfortable. I've found myself wearing it all day because it was so comfortable I had forgotten I was wearing it.
Sparks & Daughters is a family run business. Founded by Mother and Daughter team, Deborah and Verity Sparks. They are based in their studio in Somerset in the British countryside. They pride themselves on creating quality personalised clothing and have done for over a decade.
Like any good story, it all started in the kitchen. Their first product was a personalised apron and they have remained a huge seller. Now with over one million aprons sold. They are definitely the personalised apron experts in the U.K.! As a family business their product range has grown and grown. It now includes more family items that can all be personalised.
The personalised embroidery is beautifully done. I think it looks stunning against the texture of the linen. This is a quality gift and perfect for your mum if she loves being creative in the kitchen.
Find the cross back linen apron and explore their other products.
Disclaimer - The apron was gifted to me
Awake Organics in the Mother's Day Gift Guide
Awake Cosmetics, has been created by Melissa Kimbell who is a mum and activist and used her passion to create chemical free cosmetics. Not only are good to your skin but also for the planet. Her products come in plastic free packaging. So there will not be any bottles washing up on beaches for years to come.
Melissa has dedicated her life to formulating effective, natural skin care and deodorant. It helps you enjoy luxury without compromising on sustainability (you can read about her personal journey here). The products are 100% natural, with 89% of the ingredients and packaging made in the UK. Plus as an extra incredible feature her products don't use parabens, SLS, aluminium or petro-chemicals.
I was sent a few of their top sellers to try for the Mother's Day Gift Guide. I have absolutely fallen in love with these products. Especially the Frankin-Sense Divine Skin Concentrate is well named for it is divine. My skin is feeling so much softer and healthier. It's helped turn the cold and dry skin from the horrible weather we've been having. Into fresh, moist and skin that looks a lot healthier. I have loved using it and I can see how much my skin has too. It also smells incredible.
In the range from Awake Organics there is also deodorant and shampoo which aren't in plastic!
UK's first vegan, plastic free natural deodorant
It definitely has felt weird using a cream under my arms but only at first. It's easy to apply and goes from a cream-to-powder in it's consistency. It's also the UK's first vegan, plastic free natural deodorant and perfect for sensitive skin. There is no baking soda (Bicarb), essential oils or fragrance, aluminium, alcohol, petroleum by-products, or Parabens.
I love using a shampoo that isn't in a plastic bottle. It's only a small change to make and can make such a difference for the world. The shampoo is gorgeous to use too. My hair has loved it. Like the other products it smells really good! Using these items I feel my blood pressure drop and a calm relaxing time follows.
Visit the Awake Organic shop to discover all they make.
Disclaimer - The products were gifted to me
Personalised Posters with Posterhaste for the Mother's Day Gift Guide
Posterhaste (I love their name) have created and print beautiful designs which can be personalised to make them an extra special gift for Mothers Day 2020. There are a huge range of posters available to personalise but it was the heart star map which caught my eye.
For this poster you chose a date and time along with a location. From there their magical software will show you what the stars looked like over head at that time. It's so personal physically and emotionally beautiful. It's really touching to see what see the stars saw. It is also a beautiful gift. For this design there is a range of colours they come in too. This rich blue, a soft pink, pastel teal and even bright red on a white background. Plus many more to explore.
The finished item looks stunning and I love that Posterhaste offer the prints in different frames, sizes and styles.
I loved getting to hang my poster on the wall. There is something magical to me about knowing what the stars over head looked like on a special moment. A top choice for the Mother's Day Gift Guide.
Check out the range of personalised posters available at Posterhaste
Disclaimer - The print was gifted to me
Alexander McQueen – Fashion Visionary
Perfect for creative, culture and fashion interested mums is the Alexander McQueen book. Recently released this hard back coffee table book is an in-depth look at the fashion designer who sadly died a decade ago in 2010.
Alexander McQueen: Fashion Visionary charts the designer's rise to fashion royalty worldwide. The book covers the time from his apprenticeship as a tailor on London's fashion famous Savile Row. Working up to his career of demolishing the rules of fashion he had so diligently learned. All the while he retained exquisite craftsmanship.
Described as the fashion world's greatest upsetter he was adored by the elite in his couture work. While his incredible and unusual style was emulated on the streets. This new book about Alexander McQueen reveals the complex narratives and fascination with nature that inspired a brilliant yet dark mind. The book is also filled with photographs which visual documents his creations. A truly fascinating read.
Find the book and discover all about Alexander McQueen (affiliate link)
Disclaimer - This book was gifted to me
Subscription beauty with Birchbox
Birchbox is a subscription beauty box where each month a selection of five items are delivered right to your door. What I really love about this box (and I order it myself) is that the beauty items are tailor made to your skin and hair type.
Each month so far I have discovered new products. Some which I haven't ever heard of before from new brands too. It's a really nice thing to get get through the door and allowed me to take time out and have some mini pamper times. Inside there could be skincare, perfume, make up, hair care and beauty accessories too.
This month my Birchbox had an exfoliating scrubber, eye liner, eye shadow, hair care and Vitamin C serum. I've used them all since the box arrived and I think there are definitely a few products I would seek out to use it again. My skin loved the serum. The little exfoliating scrubber is now in my shower and I used it every other day, gently on my face and my skin is loving it. I think the box design for March also really worked well for the Mother's Day Gift Guide.
Treat your Mum to a Handmade workshop
The Handmade workshops offer an incredible range of crafty workshops to get you and your mum creative. Their workshops take place across Kingston, Teddington, Hampton Wick and across South West London.
The events are hosted in cafes, pubs, community centres and church halls. The classes take place during the daytime, weekends and evenings, making their classes accessible to as many people as possible.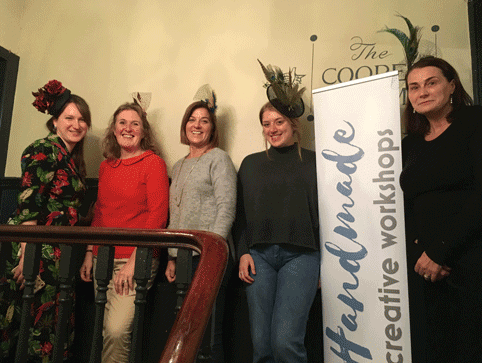 "Living in an area teeming with amazing artists and craft experts, we wanted to create a space to bring them together and give us all the opportunity to learn from their expertise, whilst at the same time having some fun and escape from daily life. And so Handmade Workshops was born!"
If you fancy trying out one of their workshops, have a look at their upcoming events!
---
Explore my other lifestyle posts.
Follow me on Instagram to see what I've been making recently. www.instagram.com/sewwhite