I've rounded up the Best Non-Alcoholic Drinks for 2022. These perfect Christmas tipple for alcohol-free drinkers make great drinks to serve at Christmas parties or give as gifts.
As much as I love cocktails and a glass of bubbly at Christmas, this year I have been choosing to be more alcohol-free. This came about from wanting to enjoy drinks full of flavour without hangovers and normally being able to drive home too.
I really like how these fancier non-alcoholic drinks include friends and family who aren't alcohol drinkers with the fun of the festive season.
The great thing about the rise of people wanting to have alcohol-free drinks is that there are more and more new alcohol-free brands and drinks to explore. Out with the glass of orange juice while everyone has champagne and in with beautiful drinks which are alcohol-free.
In time for Christmas, I have rounded up a few of the new brands I've discovered that would be great for the festive season.
Top Questions
Disclaimer - Drinks in this round up were gifted
Alcohol-Free Cocktails with Drinks Kitchen
This is one for the cocktail makers! Drinks Kitchen was founded in 2020 in Somerset by Alli Briaris. With a passion for delicious, non-alcoholic and premium beverages this beautiful brand was formed. It's not just an alcohol substitute, it's a valid drink on its own.
The three core flavours that form Drinks Kitchen; Orange Cinchona; Spiced Rhubarb and Herb Verde. A simple way to serve it is to pour sparkling water and serve. It's really that simple. To make it look beautiful when you serve it at a party or event, pour it over ice cubes with a twist of lemon and a sprig of rosemary. A beautiful drink that would stand up to any alcoholic cocktail.
All three products were awarded Great Taste Awards in 2022, with Spiced Rhubarb achieving two gold stars, Herb Verde achieving one gold star, and Orange Cinchona achieving a gold star for the second year running.
The flavours;
Spiced Rhubarb
The fragrance & flavour of Rhubarb gives a big impact in this drink. It is followed by aromatic juniper and ginger. A gentle chilli heat warms on the finish – a perfect autumn and winter flavour. The flavour is warming yet smooth and refreshing flavour.
Herb Verde
The aroma of fresh mint and herbs sing in our Herb Verde. The initial burst is of refreshing mint together with herby notes of Rosemary & Thyme. If you love more botanical and fresh herb flavours this is the one for you.
Orange Cinchona
Gentle woody notes from Cinchona & fruity Orange are the initial flavours followed by more zesty peel and herbaceous notes of quassia & oregano. Orange Cinchona has a gentle bittersweet finish.
These drinks are vegan and gluten-free. With each 70cl bottle making 28 drinks you really do get value for money. The Aperitifs are available in 70cl for £22 and 50cl bottles for £18. Order your aperitifs from the Drinks Kitchen website.
Get SMASHED this Christmas with Drynks Unlimited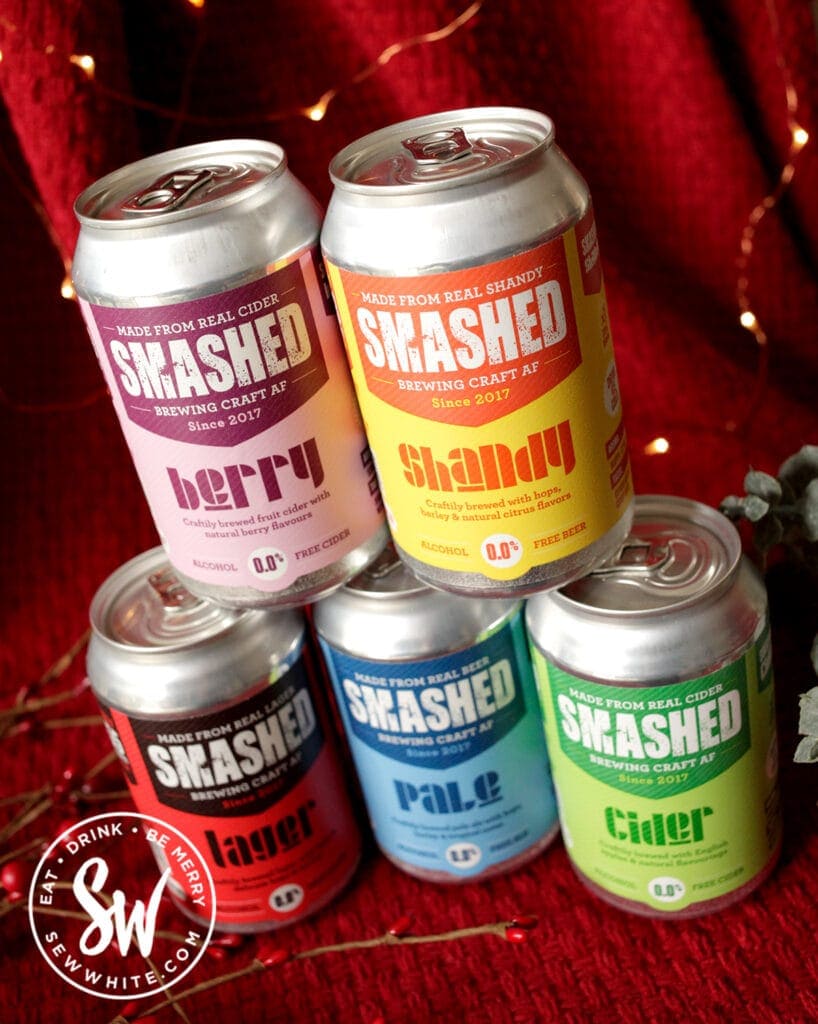 Drynks pioneered the award-winning Smashed range is a new line of alcohol-free ciders, beers and ales. Hitting the shelves with critical acclaim the Smashed Apple Cider won gold supreme champion at World Cider Awards 2021. Following up that success with gold in the International Beer and Cider 2021 against 'real' beers. This should show you just how well it tastes.
Smashed has five drinks in its portfolio; a lager, classic apple cider, shandy, berry cider and a pale ale.
The berry cider was my favourite. It was so fruity and lovingly rich in flavour. I will definitely be stocking up for summer parties next year. The apple cider was filled with a strong apple taste and it was surprisingly crisp and smooth.
When I tried the shandy I was surprised how moreish I found it. It's a proper classic taste and it's so nice to have it as a non-alcoholic option. The larger and pale ale I'm trying tonight with a sausage traybake. I think it's going to be a very good pairing.
All Smashed drinks are vegan, gluten free (where possible) and contain less than 100 calories per 330ml.
Smashed Variety Packs start from £24.00 for 12 bottles of 330ml. The whole of the smashed range is all available in 300ml bottles and cans.
Smashed is available in selected Sainsbury's stores (Smashed Lager and Smashed Pale ale 4 pack box) and the full range is in Booths supermarket. It is also available online at www.drynks.co.uk, Amazon, Zeroholic.co.uk, Drydrinker.com, and a range of local independent retailers, restaurants and bars across the UK.
Alcohol-Free Drinks – Pale Ale with Seven Brothers
This year Seven Brothers, the Salford-based brewery, is launching its first ever alcohol-free beer. It is a hoppy craft ale that promises to produce a delicious drink that doesn't compromise on flavour… and they have achieved it!
This new non-alcoholic beer from Seven Brothers is designed for those who want to be part of the festivities this Christmas but without the alcohol.
This could be for so many reasons including; they're the ones driving (me!), they want to avoid hangovers, they just don't want alcohol and so many more reasons. When you are the sober one at a party you can feel like the odd one out. Especially if the only non-alocoholic option is fruit juice. However, with more and more non-alcoholic drinks being made, and looking so fancy, most people wouldn't know they didn't contain alcohol.
AF Pale Ale is available in 330ml cans for £1.60 on the Seven Brothers website.
You might have spotted on the cans it says both alcohol-free and 0.5% ABV. So the question is…
Can I get drunk from 0.5% Alcohol free products?
It would take drinking a lot of 0.5% alcohol products to get drunk from 0.5% alcohol free products but there still an amount of alcohol in each beverage.
The amount of alcohol in a 0.5% ABV beer is tiny, just 2.2g per pint (which is around 2.75ml/a half teaspoon). Compared to a 5% ABV beer which has 22.7g (around 5 teaspoons).
No alcohol at all – Zero Zilch Zip!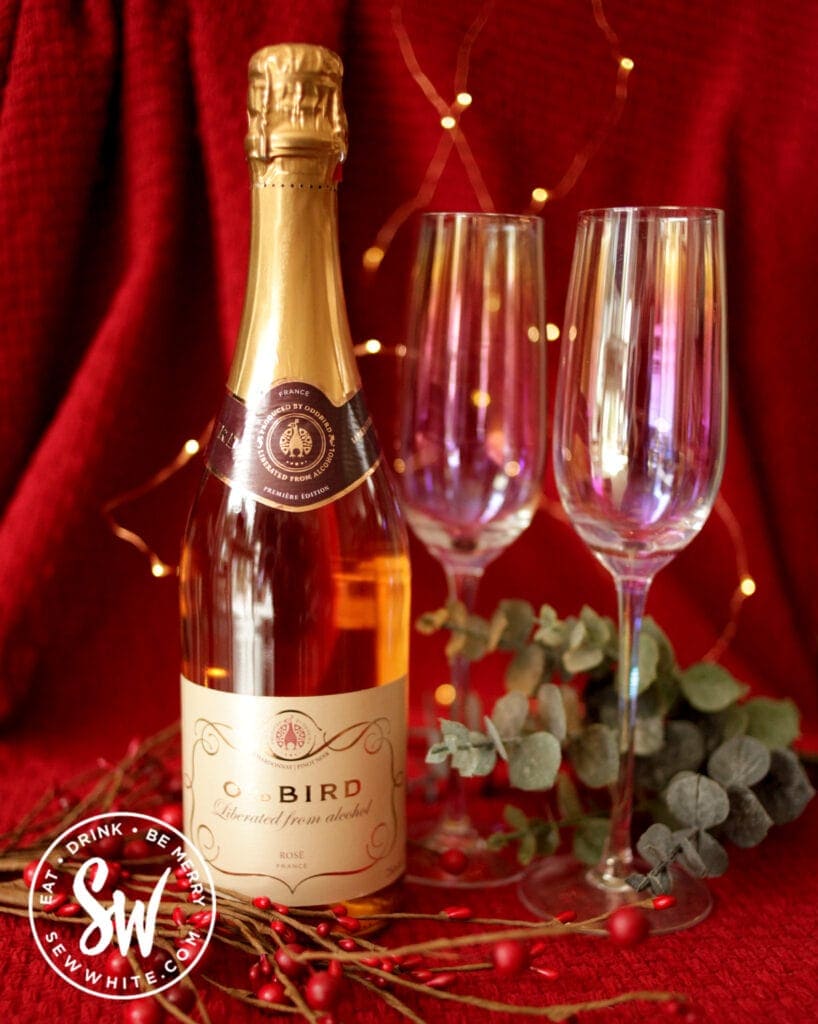 ZeroZilchZip launched earlier this year and specialises in the world's finest non-alcoholic drinks. This is the key place to visit when stocking up on non-alcoholic drinks as they offer a huge range and it's all in one place.
Zero.Zilch.Zip. even have their own "Zerologists" to ensure that every single drink that they stock is the best of the best. If you've ever looked for non-alcoholic drinks in the supermarket you will know that there isn't much available, although ranges are improving.
This brilliant site offers all sorts of non-alcholic drinks. They have red wines, white wines, sparkling wines, beers, wine, ciders and spirits too.
My top picks to get you started are Alternativa 0.0 Rosata and Princess Hug0.0 Alternativa. A soft and fruity rosé wine that would be lovely for sunny evenings, and the Hug0.0 Alternativa is a non-alcoholic cocktail based on Prosecco with Elderflower syrup.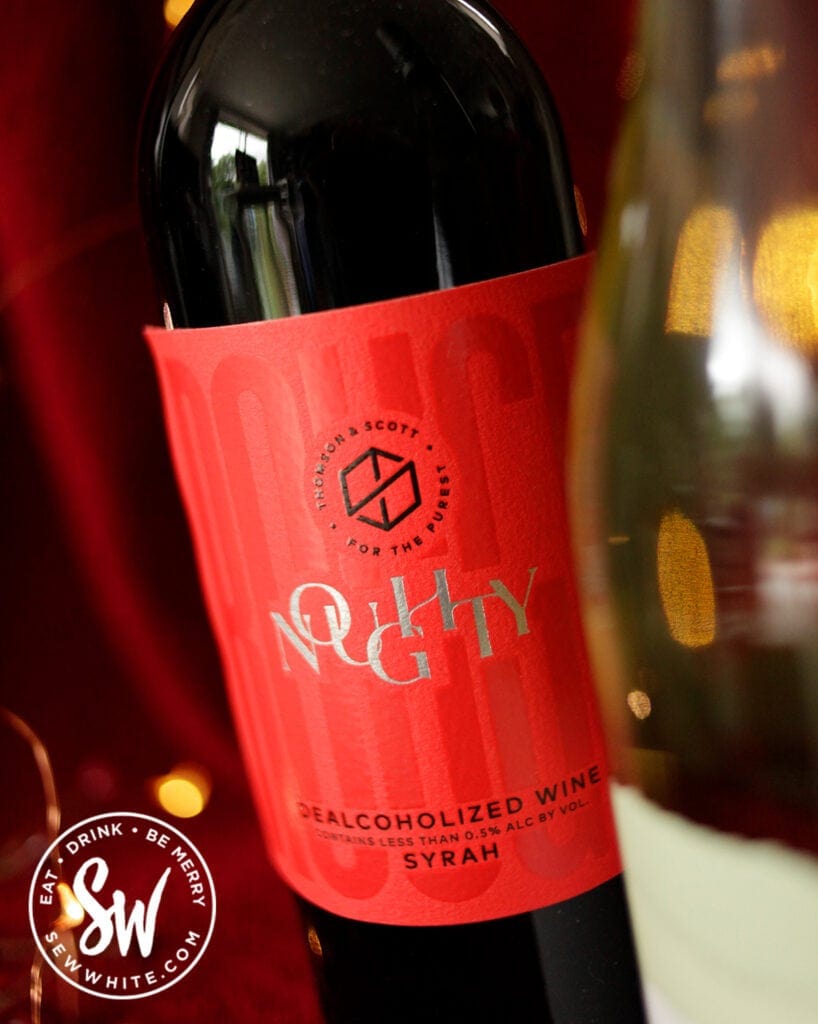 For non-alcoholic wines I would recommend the Thomson & Scott Noughty Rouge Syrah and the Ara Zero Sauvignon Blanc. Both have a great authentic wine flavour which isn't too sweet. The Noughty range is definitely worth trying and exploring. I've tried a few of their products this year and I was pleasantly surprised.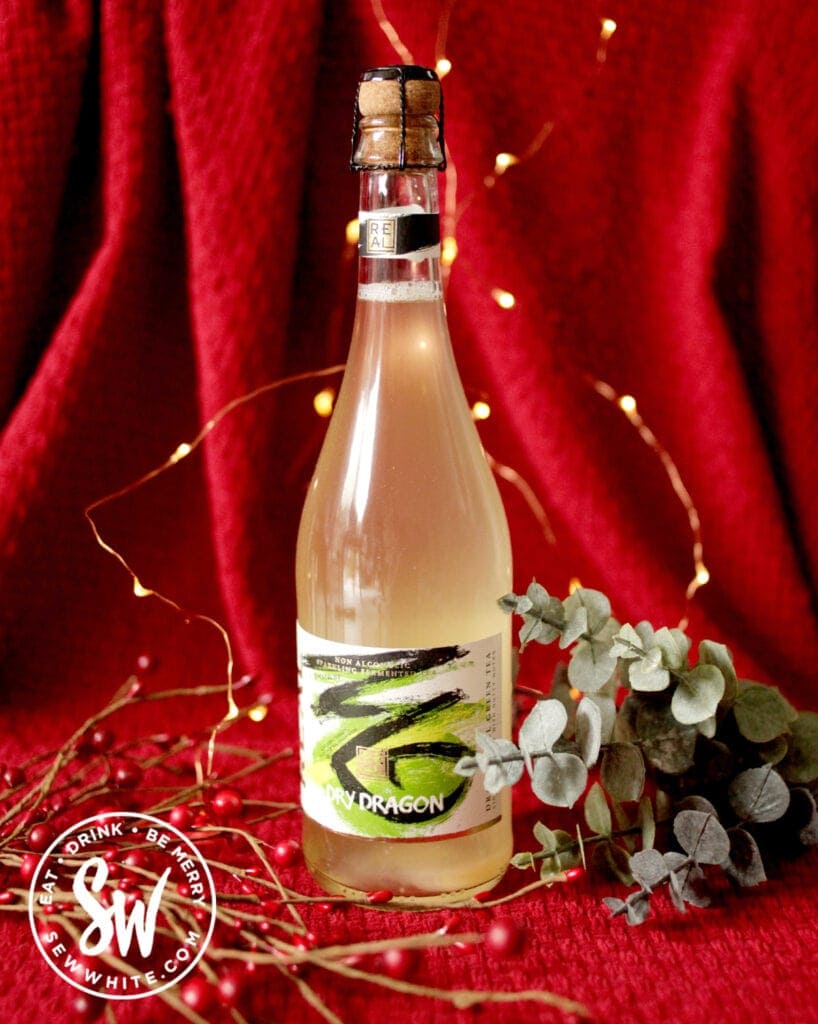 For sparkling fans the REAL Sparkling Tea – Dry Dragon is really worth trying. It is a premium fermented sparkling drink made from exquisite loose leaf tea. A dry all-day spritz, with notes of straw, grapefruit and sweet lemons. Perfect to pair with fresh salads and fruity dishes.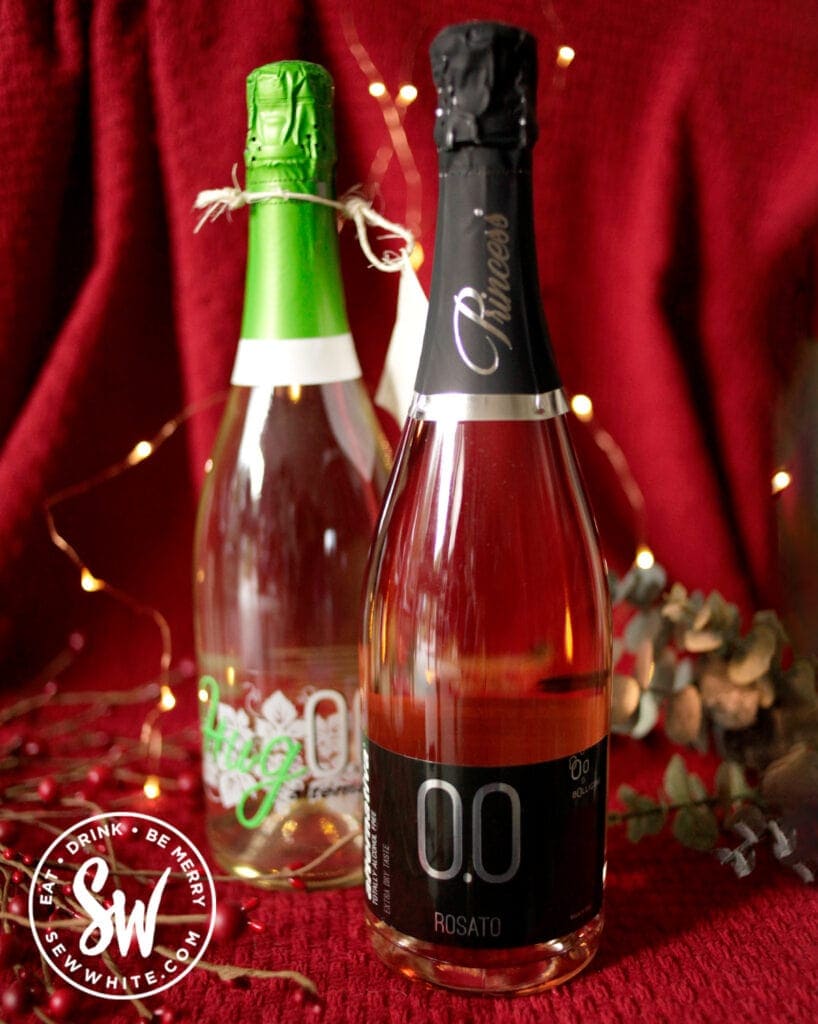 The best is left for last… Oddbird Sparkling Rosé is a lovely celebration sparkling rosé. It has a soft sweet flavour and is beautifully bubbly. We have ordered a few bottles of this from Zero.Zilch.Zip for our wedding!
Zero.Zilch.Zip has done all the hard work for us. Researching and sampling hundreds of drinks to bring us the world's most carefully curated collection of no-alcohol experiences. Check out Zero.Zilch.Zip and their huge range of drinks.
Non-alcoholic drinks- Top Questions
What are popular non-alcoholic drinks?
Popular Non-Alcoholic Drinks include mulled apple juice for Christmas, Noughty wines for dinners and Oddbirds sparkling wines for celebrations.
What should I drink on Christmas Day?
My favourite drinks for Christmas day have to include mulled wine or mulled apple juice and sparkling wines.
What is a good drink for a non drinker?
now there is so much more choice for Non-Alcoholic Drinks in the U.K. you can chosen from a wide selection of delicious drinks for your non drinker friends.
Online shops like Zero.Zilch.Zip offer a huge range of Non-Alcoholic Drinks from beers, wines and spirits.
What is the best non-alcoholic drink to drink?
There are so many Non-Alcoholic Drinks to drink but I would say depending on time of year here my choices. Warmer weather a 0.0 rosé would be delicious. For sports matches and picnics a Seven Brothers pale ale would be fantastic. For celebrations check out the Oddbird range.