.The exclusive and delicious NC Supper Clubs are back this June with two evenings of culinary delight as Jessica Heath from Masterchef, treats diners to an evening of Sri Lankan dishes.
To celebrate the release of 'Ceylove' Jessica Heath's first book, she will creating a four course specatauclar of her favourite dishes. In the next instalments of NC Supper Clubs on June 3rd and June 7th in Clapham, South West London, experience a taste of Sri Lanka.
Due to popularity and excitement over this supper club the first date on June 3rd has already sold out.
Inspired by her mother's Sri Lankan kitchen, Jessica's early infatuation with the splendour of complex flavours, spices and smells. This sparked a life-long love of creating extraordinary dishes infused with 'the spirit of Sri Lanka'. It is with great excitement that she is uniting with NC Supper Clubs to bring these tastes and dishes to Clapham. A delicious experience too for so many of us who have never had it before.
Her talent caught the attention of the Masterchef USA panel and she appeared on Season 8 as a contestant. Since then she has been launching her professional career and first cook book – Ceylove out soon.
"You'll be treated to an exquisite menu of four specially selected dishes from Jessica Heath's kitchen, taking you on an evening-long Sri Lankan sensory adventure." says Nesan the founder and host of NC Supper Clubs. His love of food, flavours and the best chefs from around the world is evident in the events he hosts. Always outstanding and a must go to event for foodies.
The menu for the evening looks outstanding.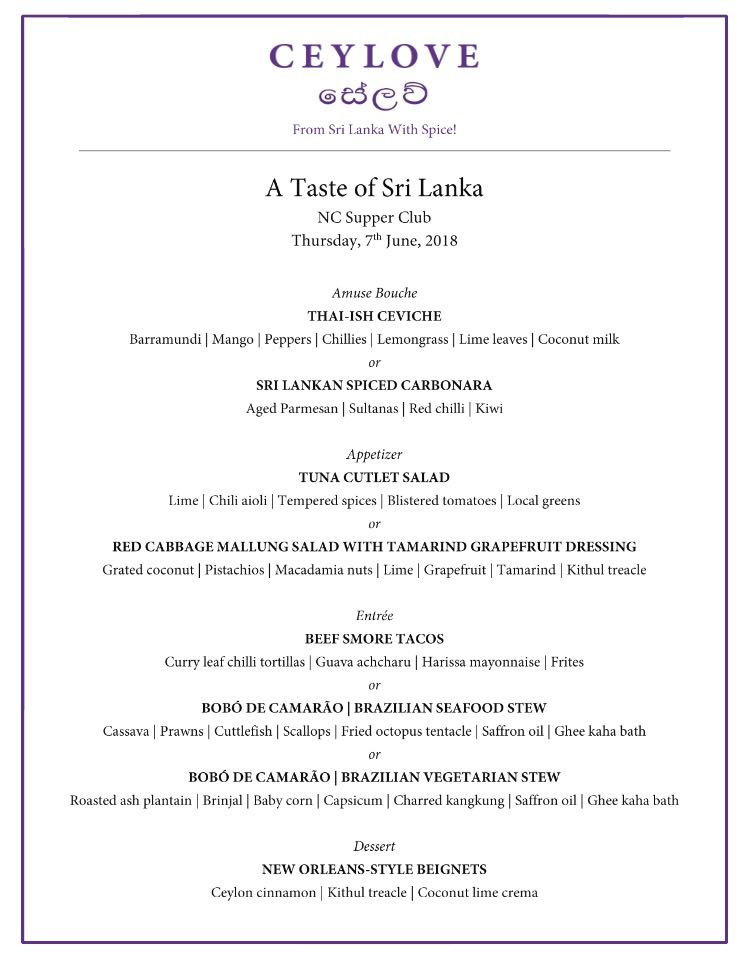 With the 3rd of June date already fully booked be quick to book your tickets for the four course Sri Lanken feast on June 7th – Click here to be taken to the Eventbrite website
Follow #NCSupperClubs on social media to find out more about upcoming supper clubs in London.