This year I got my crafty head on and to celebrate the run up to Christmas and my love for my friends I've made them a Affirmation Advent Calendar.
In the last few years I've read and participated a lot in positive mental health reading and workshops and one of the best benefits I've found so affirmations.
Whether towards myself to towards others, being grateful was a great lesson to learn. I started small and became grateful for a good cup of tea, a cool breeze when it was warm, fluffy socks. It then got bigger and I became more appreciating of what I had. With my best friend we send each other a lot of positive messages and support each other so much. I'm incredibly luckily to have her.
To show my love to my friends and family I set out to make an affirmation advent calendar. For my best friend I made it in the shapes of fairy light bulbs, each one a different colour, numbered from 1-25. On each one I wrote either a positive message, quote or just a loving memory I have of her. I packaged it up and included a ribbon for her to hang the light bulbs on and gold paper clips to look like the filaments in the lamps.
I drew the light bulb shape and then cut them out using the first as a stencil, I did the same for the holly leaves too. There are many different shapes to use. I also made gingerbread men, stockings and Christmas tree shapes before I settled on the light bulbs and holly leaves.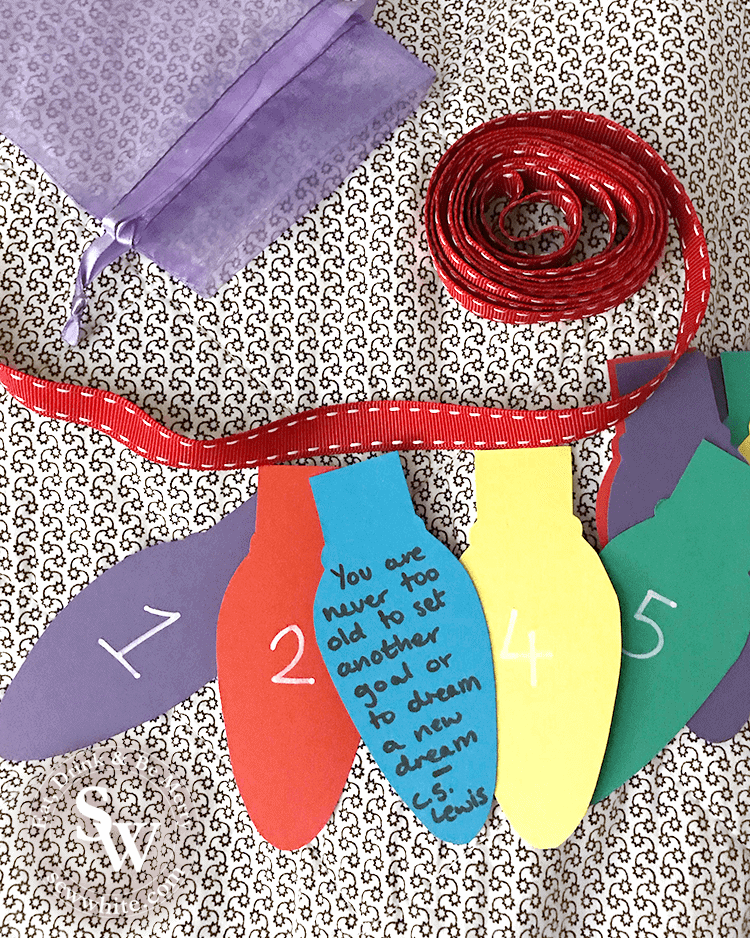 There are so many beautiful quotes available but this is one of my favourite from C.S Lewis.
  See below for my favourite affirmations and quotes that you can include in your own affirmation advent calendar.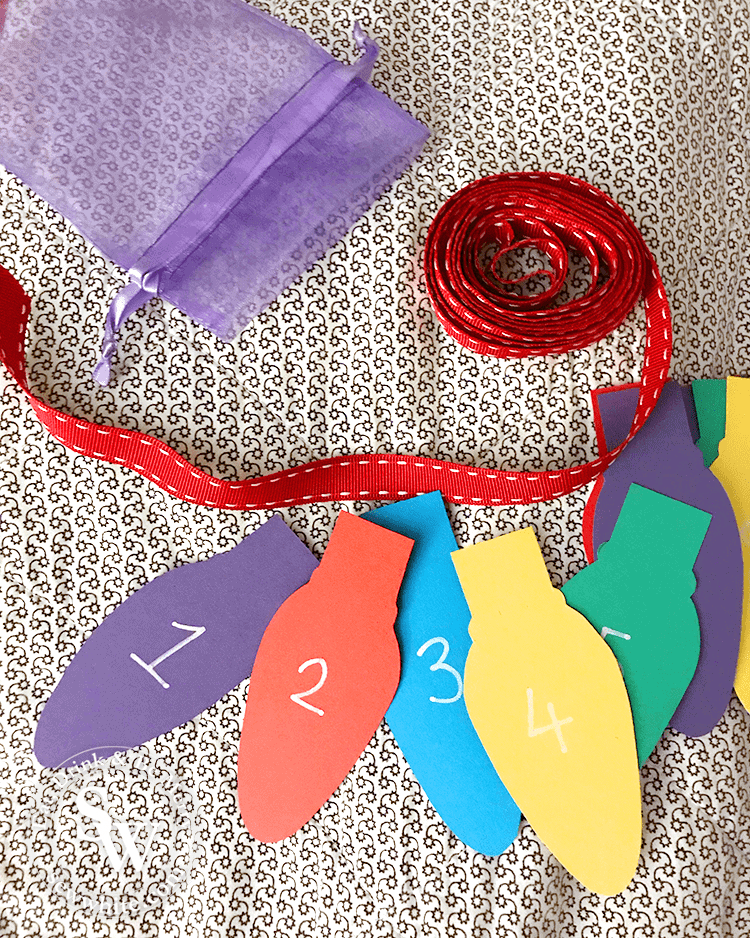 The Holly Leaf Affirmation Advent Calendar
As well as the cute light bulbs I made a holly leaf advent calendar for the boyfriend and displayed it rather beautifully I think with red pompom trim to act as the berries. It's hung up over the bed and it looks so cute. Each day he is planning to turn the affirmation around and read it. I'm amazed that no peaking has gone on.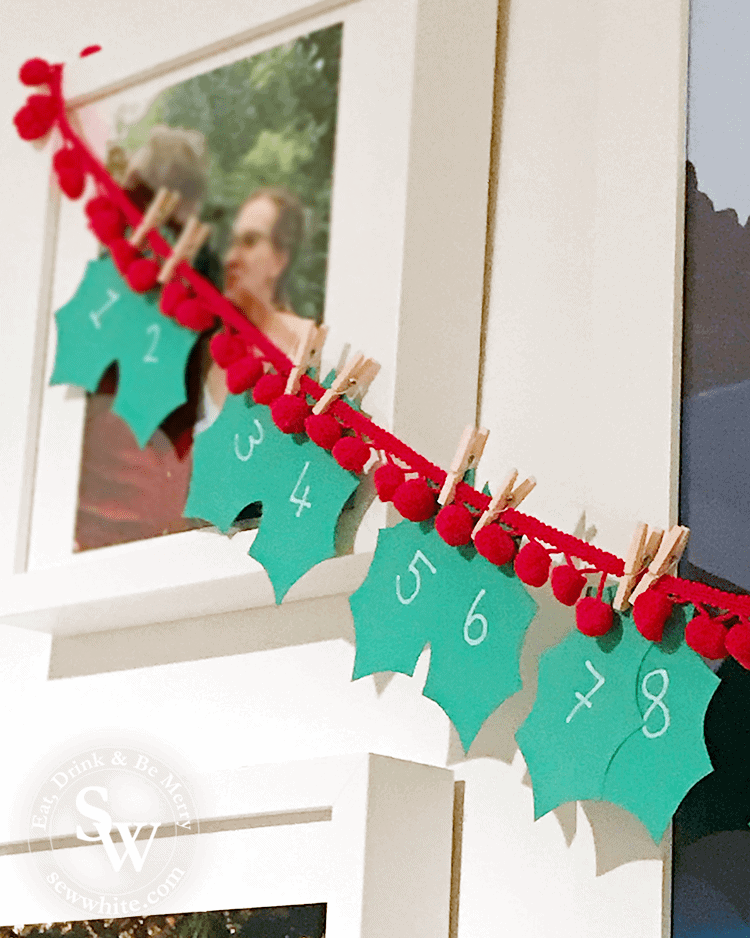 I bought the little pegs from WH Smiths and the pompom garland was left over from a project but is available in so many craft and fabric shops.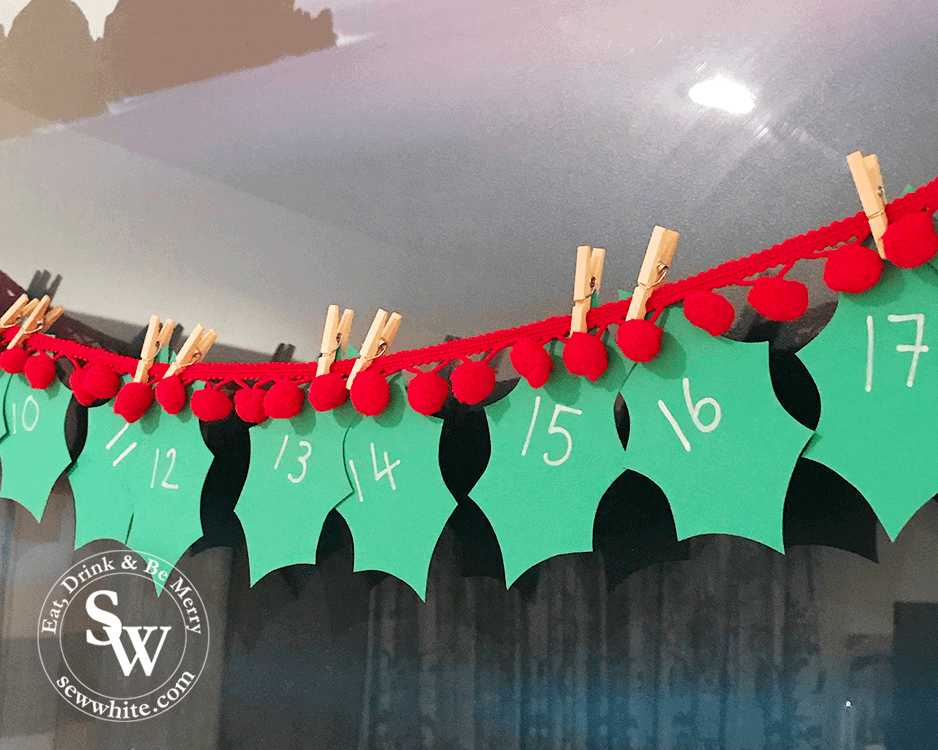 Affirmation Starter Kit
It felt rather daunting writing so many affirmations in one go so I've written a few of the ones I used below to give you starting point. Here is a mixture of affirmations, quotes and a little bit of silliness that I have written on my affirmation advent calendars this year. Of course a few Disney quotes and geeky movie quotes ended up in there too.
You mean so much to so many
You showed me what a best friend should be
There are so many people in the world and I was destined to meet you
I count the days until I see you again
Thank you
You bring light to my life
You make the world a better place
Sisters by choice, together forever
I will always be there for you
I like you more than unicorns
You are worthy of so much love
This is a voucher for a cup of tea
You are stronger than you think you are
Sometimes all I want is to sit and chat with you
You are the Chewie to my Han
You are never to old to set a new goal or dream a new dream – C.S. Lewis
It's kind of fun to do the impossible. – Walt Disney
You have given me so many happy memories
Little by little one travels far – J.R.R. Tolkein
When I met you I knew a great adventure was about to begin – A.A. Milne. Winnie the Pooh
To Live would be an awfully big adventure – J.M Barrie. Peter Pan
Some people are worth melting for – Olf in Frozen
Don't let the muggles get you down.
The ones that love us never really leave us – Sirius Black. Harry Potter
I am surrounded by love and I am safe
Today is going to be a really good day
Be grateful for the little things, a good cup of tea, no traffic, a good night sleep
A friend is someone who knows all about you and still loves you –
"You love me. Real or not real?" I tell him, "Real."

Mockingjay

Gifts of time and love are surely the basic ingredients of a truly merry Christmas." – Peg Bracken
Christmas waves a magic wand over this world, and behold, everything is softer and more beautiful." ―Norman Vincent Peale
My idea of Christmas, whether old-fashioned or modern, is very simple: loving others." ―Bob Hope
Christmas isn't just a day, it's a frame of mind – Miracle on 34th Street