I've been enjoying a Vietnamese feast with friends this festive time as I review the Pho Christmas Menu.
There are so many great Christmas menus out at the moment but what I love about the Pho Christmas Menu is that is brings together their most famous classics. The Christmas showcase comes in the form in 2 menus – one regular and one 100% vegan.
Pho has been so well known since it opened in creating a fantastic gluten free menu as well providing fresh and healthy bowls of noodles with veg. With Veganism becoming more and more popular it's great to see how Pho has embraced their vegan meals and really highlighted how much they offer in time for Christmas.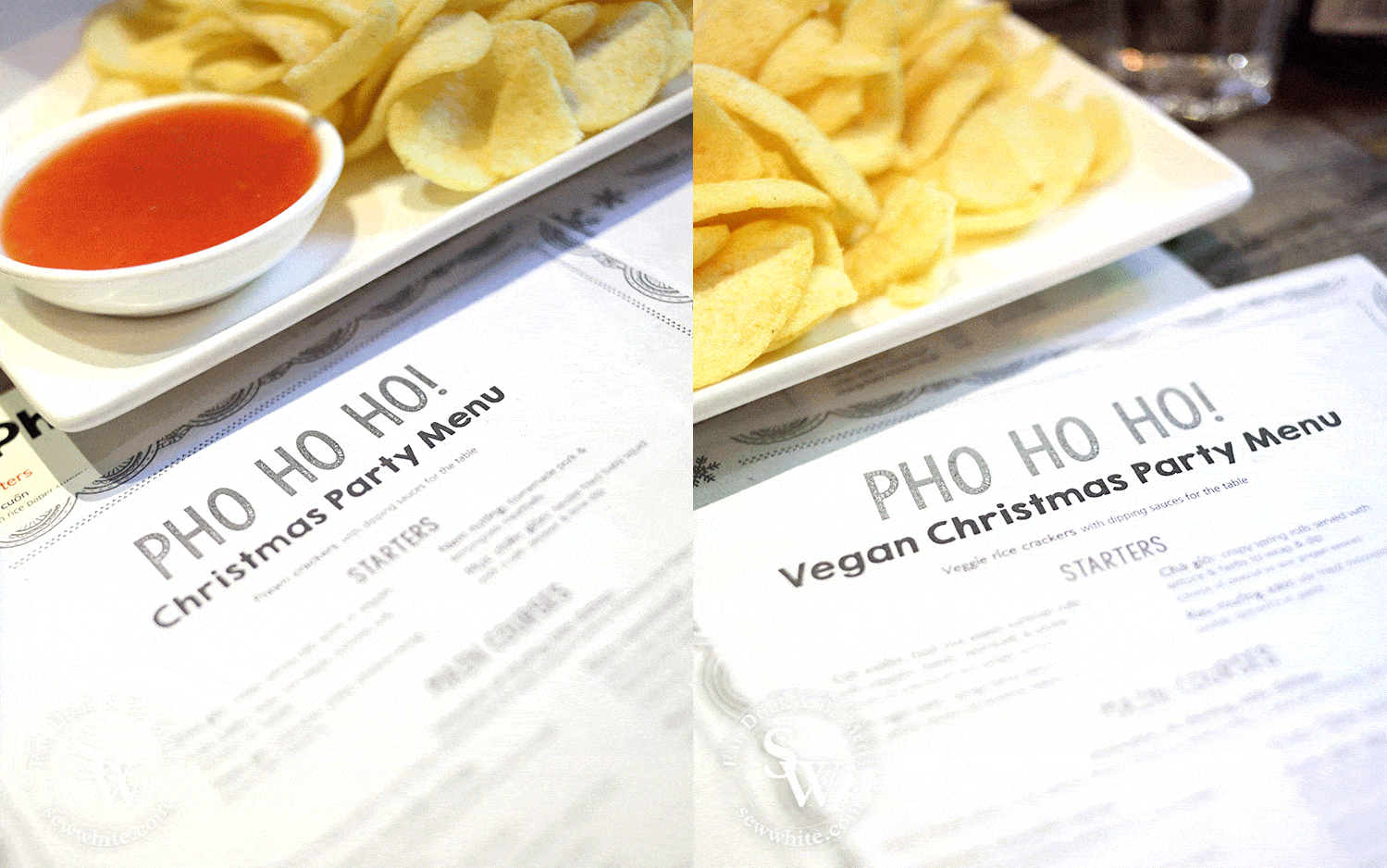 P.s. these vegetable crackers were incredible. Move over prawn crackers there is a new king in town.
Delicious Drinks at Pho
With such a delicious drinks menu it is worth mentioning it once or twice. Their fresh veg and fruit juices are so delicious and full of flavour. I love their addition of ginger to a few varieties really gives the drinks a warmth and fiery taste which warms you body and soul. It's also a perfect addition to your drinks to help fight off flu and colds.
There are also the Pho take on cocktails and the Phojito, their take on a mojito is magnificent drink and far too easy to drink. The Lemon & Basil Martini is next on my wish list to try on my next visit.
You know the drinks were good when there is silence around the table as everyone takes in the flavour and relaxes into the dining experience.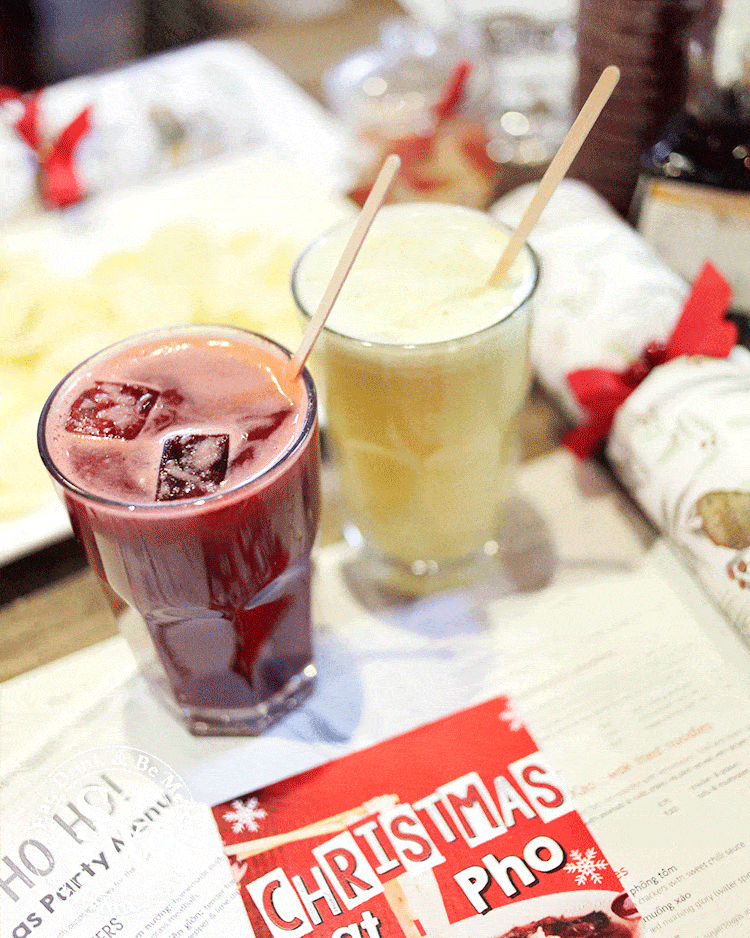 We chose the Apple, mint & lime juice with ginger and the Betroot, carrot & apple juice. They were so fresh and fruity and it's safe to say we definitely had more than one.
To warm up I chose the jasmine flower tea. It was a marvel to watch and the whole table was transfixed to see it open up and the smell fill our table. It tasted wonderfully calming. I would recommend Pho jasmine tea as a way to relax.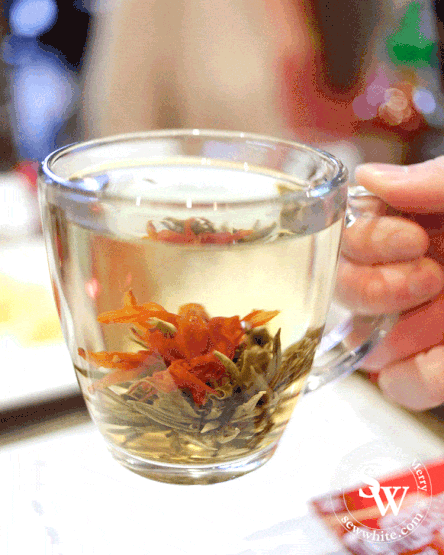 Just look how beautiful the flower was once it had opened up. It lovely to watch and felt like a great way to meditate and calm down.
Our delicious starters
We each chose a different starter and shared so we could explore as many tastes as possible. The winners around the table were…
These were incredibly popular and the whole group agreed that the chicken wings were a close second to the spring rolls. They were great quick nibbles, even though there was one portion between 4 we all felt very happy with how many we ate. The sriracha dipping sauce had a sweetness but also a kick that was rather addictive. Maybe this was why we loved the crispy chicken wings so much.
Nem nướng – Homemade pork & lemongrass meatballs with lettuce & herbs to wrap & dip
Although this was high up on my list of super starters it looks like other dishes ranked higher overall in the group. I will stand up for the pork and lemongrass meatballs as they were so moreish. The lemongrass infused the pork and those with flavours against the incredible peanut sauce was just heaven for me.
I may have kept the sauce to dip the other starters in to.
Marvellous Mains on the Pho Christmas Menu
It just all tasted so good, I couldn't stop eating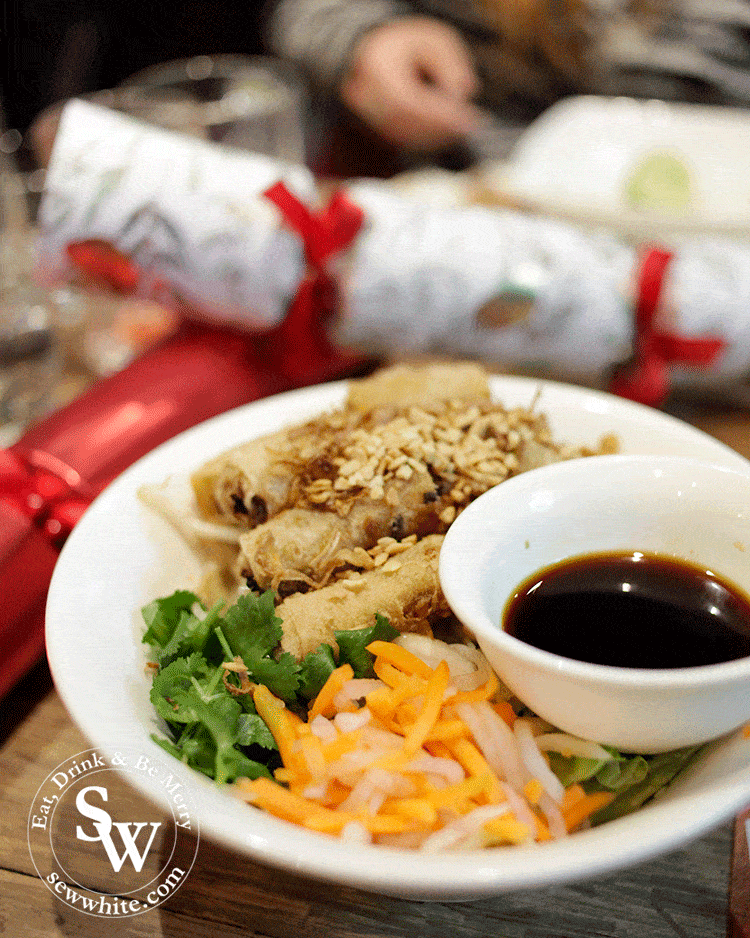 Bún: vermicelli noodles with a wok-fried lemongrass & chilli topping, fresh herbs, beansprouts, veggie spring roll & peanuts. This dish has been raved about since we visited by my friend. Her favourite dish at Pho ever she of course ordered it off the Christmas menu. Her only comment before diving in and ignoring the rest of us, was "the spring rolls, the stuff of dreams". A food match made in heaven.
Cơm tấm rang: aromatic, spicy wok-fried broken rice with chicken & dried shrimp
The delicious broken rice dish was deceptively large and kept the boyfriend bust for a while. Luckily at a relaxed meal with friends we all took our time. He often remarked about how could have he eaten so much and still didn't look like he had eaten a mouthful. The portion size at Pho is so generous and is great value for money.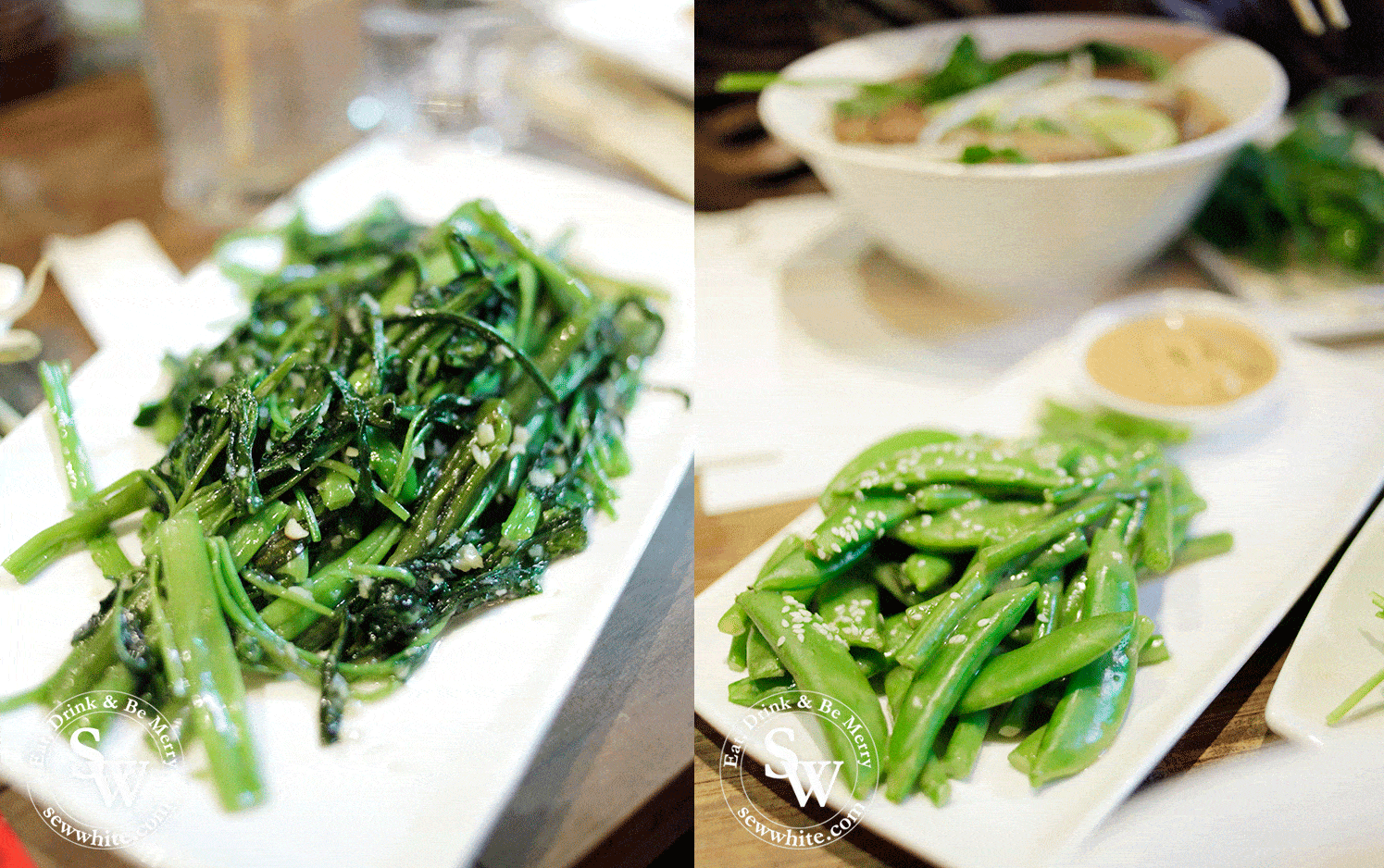 For our side dishes we enjoy the delicious stir fried morning glory in garlic. It was earthy flavour and the addition of garlic and slightly salty made it so moreish. The classic green beans & sugar snaps in peanut dressing was very quickly divvied up between us.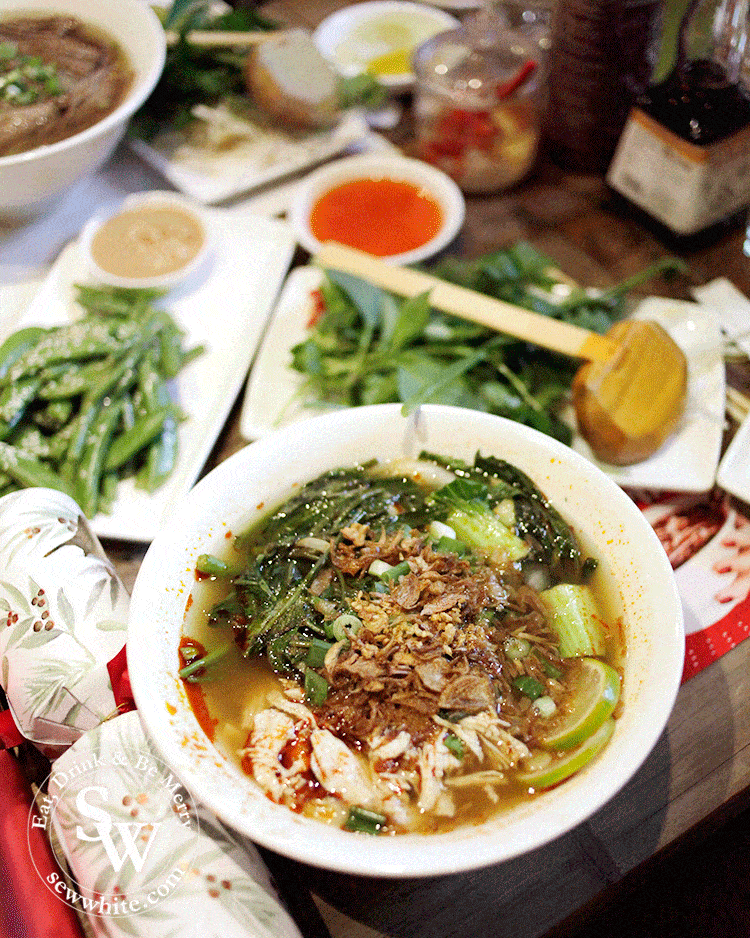 Even though not on the Christmas menu our cheeky server upgraded me to the spicy green Pho as she was so enthusiastic about it being the best dish on the menu. I couldn't say no to such passion for food. It was so warming and fresh. The greens and shredded chicken were succulent and the hot broth was spicy but also full of flavour. I love the plate of extras to add, especially the Thai basil.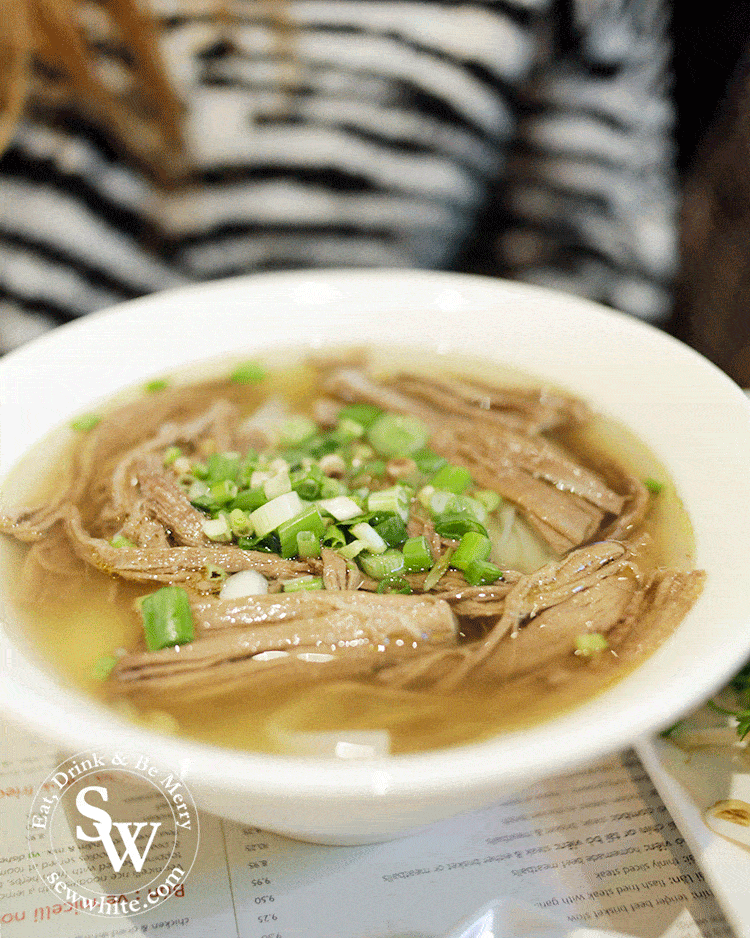 Phở chín: tender beef brisket slow cooked in beef broth. Although it might not look as fancy the other dishes we enjoy this dish was perfect for a slightly cold friend who was fighting off a cold. She said the broth was warming to her soul, it had the tenderest of beef and made her feel so much better.
Desserts and Vietnamese Coffee
Due to our complete lack of decision making skills on what we individually wanted for pudding we decided to order and share them. We went for the strawberry and basil sorbet first. It was such an unusual flavour but one I really loved. The fruity summer berries mixed with iconic basil taste was so refreshing after the hot soups and noodles.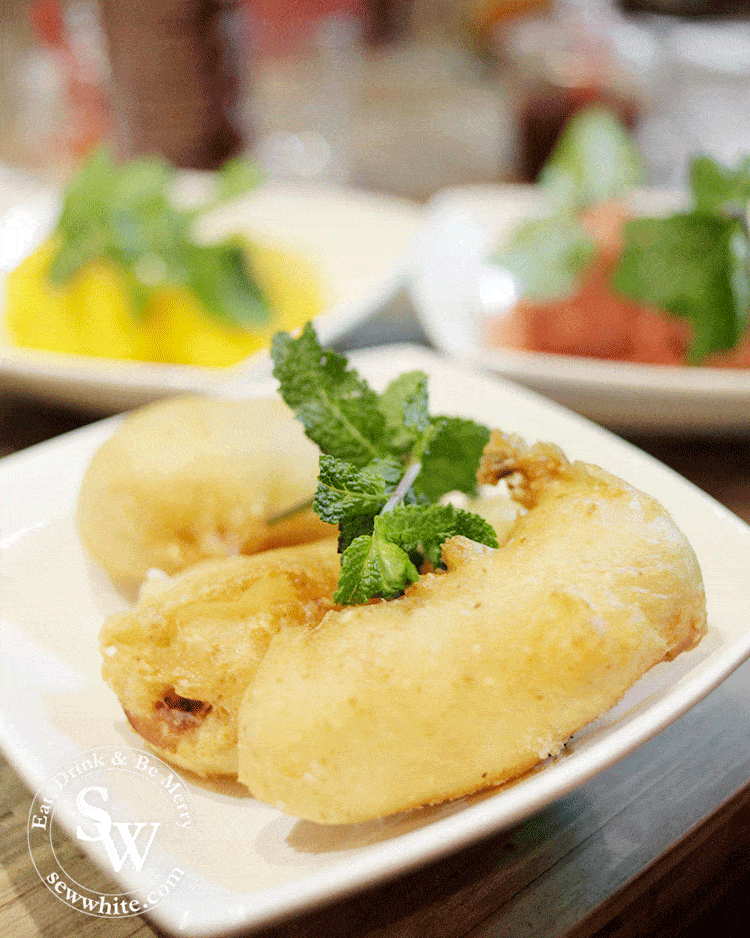 I chose the banana fritters. Apparently that's weird but I really loved them. Soft sweet fruit surround by crispy coating was a treat for the senses. They tasted very good with a little of the strawberry sorbet.
We also chose the mango sorbet to try as a group of mango fans it had to be done. It was so vibrant in colour and the taste matches it's beautiful appearance. It was punchy and devoured very quickly.
The final part of our Christmas meal was the Vietnamese coffee. Slowly dripping coffee on to condensed milk which resulted in an incredibly strong and sweet coffee. It was definitely a new coffee experience for me and unusual enough that I really want to try it again as soon as possible.
Pho Christmas Menu – the results
After an absolutely delightful afternoon with lovely friends, great food and deicious drinks I can say that the Pho Christmas Menu is worth exploring this festive time. It caters for so many flavour choices whether you love your chilli, prefer cool coconut curries, prefer your noodles thick or thin there is a dish that caters for you. Plus with their menu being full of so options it's great to be able to visit a restaurant that has so many opportunities to feed everyone from coeliacs to vegans. Everyone is welcome at Pho this Christmas (and all the other months too).
Find out more about Pho and their Vietnamese street food, online at www.phocafe.co.uk
Disclaimer I was gifted the meal in exchange for a review. All opinions are my own.