It's beginning to taste a lot like Christmas with my Mince Pie Christmas Bundt Cake. Filled with mince pie filling and classic winter spices it's great Christmas bake. It's also an easy cake for a Christmas party and looks lovely on the Christmas table.
My latest bake, the Mince Pie Christmas Bundt Cake is a king of Christmas desserts and treats if I say so myself. It's full of Christmas flavours and addition to mince pies inside is a hidden secret this cake holds.
The cake is easy to make in a mixer and the decorating is quick too. I used artificial berries and Christmas tree sprigs, dried orange slices and cinnamon sticks. I like cakes where they are quick to make, decorate and then eat.
Decorating the Christmas Bundt Cake
Please remove all the decorations when you slice it and serve.
Since the decorations aren't edible they do make gorgeous plate decorations for the slices too. I think served on wooden slices also looks so cute and festive. I got mine from a fair but you can get them from hobby craft here.
Mince Pie Christmas Bundt Cake Recipe
This cake is a great variation on the classic Christmas cake and a perfect Christmas cake alternative for those who aren't the biggest fans of the traditional fruit cakes.
You can either use chopped up mince pies or spoonfuls of mincemeat. Both work really well but I think my favourite is spoonfuls of the mince meat as you get a more even flavour and it's easier to mix in and distribute evenly.
Both options smell incredible when baking too. I love it. A mince pie bundt cake is a really special way to make mince pies even more special.

What is Mincemeat?
When I say mince meat it's this I'm talking about to avoid confusion. A mixture of fruits, spirits and spices not the other type of mince being raw meat. It's available in most supermarkets this time of year.
Nordic Ware Bundt
I loved the golden brown cake and as ever the Bundt tin works to create a beautiful cake straight away. If you haven't invested in a Nordic ware Bundt tin yet and love creating cakes then I would really recommend that you do. Buy the branded Nordicware tins though don't get a copy as they don't last as long.
What's the difference between a bundt cake and regular cake?
The main difference between a bundt cake and regular cake is the tin you use to cook it in. Bundt cake also tend to be more dense and moist (from my experience). The iconic Bundt tins were created by Nordic Ware and although they cost more than basic cake tins they are worth the money if you love the style. There are so many different styles available from Nordic Ware but this classic design is my favourite. It lends itself to so many different ways to top it and decorate it. Plus it makes cakes like this Christmas Bundt Cake easy to get out of the tin.
Bundt cakes usually have a lovely fluted design which leaves the finished cake with a strong and iconic design. The cakes are easy to release from the cake tin due to the non stick coating on the Nordic Ware tins. It is worth pointing out you should still grease the cake tin to add even more certainty that it will come out easily. The more intricate designed cake tin you will need to grease really well to help the cake come out perfectly.
There isn't a specific tin to cake recipe for a regular cake or Bundt Cake. They are both easy to adapt and transform into a bake with the flavours you like. For my bundt cake recipes I use a dense moist sponge recipe which is made with yoghurt. It helps keeps the moisture in and add a lovely flavour and lightness to the finished mince pie Christmas Bundt Cake.
Christmas jumpers and a slice or two of Christmas cake. Delicious!
It looks so beautiful on the cake stand ready to be cut. I'm really proud of this bake.
What spices are in mixed spice?
Mixed spice is a common mix of spices in a bottle or jar in the UK but if you can't find it in your local supermarket you can make your own. It is a well known mix of iconic winter and Christmas spices often known as pudding spice too.
Mixed spice can easily be made at home – you will need ground cinnamon, grated nutmeg, ground cloves and ground ginger. Sometimes you can add allspice and even ground star anise too. For traditional mixed spice cinnamon is the most domaintn flavour and then it a lovely mix of the rest. When I made it at home I used more ground cloves as I adore the taste. Making it at home means you can really up the flavours you like most.
Can I make my own mixed spice?
If you want to make your own mixed spice mix here is my basic recipe for it. It's a delicious mix and will last in a jar or sealed pot for about a year or so. Here is my mixed spice blend mix
In a bowl mix together with a fork or small whisk 1 tablespoon of ground cinnamon, 1 teaspoon ground nutmeg, 2 tsp ground ginger and 1 teaspoon of ground cloves and half a teaspoon of nutmeg.
Want to make your own mincemeat?
Check out my recipe below for my vegan mincemeat made in a slow cooker.
This Slow Cooker Mincemeat uses a classic recipe packed with dried fruits, spices, nuts. citrus and brandy. With only one simple swap from the traditional ingredients, it becomes the perfect vegetarian and vegan mince pie filling. It really isn't Christmas in the UK without the heady aroma of mince pies and you won't regret levelling up by making your own filling.
Top tips for the mince pie cake
Pin me for later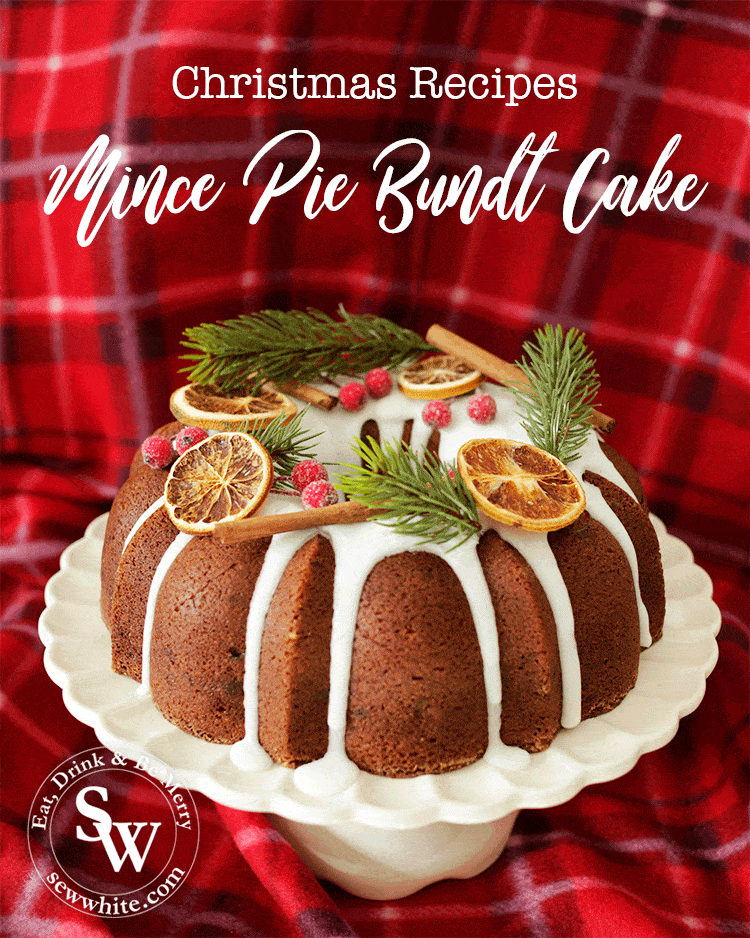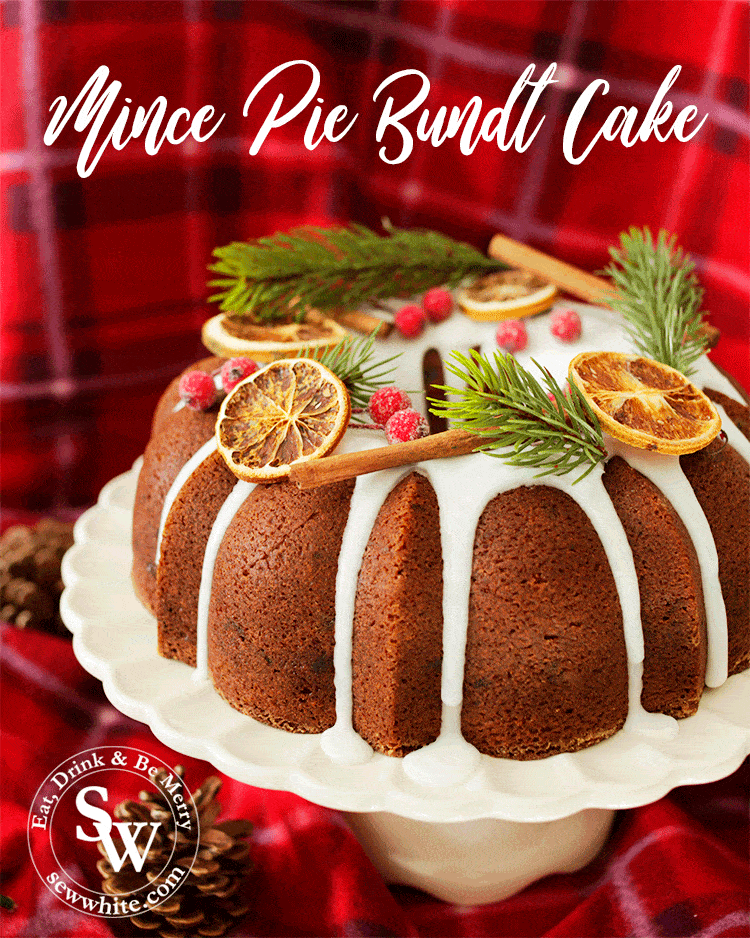 Check out my other Christmas recipes
Looking for more Christmas cake ideas? Try these from fantastic other UK foodies.
A gorgeous Fig, Almond and Whiskey Christmas cake by Tin & Thyme.
Christmas Chocolate and Orange Fruitcake by Supper in the Suburbs.
Other recipes you might enjoy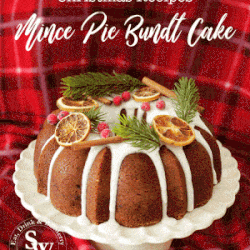 Mince pie Bundt Cake
It's beginning to taste a lot like Christmas with my Mince Pie Christmas Bundt Cake. Filled with mince pie filling and spices it's great Christmas bake.
Equipment
Mixing bowl

Wooden spoon

Bundt tin
Ingredients
250

g

unsalted butter

220

g

golden caster sugar

200

g

light muscovado sugar

4

large eggs

350

g

plain yoghurt

2

teaspoons

mixed spice

(use 1 heaped tablespoon if you want a spicier bake)

400

g

mincemeat in a jar

(Or 6 mince pies chopped up with 100g of mincemeat)

320

g

plain flour / all purpose flour

2

teaspoon

bicarbonate of soda

tiny pinch of salt

1

teaspoon

ground cinnamon
Instructions
Preheat the oven to 175ºC/150ºc fan.

Grease the bundt pan with melted butter and dust with flour – this will help you see if you haven't greased any spots.

In a stand mixer cream the butter (at room temperature) and sugars until pale and fluffy.

Add the eggs one at a time and mixing together.

Mix the plain yoghurt and mincemeat together and add to the mixer.

In a separate bowl, measure and sieve out the flour, bicarbonate of soda, salt and all the ground spices.

Sieve in the flower gradually and stop when the flour is evenly mixed in.

Pour the mix into a greased and floured tin and bake for 1 hour or until a skewer comes out clean. I turn it around after 35 minutes to make sure it's evenly cooked.

The cake will pull away from the edge of the tin when it is ready.

Leave the cake to cool fully before removing from the tin.

I decorated it with a simple icing drizzled over and topped with decorations. If you use inedible decorations like fake berries remove them when you cut up the cake to serve.
Notes
•The cake is a perfect centre piece for Christmas.
•The mince pie bundt cake will last for about 5 days in an air tight container.
•Make sure you grease your bundt cake tin using melted butter and a dusting of flour.
Nutrition
Please note that the nutrition information provided above is approximate and meant as a guideline only.
This light and fluffy Orange Cranberry Loaf Cake is packed with dried or fresh cranberries and zesty orange flavour. The cake is simple to make in one bowl with no fancy equipment. And the decoration is so simple you can enjoy it freshly baked and warm from the oven without delay! Plus it's an ideal Christmas Loaf Cake if you are looking for something a little lighter than traditional fruit cake.
My Cranberry and Lemon Bundt Cake is a delicious showstopper of a cake. It's also so easy to make and quick to decorate. This recipe can also be used to create a normal layer cake in time for Christmas.
Looking for easy Christmas cookies? Then look no further, this is the Christmas recipe for you. My White Chocolate and cranberry Cookies are my favourite bake at Christmas. The creamy white chocolate and sweet cranberries are fantastic together in these white chocolate cranberry cookies. Cranberry and oat cookies are a quick and easy bake perfect to dunk in your coffee or give as gifts at Christmas.
It's finally Christmas season and that means it's time to enjoy this easy chocolate cranberry cake! It's fruity, sweet and creamy – and ridiculously delicious!
My delicious no-bake Cranberry Cheesecake is a beautifully fruity and creamy dessert, packed with iconic Christmas flavours of cranberry and orange. A Christmas cranberry cheesecake is a wonderful alternative (or addition) dessert to a Christmas fruit cake, while still having all the flavours of the festive season. This easy no-bake Christmas cheesecake can be made ahead of time to save time when preparing for a festive dinner, to bring to a family meal, or for a Christmas party dessert.
To make this an 8inch cheesecake then add half again to the ingredients.
These Filo Pastry Mince Pie Rolls are a delicious twist on the classic British festive treat. Extra crispy and spiked with cranberry sauce, they're easy to make, easy to bake and easy to eat. What more could you ask for?! They're ideal as a simple festive snack, a fun addition to a buffet or party spread or even as a cheeky appetiser. Or warm them through and serve with brandy butter for the ultimate Christmas dessert.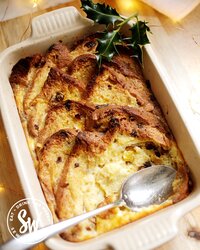 I adore this Christmas bread and butter pudding and of course with Christmas on the way I had to make it with Panettone. It's so fruity with a smooth homemade custard and has a delicious toasted flavour too. Panettone Bread and Butter Pudding is a wonderful winter dessert or Christmas pudding. It's a family favourite dessert in our house and a brilliant Christmas bake. The Christmas spices in the custard add some lovely warmth and flavour to the finished baked dessert.
These White Chocolate Christmas Cupcakes are the cutest addition to a Christmas party. They are easy to make, taste delicious and look wonderful.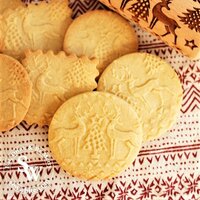 This easy to follow and lightly spiced Embossed Cookie recipe produces a dough which holds the pattern of an embossed rolling pin whilst tasting great! I've got all the tips and tricks you'll need to make perfect rolling pin cookies plus a troubleshooting guide so you'll be able to make the most out of your patterned rolling pin. These spiced sugar cookies are simply perfect and you can use the same recipe to make simple cookie cutter biscuits too.