This is my favourite berry smoothie! The frozen berries mean that you don't have to wait for the Summer to enjoy it since you can freeze berries yourself or buy them frozen to use all year-round!
I also used oats for slow-release energy, ginger and spinach for extra flavour and vitamins, and coconut water purely because it's delicious! I love this frozen berry spinach smoothie because it's so easy to make and can be different every time.
To change it, you just need to edit the quantities of the different fruits or you can even use fruit juice to thin it out instead of coconut water! Or, if you like the ginger then you can add a little extra – or you could try adding fresh turmeric too for even more vitamins!
This super smoothie was even featured in the January issue of Time & Leisure Magazine across South-West London and Surrey. It was so exciting to see it in print! Seeing other people making and enjoying my recipes is always a wonderful feeling – it's amazing to know that I'm providing people with the recipes to make food that'll make them happy!
What do I need to make this frozen berry smoothie?
You need a grand total of 5 ingredients – so not many!
For the oats, I prefer to use plain rolled oats. If you're gluten-free then make sure that the oats are gluten-free too as not all of them are. It's always best to be careful!
For the spinach, you could technically use frozen, but I prefer to use fresh as I find that frozen doesn't have quite the same flavour or texture and can tend to turn lumpy. And obviously, as much as smoothies aren't exactly smooth, nobody wants a properly lumpy one!
For the ginger, you don't need to use any technical measurements or even bother chopping or grating it yourself – just peel a 1cm piece of ginger root and you're ready to go!
For the coconut water, I like to try to use good quality coconut water. It's always best to make sure you like the flavour of coconut water first if you haven't had it before as many people do dislike it, although if you do hate it then it's no disaster! You can try milk, fruit juice or just plain water instead!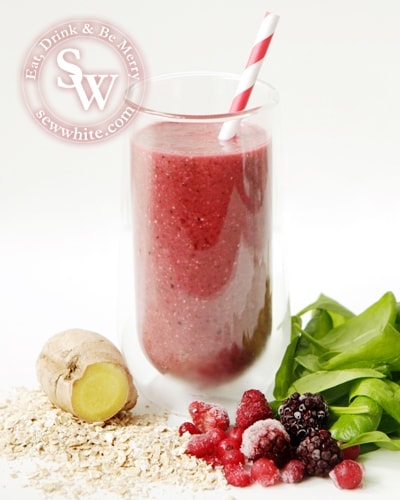 Can I substitute different ingredients?
Short answer: yes! Absolutely!
Long answer: yes, but it will affect the final frozen berry smoothie. It's important to think ahead when making substitutions and ask yourself how your changes will affect the final result.
If you take the oats out, then your smoothie will be thinner as oats tend to absorb some of the water from the smoothie to thicken it.
Deciding to take out the spinach means that you may find that the smoothie is too sweet as spinach can help to balance the sweetness from the summer fruit and coconut water.
If you take out the ginger then you may find that the smoothie is a little bland and boring.
Taking out the frozen fruit means that you won't have much flavour in the smoothie that's left!
If you take out the coconut water then it's likely to be too thick and may also be quite lumpy.
So, here are some suggestions for reasonable substitutions:
Swap oats for chia seeds or ground almonds
Instead of fresh spinach, you could use fresh kale or rocket
Swap ginger for fresh turmeric or use a pinch of ground ginger (or cinnamon if you prefer)
You could use frozen tropical fruit (or fresh tropical fruit) instead of Summer berries for a more tropical, Caribbean-themed smoothie
As for the coconut water, try milk (oat or nut milk work well if you're dairy-free) or fruit juice. If you're happy with a plainer smoothie then water is good too though!
How do I make this berry spinach smoothie?
As with most smoothies, the method is pretty basic! Honestly? The hardest part is peeling the ginger! Just add all ingredients to a blender, blitz until the drink is smooth and enjoy!
It is, of course, best enjoyed with a large straw in a nice cold glass! But no ice – that'll water down the flavour and with a smoothie this good, that's a massive waste!
However, if you're making it in advance then it's important to note that you may wish to change the recipe. This is because as the smoothie sits in the fridge, it will tend to thicken up – sometimes to the point that it's impossible to drink and you'd need to eat it with a spoon!
I usually find that the best way to deal with this is to re-blend it with a touch more liquid (coconut water, tap water, milk or juice). This does also apply to freezing the smoothie, so if your goal is to avoid washing up the blender multiple times then I'm afraid it might not work!
Frozen Berry & Spinach Smoothie with Coconut Water
This is my favourite berry smoothie! The frozen berries mean that you don't have to wait for the Summer to enjoy it since you can freeze berries yourself or buy them frozen to use all year-round!
Ingredients
40

g

oats

25

g

fresh spinach

1

cm

thumb of ginger

100

g

frozen summer fruit

330

ml

coconut water
Instructions
Blend until the drink is smooth.

Serve straight away.
Nutrition
Please note that the nutrition information provided above is approximate and meant as a guideline only.
I love this smoothie as it's a glass of goodness. I specially selected ingredients which are good for your body which also taste nice. Plus I find it to be the perfect for a get up and go breakfast.
Follow me on Instagram to see what I've been making recently. www.instagram.com/sewwhite
This Blackberry, Spinach and Ginger Smoothie is a delicious drink and so easy to create at home. Pop it in a blender and you're done.
This is one of my favourite recipes. The Strawberry and Banana Smoothie Bundt is easy to make and tastes wonderful no matter what the event.
My Ginger Boost Smoothie is a delicious way to start the day and the good hit of ginger tastes good but also aids digestion.