"Eat, Drink and Be Merry" is my favourite phrase and I have based my Christmas Gift Guides around it this year. I have created three gift guides for you in 2020. This is my Eat gift guide, highlighting all my favourite foods to try this year! Some that you might have heard of, and some that you haven't. You can also find my Drink and Be Merry (lifestyle) gift guides on my home page.
If you're new to my website and don't know by now that I love food, let me welcome you by saying; "I love food!". I love creating my own recipes, I love trying new ingredients and I love any opportunity to eat. Be it home made, take out, or going to a restaurant. This year my gift guide has six tasty items which I fully recommend you try. There are sweets, savouries, goodies and more, and during lockdown and beyond they can all be ordered online. Find the link to each one under each of their sections.
It wouldn't be Christmas without a Christmas Pudding from Figgy's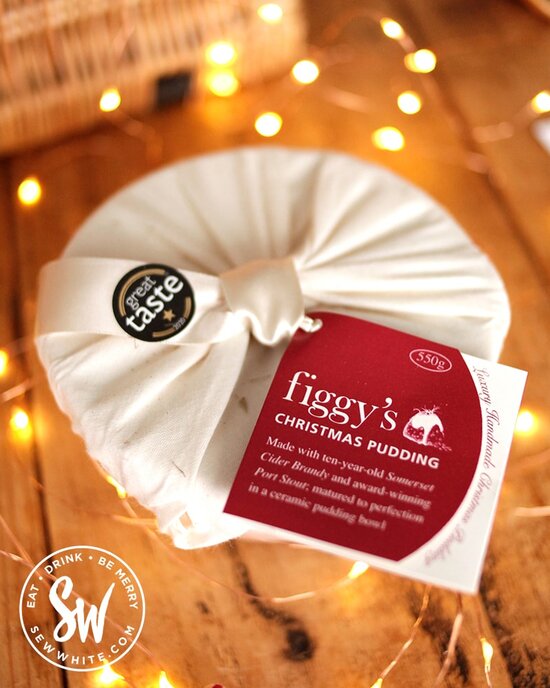 Figgy's are a family business run by Richie and Jo Evans, a husband and wife team based in Devon. From humble beginnings, they creating their own Christmas puddings for friends and family. They received such great feedback that they turned their love of these delicious fruity steamed puddings into a business. 13 years later, they are still selling their puddings with their popularity increasing with every pud sold.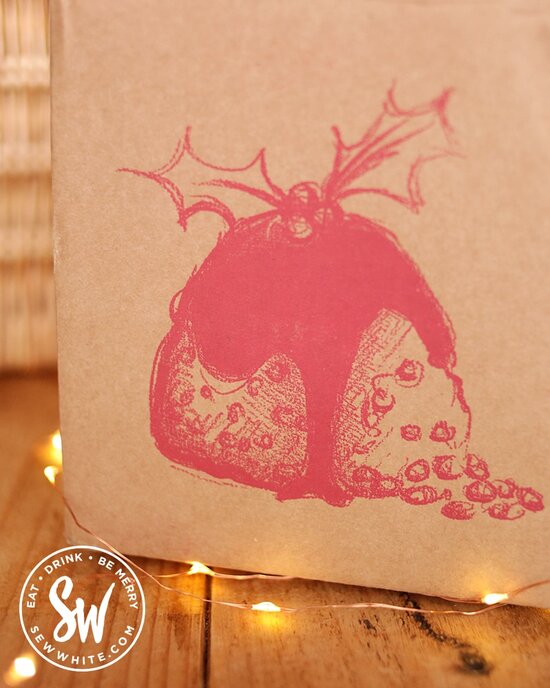 They haven't forgotten their roots and dedication to quality. They still hand-make, wrap and dispatch all their puddings themselves in small batches. This guarantees that you can be sure you're buying a Christmas Pudding that really is just as you'd make yourself at home. The bowl, the wrapping and even the box they send the Christmas pudding in is lovingly chosen and feels very cosy and reassuring.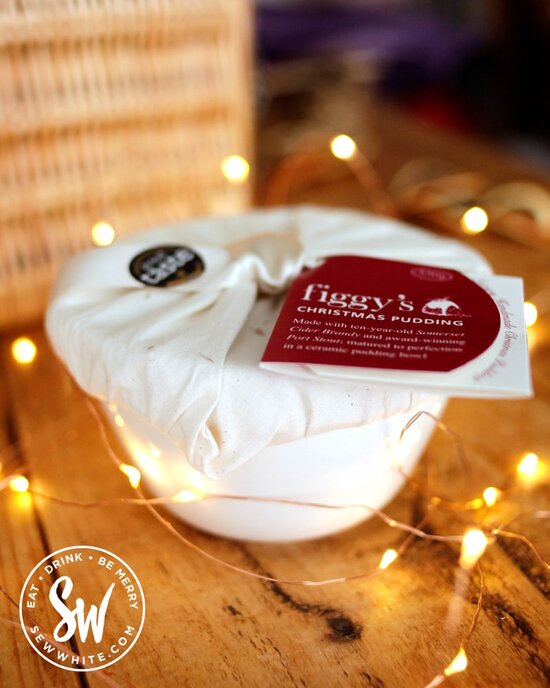 Their puddings are so full of flavour and have that richness and authenticity. Supermarket factory versions will never have. In my home we have been enjoying Figgy's Christmas puddings for our winter feast with friends and family each year. We love a Christmas pudding and supporting a small business are two reasons to shop with Figgy's.
Visit Figgy's and order your Christmas pudding
Popcorn with Joe & Seph's on the Eat Gift Guide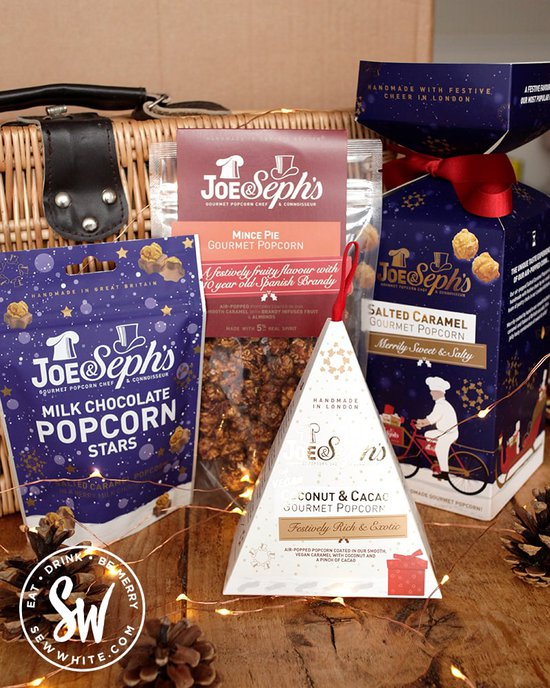 If you love popcorn you need to meet Joe & Seph. Joe & Seph's popcorn is amazing and I have fallen in love with their range of flavoured popcorn. Move over sweet or salted and welcome in their Christmas range with milk chocolate popcorn stars, salted caramel popcorn and mince pie popcorn among many flavours.
Their incredible popcorn is handmade in England, air popped to keep it healthy and uses only natural ingredients. What could be better!?
Joe & Seph's love of popcorn began while taking regular trips to the USA. Each time returning with flavoured popcorn as gifts for friends and family. Realising there was nothing quite like this on offer in the UK, they resolved that if they could make their own flavoured popcorn here. They would do it even better than what they had tried abroad.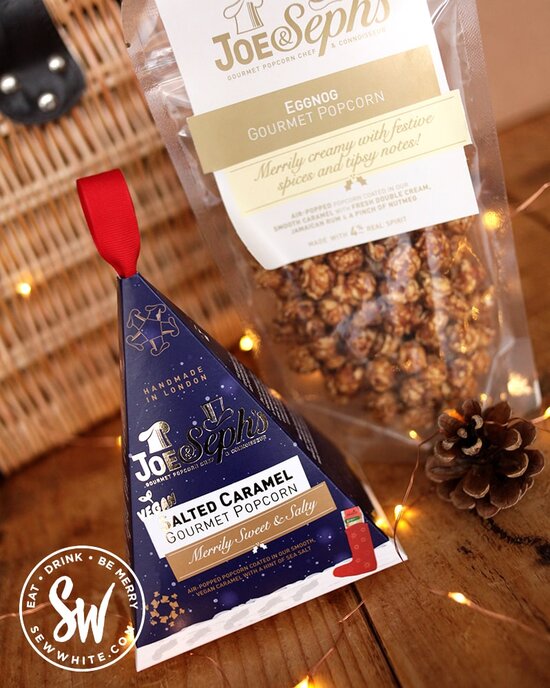 It all began by air-popping the corn and coating it in a smooth caramel made from fresh butter once popped. This technique replaced the standard British way of popping it in an oil and sugar mix, and as they say; "the rest is history". Since then the flavour combinations have grown, changed and perfected, and the experience is helping Joe & Seph's team discover new and exciting flavours that you will have never tried before.
In my wonderful discovery of their Christmas range, I adore the salted caramel popcorn. It has the tantalising sweetness from the caramel but the perfect amount of salt to make it sweet and tart together. The mince pie flavoured popcorn is delicious. I'm already ordering more to keep my shelves stocked going over the festive period and into the new year. If you love chocolate then you have to try the chocolate popcorn stars. The mix of chocolate and popcorn is a delicious natural pairing that tastes as good as it sounds.
Visit Joe & Seph's website to discover their full popcorn range and order in time for Christmas.
Mandira's Kitchen – Shop now and freeze for later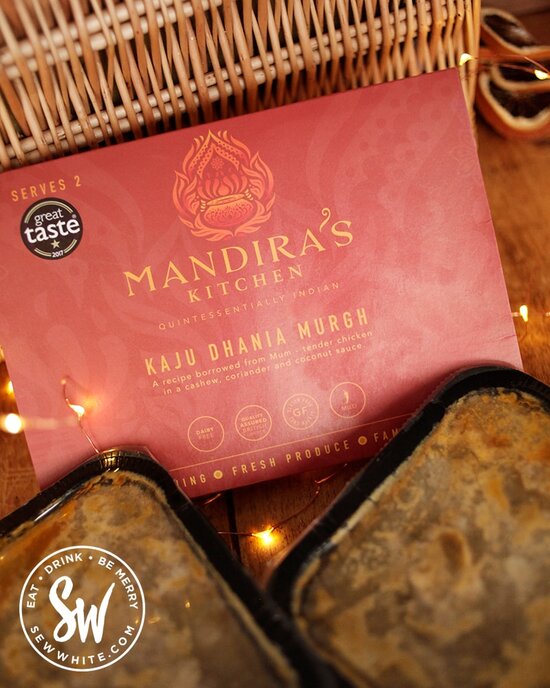 Mandira's Kitchen is a delicious company who create wonderful Indian meals which arrive frozen so you can pop them in the freezer to enjoy them at your leisure. What is also so great is that the main meals for two come in two packages so you don't have to wait for your other half, guest or family to want to eat, and can enjoy it yourself when you're ready. Plus they are cook from frozen, require no defrosting, so they are ready when you are!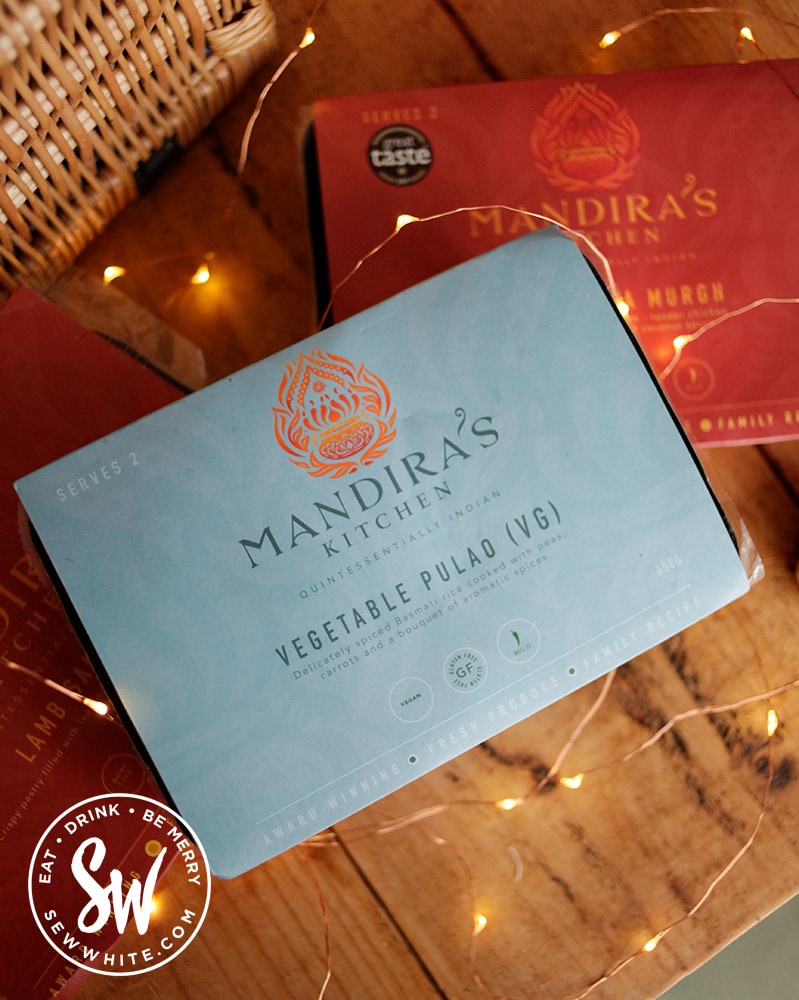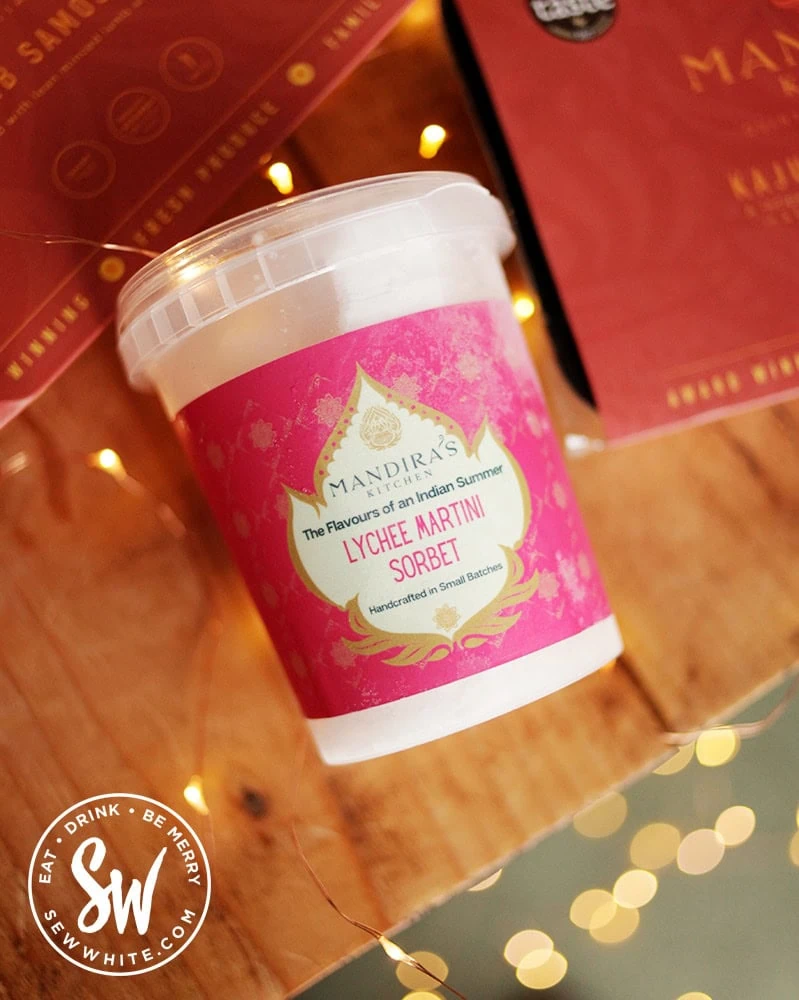 The food from Mandira's Kitchen is so much more than just an easy way of cooking. It has wonderful flavours, well-balanced spices and a beautiful range of food available. The menu has great options on it and I must encourage you to click the link below to discover all they have.
The dishes we had, pictured, were so delicious. My partner doesn't like trying new dishes at all but the smell was irrisistable, making him curious enough to try. And of course, he loved it. I loved it. The Kaju Dhania Murgh curry that we tried was so moreish. A slight spice but creamy and with a lovely cashew nuttiness. The portion sizes were perfect and I loved how easy it was to go from freezer to oven to plate.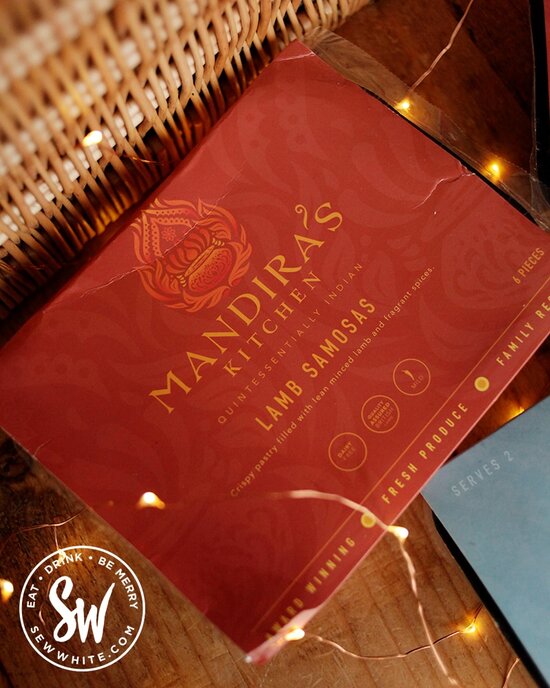 What I love is that every dish created by Mandira's Kitchen comes with a personal story. There is Mandira's mother's Kaju Chicken to the best Kaali Dal she tasted in a little place in Amritsar. Their food carries with it the love, joy and happy memories of meals with friends and family, complete with lively animated conversations and laughter. They hope when you enjoy their food, be it in quiet solitude with a favourite person or book or shared across a large table with family and friends, you too feel the love and comfort that they themselves feel when they eat.
Explore the range of meals available from Mandira's Kitchen and order yours for the freezer.
The Ojos Foods – create a brilliant charcuterie for your Christmas party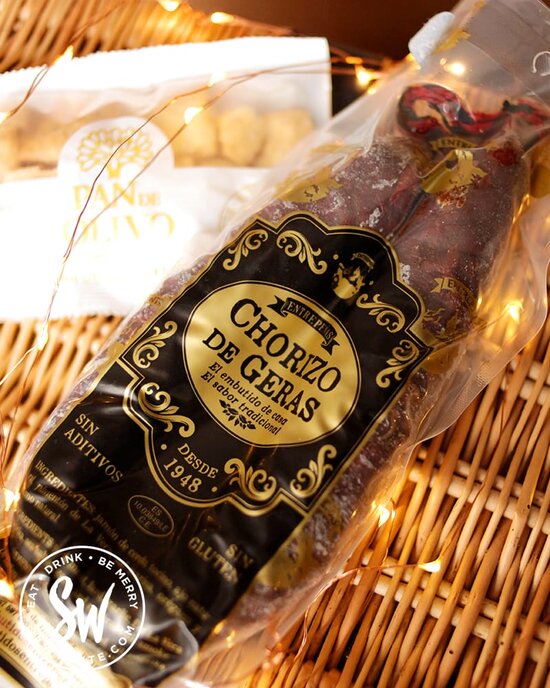 The Ojos Foods is an online deli who provide an incredible range of goodies which will make the best and most delicious charcuterie board for a Christmas party. The taste, smell, and quality of this range is why it needed to be included in the Eat gift guide.
The Ojos Foods have cured meat, olives in all flavours, roasted peppers, cheeses, pate, olive oil and so much more. My partner and I love this type of food and I would be happy to live off of it. Charcuterie boards are so easy to make for parties, and having tried Ojos and with my famous love for quality I know I will be ordering all my goodies from The Ojos Foods.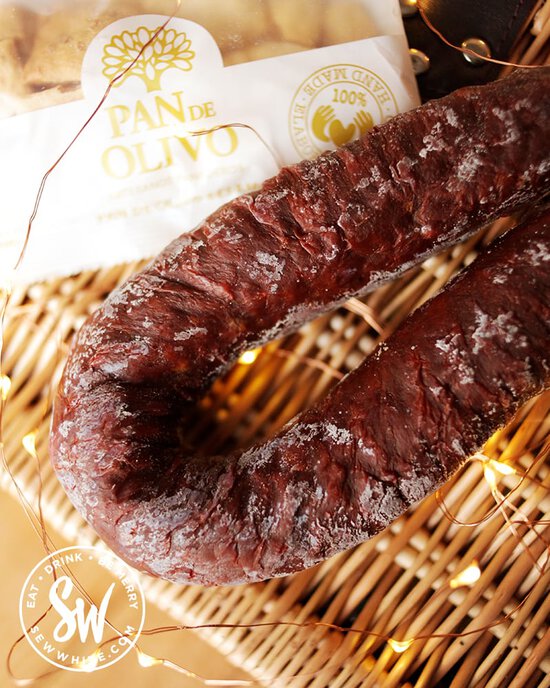 From Ojos Foods I have to recommend the Chorizo De Geras, which is a winner of the Great Taste Award 2020 and a 3*Golden Fork 2020 contender. This Chorizo is an authentic Artisan Chorizo de Leon, with an instantly appealing smoky aroma, a deep, rich paprika colour and marbling meat. The Chorizo De Geras is made with pork meat, garlic, de la Vera Paprika, oregano, sea salt and natural oak smoke. The smell of this Chorizo is enough to make my mouth water, and it has such a lovely earthy flavour with a hint of paprika.
Visit The Ojos Foods to pick up everything you need to make your own charcuterie platter.
Vegan Chocolate from Ombar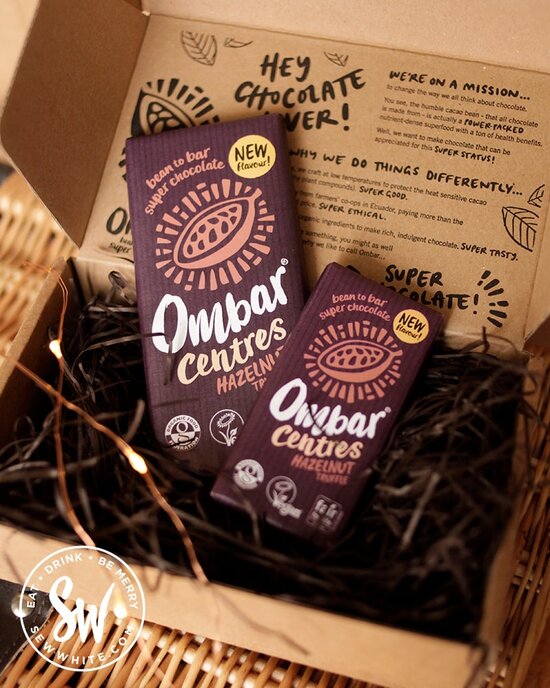 With animal rights, health and popularity, veganism is only going up in the world and becoming more mainstream which I think is fantastic. I have the pleasure of having some vegan friends and I'm always on the lookout for something special to get them for Christmas. Ombar Vegan chocolate is the answer to the question of what I am getting all my Vegan friends this Christmas. Plus, having tried it, it will be finding it's way into my friend's and families stocking too.
If you didn't know it was vegan you wouldn't know it was any different to normal chocolate. The flavour was gorgeous and I can't wait to try the other flavours. Ombar has so many flavours to try including raspberry and coconut, hazelnut, coconut and vanilla, plus so many more.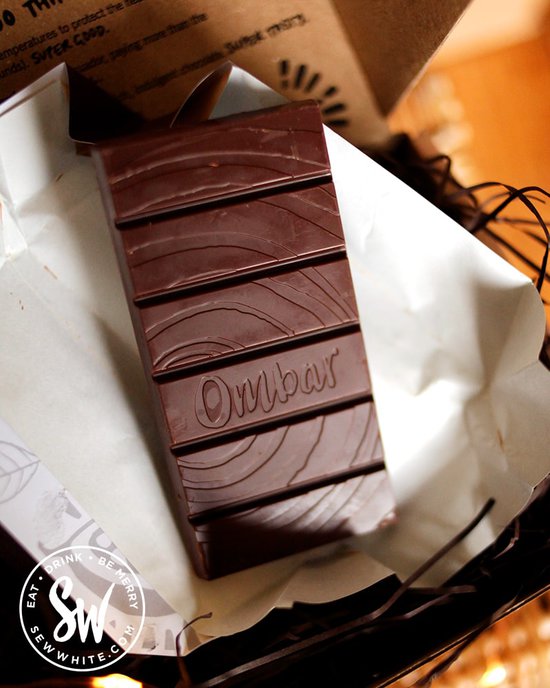 Ombar is more than just Fairtrade. They only source cacao from cooperatives owned by farmers growing a variety of crops, never large monoculture plantations. They pay higher than fair trade prices for native Ecuadorian cacao that doesn't fluctuate in price as the cheaper mass-market varieties do. This means they can offer farmers a stable income at better than fair prices. Like all the farmers they work with that are part of the global Fairtrade scheme, the additional premium Ombar pay for their cacao goes straight to projects that benefit their local community for sustainably and ethically sourced deliciousness.
Visit Ombar to explore their range of bars and order yours for Christmas.
Making Chocolate slave-free with Tonys Chocolonely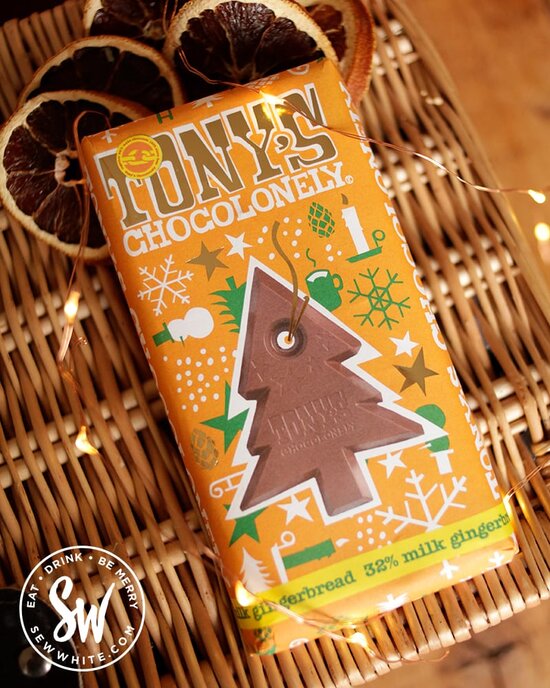 With incredibly tasty chocolate and an ethical dedication, Tony's lead by example to show the world that chocolate can be made differently. By following Tony's rules of the game for slave-free cocoa, Tony's prove that it's possible to make slave-free chocolate and be commercially successful.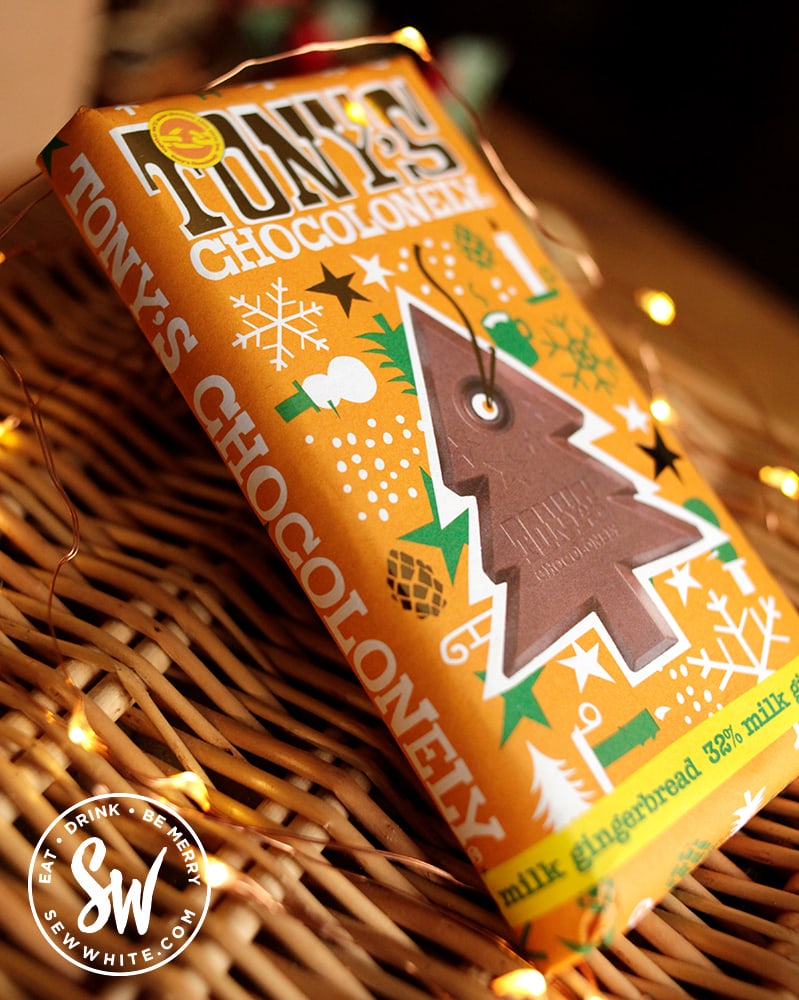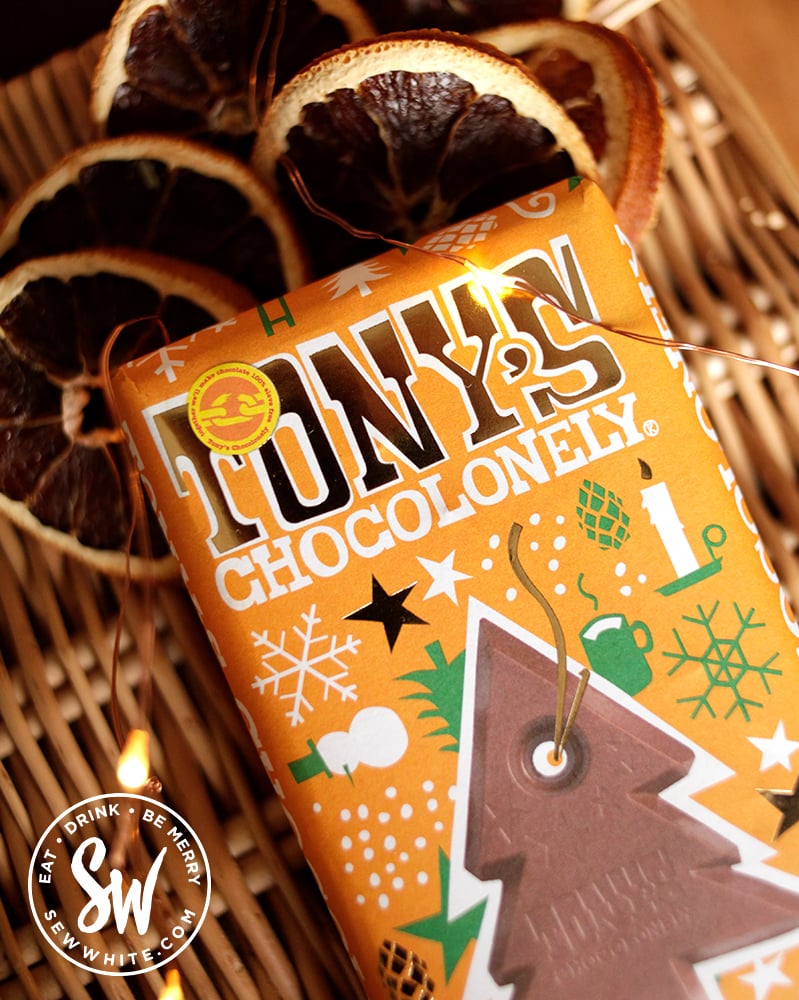 Tony's Chocolonely really do make the most delicious chocolate bars. I am obsessed and can't help buying a few every time I see them. It's well made, uses proper ingredients and most importantly it supports everyone involved in the supply chain. Since I've found you can order online and their full range is available, my partner has had to be careful to prevent me from just ordering everything they have on offer every day. These bars make great presents and had to be included in the Eat Gift Guide. Just make sure you buy two, as it's bad manners to eat gifts before you send them.
Visit Tony's Chocolonely and explore their range of bars.
---
Follow me on Instagram to see what I've been making recently. www.instagram.com/sewwhite
I hope you enjoy my Eat gift guide from my Eat, Drink and Be Merry Guides for Christmas 2020. Check them all out in my lifestyle section.