"Eat, Drink and Be Merry" is my favourite phrase and I have based my Christmas Gift Guides around it this year. I have created three gift guides for you in 2020. This is my Drink gift guide, highlighting all my favourite drinks to try this year! Some that you might have heard of and some that you haven't. You can also find my Eat and Be Merry (lifestyle) gift guides on my home page.
What is Christmas without something sparkly to enjoy at Christmas parties? Without a good red wine to enjoy with the Christmas feast? Without something tasty, but not necessarily alcoholic, for busy days with friends and family?
In this guide I have discovered for you a wonderful range of drinkable goodies, and with lockdown still going on they can all be ordered online to be delivered straight to your door. Find the link to each one under each of their sections.
Sacred Christmas Pudding Gin – made with actual Christmas puddings!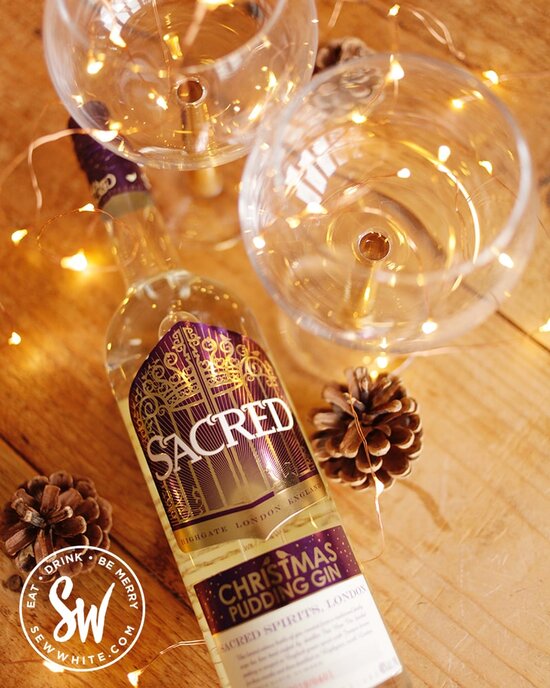 This very special gin by Sacred is made, not by simply distilling Christmassy botanicals as you may expect, but by distilling whole Christmas puddings handmade to the family recipe. I love the idea of adding the whole pudding into the spirit. It is a brilliantly authentic way of adding the famous iconic pudding flavour to the gin.
Originally Sacred made a huge 14 kilos of Christmas puddings. Once steamed for 8 hours, they were then soaked in English grain spirit for 2 months and redistilled.
Sacred gin's achievements speak for themselves. It makes a great classic G&T, Negroni or Martini (as served at top London restaurant, Luca, last Christmas). Brian Silva, head barman at Rules, London's oldest restaurant, uses it for a wonderful cocktail called Aunt Nellie's Tipple.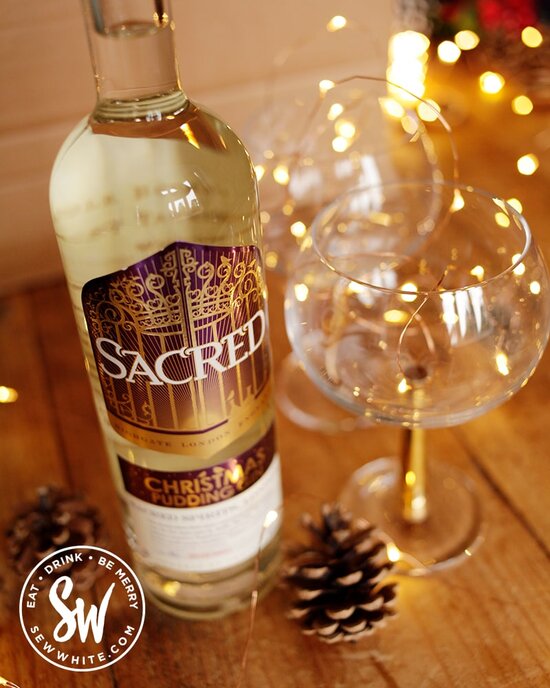 The Christmas Pudding gin has a rich 'cakey' flavour of real Christmas pudding and no wonder, It's made from them! There are distinctive flavours of candied peel, currants, spice and raisins in this gin. It is delightful to enjoy ice cold from the freezer or to make a tall drink with a dash of tonic. The ultimate Christmas present for Christmas Pudding and gin fans alike!
Check out the full range of Sacred Gin and order yours for Christmas.
Order wine from Independent Wine – one of the UK's leading Italian wine specialists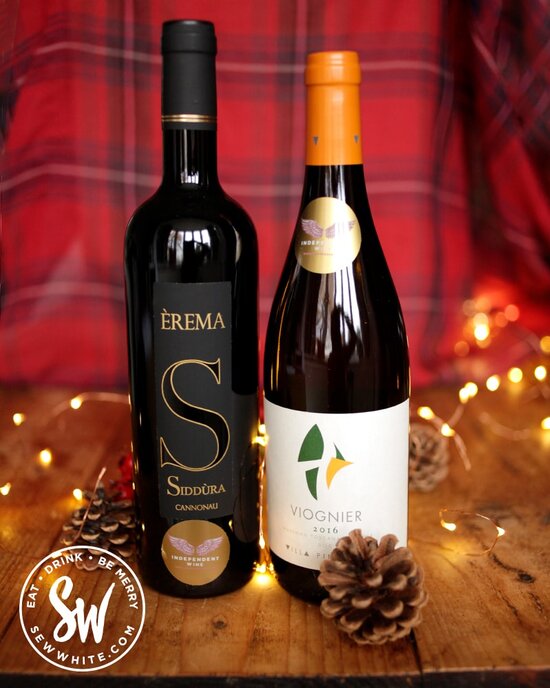 Independent Wine helps serve those who want to drink exceptional wine but don't have the time to search for it. It also helps people like me who don't know exactly what I'm looking for. Luckily they are happy to do the hard work and have stocked their online shop with the best wines Italy has to offer. Their online catalogue is made up of a hand-picked selection of UK-exclusive, award-winning wines of outstanding quality. So, no matter what you order you will find something especially chosen by them. Below are the two wines which were hand-picked to be featured on this drink gift guide.
Bottle 1 – Viognier
Viognier 2016, Villa Pinciana | Maremma Toscana DOC, is a limited edition beautiful pale gold Viognier with elegant flavours of acacia, apricots and almonds. A winner of the Decanter Silver Medal. The winery Villa Pinciana stretches across the hills in the southernmost tip of Tuscany. The soils here are a characteristic red colour, thanks to the local clay, and the salty breeze from the Tyrrhenian sea blows through the vineyards. This creates a rather unique terroir, as the morning and evening winds moderate the hot and dry climate. This cooling influence helps to retain natural acidity in the grapes, ultimately producing refreshing wine with a comfortably low level of alcohol.
Made from 100% Viognier, this wine reminds us of fresh white flowers, almonds and ripe apricots. The wine is delicate on the nose with aromas of grapefruit, golden apple and acacia. This is underpinned by hints of orange peel and dried apricots. The wine is light, with a slightly oily texture and a medium level of alcohol. This wine works best with chicken, scallops or sole, feta cheese or chevre, or key lime pie and sorbet.
Bottle 2 – Siddura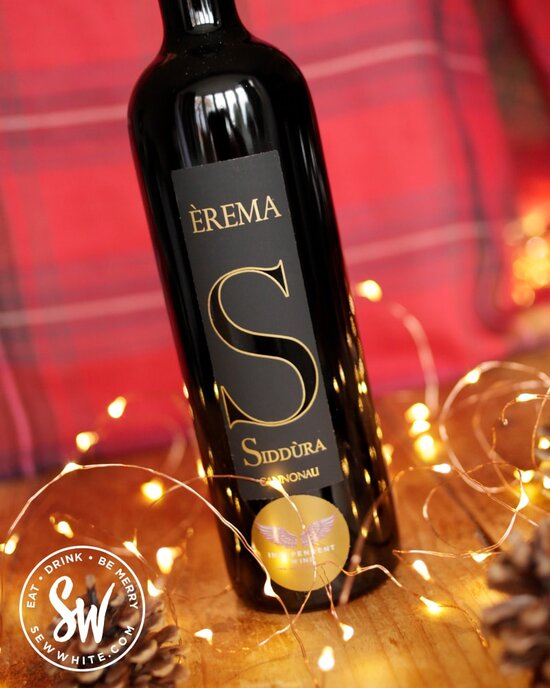 Siddùra Erema | Cannonau di Sardegna DOC, is a powerful wine with aromas of fresh and spiced berries, made from Sardinia's signature black grape, a winner of the Decanter Bronze Medal. This wine is made from Cannonau, a black grape varietal thought to be the most ancient in the Mediterranean. It is super-charged with anti-oxidants and is a key element of the famous Sardinian diet. The grapes for this wine were harvested by hand, then left to macerate for two weeks before being fermented in stainless tanks at a controlled temperature. After this, it was matured sur lee to develop texture and more complex flavours.
The wine was then aged in large oak barrels for 12 months and bottled in the winter of 2018. Located in the north of Sardinia, Siddùra winery is recognised as one of the highest-achieving Italian wineries. Dry and fresh, full-bodied, with the smooth finish perfect match to pork loin or beef stew, tuna, ripe brie or any aged cheese, grilled vegetables and spicy sauces.
Visit Independent Wine to explore their range of wines and order yours in time for Christmas.
Gin-gle all the way… for the drink gift guide
This Christmas gin was delectable. Unlike the Christmas pudding gin featured above, this one had the spices and gingerbread smells of Christmas that you get more from the spices of Christmas than the brandy-soaked fruit pudding.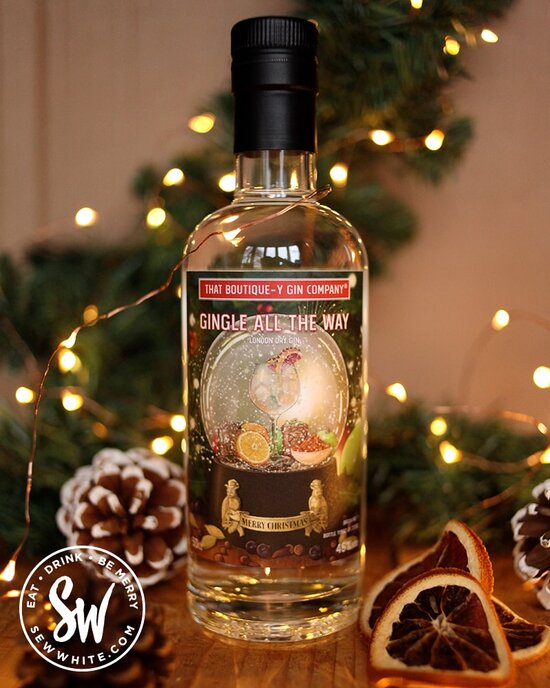 The smell of this gin is incredible and I wish it came with a scented candle to have for Christmas. Opening it you experience a big hit of aromatic spiciness, with distinctive nutmeg and cinnamon, dusty cocoa and freshly baked gingerbread.
When you try this delicious gin you will taste a touch of melted chocolate richness, with cinnamon stick and oily, zesty orange peel.
My recommendations for serving would be a simple tonic, as to not interfere with the flavour. However if you want to make it a little more special in the glass add a slice of orange into the glass after running it around the rim. This will help boost the lovely orange flavour from the gin.
To decorate your Christmas gin G&T what about adding some cloves to the orange slice? The smell will be fantastic and it will look lovely too! For a quicker garnish what about a cinnamon stick? Spring of rosemary to look like a little piece of Christmas tree or a dried orange slice?
Order your Gin-gle bell gin from Masters of Malt
Seaweed & Aeons & Digging & Fire 10 Year Old Single Malt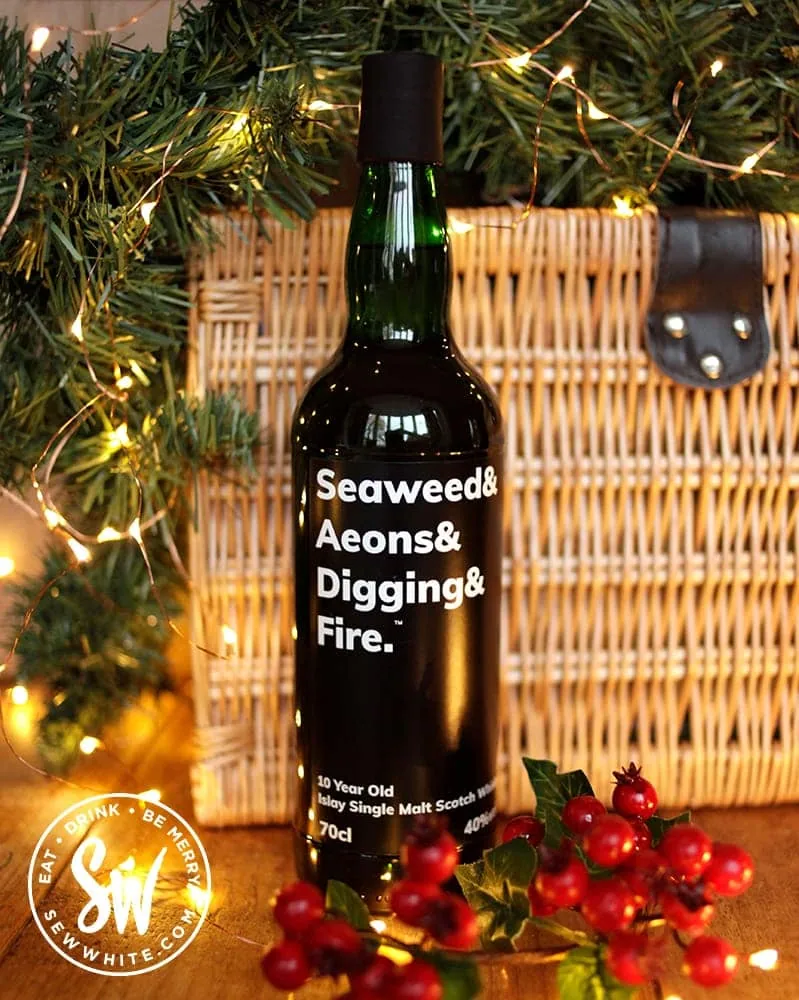 A mysterious whisky! This right here is a 10-year-old single malt from an undisclosed distillery on Islay. With 25% of it having been finished in first-fill Oloroso sherry octaves, then bestowed the decidedly descriptive name 'Seaweed & Aeons & Digging & Fire'.
This single malt has a smoky, complex, a slight sherry taste, is well balanced, and you can imagine drinking it at the coast. The fresh air making the single malt aromas and flavours breath. Great for people who love uncompromising Islay whisky.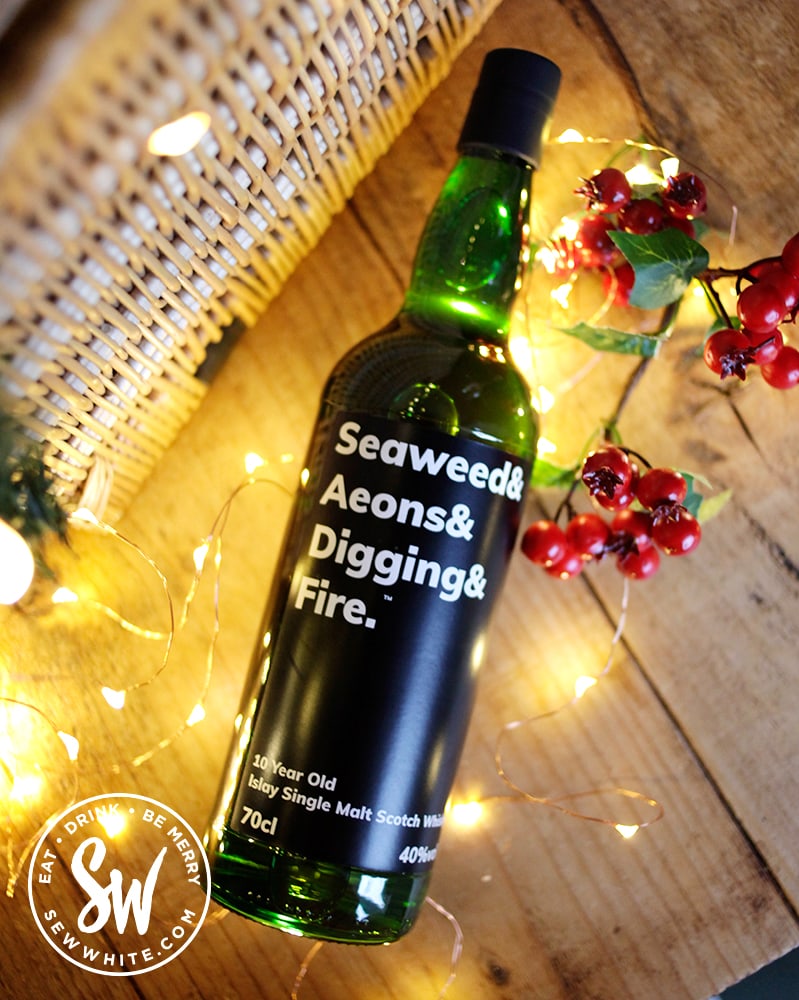 The taste, which leaves your mouth with the flavours of red apple sweetness, gives way to oaken-vanilla goodness and fades elegantly into the embers of a chargrilled well-aged steak. Over Christmas enjoying this neat in slow slips next to the fire will be my happy place.
This would be a perfect bottle to include in a hamper for a friend or family member, if you can resist keeping it for yourself.
Order your bottle from Masters of Malt
Alcohol-Free Gin with Pentire
A lot of my friends and family, even me during odd points of this year, have gone alcohol-free in 2020. Luckily there are some lovely non-alcoholic drinks to try including this alcohol-free gin by Pentire. Just because there is no alcohol doesn't mean there is no taste, and with Pentire there's so much taste. If you didn't know there wasn't alcohol in it I don't think you would notice.
This bottle of Pentire Adrift has a coastal, herbaceous and fresh flavour. It feels fresh and natural on the tongue like it's meant to be. It's is wonderful how the green notes of sea rosemary, rock samphire and sage paired with citrus and sea salt make you feel windswept at the seaside. It's a balanced and beautiful non-alcoholic gin. I will definitely have it on the shelf for when anyone comes over who fancies a cocktail but would prefer to go alcohol-free.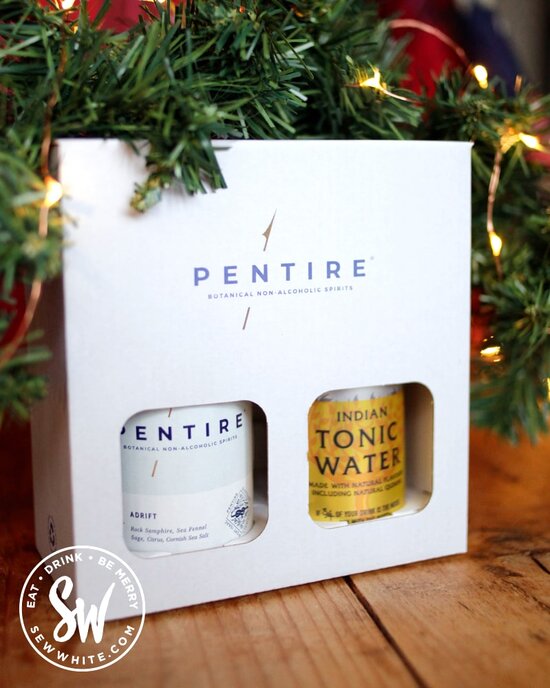 Just in time for Christmas and as a perfect gift is the Pentire gift box. It's so lovely, plus as a box it is much easier to wrap! I simply had to include this classic drink in my Christmas Gift guide.
Order your Pentire gift box in time for Christmas.
Non-alcoholic sparkling Chardonnay from Noughty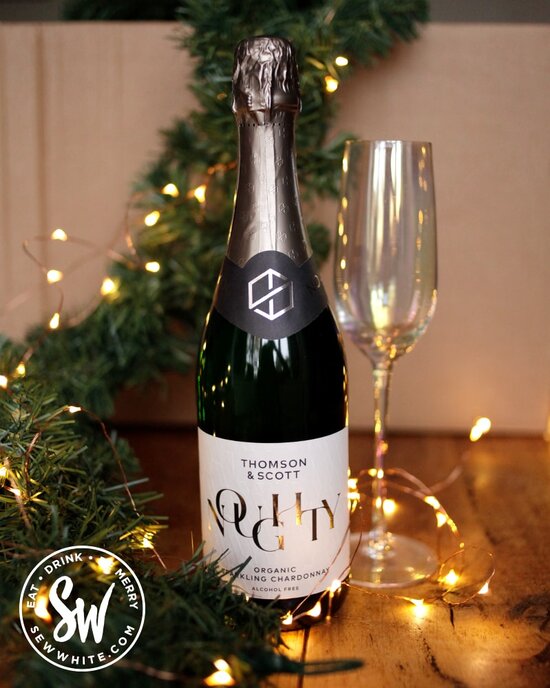 This is a brilliant way to share the sparkle with everyone this Christmas. Noughty sparkling Chardonnay is one of the best sparkling wines I have tasted and I can't wait to share a bottle with my whole family this Christmas. One of the things I love is that this non-alcoholic wine includes everyone. Whether you're driving, don't drink or you fancy allowing the children to join you in a Christmas toast you can with Noughty.
With only 2.9g of sugar per 100ml, it's almost half the sugar content of other non-alcoholic sparkling wine. And with just 14 calories per glass, it's the perfect answer to a hangover-free celebration.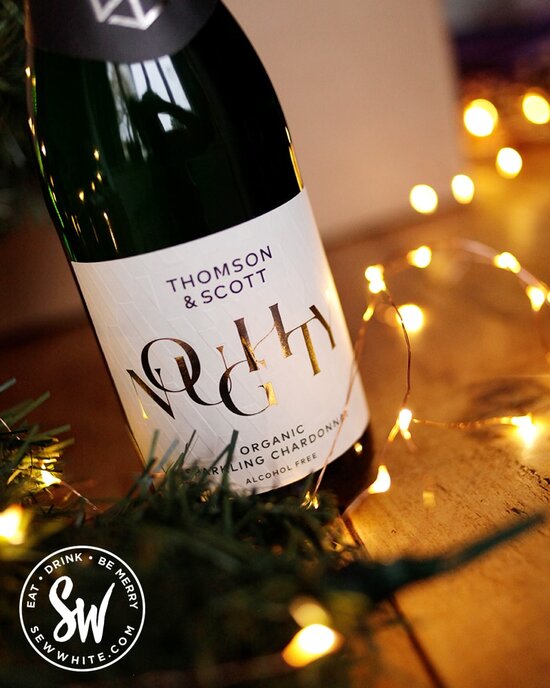 Noughty is not just alcohol-free, but organic and vegan! The sparkling Chardonnay has been dealcoholised to retain the rich flavour of this beautifully crafted bottle so you get the flavour, the bubbles with none of the alcohol.
Order your bottles of alcohol free sparkling wine from Thomson and Scott
---
Follow me on Instagram to see what I've been making recently. www.instagram.com/sewwhite
I hope you enjoy my Drink gift guide from my Eat, Drink and Be Merry Guides for Christmas 2020. Check them all out in my lifestyle section.