Eat, Drink and Be Merry" is my favourite phrase and I have based my Christmas Gift Guides around it this year. I have created three gift guides for you in 2020. This is my Be Merry gift guide, highlighting all my favourite lifestyle pieces to try this year! Some that you might have heard of and some that you haven't. You can also find my Eat and Drink gift guides on my home page.
I love being at home and I especially love being in my kitchen as I am pretty sure you can guess from my blog. This Christmas I have rounded up my favourite lifestyle pieces that you can order online in time for Christmas.
Bloom this Christmas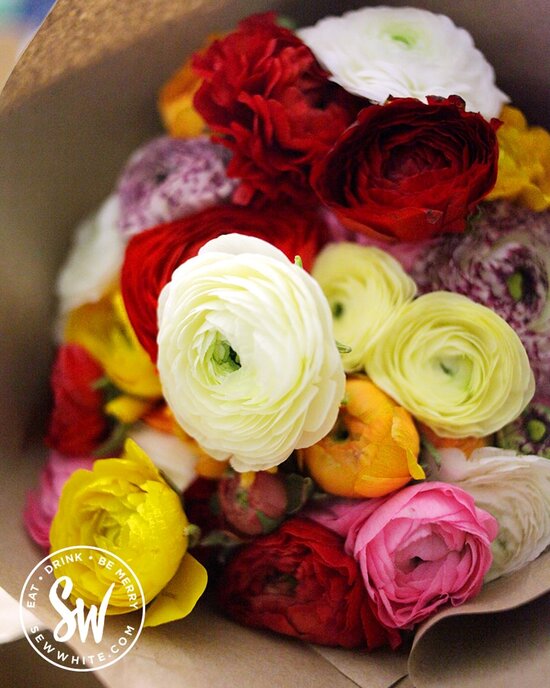 Bloom is the U.K.s online sustainable florist. All their products are 100% plastic-free, super sustainable and promote zero flower waste. Plus they are absolutely gorgeous which is what we want from our flowers! Seasonal flowers, subscription services, flower kits and options to design your own bouquet are all available with Bloom. Just look at these incredible ranunculus! The colours and shapes are just out of this world.
When it comes to the postage all flowers are encased in 100% plastic-free, recyclable and/or compostable packaging, all flowers are cut to order, ensuring no wasted stems, sourced from the most reputable growers, and supplied by a clean, green delivery service. So the delivery is sorted and as green as Bloom can make it.
Flowers make great gifts and bring such joy, especially with winter weather and lockdown. Take a look at their website and help support a wonderful small business. They had to be included in the be merry gift guide.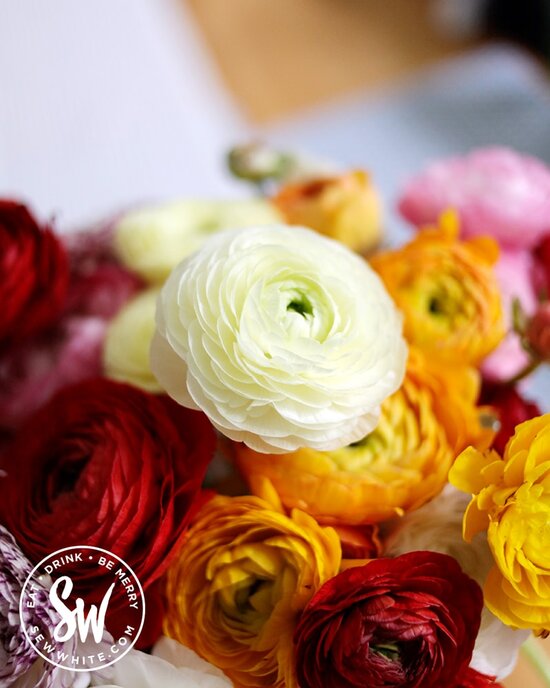 LOVE FLOWERS and fancy a discount? Using code SEW15, which is live now, all my followers can enjoy a 15% discount on all products, including the first order of a subscription. Visit the Bloom website and order your flowers today.
An Always Personal way to gift
Always Personal have been producing and dispatching personalised gifts across the UK and beyond for years. They specialise in creating fabulous personalised gifts to bring smiles to everyone. If you are like me and have a unique or rare name, getting anything personalised is an absolute joy.
Whether you're looking for a wedding present, a house warming gift, or a Christmas present the personalised items from Always Personal can make stylish, unique and elegant gifts.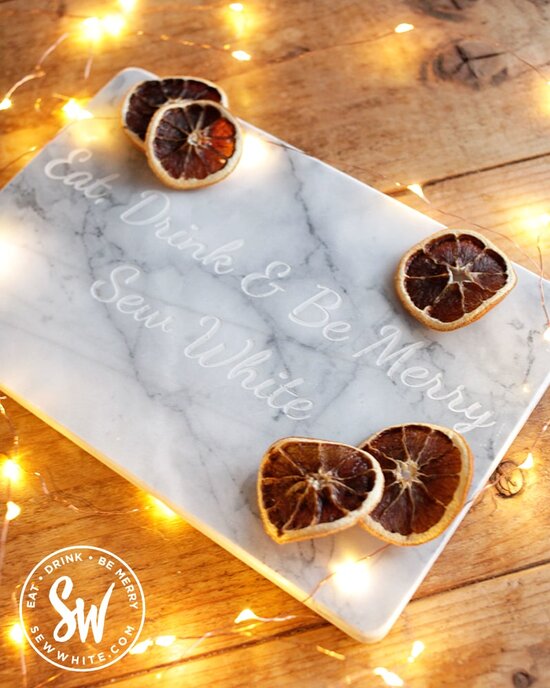 As an early Christmas Always Personal has gifted me this gorgeous personalised marble chopping board. Natural marble is a beautiful material which goes well with any kitchen decor theme. It's stylish and sophisticated and even more loved now it has been personalised for me. It's a good sized piece of marble which is sturdy and will be very useful for serving in the kitchen. This Christmas will see it used for charcuterie and nibbles or maybe as a lovely way to serve slices of cake and sweet treats.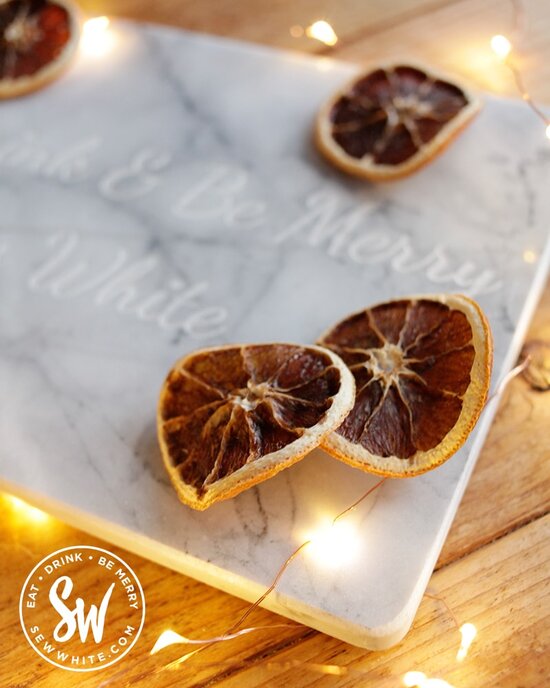 Visit the Always Personal website to explore their range of personalised items and of course this marble chopping board.
A crafty creative Christmas with Bee Smith in the Be Merry gift guide
Bee Smith is an incredible milliner who is based in South West London. Making incredible hats and head pieces for Royalty, weddings and big events is her passion and it shows. During a normal year she also teaches sewing and runs hat making workshops. However, during the year of cancelled events and weddings that is 2020, Bee has moved, adapted, and produced incredible craft kits which are perfect for Christmas presents. I have my on a few which will definitely be gifted to me from me.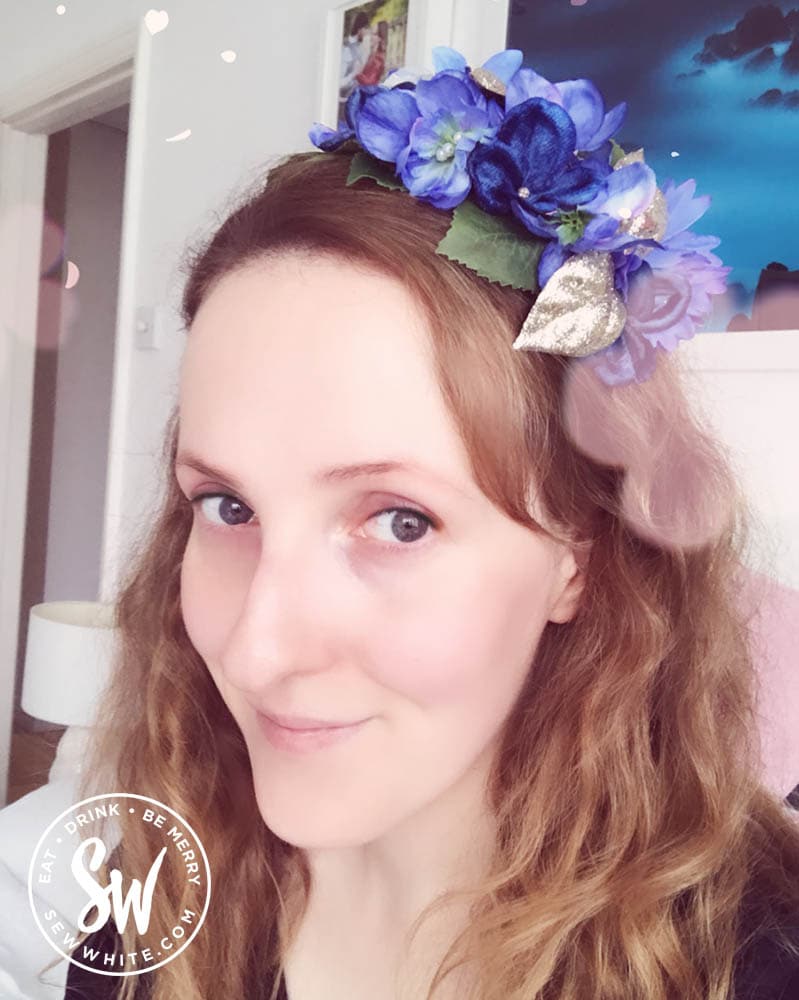 This was my first experience in any sort of hat making by using Bee Smith's floral headband kit. I love a good sewing project and this was one that was a brilliant way for me to unwind and try something new. The kit came with everything I would need, including a needle and thread, to make my own hat. I took it slow and enjoyed every moment of sewing and being creative. I loved being able to play about with the different pieces of leaves and flowers. The finished headpiece I have worn a few times around the house and I hope to wear it again this Christmas when we are able to meet up with friends and family, and my partner assures me I look unbelievably beautiful in it.
As well as the range of headpiece kits to make there is also a lovely range of special Christmas felt ornaments to make too, and some earrings kits which look so cute! The little strawberry earrings and the Christmas pudding ones are definitely in my shopping bag already.
Explore Bee Smith's Etsy shop and stock up on her craft kits.
My First Christmas as almost a Mrs with Pink Positive
Pink Positive creates beautifully hand finished personalised gifts centred around weddings and special occasions. Their mission is to make the before and after just as memorable as the big day itself and mark every milestone in your life with a customised keepsake. A sentiment I absolutely love! If you are looking for something wonderful to celebrate the big moments and the people closest to you, visit Pink Positive to create the personalised gifts that will make their day and yours too!
After getting engaged this year we quickly realised that the wait until we could get married would be a bit longer than planned. Thanks, Coronavirus. We have decided to wait until restrictions are lifted so we can have our whole family with us on this important day. Until then, I'm enjoying what we can do like planning decorations with my friends, getting ideas for dresses, and generally enjoying the feeling of being engaged and living with my gorgeous partner.
An extra perk of this lovely moment in time was being gifted this beautiful sweatshirt from Pink Positive. This is going to be my Christmas jumper this year. It is time to relax and enjoy Christmas before the big day preparations start. First Christmas as ALMOST Mrs sweatshirt is a great gift for a Corona Bride or postponed wedding couple. You can also request to add yours or your partners surname if you would like.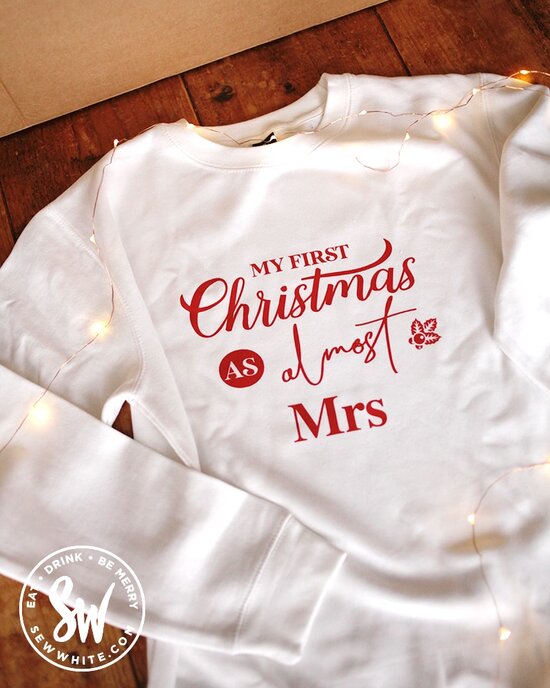 Visit the Pink Positive shop and check out their full range of wonderful items which would make perfect presents.
Wrap up your Christmas food with BeeBee Beeswax Food Wraps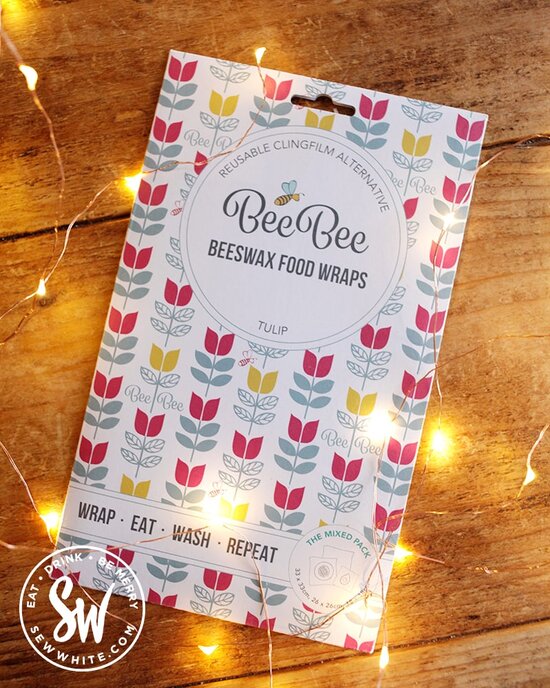 BeeBee is a fantastic company who started at the kitchen table and are destined to go big. Their desire to reduce plastic waste is one I support so much and it is great to be able to see a company finding ways to make it easier for the rest of us to reduce our plastic use.
BeeBee's ethos is to make planet-friendly alternatives to everyday products. BeeBee Wraps is the first of what will be many!
I have tried like so many others to reduce how much plastic I use especially one use plastics. The place I always stumble with this is wrapping left over food and using cling film. These brilliant wraps are now my go to items for covering food to pop in the fridge. Less cling film is noticeably being used in my kitchen.
The tulip design I have pictured below came with three different sizes in the pack. This makes sure I have every base covered from wrapping up half-used vegetables to covering salads ready to be eaten later.
A large wrap covers a decent-sized bowl, a hunky chunk of cheddar or a large sandwich. A medium wrap is perfect for a small sandwich, Parmesan or a bunch of herbs. A small wrap will happily house half an avocado or lemon, seal a bottle of wine or cover a small bowl of leftovers.
From using them I have been surprised at how well the items that I have wrapped have remained fresh. I'm also so surprised with how easy they are to clean and get ready to be reused, which was a bit of a worry of mine.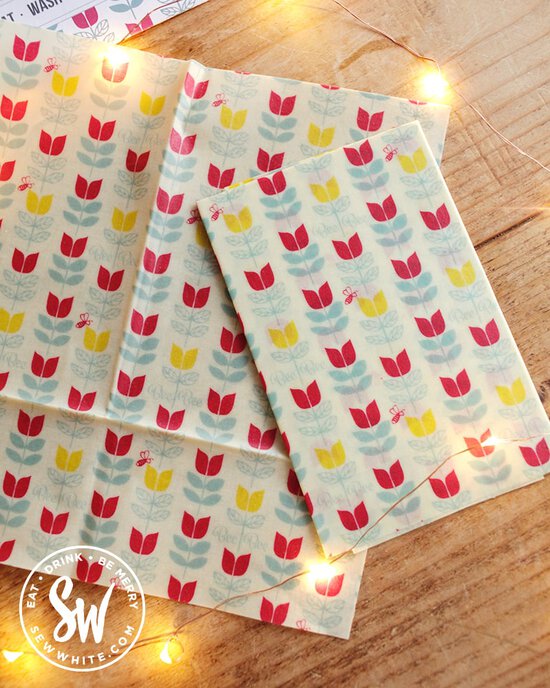 Visit BeeBee and make a great change to reducing your plastic in your kitchen.
The smell of Winter is in the air with The White Company. The Be Merry Gift Guide.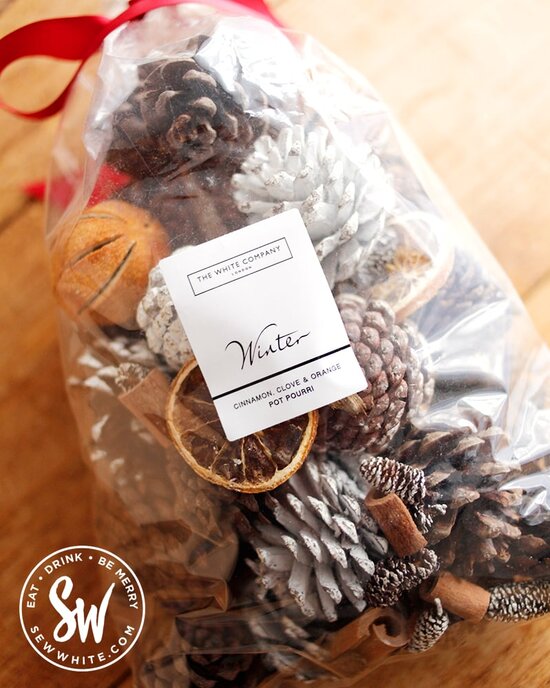 I adore The White Company. It's like heaven in shop form. The smells and products are wonderful and it wouldn't be Christmas without their Winter range in my home. The iconic Winter smell is earthy rich and absolutely sumptuous.
To me it's calming and takes me back to childhood and the smells of Christmas. This year I invested in their pot-pourri bag which is infused with the winter smell oil. I also bought the oil so I could top up the flavour when I need to. The winter smell is a magical combination of spicy cinnamon, rich warming clove and fresh zesty orange, it just never fails to please to tell everyone it's the smell of Christmas. It had to be included in the Be Merry gift guide.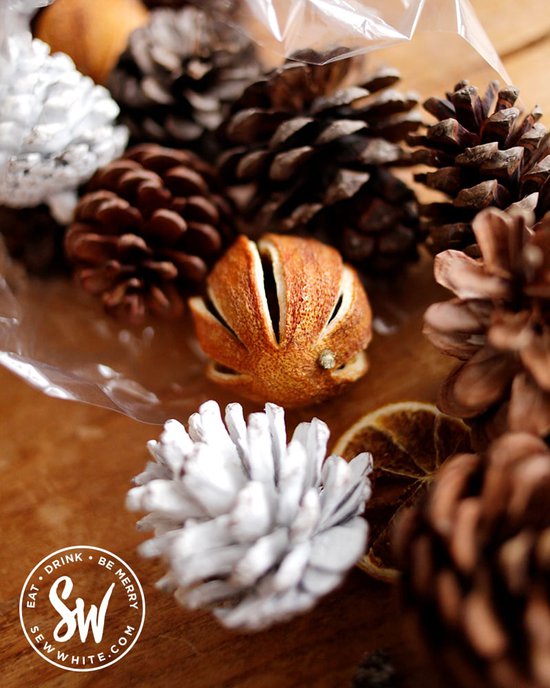 Visit The White Company and explore their winter aroma range.
---
Follow me on Instagram to see what I've been making recently. www.instagram.com/sewwhite
I hope you enjoy my Drink gift guide from my Eat, Drink and Be Merry Guides for Christmas 2020. Check them all out in my lifestyle section.