Having a good night's sleep is one of the most important things you can do. It impacts so much of our lives and affects our mood, productivity and mental health. So this Christmas give the gift of sleep with TEMPUR®.
Sponsored post in collaboration with TEMPUR®
A good night's sleep is a desire I think we all share. We want to cuddle down, have wonderful dreams and wake to feel refreshed and ready to seize the day. However, there are so many things in life which can stop us from achieving this desire. Stress from work, anxiety from lockdown, not being able to turn off our brains after being online all day, not moving enough to get our bodies tired… the list goes on.
I have joined together with TEMPUR® to write about my experiences with sleeping this year with so much change and weirdness in the world. From lockdown to moving house to a completely different way of working, my sleep pattern and how I sleep has completely changed. However, by giving myself a few new ways to get a better night sleep, I have noticed a huge change in my mind and in my body. I have managed to give myself the gift of sleep.
Top Tip – A proper pillow
Starting small, one of the best things you can do to help yourself have a good night sleep is to have a good pillow. It might sound obvious but pillows really affect how you sleep.
If they are too plumped up they can give you a sore neck, prove uncomfortable and keep you awake. Too soft or not enough filling, and you aren't giving yourself enough support.
Changing the pillow I use made such a difference in how I sleep. I feel more level in the bed but also supported and held in a better posture. No more neck cramp too. The TEMPUR® pillow moulds to your body while supporting you as you drift off for a good night's sleep.
A nighttime routine to help give your self the gift of sleep
At nighttime and in the run-up to bedtime I found having a routine really helped give me the gift of sleep.
I stopped working and put my computer away 2 hours before bed. Working from home I have found it hard to step away some night's. I think a lot of people have experienced the same. An hour before bed I stopped looking at my phone to try and get me to stop scrolling through social media. Some days this is easier than others.
From there I would watch TV and have some quiet time. I stopped watching the news before bed which also really helped.
In the afternoon I tidy the bedroom and make the bed, so when it comes to bedtime the room was ready and there wasn't anything for me to do. I take my makeup off and have a warm relaxing shower to wash the day away. Then I get into my PJs and get into my bed in my quiet, clean and tidy room. I feel more relaxed and calm which prepares for me for a good night's sleep.
If I was still feeling awake I listen to a podcast or audiobook. I find being told a story or listening to a podcast about history incredibly relaxing and I drift off pretty quickly. (The sleep timer is super useful to avoid missing too much of what you're listening to.) It's a simple routine but it has helped me get far more good night's since sticking to it.
Having a nighttime routine has reduced my anxiety and also leaves me to have a great night where I sleep better, longer, deeper.
Late-night tip – if you're like me you'll often remember things you need to do once you're in bed. I've started keeping a notebook next to the bed to jot everything down and let my mind rest knowing I will sort the list out in the morning.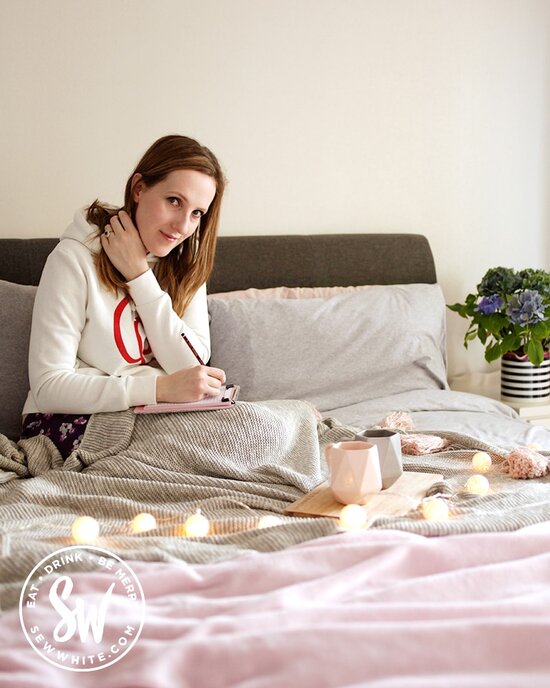 Is your mattress supporting your sleep?
Mattresses come in so many forms that it is important to do your research when buying one. I was shocked about the choice when I bought mine. There are soft, medium or firm mattresses but there are also options for springs, foam, quilts, anti-allergy, open spring, pocket sprung and so many more it feels pretty confusing.
If your mattress is too soft or too hard it can cause issues with your back and give you a bad night sleep. If your mattress is right it will support your back and make sure there are no pressure points in your body. You will be fully supported and find yourself sleeping incredibly well. A crucial part of giving yourself the gift of sleep.
Investing in a good mattress is worth the money. You will spend so much time in your life in bed, it might as well be the best it can be to give you a good night sleep.
Switch to Decaffeinated Tea and Coffee
One of the best ways I have improved my sleep is to switch to decaffeinated tea after lunch. It's a simple thing to do and overall there isn't a huge taste difference from caffeinated to decaffeinated. I still enjoy my favourite tea flavour but in a much more relaxed and enjoyable way.
Tips for dealing with lockdown anxiety to help have a good night sleep
Every day you should have Purpose and Pleasure. There are things that need to be done and there are times when you need to reward yourself and have some self-care.
Get moving each day even if for 15 minutes. Being at home at sitting a lot isn't good for our bodies. Moving and walking or doing some light exercise will help stretch your body and get it ready for the day. When it comes to bedtime our bodies will feel that they been used and it will help use up some energy too.
Take time for fresh air. Every day during the first lockdown I went out for a walk when I could. It took my mind off being at home and showed me I was still able to go out. I could leave the house and see the world was still outside my door. Deep breaths and fresh air does wonders for the body and actually helped feel more focused too.
Is there anything better than an autumn/winter walk followed by cuddling up with your favourite blanket and relaxing?
A time for work and a time for relaxing to give yourself the gift of sleep
Have time for work and time for relaxing. Timetable it if you must. Stop work at a certain time and have some downtime each day. Having something to do each day that you enjoy will help reduce anxiety and take your mind away from other things. During the first lockdown, I was creating an embroidery lockdown diary. Featuring different aspects of what I was experiencing. There are key moments like clapping for the NHS, getting engaged and the amazing food I had with my family.
A lot of my friends followed YouTube videos and learned how to crochet and knit. Plus I think it's easy to say that a lot of us learned to cook new things too. You don't have to go into lockdown part 2 thinking you have to learn something or achieve anything. These are just ideas to help have some downtime to rest your mind before you rest your body with sleep.
Discount for my readers with TEMPUR®
Use my discount code for use at TEMPUR® to invest in the essentials of a good night's sleep.
https://uk.tempur.com
code – TEMPUR1273
With my code, you will receive
•Extra £25 off any single sized mattress.
•An Extra £50 off any double+ sized mattress (includes mattresses in the outlet).
•Extra £5 off any full-sized pillow.
We spend half our lives in bed, we might as well make sure we are having the best night sleep we can. Treat yourself to the gift of sleep.
Sponsored post in collaboration with TEMPUR®