It's the most wonderful time of year… if you're a foodie! My food for Christmas 2021 post is a great opportunity to discover new food and tasty treats in the run-up to Christmas. This post is filled with 7 foodies brands you might not have heard of but I'm sure you will want to try them all.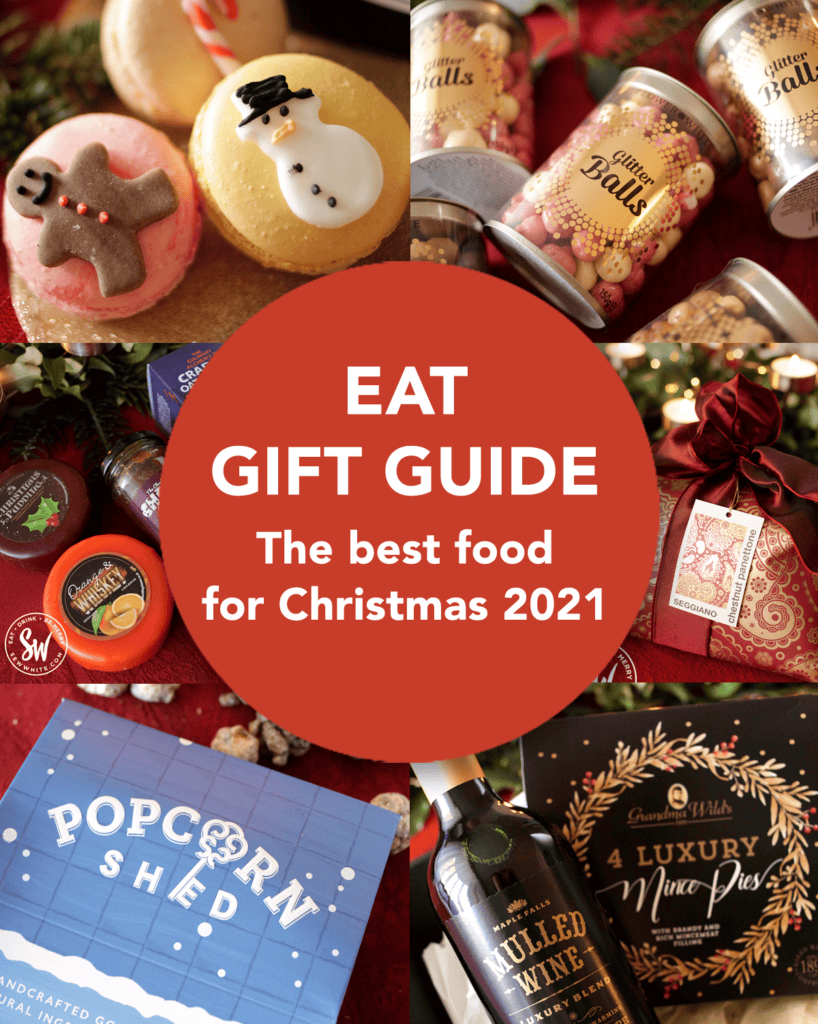 Products in this gift guide were gifted items
The best Christmas Hampers 2021
With so many hampers available it can be hard to pick the perfect Christmas hamper for 2021. There are so many brilliant options available and I've picked my two favourites which although are both hampers… they are completely different. A perfect way to start of the food for Christmas 2021 gift guide.
A hamper for cheese lovers – food for Christmas 2021 gift
Who else has an entire shelf in the fridge dedicated to cheese and chutneys at Christmas? We definitely do and finding new cheeses to enjoy is always on our list. Giving the gift of cheese is usually set aside for a few family members as a guaranteed way to please them. This year however I have discovered there is such a thing as a cheese-lovers hamper.
The Chuckling Cheese Company offers a fabulous range of cheese hampers to fit any budget. There are so many options to choose from too. From classics like a strong Cheddar to festive twists of Christmas pudding cheese with hints of cinnamon and of course festive cheer.
Pick out a predesigned hamper or pick your favourite pieces to create your own. As well as cheeses there are options for olives, crackers, cheese biscuits, chutneys and condiments and even sweet treats too. Why not add a bottle of fizz, cider or even mead to make the hamper even more full of Christmas spirit.
This box is the Truckle Gift Box and contains a box of Cradoc's Oat Crackers, an orange and whisky cheddar, a Christmas pudding cheddar and a jar of carmalised onion chutney. If you pick this gift box you can personalise the box by choosing exactly that crackers, cheeses and chutneys you want in the box from the drop down menu.
For only £15 this an affordable gift which really does include a great amount of food for the price. Plus order online and have the hamper delivered right to the doors of your friends and family.
Feeling like a cheesy Christmas? Check out the Chuckling Cheese Company.
The night before Christmas hamper
A hamper fit for a cosy Christmas Eve is my idea of heaven. I love Christmas eve. Family, a good meal and listening to carols and playing games plus of course a Christmas movie. This year I will also be adding this Christmas Eve hamper from Virginia Hayward into the mix.
On Christmas Eve I'm going light the fire, grab a blanket and snuggle up with my wonderful partner and this Christmas hamper.
This hamper is filled with everything you could need for a great evening. A bottle of mulled wine is such a lovely way to warm the body and relax the soul ahead of a busy Christmas day. Of course, to go with it you need a luxury mince pie. They are a match made in heaven. The aroma of the mulled wine really makes Christmas seem even more Christmassy.
Also in this great hamper is millionaires shortbread and a milk chocolate tree lolly complete with sprinkles. For the savoury fans there are mature cheddar cheese savoury bites and caramelised Sesame Peanuts. This hamper really does give something for everyone. It would make a fabulous gift this Christmas.
For an incredible range of hampers to send this Christmas, visit Virginia Hayward.
A sweet and delicate treat for the Food for Christmas 2021 Gift Guide
I love macarons no matter what time of year, but these incredibly delicate and beautiful Christmas decorated macarons really are the best special treats available this year. Jack & Beyond have excelled themselves creating not only these but other beautifully baked goodies too.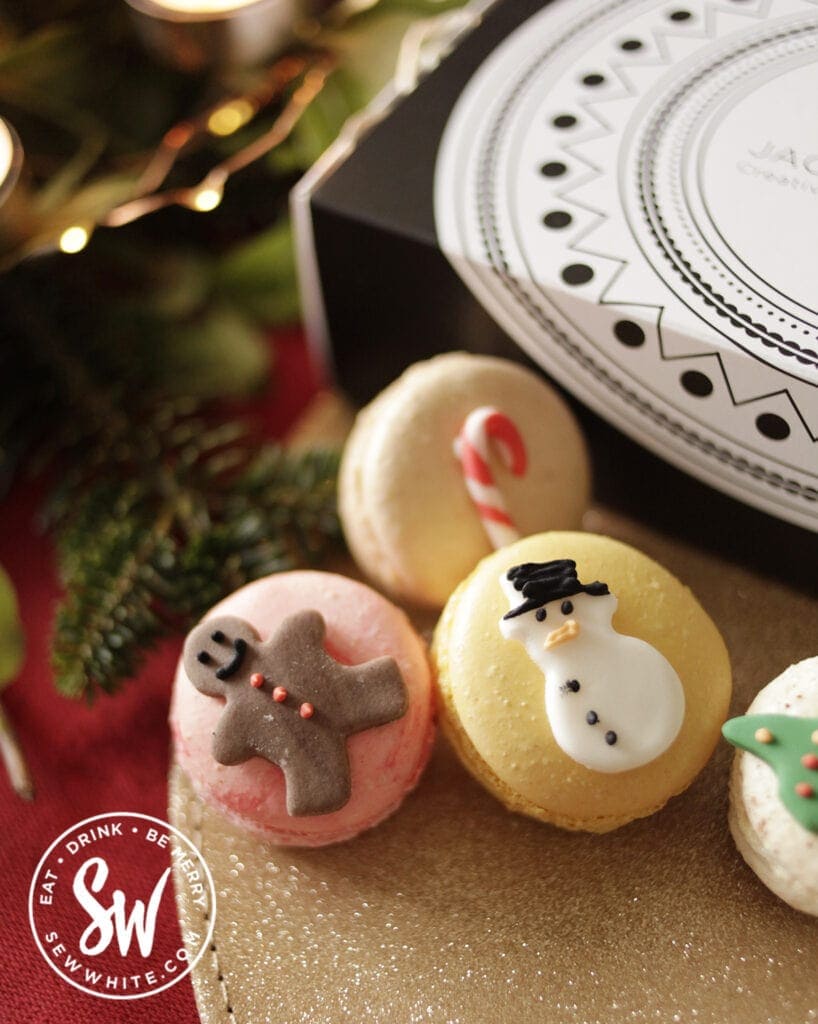 A little bit about Jack & Beyond. They are an online cake shop with a bakery and café on Fulham Road, London, just a few minutes from Parsons Green.
Jack & Beyond create incredible cakes for delivery across London within 24 hours or for collection from their shop. As well as cakes they also make delicious brownies, cookies and mince pies that can be delivered anywhere in the UK. Plus of course these macarons!
What could be better to include in the food for Christmas 2021 gift guide than these small and elegant treats? These bitesize soft-centre treats with a crisp shell are so delicious. Decorated for Christmas makes them even more adorable. Presented in a beautiful gift box too these would make a great gift for friends or family… or even as a gift to me from me!
Check out the amazing range of baked goodies and Jack & Beyond and order in time for Christmas.
Meringues dipped in chocolate
If you love meringues then this is the treat for you! Small pieces of meringue dipped in chocolate might sound simple but I can confirm they are simply delicious.
In the pink and white pack (Party Pops pack), the meringues are covered in white chocolate and berry flavoured chocolate. In the brown pack (Classic Pops pack), the meringue is covered in milk chocolate and caramel chocolate. Having done a lot of taste testings I can confirm they are both rather delicious and way too easy to eat.
These little tasty treats would be brilliant for a Christmas party! They are fun and easy to eat plus they look so cute they would be lovely little stocking fillers too.
Order your glitter balls from Flower and White and their bars are also worth checking out.
A Christmas classic – Panettone
A cup of tea and a slice of panettone is a highlight of all Christmas activities for me. It's a relaxed moment just for me to unwind in the run-up to Christmas. This year I've tried this classic panettone with chestnuts from Seggiano.
Chestnut panettone is a delicious naturally leavened variation of the celebratory Italian Christmas cake.
I have never had chestnut panettone before but I am so glad I can say I have now. Just like a traditional panettone it has a soft doughy centre but this also has chopped up chestnuts too. Plus it has a strong aroma of orange and spices which is the most beautiful of festive smells.
So put the kettle on, brew a tea or coffee (or even warm up some mulled wine) and sit back and relax with a slice of panettone this Christmas.
Visit Seggiano's website to explore their stunning range of food and drink. Perfect for Christmas treats.
Popping good time
Popcorn is a joy and flavoured popcorn is my new favourite thing. I've tried so many different flavours already but it's the Popcorn Shed's Cookies and Creams, and Birthday Cake flavours that are my favourites for Christmas 2021.
Popcorn is an easy snack to share and give as a present this Christmas. These lovely boxes are perfect to give away and a lovely stocking filler too.
The cookies and cream flavour has a great taste and it's very easy to eat the whole packet without thinking about it. I really enjoyed having a handful with some milk as a little treat in the afternoon. The birthday cake tastes like the iconic birthday cake you had as a child. It's sweet and slightly creamy and I could just devour them all.
The Popcorn Shed has even more flavours to explore including butterscotch, cheese, goats cheese, Christmas pudding, pecan pie, salted caramel and so many more.
Order yours and check out Popcorn Shed's website for more flavours
Chocolate fans welcome
Lily O'Briens is a very well chocolate company and for good reason. They create beautiful and most importantly delicious chocolates which are perfect for any occasion. This Christmas they have 2 new pieces which are definitely worth investing in for the festive period.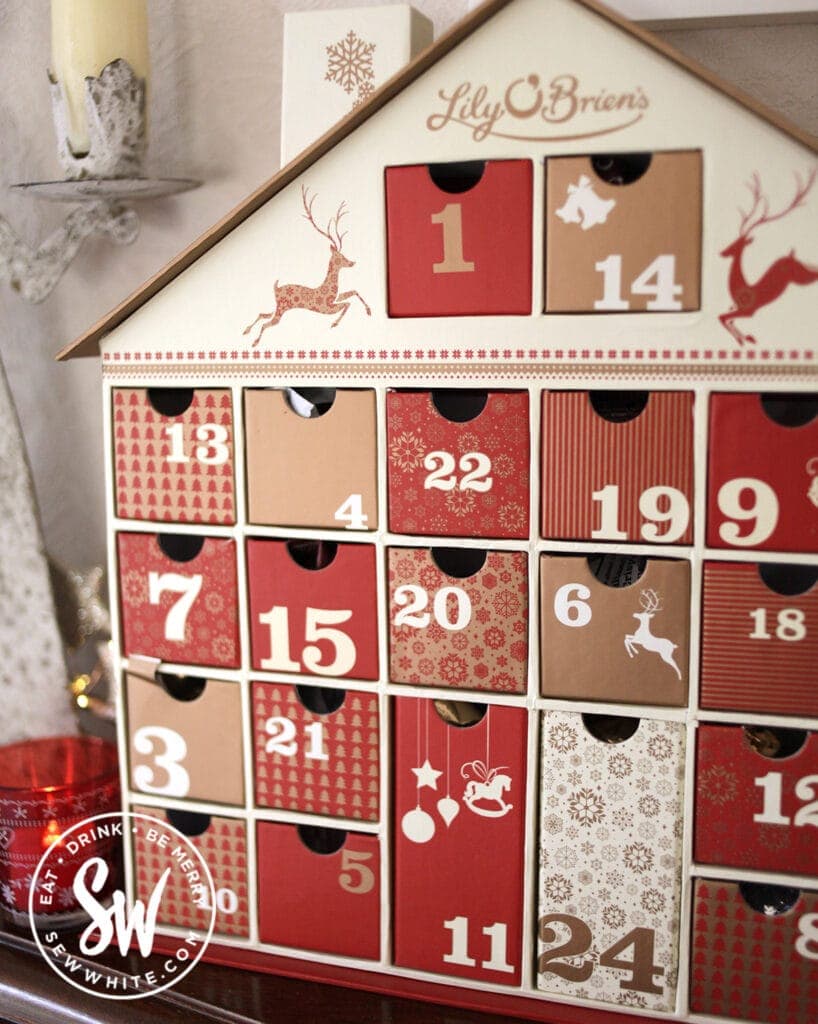 What better way to enjoy the run-up to Christmas than with a beautiful advent calendar. What I love so much about this is it's, not only lovely for this year but, is reusable. Plus of course, it's filled with tasty chocolates. Next year we can buy some more chocolates and use the calendar again and again. I also love that it is plastic free. It's a great sustainable item with lots of reuse value. If eventually you no longer want it you can pass it on or even pop it in the recycling as it's made of cardboard.
This Lily O'Briens advent calendar is a real show stopper and looks fabulous on top of the fireplace waiting for December 1st. Each day has some of the yummy chocolates in and will definitely satisfy your chocolate craving. This is only available online on their website.
Some might say the best things come in small packages but I think a large box in Tiffany Blue might be even better. Lily O'Brien's hamper for this Christmas is definitely on the top of my list for great presents. A large blue box tied with a ribbon that is jam-packed full of the best of the chocolates to share this Christmas.
Yes, diamonds would be lovely but a Tiffany blue box full of chocolate is definitely loved too.
You can find more of their products on their website and their best-sellers are found at most high street supermarkets too.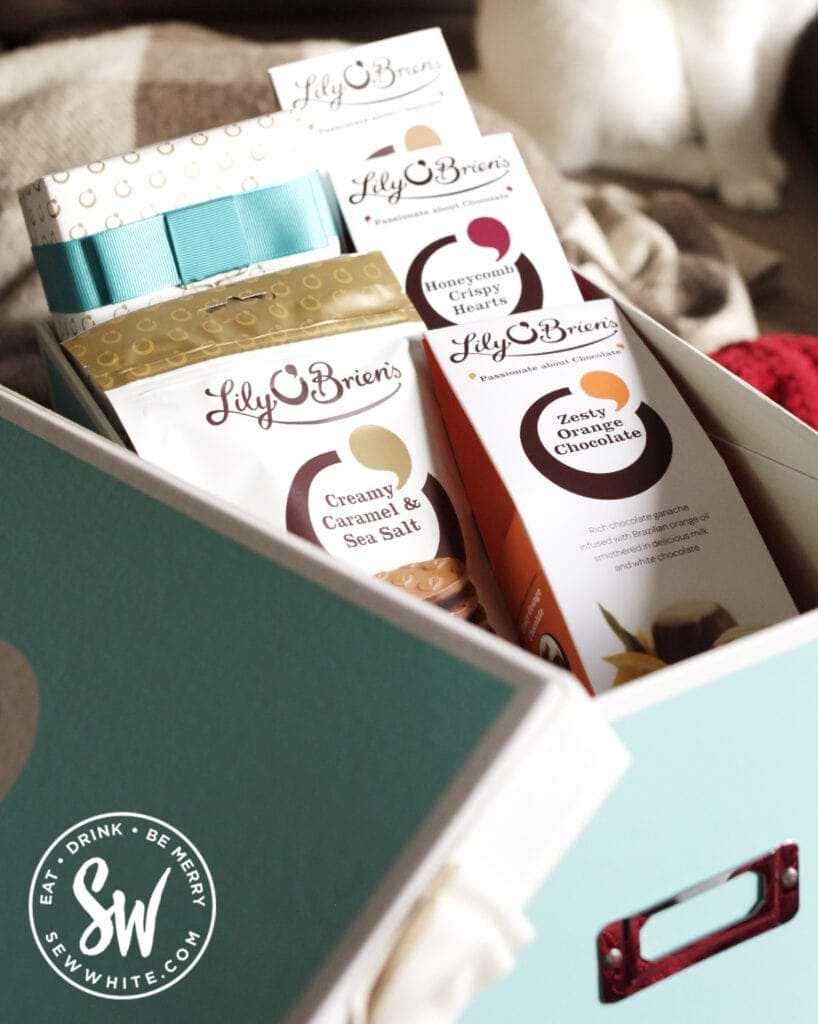 Order your chocolates from Lily O'Brien's this Christmas.
Check out my other lifestyle articles