It's the most wonderful time of year… if you love your food and drink! My Christmas drink gift guide 2021 is a great opportunity to discover new drinks, spirits and liqueurs in the run-up to Christmas. This post is filled with 6 drink brands you might not have heard of but I'm sure you will want to try them all.
Christmas parties, seeing friends and catching up with families all deserve a delicious drink. In this drink gift guide 2021, I have rounded up 6 of the best!
Products in this gift guide are gifted items
Counting down with Christmas spirits
The darker and colder days are definitely encouraging me to warm up with a wee dram of whisky. I love a little whisky but I'm still learning which types and flavours are best suited to my tastes. Luckily there is a whisky Advent Calendar from Drinks by the Dram to help me explore my way through different varieties.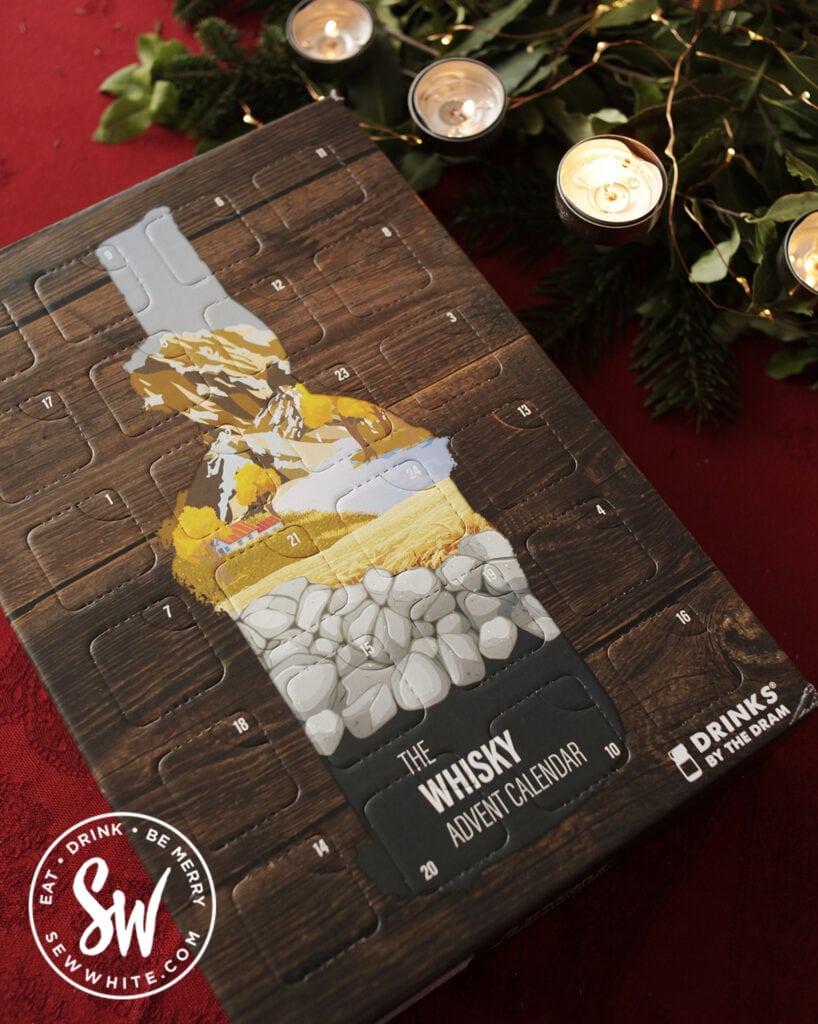 In this beautiful advent calendar, there are 24 different wax-sealed glass drams by 20 distilleries from 5 countries. Each dram is 30ml and is lovely to sip on. However, there is enough in these little glass bottles to share with someone. So you can both explore the whisky together.
I have bought this advent calendar in the past and the countdown to Christmas was so lovely. I have brilliant memories of having shared a little bottle every night with my dad. If we really liked a bottle then we would keep the bottle. Since doing that together we have both found new whiskies that are now our favourites.
Start your countdown to Christmas with the Whisky Explorer Advent Calendar by Drinks by the Dram available at Masters of Malt
Alcohol Free Gin in the drink gift guide
It's brilliant how far non-alcoholic spirits have come in the last few years. One of my favourites to enjoy when wanting to have an alcohol free day but a G&T still calls is Sea Arch.
This fabulous non-alcoholic spirit is bursting with seaside botanicals. It is so fresh and the flavours play on your tongue. If you didn't know it was alcohol-free gin you really wouldn't guess. It offers a deliciously sophisticated alternative to alcohol that is full taste.
Sea Arch is inspired by the glorious Devon coastline and is made using traditional distillation techniques. Its delicate balance of traditional gin botanicals and seaside botanicals, including kelp and samphire. These are combined to create an intense yet inviting depth of flavour. Sea Arch is a wonderful non-alcoholic gin for cocktails. However, it also holds itself high as a classic for a gin and tonic too.
Check out Sea Arch to discover their range of non-alcoholic drinks and buy online.
Top Wines in the Drink gift guide 2021
A gorgeous glass of wine while wrapping presents, or with the big Christmas dinner is a joy and I would even go as far as saying it's a little moment of self-care. To take a deep breath and smell the rich fruity tones and have a few sips really helps with taking the weight of the world off. It puts me in the moment. Independent Wine have a fabulous range of wines for the festive season and have chosen the two below.
Villa Pinciana Terraria 2013 | Maremma Toscana DOC – Despite its age, this is a well-developed wine that still has an incredibly fresh fruity flavour. The flavour of blueberries has evolved and is now more like blueberry muffin. It's underpinned by flavours of kirsch, rosemary and a touch of saltiness from the nearby Tyrrhenian sea.
This wine is so fresh and although it seems odd to have a wine that sounds like it should be summer at Christmas. However, its freshness really resonates with a fish or lighter meal this winter. It was also served to the Pope on his private plate and we know that he will definitely be enjoying the best wine.
Le Morette Benedictus 2019 | Lugana DOC – This wine has the most incredible colour, smell and flavours. After crushing the grapes, the winemaker keeps the juice in contact with the skins for the whole day. This helps in extracting much more flavour and colour than usual.
A percentage of the grapes skins and juice is fermented in French oak barrels. It is then added back to the wine at the end of the fermentation process, creating a complex, enchanting taste. This is a special wine and one that will be a fantastic addition to your Christmas table.
Find the Villa Pinciana Terraria 2013 and Le Morette Benedictus 2019 on the Independent Wines website and your Christmas wine selection.
Christmas cocktail essentials – Giffard Liqueurs
My new favourite item for cocktail making is the range of Giffard liqueurs. They have a brilliant range of flavours and a little goes a long way. It's an easy way to make some cocktails a bit more special and even jazz up a little gin and tonic or prosecco for Christmas.
To get into the Christmas reason and thinking about Black Forest Gateaux and those delicious winter berries I had to try the blackberry (Crème de Mûre) liqueur. It has a rich deep purple colour which really adds bold colour to your drink and makes them look very festive. Unlike other blackberry liqueurs I have tried, this tastes really juice like slightly jammy. It tastes natural and above all yummy.
The best way to use Giffard liqueurs is as a way to tweak your tipple. It's a simple way to boost flavour and make your cocktails at home even more special. Add a 25ml of your favourite Giffard Liqueur to a glass and add either a gin and tonic, a vodka and tonic, tequila and lime juice or prosecco and soda. All great ways and very easy ways to Tweak Your Tipple.
The Giffard blackberry liqueur has a 16% volume so is pretty strong. Luckily you don't need much to add flavour and colour to your cocktails and drinks. Some of the other flavours they have available to try are rhubarb, peach, grapefruit, raspberry and mint. I will definitely be trying more of these soon. The peach and mint are calling out for summer cocktails.
Order your Giffard liqueurs from Ocado or through Masters of Malt
Kombucha
I am a new kombucha fan as I didn't really know what it was for a while. Since discovering it is simply a fermented tea and finding out how many flavours it comes in I had to try it. The traditional method of making kombucha involves a natural fermentation of sweet tea, wild healthy bacteria and yeasts. Sounds weird I know but it works.
The Newbie Taster Mixed Case is the perfect introduction to live-cultured Kombucha drinks from Remedy. The case features 12 cans in the most delicious flavours available the range. There is Remedy Kombucha Peach, Cherry Plum, Ginger Lemon and Raspberry Lemonade, Coconut Water Kefir Pure and Switchel Blood Orange.
Remedy creates the tastiest and healthiest kombucha going around: it contains no sugar, naturally, and is full of the good stuff – live cultures, organic acids and antioxidants.
Remedy is an authentic kombucha and one which is made using a traditional, long-aged brewing process, which results in an incredible depth of flavour and a drink that is naturally free of sugar, and full of live cultures (good bacteria), antioxidants and organic acids that can support gut health.
Visit Remedy Drinks to order your Kombucha taster mixed case
Whisky tasting
It can be so hard to know what Whisky someone would like for Christmas so why not give them a tasting box to explore. Masters of Malt have a brilliant range of tasting bottle options that make lovely presents and great stocking fillers too.
You might have heard of Darkness Whisky and wondered what it tastes like? I know the feeling but I know that I don't want to spend a large amount on a whisky without knowing it's one I'm going to love and treasure drinking. Luckily you can find a Darkness tasting set available at Master of Malt.
The tasting set of Darkness single malts comes with three to try! The Darkness range enjoys time in sherry octave casks which bring out a rich and delicious sherried whisky. That sherry flavour really feels so warming and wintery to me that it had to be included in the Christmas drink gift guide 2021.
The trio of Darkness whisky includes;Darkness 8 Year Old, Benriach 7 Year Old Oloroso Cask Finish (Darkness) and an Irish Single Malt Whiskey 14 Year Old Oloroso Cask Finish (Darkness). It also includes tasting notes which are lovely to read when trying the Darkness tasting set. Once you know which is your favourite you can find the full-size bottles on Master of Malt.
Check out the range of taste testing sets and find the Darkness tasting set at Masters of Malt.
Check out my other lifestyle articles