Incredible hair stylist Roxy Farrier has given us some great hair care tips for Spring. Tips and easy things to do to keep your hair healthy.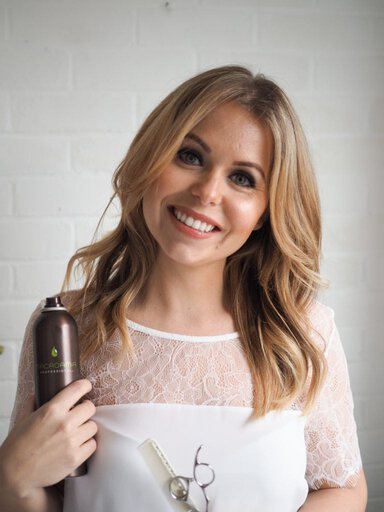 Roxy Farrier is an incredible hair stylist who create beautiful looks for weddings, events and photo shoots too. She has created the most beautiful bridal hair which you must check out on Roxy's website. Roxy also does hair treatments, hair cuts and hair extensions. She is a master of hair care and I have had hair cuts, keratin treatments and had my hair up for my birthday party and she makes it all look effortless. A real pro and also absolutely lovely.
Top Hair care tips for Spring
"I'm a sucker for winter, I love the celebrations it brings and I love the fashion. It's so easy to cover up and feel cosy and snug. We spend all summer trying to get that effortless beach wave and tussled look, come winter its hats and pony tails. Its too easy to forget about looking after our hair as its so easy to cover up.
The truth is the cold winters can really take it's toll on our hair so listen up and take not of my top tips for winter." Roxy
• Wear a Hat For healthy Hair
It might sound like an odd thing to say but when the weather is really cold and wet, keep your hair covered. Just like our skin, when exposed to the colder winter and spring weather, our hair can become dry and brittle.
The best hats to use are ones made of softer materials such as cotton or fleece hats are better for avoiding static hair, or better still wear a silk scarf underneath. Check out on Roxy's blog on how to wear a head scarf for some ideas.
To help tackle static hair from wearing hats, Roxy recommends Redken Frizz Dismiss. A lightweight oil for all hair types that you can use before you blow dry and on dry hair to tackle the frizz and static hair.
•Wash your Hair less
A tough one. During the colder months when the heating is on at home the air is dry. This in turn is drying on our hair just like it does our skin. We need those natural oils to help keep out hair and scalp healthy so try to wash your a little less than usual.
A tough combo, wearing hats more and washing your hair less is not great for those who love a bit of volume. Roxy absolutely loves the IGK First Class Charcoal Detox Dry Shampoo. It absorbs the oils so you don't look greasy and gives you loads of volume. A little goes a long way so it will last you and it also means you don't get that chalky look as much like some other dry shampoos leave. It's Vegan friendly too!
•Weekly Hair Treatments in the top Hair care tips for Spring
Doing a weekly hair mask will work wonders for your hair. Face masks are really popular for giving our skin a boost and we need to treat our hair with the same respect. Kerastase Nutritive Masquitense Cheveux Fins Is a great mask. It has two types one for thick hair and one for fine hair..
Top tip – If you suffer from dry itchy scalp during the winter months then a head massage with coconut oil is a must.
Vita coco coconut oil is 100% organic. It is pressed oil so warm it up slightly and massage into your scalp. Leave it on over night if possible and wash off in the morning. Do two shampoo washes to remove the oil properly. Or you may end up with greasy hair straight from the shower.
•Do not leave the house with wet hair
do not leave the house with wet hair! Water penetrates the hair shaft and expands in cold weather. Just like when you freeze a drink and it explodes in the bottle. This will cause the hair shaft to expand and open the cuticles. This weakens and makes the hair brittle and contributes to your colour fading quicker too! Air drying in summer is fine but in winter it can cause a lot of damage. A quick rough dry in the morning or change your routine and was it the night before. This is so important to keep your hair healthy in winter.
•Keep hydrated for Hair Healthy in winter
The last of Roxy's hair care tips for Spring is drink more water. Water is everything for our body and works wonders for our hair too! It keeps our skin supple and our hair moisturised. Drink between 2-3 litres a day and reap the benefits in more ways than one!
Thank you Roxy for giving us these great ways to look after our hair this spring.