I've been planning my pastel Easter table so I thought I'd share what I created. I hope you enjoy my Easter Table Setting Inspiration.
Spring is finally in the air after all these storms, grey days and what seems like never ending rain. There are bulbs starting to grow in the garden and daffodils are giving some joy and brightness in the house. With spring and colour emerging I've been thinking about Easter and creating a beautiful pastel Easter table perfect for a family dinner.
The salt and pepper grinders are light blue and the drinking water glasses are tones of blues too. The pink fabric napkins stand out from the linen tablecloth and compliments the brighter pink flowers and foil eggs on the table with the white rabbits. I love how it all came together to make such a beautiful scene.
Centre of the table is my mums rabbit decoration which she absolutely loves. It can't be Easter with our that rabbit in pride of place.
Table end of flowers
A spring Easter table needs flowers! For this table I bought and created two bouquets to act as book ends for the table. They had pink tulips, soft red roses, irises and a mix of greenery including ferns. To make them stand out I used two little pieces of fake grass to stand them on. I think this worked incredibly well. It make it look like the flowers were in the garden and bought a little more of the outside in. On this fake grass I decided to add a little bunny to each. These were once night lights but have no since had batteries but we have kept them and enjoyed them. On the grass they stood out more than on the table made this little nature scene so cute!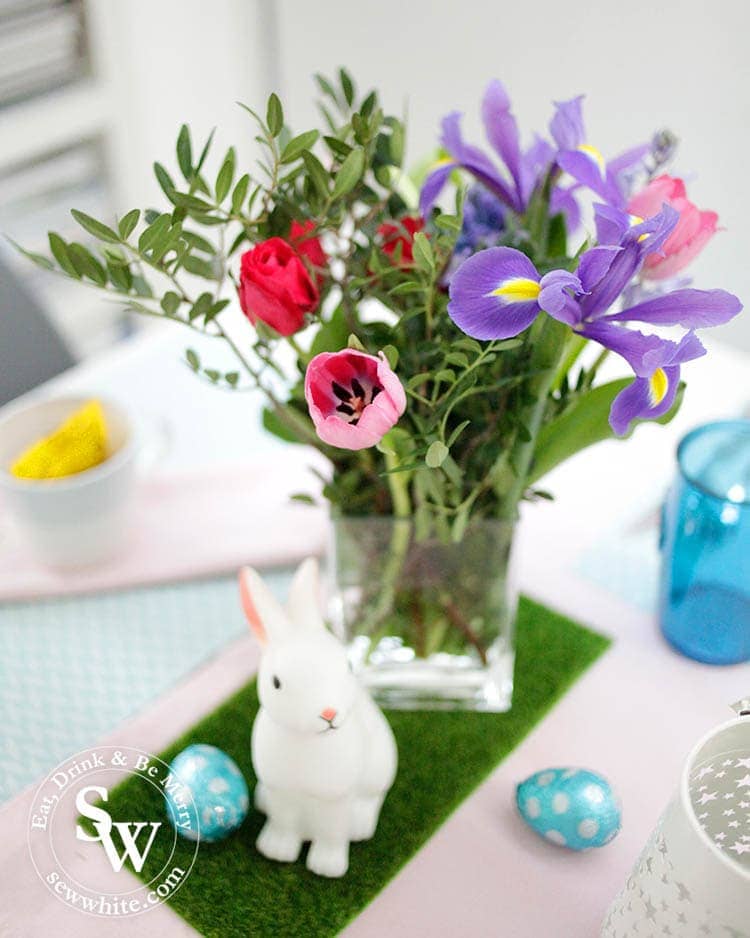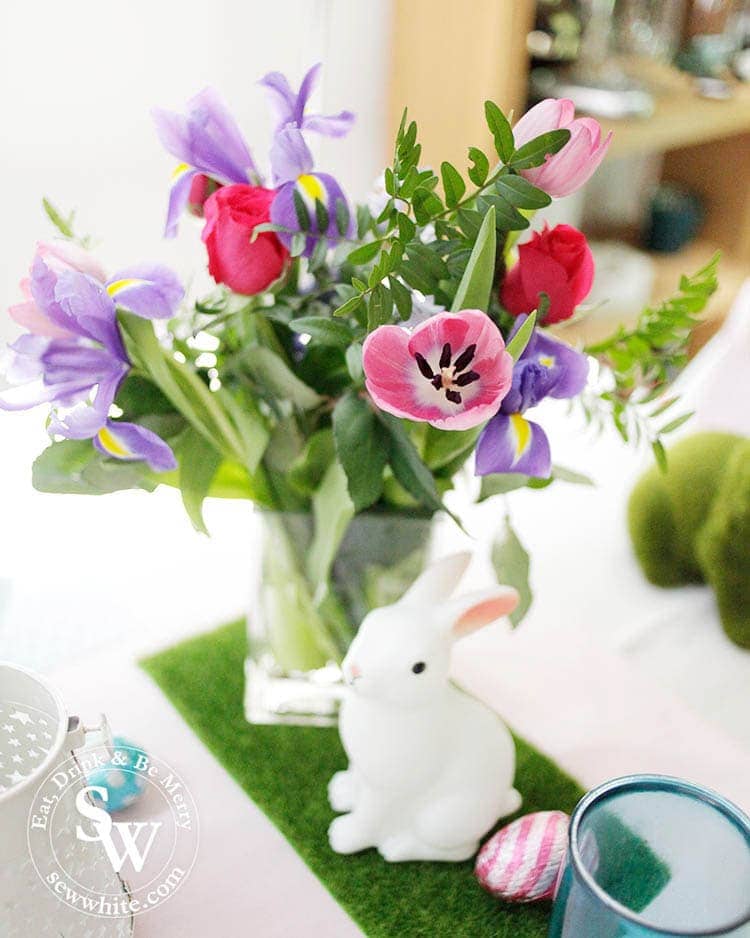 Scattered over the table were pink and blue foiled eggs – once again keeping the colours together. For extra light I used candles in plain glass votives but also in star lanterns. I absolutely loved this table. It made everyone smile and we had an incredible Easter family lunch.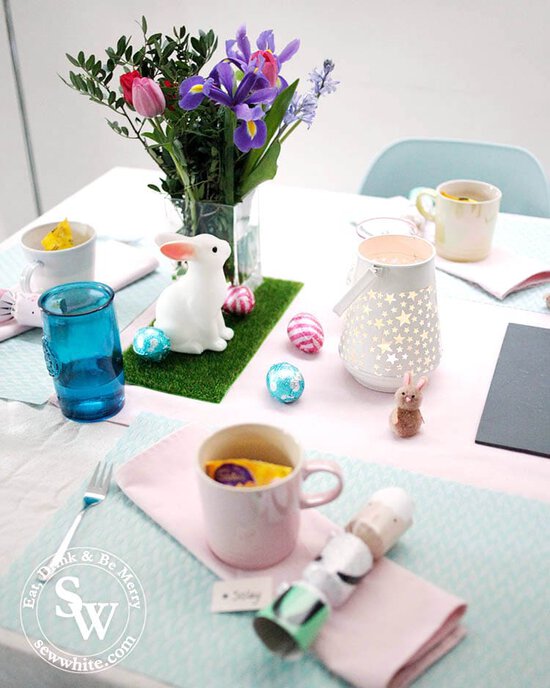 For a cute way to give a gift and make a lovely place setting I used the beautiful choice of pastel Le Creuset mugs. They are so lovely to receive as a present. Plus perfect for filling with eggs and adding a gift tag to. The colours that Le Creuset have are so varied. They will fit in with any colour scheme you will have.
Little Touches for the Easter Table Inspiration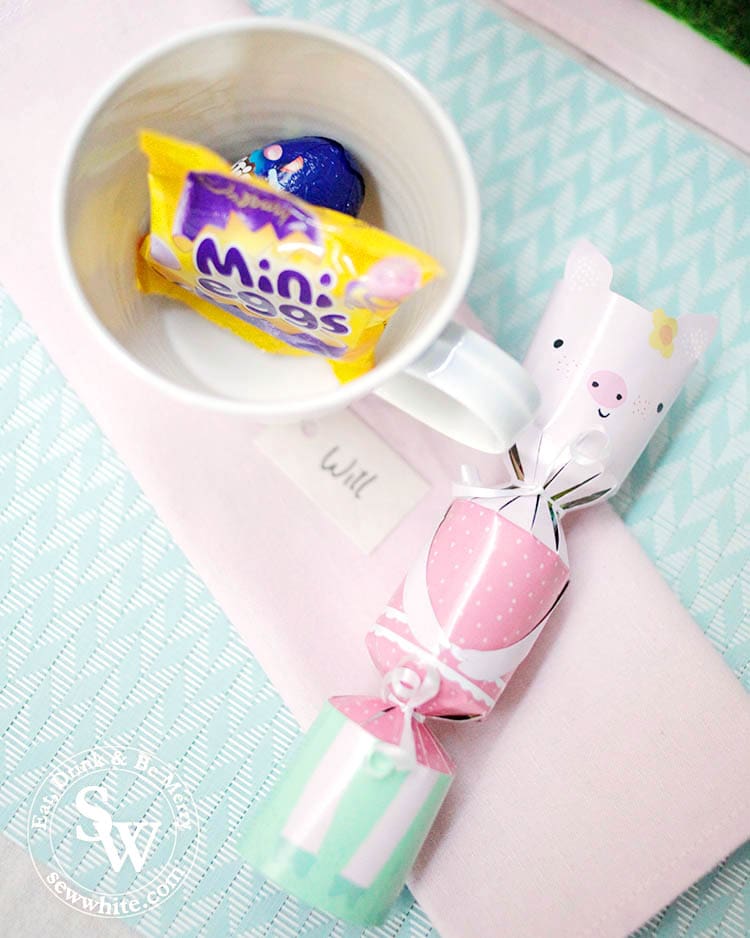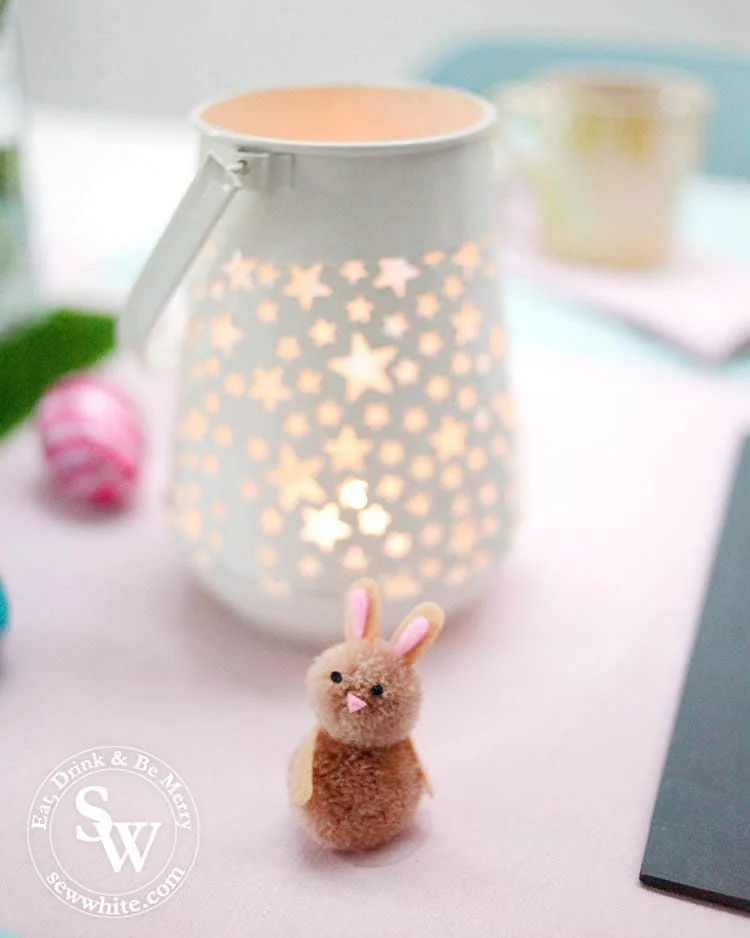 The little touches really make this table so cute. Filling the cups with eggs as presents, a little Easter cracker for some fun and even little pompom rabbits who have so much character. I mean just look at that face. They also all help bring in more of the colour palette. The touches of pastel pink from the nose and ear of the rabbit and the pinks and blues of the cracker added more of the colours around it, to the table.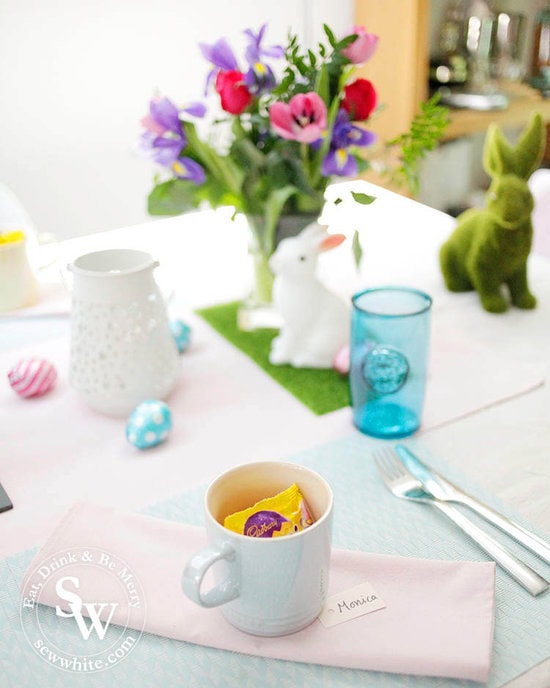 Check out my other lifestyle posts
Easter Recipes you might enjoy
A wonderful and beautiful show stopping Pinata Easter cake. The Duck egg blue icing is speckled with cocoa powder and when you cut in, you will find there are hidden Easter eggs inside. This Easter Pinata Cake will wow your guests and act as a beautiful centre piece for your Easter lunch. Every Easter table deserves a beautiful speckled egg cake centre piece and this is one for the whole family. Enjoy my Speckled Easter Pinata Cake this Easter. Easy to make and delicious.
Have you ever thought of pimping up your Hot Cross Buns? There are so many different ways you can including chocolate and nuts. However, I think these cranberry hot cross buns are the best! Adding cranberries and lime zest is a game-changer! Some might find this Easter tradition a bit drab and boring, but a citrus twist makes these sweet hot cross buns the perfect Easter treat! Enjoy this cranberry hot cross buns recipe.
This chocolate Easter cocktail is so delicious and a fabulous mix of chocolate, coffee and cocktail. My easy coffee chocolate martini can be a drink or even served as an Easter pudding! This is served with an Easter twist but leave the chocolate eggs out to enjoy them for the rest of the year. This chocolate cocktail Baileys extravaganza is highlight of the bank holiday weekend.
I love chocolate cake so I created this beautiful chocolate bundt cake. For Easter I turned it into a chocolate nest and filled it with mini eggs.