Can you believe it's only been 15 weeks of 2021! It feels a lot longer. At least we continue to have a fabulous link-up party where brilliant bloggers can share their recipes. This week I have chosen my top picks for Perfect Spring Desserts.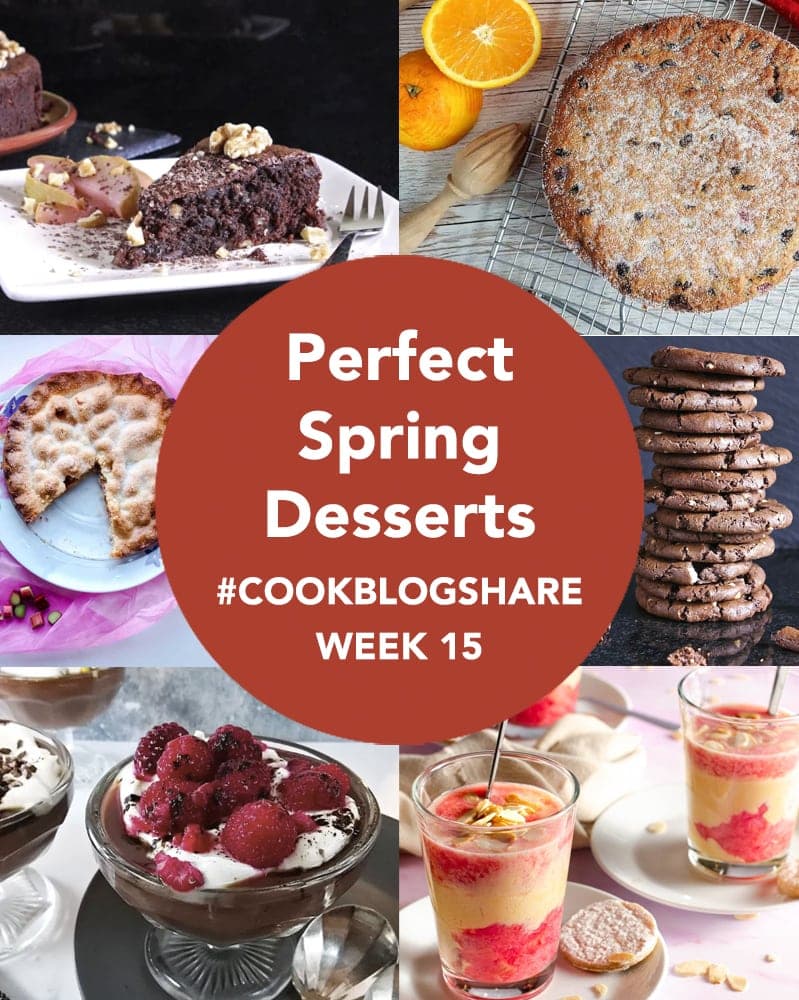 Thank you so much Midge from Peachicks Bakery who hosted last week's link-up party. There were such a wonderful range of dishes to explore. It was very hard to choose my favourites to round up for this week.
As spring is definitely in the air I decided to settle on desserts. These Perfect Spring Desserts are all perfect to enjoy as the days get longer and hopefully the weather gets warmer.
Chocolate Perfect Spring Desserts
Now this looks incredible! This Chocolate torte with walnuts and pears by Gluten Free Alchemist is calling out to be made and enjoyed. Soft, silky, gooey, decadent, melt-in-the-mouth gluten-free Chocolate Torte with Walnut and Pear. Nothing short of a gift from heaven. Dairy-Free too.
This chocolate milk pudding recipe by Cocoa and Heart is very easy to make and it's the perfect after-dinner pudding. It's perfect on it's own and even better served with yoghurt, raspberries or crumbled biscuits. Chocolate and raspberries is a lovely combination and I think that is a great dessert for spring.
Gluten Free Spring Dessert
This beautiful Orange and Coconut cake by Glutarama is not only stunning but has such fresh and beautiful flavours. An extra bonus is that it is gluten free. Originally a recipe from her Nanny she has updated it slightly to make GF and shared the recipe so we can all try it too.
Fresh Rhubarb Desserts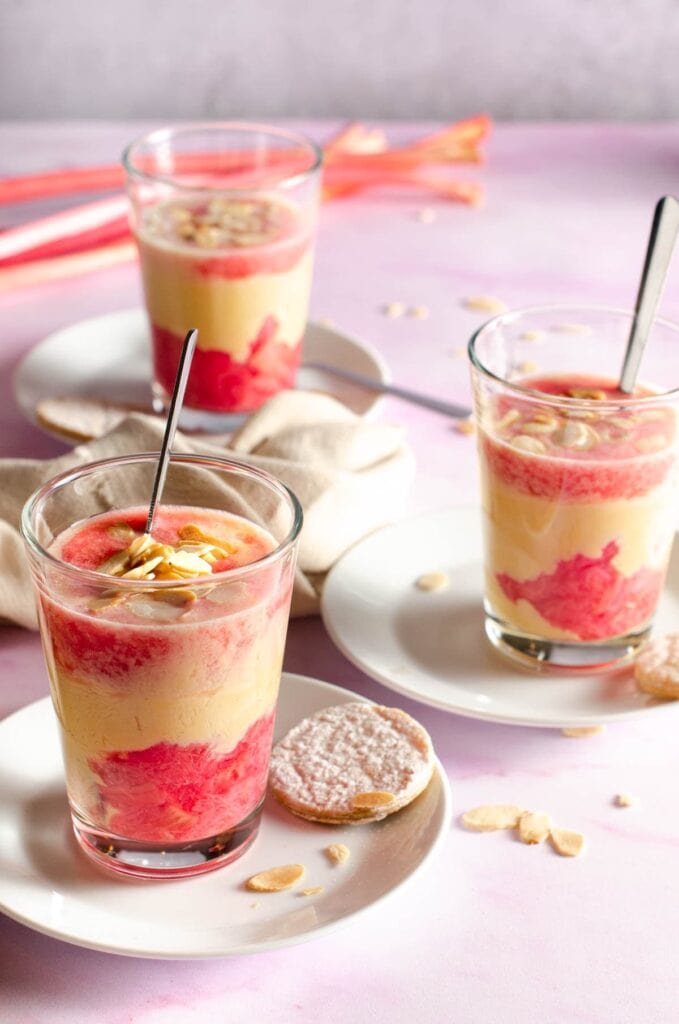 Sink your teeth in to this beautiful Rhubarb and custard layered dessert by Lost in Food. It is made with a soft poached rhubarb with creamy sweet custard. This pretty dessert is super simple to make but elegant enough to grace any dinner table. It might look like one of those dishes that perhaps looks a little more complicated because of the layering, but is in fact really easy to cook and assemble.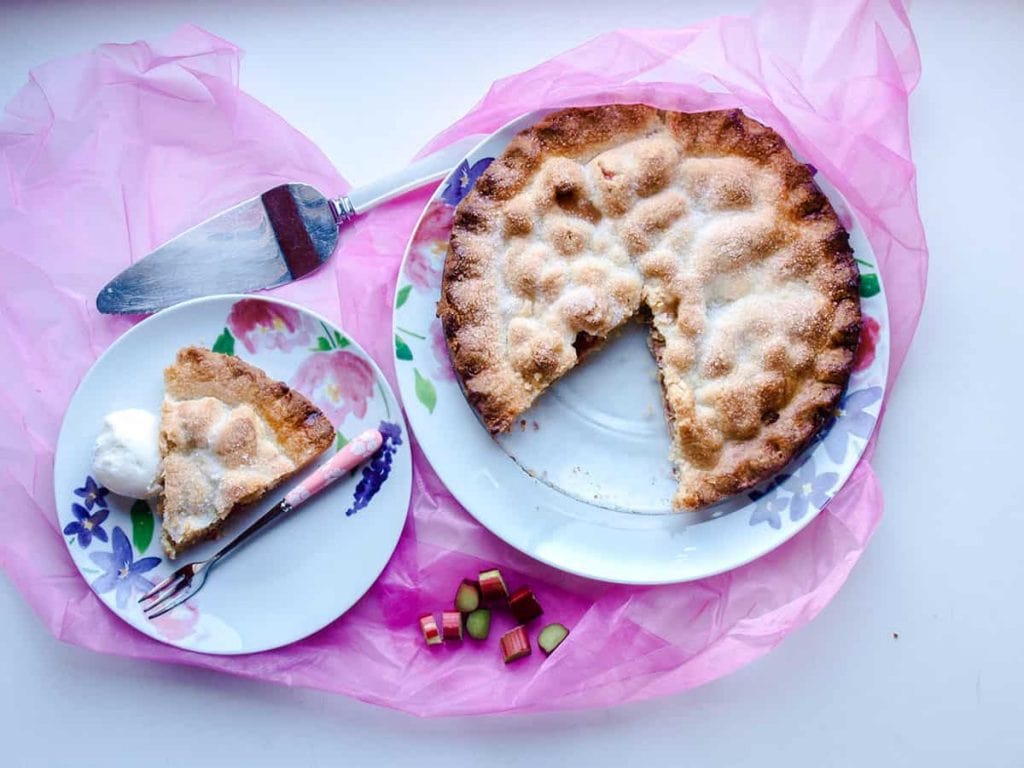 This Easy Rhubarb Tart by Farmersgirl Kitchen creates a really delicious dessert from simple ingredients. Make your own melt in the mouth shortcrust pastry or use ready-made all-butter pastry for an even quicker fix. Fill the tart with a simple mixture of rhubarb, sugar, and cornflour and pop it in the oven. So easy and a great way to use your fresh rhubarb.
Perfect Spring Desserts Cookies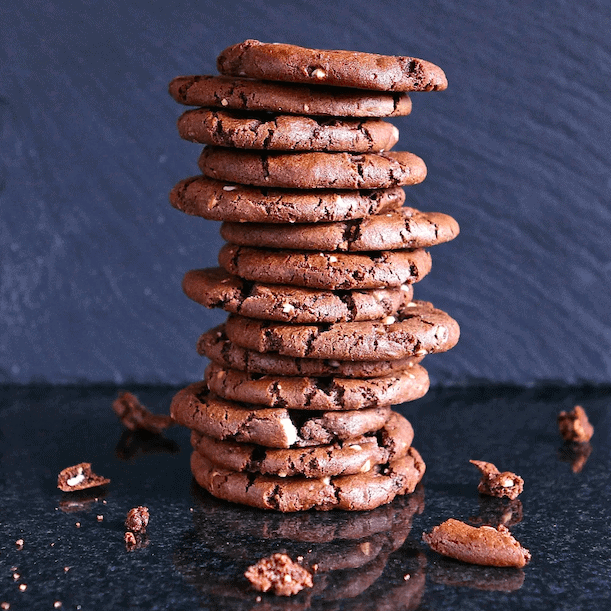 A super easy recipe for incredible Chocolate Peanut Butter Cookies by Gluten Free Alchemist. These cookies are a great pudding to enjoy after a big meal when you still want something sweet. Deliciously chewy in texture with a crisp outer shell, they are also flourless and naturally gluten-free. Dairy-Free too.
Here are a few of my spring desserts you might enjoy too.
Join this week's #CookBlogShare
We will be tweeting and commenting (on all of the links). The recipes will be pinned to the #CookBlogShare group board on Pinterest.
Share on social media
If you are on Twitter we invite you tag @lavenderandlovage and @sewwhite using the #CookBlogShare hashtag for retweets.
Please feel free to add the #CookBlogShare hashtag to their Instagram posts. Or post your recipes on the Cook Blog Share Facebook Page.
Non Bloggers – skip to the bottom of the page and click on the thumbnails that catch your eye to take you to the website where the recipe can be found. Remember they will be added to as the week goes on. Don't forget to pop back and take a look again later.
Bloggers – How do I join #CookBlogShare Week 15?
•You can link up any foodie posts you have. Both old and new posts are welcome as long as they have not been linked to #CookBlogShare before.
Link up a recipe or foodie post by clicking the blue 'add your link' button below and following the instructions. You can link up to 4 posts.
•Add a link from your post back to this post https://www.sewwhite.com/recipe-collections/perfect-spring-desserts/ (so everyone else can find it and link up too!)
•Add the #CookBlogShare badge to your post (Code below – for WordPress copy and paste the code below into the text view of your post or copy and save image).
•Comment on some of the other recipes linked up here (at least 2 for each link you added but the more you can the better) and generally share the love with a bit of social media action!
•Plus comment one of the posts labelled HOST in the linky.
By joining in you are giving the #CookBlogShare hosts permission to use your pictures in a roundup and on social media if your recipe is selected as one of their favourites!
Next week's #CookBlogShare is being hosted by Gluten Free Alchemist