These raspberry lemon blondies are a quick and delicious bake that are easy to make at home. As far as lemon raspberry bars go this recipe is easy to make and perfect for beginners too. These raspberry blondies are fresh, fruity and full of flavour.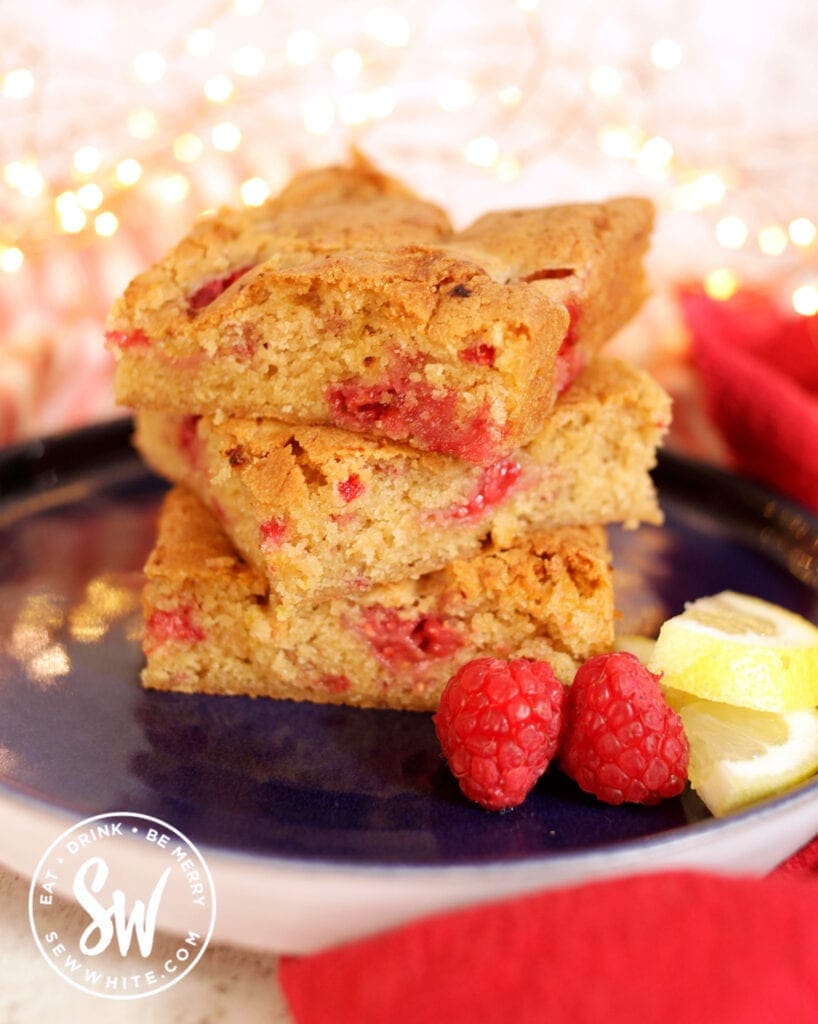 Packed with tart raspberries and zesty lemon, these raspberry lemon blondies will take your dessert game to the next level. With a soft and chewy texture, they're sure to leave your taste buds begging for more. And the best part? This is a super simple recipe that anyone can make, you could even get the kids involved!
Top Questions
Should blondies be gooey?
Should you refrigerate blondies after baking?
Why are my blondies hard?
How long can you keep blondies?
Can you add fresh raspberries to blondies?
Why you'll love this raspberry lemon blondies recipe
The combination of tangy lemon and sweet raspberries is truly irresistible. The soft, chewy texture of the blondies perfectly complements the bright, fruity flavours.
But beyond the incredible taste, this recipe is also incredibly easy to make. With just a handful of ingredients and a few easy steps, you can whip up a batch of blondies that will have your friends and family begging for seconds (and maybe even thirds!).
raspberry lemon blondies are the perfect party or picnic treat. They are sturdy enough that they travel well but can easily be enjoyed without too much faff.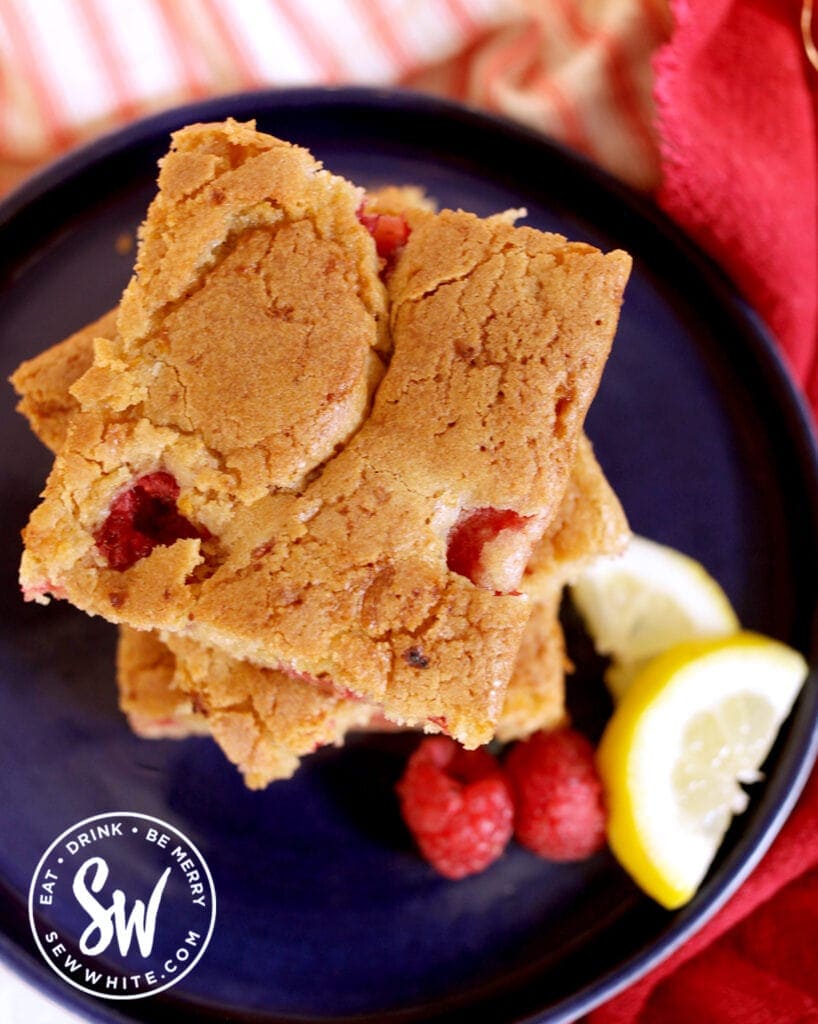 Raspberry Lemon Blondies Ingredients
For the full recipe and instructions scroll to the bottom of the page for the recipe card.
Fresh Raspberries
To really take these raspberry blondies to the next level, you'll want to make sure you're using fresh raspberries. While frozen raspberries can work in a pinch (be aware they can make the mixture too wet), there's just something about the burst of flavour from fresh berries that can't be beaten.
Lemon Zest
While the raspberry flavour in these blondies is certainly the star of the show, the addition of fresh lemon zest takes the lemon curd blondies to a whole new level.
Lemon zest adds a bright, zingy flavour that perfectly complements the sweetness of the raspberry and the buttery richness of the blondie base.
When adding lemon zest to the recipe, it's important to use only the yellow part of the lemon peel, avoiding the bitter white pith underneath. To zest a lemon, use a fine grater or zester and gently scrape the surface of the fruit.
How to make Raspberry Lemon Blondies – step by step
For the full recipe and instructions scroll to the bottom of the page for the recipe card.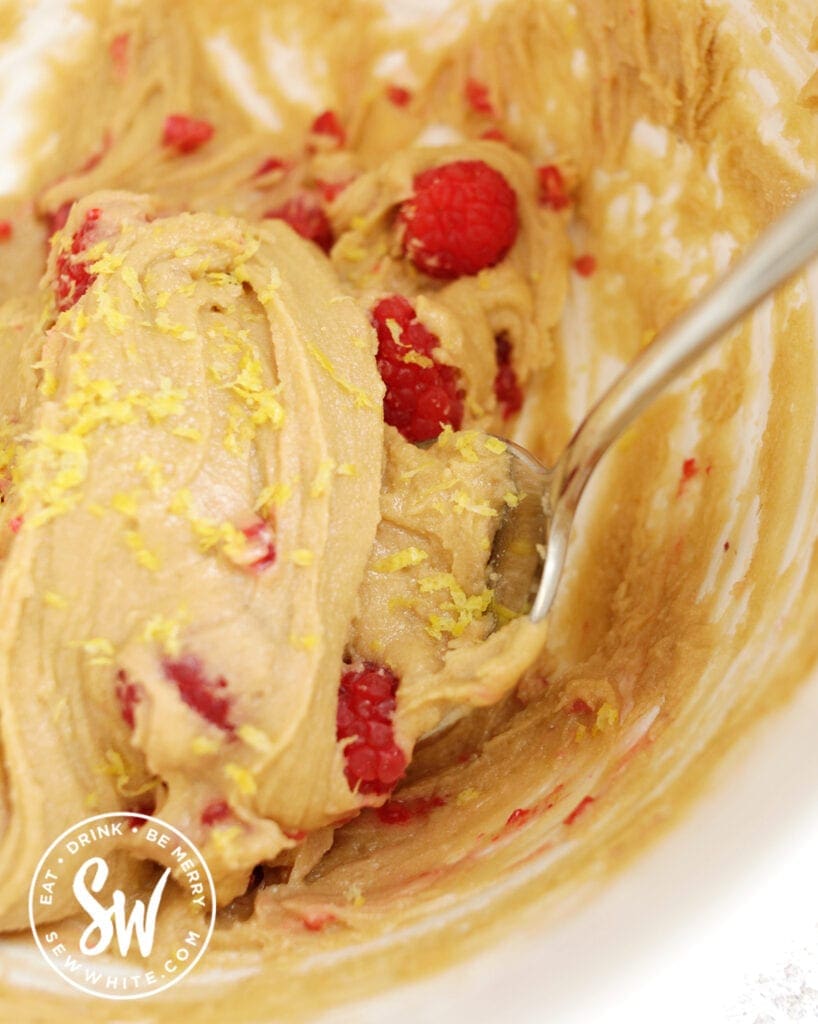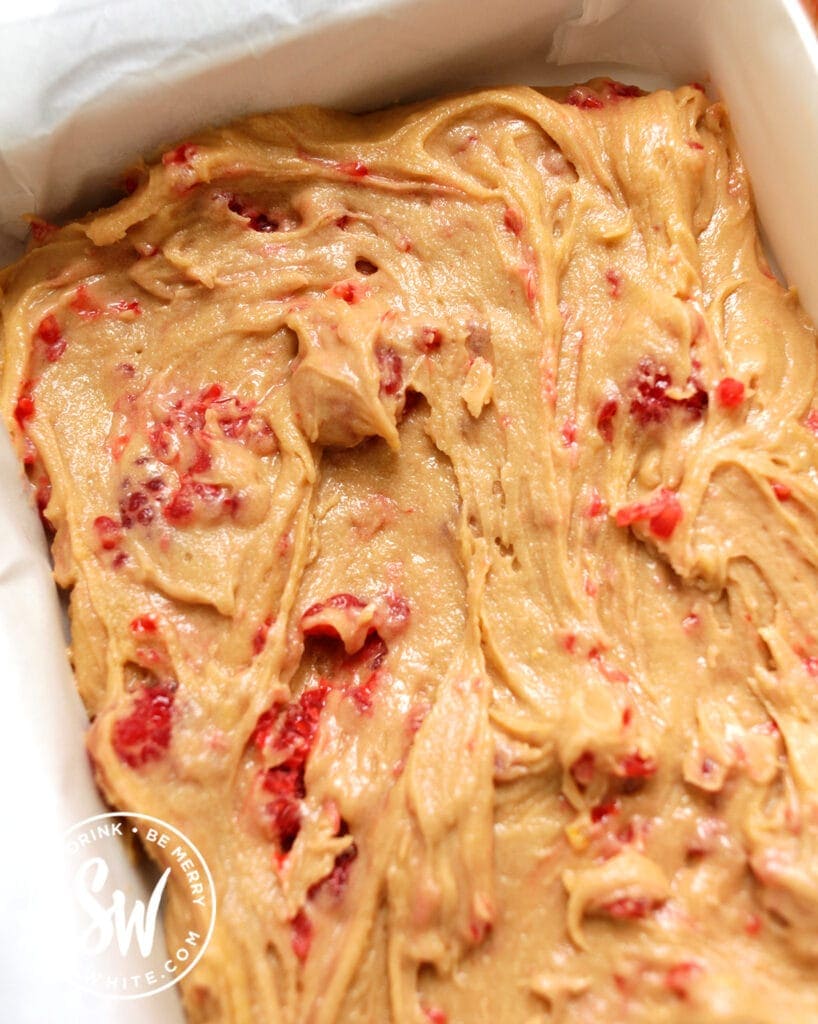 Start by melting your butter and leave it to cool for a moment before your mix it with your sugar. Add your eggs to the mixture one at a time and mix them in fully.
Measure out your vanilla extract and mix this in too.
Sieve in your flour, salt, and baking powder and combine,
Next up, mix in your lemon zest and about half the raspberries (you'll want the rest to stud the top of your lemon raspberry bars with).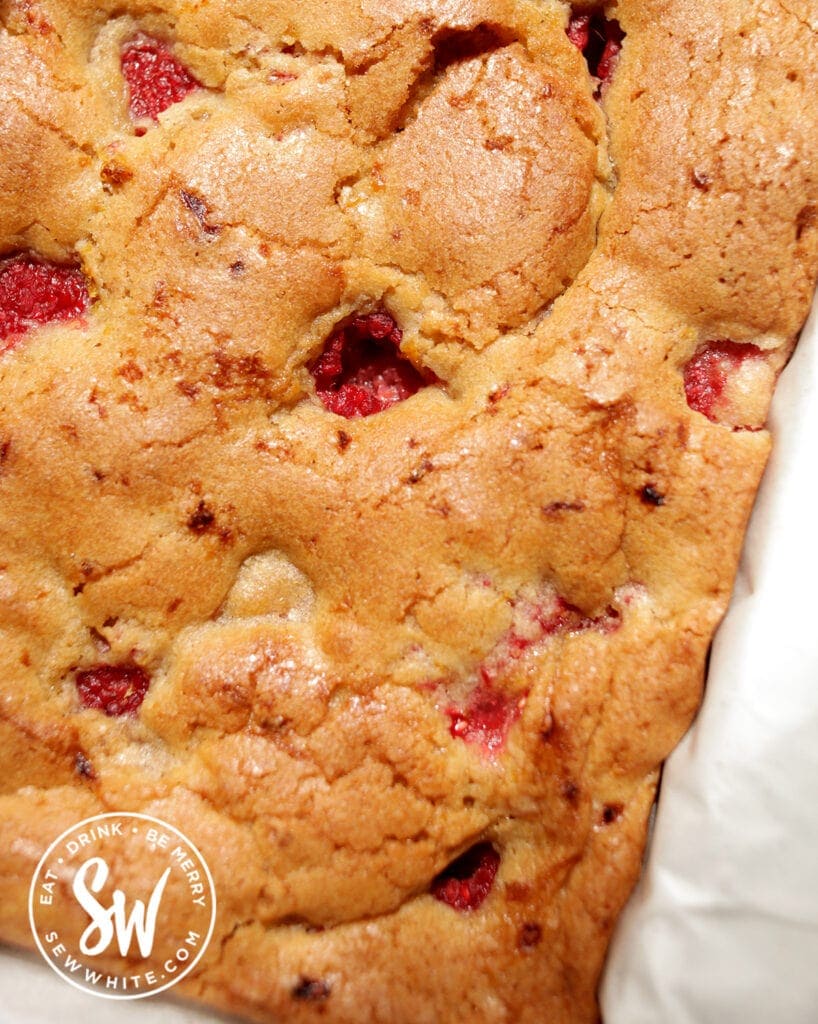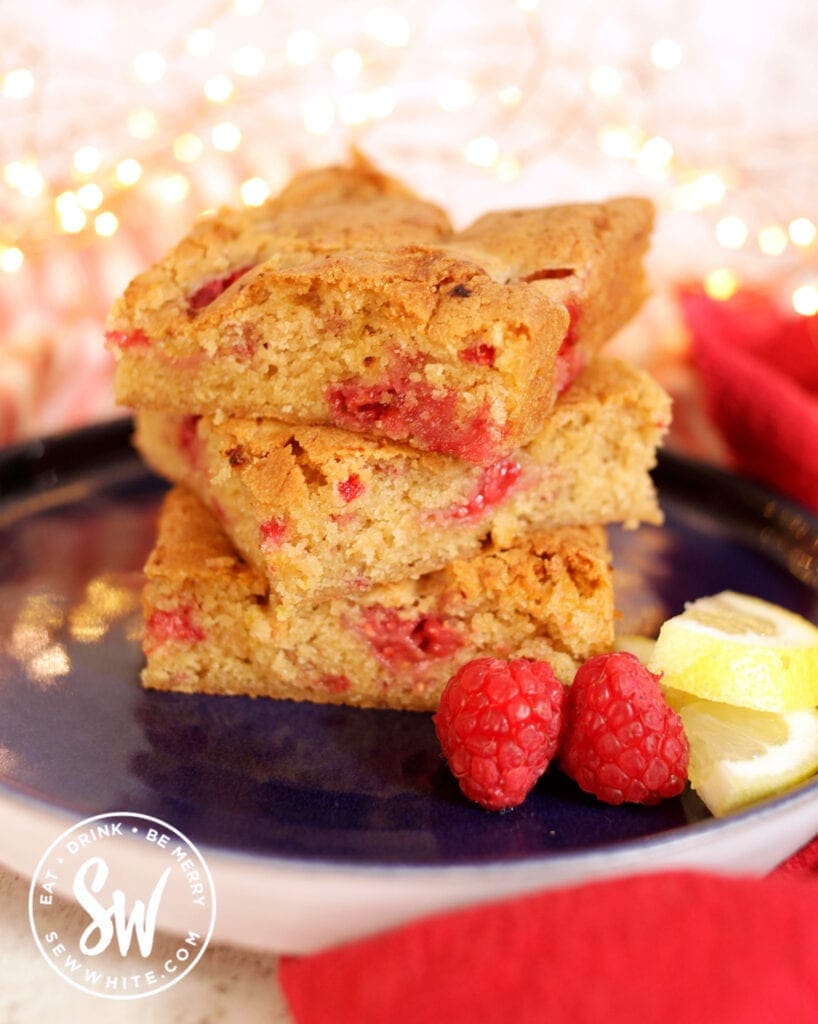 Spoon or pour your blondies mix into the baking tray and bake for about 20 minutes, just until your blondies are golden brown on top but still gooey in the centre.
Top Tips
First, make sure your butter and eggs are at room temperature before starting. This will help everything mix together smoothly for better-textured lemon raspberry bars.
Additionally, take care not to overmix the batter once you add in the flour mixture; doing so could result in tough, dry blondies, which no one wants.
If you're struggling to get your raspberry swirl just right, try spooning small dollops of raspberry jam onto the batter and using a knife to swirl it in.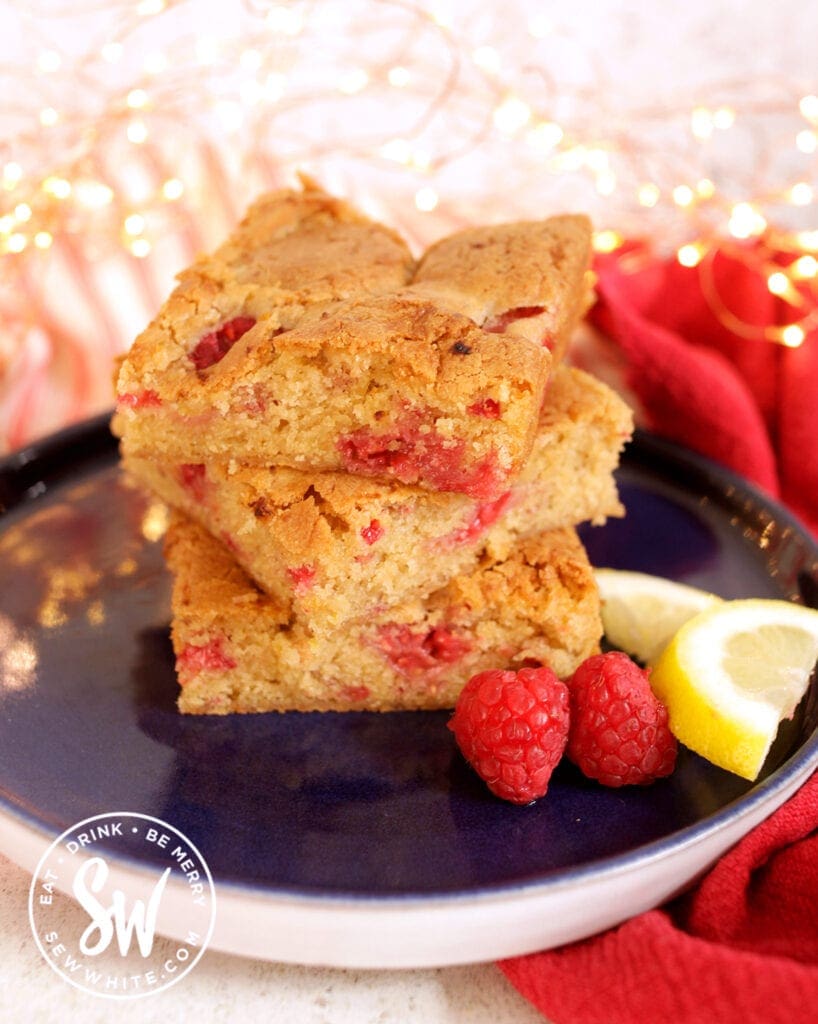 Serving Suggestions for Raspberry Lemon Blondies
If you're wondering how to serve up these delicious raspberry lemon blondies, I've got you covered.
Serve with ice cream
One idea is to pair your blondies with a scoop of vanilla ice cream. The cool and creamy consistency of the ice cream complements the tartness of the raspberries and lemon perfectly. You can also drizzle a warm raspberry or lemon sauce over the top for an extra burst of flavour.
Serve with fresh berries
For a more indulgent treat, try topping your lemon raspberry blondies with whipped cream and fresh berries. The airy texture of the cream adds a lightness to the dense blondies, while the berries provide a pop of colour and freshness.
The best lemon raspberry desserts
If you're looking to get creative, try using your blondies as a base for the best lemon raspberry dessert trifle. Layer your blondies with whipped cream, fresh fruit, and a splash of raspberry or lemon liqueur for a fancy and flavourful treat.
Equipment
This list contains affiliate links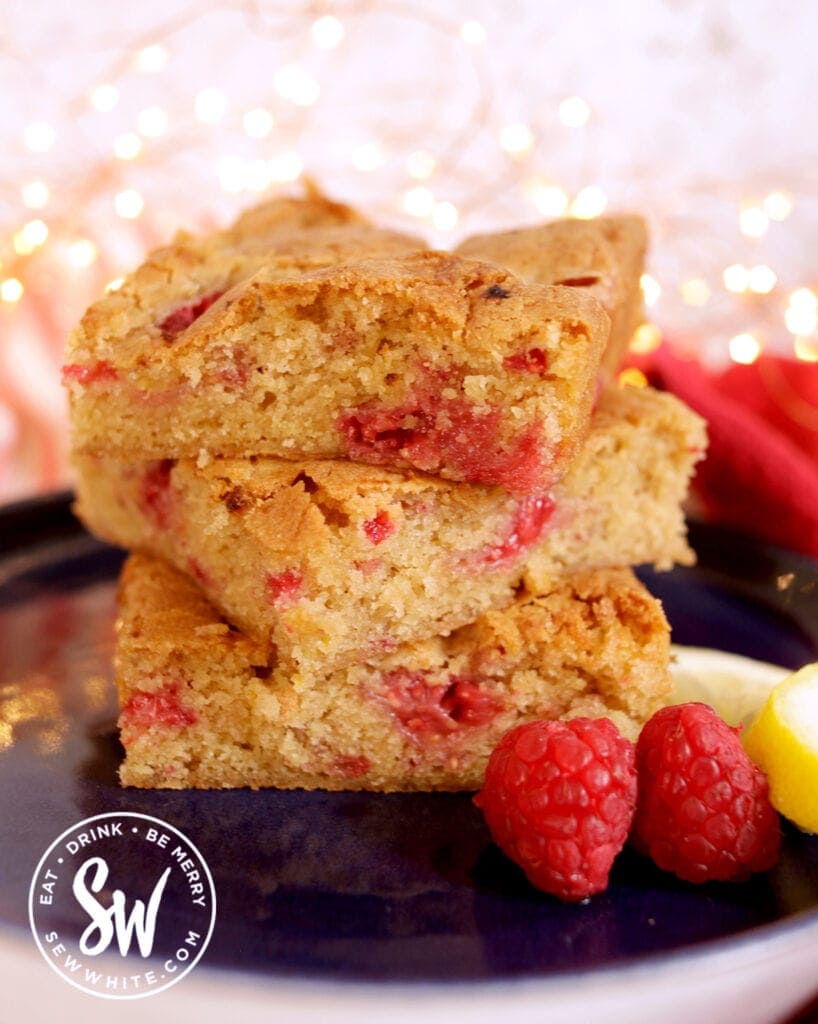 Substitutions and variations
Swap out the raspberries for another fruit
You can also swap out the raspberries for blueberries, strawberries, or blackberries for a different fruity twist. Or even a mix of all 3 for summer berry blondies!
Drizzle with chocolate
For a more decadent treat, try drizzling melted white chocolate over your blondies or adding in a handful of chocolate chips to the batter. The white chocolate with the raspberries is incredible.
Lemon Curd Blondies
Mix in either a homemade or shop-bought lemon curd into your blondie better. It creates a wonderful texture, and the extra lemon flavour is fantastic.
Change the citrus
If you're a fan of citrus, try using lime or orange zest instead of lemon for a unique flavour profile. Especially with the raspberry, orange works wonderfully.
Dried Fruit and Nuts
Or, for a touch of nuttiness, toss in some chopped pecans or almonds to your batter before baking. A handful of dried cranberries or raisins also works wonders in the blondies too!
Spices
And if you're feeling adventurous, mix in a teaspoon of cinnamon or cardamom for a warm and spicy kick. You can make Christmas blondies by adding in warm spices, dark chocolate and the dried cranberries.
Raspberry Lemon White Chocolate Blondies
Stir in 200g of white chocolate chips to make the most delicious raspberry lemon white chocolate blondies. They are even more exciting and decadent than these raspberry and lemon bars.
Gluten free blondies
Swap out the plain flour for gluten-free flour and double check that any other ingredients you're using are gluten free.
Storing Raspberry Lemon Blondies / Making ahead of time options
Once your blondies are cooked, you'll want to store them in an airtight container and store them at room temperature for up to three days. Make sure to line the container with parchment paper/greaseproof paper to prevent sticking and keep them from getting mushy.
If you need to store them for a longer period of time, you can put them in the refrigerator for up to a week. Before serving, let the blondies come to room temperature to ensure they are nice and soft.
If you want to save them for even more time you can freeze your blondies. Wrap each piece individually in plastic wrap/ cling film, then place them in a freezer-safe container or bag. When you're ready to enjoy them, simply take them out of the freezer and let them thaw at room temperature for a few hours before serving.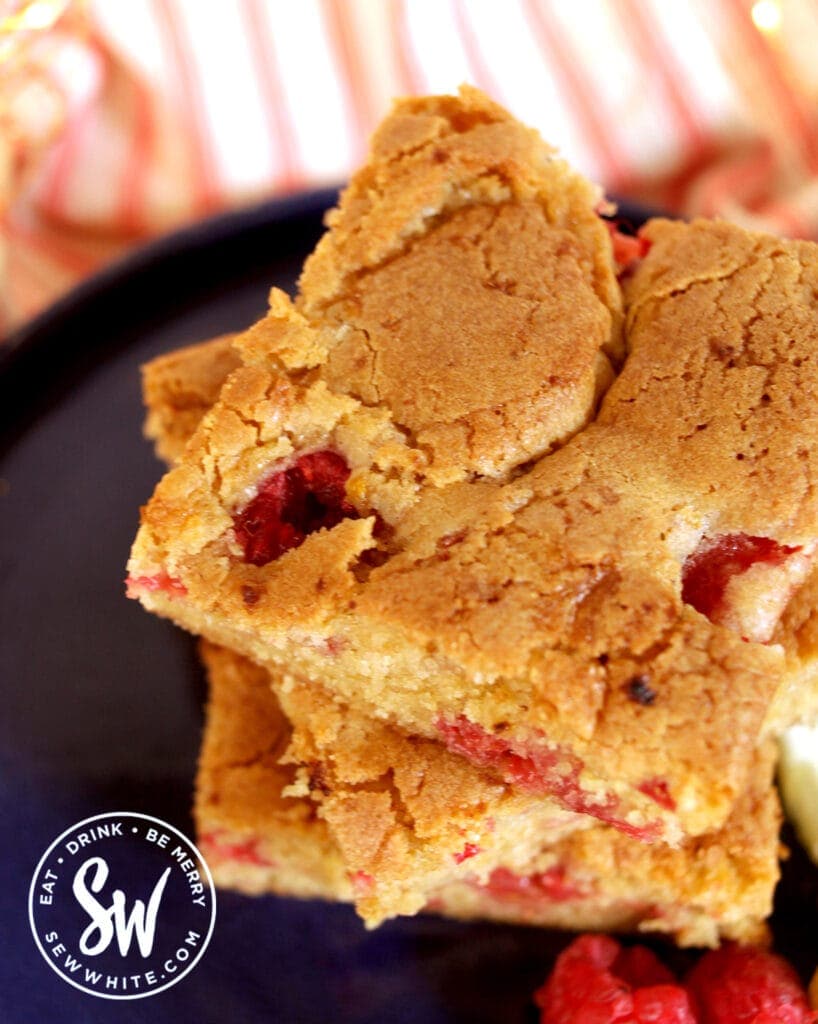 FAQS
Should blondies be gooey?
Yes, in my opinion, blondies should always be gorgeously gooey in the centre. To ensure your blondies stay gooey and aren't over-baked, keep an eye on them whilst they're in the oven and then take them out when they need about 5 more minutes. They'll continue to cook on the cooling rack and leave you with lovely gooey blondies.
Should you refrigerate blondies after baking?
You should store blondies in the fridge after baking if you want to keep them for more than a few days (no more than a week). Once your blondies are fully cooled, place them in a fridge safe container and place them in the fridge.
Why are my blondies hard?
Your blondies are hard because they have been over-baked. If they are left in the oven for too long or the temperature is too high your blondie mix will dry out and go hard. Keep an eye on your blondies while they bake to ensure you get them out at the right time.
How long can you keep blondies?
Blondies can last for up to 1 week in the fridge if kept in an airtight container. They can however be kept in the freezer for longer if you store them properly.
Can you add fresh raspberries to blondies?
Yes, you can easily add fresh raspberries to blondies to make raspberry blondies. I recommend fresh raspberries to frozen ones as the frozen ones can make your batter too soggy.
Other Recipes you might like
Pin this Raspberry Lemon Blondies recipe to enjoy later
Pin me for later or follow me @sewwhiteblog on Pinterest for my latest recipes and to discover my others.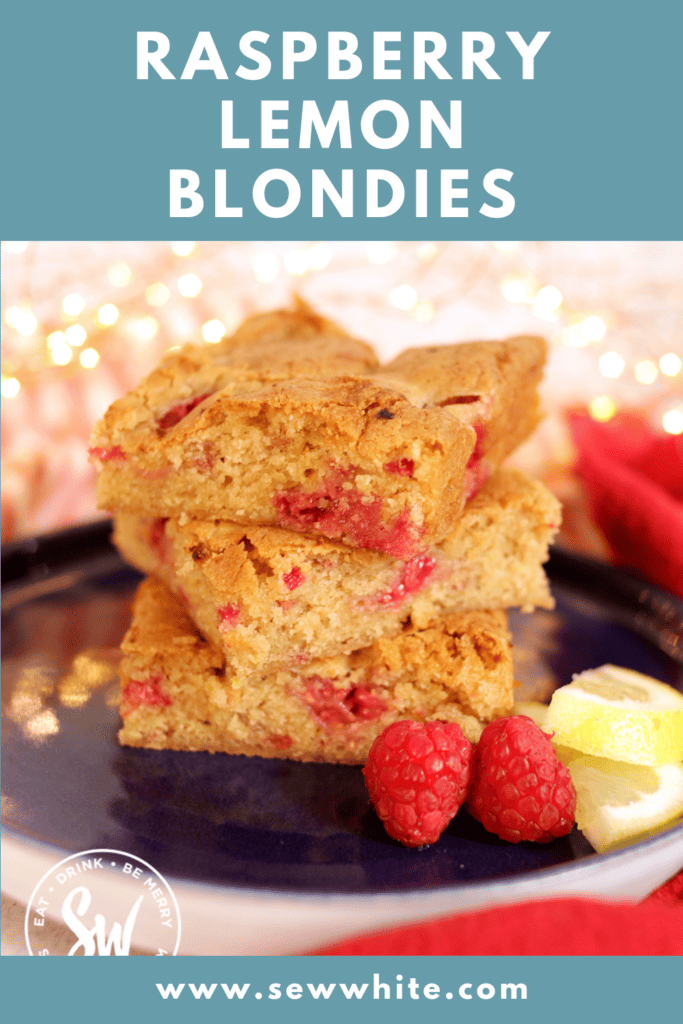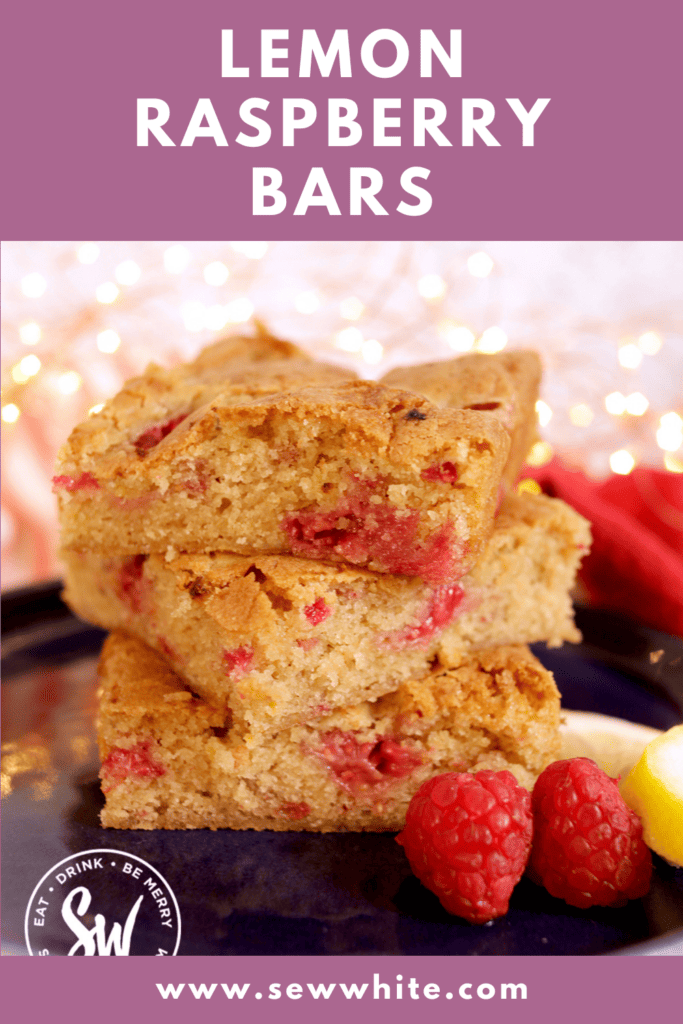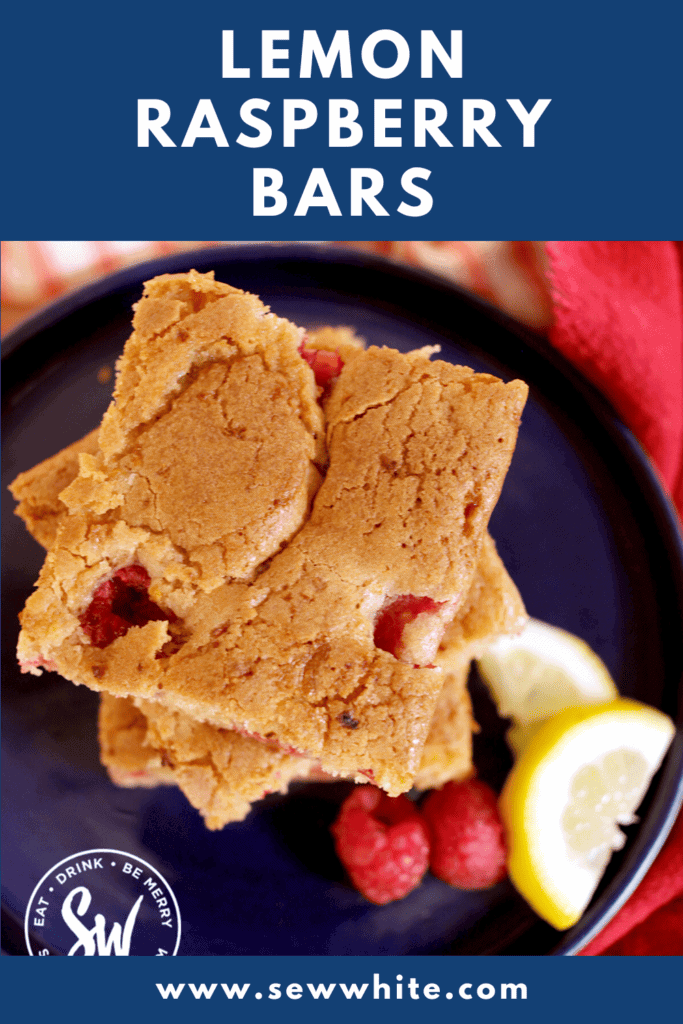 Recipe
Raspberry Lemon Blondies
These raspberry lemon blondies are a quick and delicious bake that are easy to make at home. As far as lemon raspberry bars go this recipe is easy to make and perfect for beginners too. These raspberry blondies are fresh, fruity and full of flavour.
Ingredients
175

grams

(

6 ⅙

oz

)

unsalted butter

200

grams

(

1

cups

)

light brown soft sugar

150

grams

(

1 ¼

cups

)

caster sugar

3

medium

(

3

medium

)

eggs

2

teaspoons

vanilla extract

250

grams

(

2

cups

)

plain flour / all purpose flour

1

teaspoon

baking powder

small

pinch

salt

1

lemon

(zested)

250

g

(

2

cups

)

raspberries
Instructions
Preheat the oven to 180ºC / 350°F / Gas Mark 4.

Line a 9 inch x 12 inch cake pan (traybake tin/cake tin) with greaseproof paper.

Gently melt the butter in 10 second bursts in the microwave.

Add the brown sugar and the caster sugar to a bowl.

Add the butter to the sugar.

Mix together until combined.

Stir in the three eggs. (Photographed before I added the third in)

Mix together until the eggs are combined.

Add the vanilla extract and stir in.

Sieve in the flour, baking powder and salt and mix well.

Add in the lemon zest and fresh raspberries. (Leave a few aside to be studded on the top.)

Add the blondie mixture to the prepared cake pan and level it off.

Stud the blondies with the leftover raspberries.

Bake for 30 minutes and until the top feels set to the touch and is light brown colour.

Allow the blondie to cool in the cake tin until easy to handle and remove from the tin, place on a cooling rack and slice into bitesize pieces or bars.
Notes
•Store your blondies in an airtight container. They should last for up to 5 days if you don't eat them all first.
•Blondies freeze really well. Once they are cooked wrap them up in cling film or pop in an airtight container and store them for up to 3 months. Leave them at room temperature to defrost when you're ready to enjoy them. You can also pop them into a medium warm oven to warm them up.
•What else can I add to the blondies? Well there are so many things you can mix into them. I would suggest your favourite chocolate chips, dried fruits, nuts or even your favourite candy bar.
Nutrition
Calories:
323
kcal
Carbohydrates:
48
g
Protein:
4
g
Fat:
13
g
Saturated Fat:
8
g
Polyunsaturated Fat:
1
g
Monounsaturated Fat:
4
g
Trans Fat:
0.5
g
Cholesterol:
72
mg
Sodium:
58
mg
Potassium:
108
mg
Fiber:
2
g
Sugar:
30
g
Vitamin A:
433
IU
Vitamin C:
10
mg
Calcium:
54
mg
Iron:
2
mg
Please note that the nutrition information provided above is approximate and meant as a guideline only.