These reindeer tarts are the cutest Christmas dessert ever! My little Rudolph tarts are full of personality and by using ready made tart shells it's actually a no bake chocolate tarts recipe.
The best Christmas chocolate tarts, my mini reindeer tarts are the perfect way to start the festive season. They are delicious and bite-sized, meaning they make a wonderful Christmas party snack, my favourite thing is the red M&Ms used for their noses.
Why you'll love this chocolate reindeer tarts recipe
This is an incredibly easy no-bake chocolate tarts recipe. I used pre-made tart shells and the chocolate filling is really easy to whip up.
By using premade pastry shells, it cuts down on using the oven and makes making this so easy and quick to do.
Look how cute the little faces are! You can give each reindeer tart its own personality with how you place the reindeer features. I love creating names for all my reindeer tarts. That is totally normal right?
The Christmas tarts are a family friendly recipe, you can ask Santa's little helpers to help you decorate the chocolate mini tarts.
Little Rudolph tarts can be made in advance so no need to whip up anything on Christmas day!
Reindeer Tarts Personalities
Just look at their little faces! These chocolate reindeer tarts take on their own personalities when you add the eyes and antlers.
Top Questions
Can you make pastry cases in advance?
Are mini chocolate tarts easy to make?
What is a simple chocolate tart recipe?
What flavours can you add to no-bake chocolate tarts?
Does chocolate tart freeze well?
How long does a chocolate tart last in the fridge?
Ingredients
For the full recipe and instructions scroll to the bottom of the page for the recipe card.
PASTRY CASES
Pre-made pastry cases are a great way to make these reindeer tarts quickly and easily. You don't need to spend time making the pastry and blind baking before you add the tart filling. You can pick up pastry cases from any supermarket.
CHOCOLATE
I used milk chocolate in my reindeer tart recipe but you could make milk, white or dark chocolate tarts. You could even mix the chocolate types, have a couple of white, some dark and the classic milk chocolate.
BUTTER
Adding butter to your chocolate tart filling helps to make it glossy and shiny. Too much and it may affect the taste but just a little creates the perfect shine. A rudolph tart with a shiny face is a must-have for me!
DOUBLE CREAM/HEAVY CREAM
Mixing double cream into your tart filling keeps the chocolate from setting too hard. The Rudolph tarts are perfect when they're set but not too hard.
How to make reindeer tarts – step by step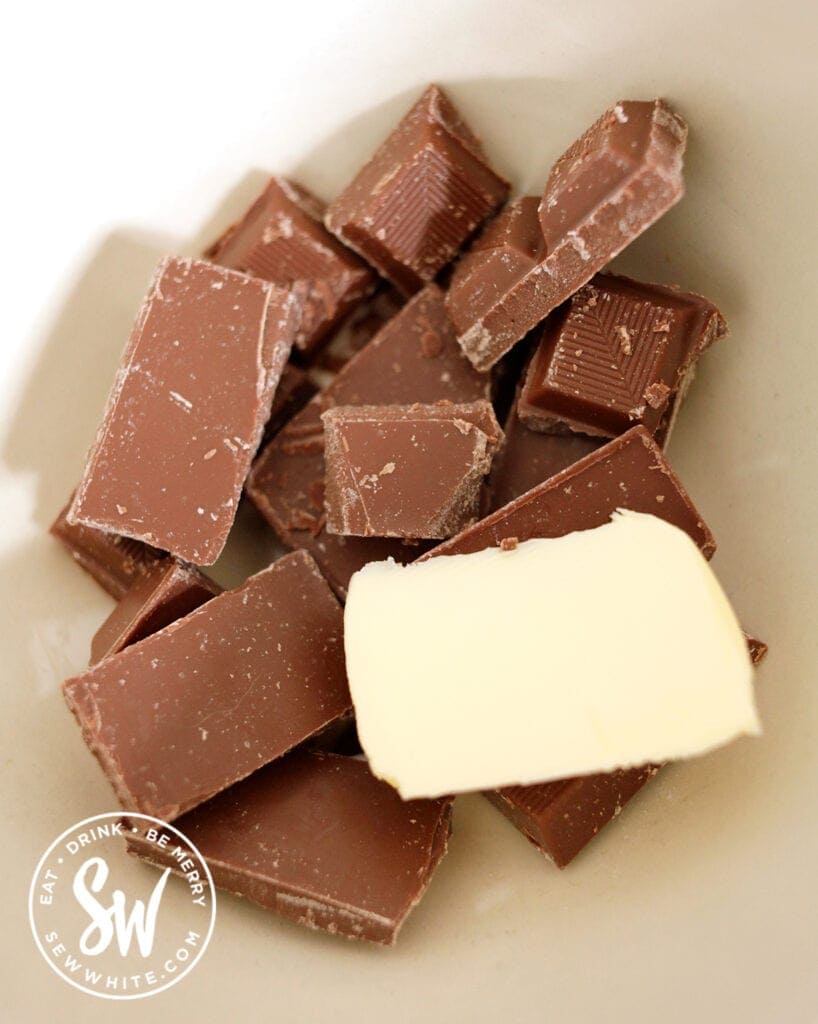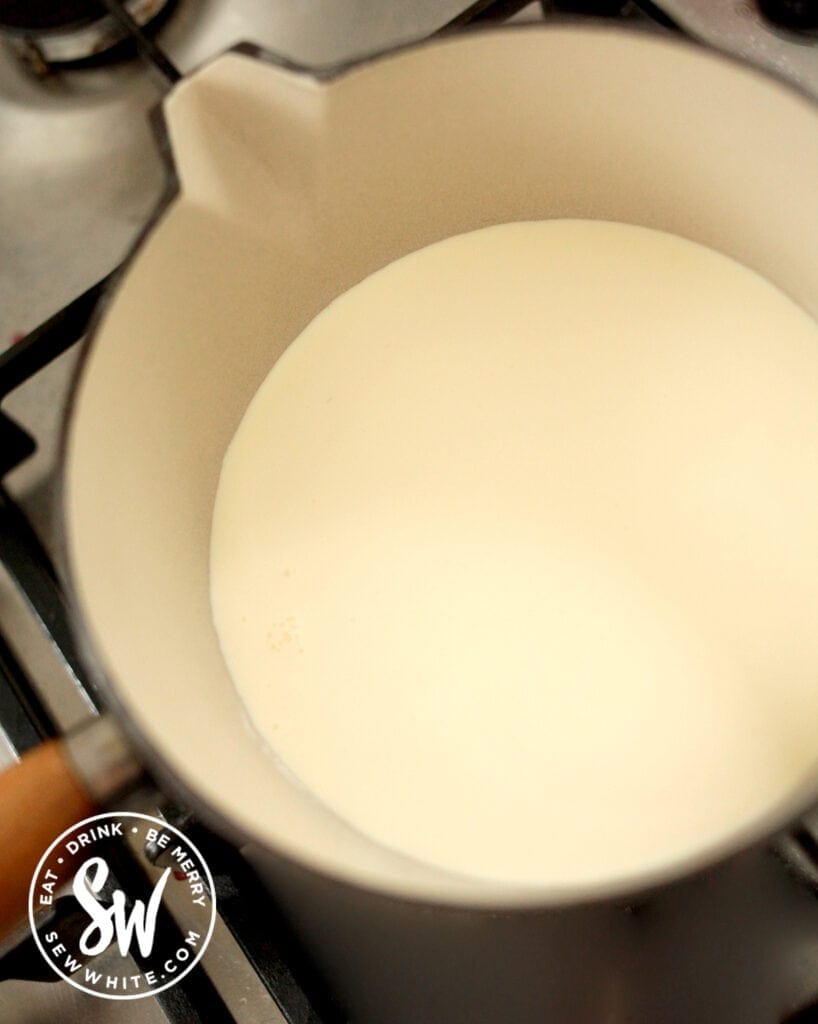 Chop the chocolate and add a little butter.
Warm your double creamy slowly in a pan.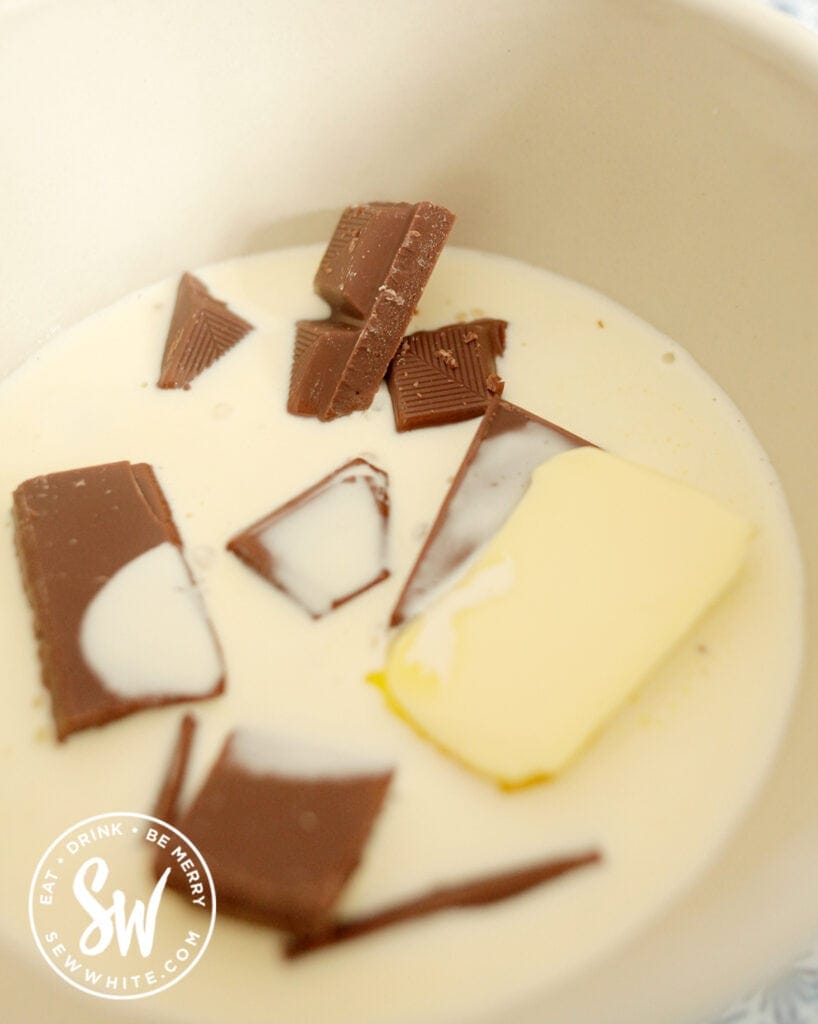 Once your cream has started to warm, add the chocolate chunks and fully melt and combine them.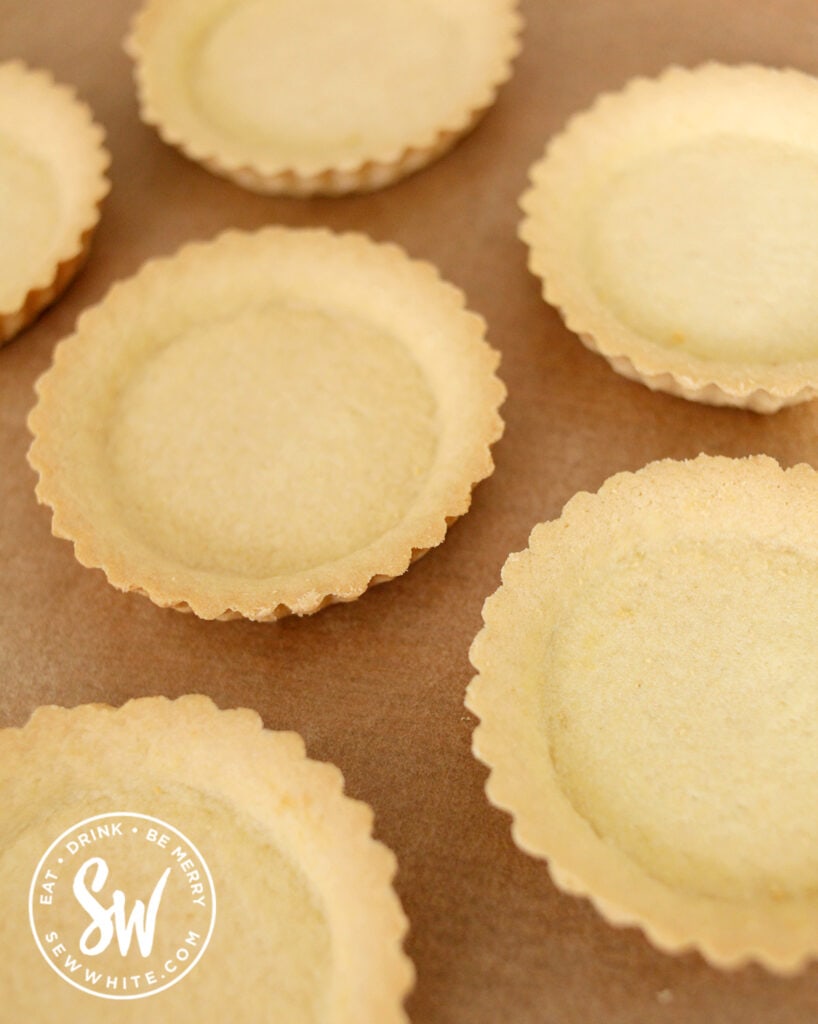 Prepare your pastry cases and pour the tart mixture into them. Be sure to keep them on a level surface so they are set flat.
Then the fun part, once the tarts are almost fully set, you can decorate them with mini pretzels, edible eyes and a red m&m for a Rudolph tart nose.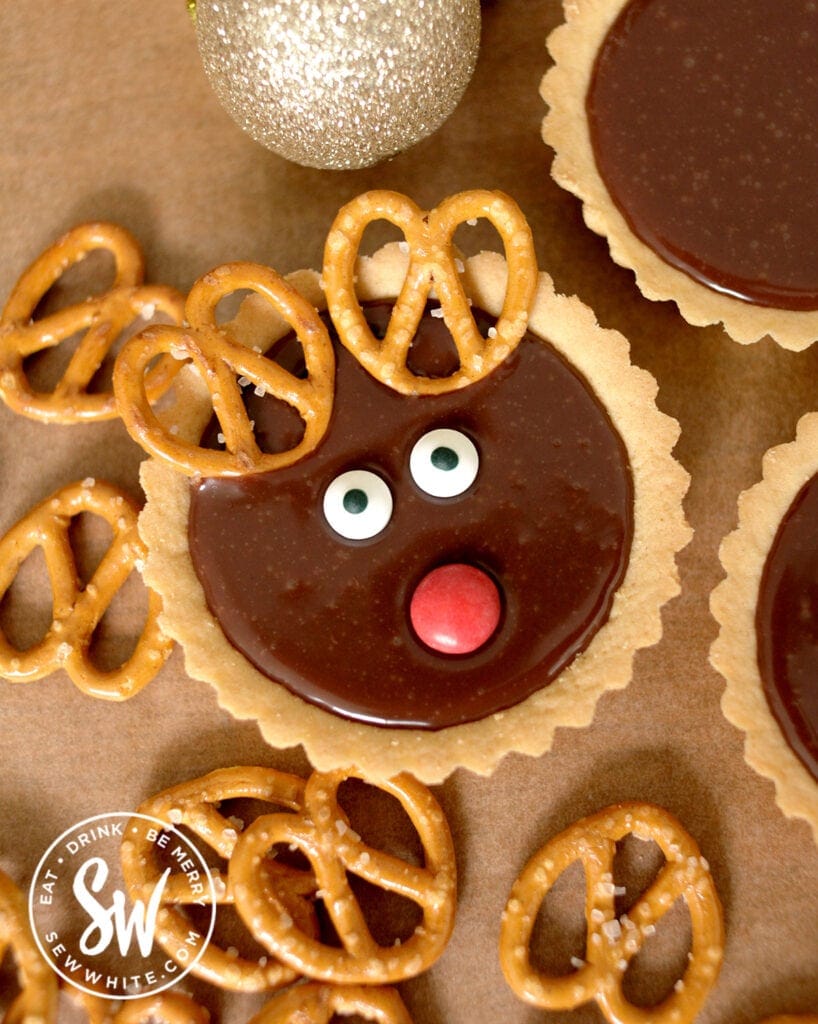 Top Tips
Use a red M&M to create a cute red nose for your chocolate tarts! I love making these Christmas tarts look like mini Rudolphs.
Let little hands help you decorate the festive tarts, Children always have the best time creating mini reindeer tart faces.
Add a little butter into your melted chocolate ganache to create a wonderfully glossy mini Christmas tart.
Serving Suggestions
These mini reindeer tarts are perfect served at your Christmas party or a Christmas pudding alternative.
If you're hosting a large group of people, you can make this a large reindeer tart, using the same recipe but with a large tart case.
Equipment
This list contains affiliate links
saucepan
spoon
Kitchen Scales
Substitutions and variations
Here are some of my other mini chocolate tarts recipe ideas:
CHRISTMAS SPICES
Add your favourite Christmas spices to the chocolate mix. A pinch of cinnamon or ground ginger would be lovely in this recipe for Christmas tarts.
CHOCOLATE TARTS
Change up the chocolate to include your favourite flavour, instead of milk chocolate try dark chocolate or white chocolate in your tarts.
ZESTY TARTS
Add some fresh orange zest to add a chocolate orange flavour. Chocolate orange is a classic Christmas flavour, so mix some orange zest into the ganache – you could even decorate your tarts with Terry's chocolate orange chunks.
If you want to make one giant sharing reindeer tart then check out my Large Reindeer Christmas Tart.
Storing Reindeer Tarts / Making ahead of time options
These tarts can be made the day before you need them and kept in the fridge. Once made pop them on a flat tray and cover them. The chocolate ganache will stay sticky so it's best not to stack them.
Reindeer Tarts FAQS
Can you make pastry cases in advance?
Yes, you can either buy pastry cases in advance of making your reindeer tarts. Or if you are making your tarts from scratch you can make the pastry and blind bake them just before you're ready to pour your ganache.
Are mini chocolate tarts easy to make?
Mini chocolate tarts are very easy to make, especially when following my easy mini chocolate tart recipe. You can use pre-made pastry cases to make this recipe even easier.
What is a simple chocolate tart recipe?
A simple chocolate tart recipe is one that makes a simple chocolate ganache poured into pre-made pastry cases. This is an easy and simple chocolate tart recipe.
What flavours can you add to no-bake chocolate tarts?
You can add many flavours to your no-bake chocolate tarts. I have tried adding orange zest to the chocolate tarts, you could add salted caramel or Christmas spices, I think nutmeg and cinnamon work best.
Does chocolate tart freeze well?
Yes, you can freeze any leftover tarts by wrapping them individually in clingfilm and popping them in the freezer for about 1 month. They are however best when fresh.
How long does a chocolate tart last in the fridge?
The chocolate tart will last about 1 week in the fridge before the chocolate ganache starts to taste fridgey and lose its glossy finish. Although, these tarts are so good I doubt you'll have any leftovers.
Other Recipes you might like for Christmas
Pin this reindeer tarts recipe to enjoy later
Pin me for later or follow me @sewwhiteblog on Pinterest for my latest recipes and to discover my others.
Recipe
Mini Chocolate Reindeer Tarts
These reindeer tarts are the cutest Christmas dessert ever! My little Rudolph tarts are full of personality and by using ready made tart shells it's actually a no bake chocolate tarts recipe.
Ingredients
6

small

(

6

small

)

tart cases

(or you can make your own with shortcrust pastry. See notes below)

125

ml

(

125

ml

)

double cream / heavy cream

150

grams

(

5 2/7

oz

)

milk chocolate

(you can use dark chocolate too. Or even a mix of dark and milk.)

1

tablespoon

(

1

tablespoon

)

unsalted butter

edible eyes

(available at most supermarkets)

salted pretzels

6

red

(

6

red

)

M&Ms
Instructions
Remove the tart cases from the packaging or if you fancy making your own shortcrust pastry tart cases get these ready-made baked and cooled before starting on the filling.

Break up the 150g milk chocolate pieces and add them to a bowl and add 1 tablespoon of butter.

In a saucepan warm up the 125ml double cream until it starts to bubble. Do not let it boil. Keep stirring.

Pour the cream over the top of the chocolate and butter. Leave it for 1 minute and then slowly mix together until everything is melted and mixed together.

Place the tart cases on a baking tray or chopping board to keep them level. (Also easier to move).

Spoon the chocolate mixture into the cases leaving a small gap from the top.

Add 2 pretzels at the top of the tart for the antlers, 2 eyes and 1 red M&M or Smartie for the nose.

Leave the chocolate to set and when it's firm it's ready to eat. It's also fine to eat when it's still molten.
Notes
I used ready-made tart shells for this recipe as it makes them so much quicker to make.
If you want to make your own tart cases then follow my shortcrust pastry recipe. Have them made, cooked and cooled before filling.
You can use M&Ms or Smarties or even a dried cranberry for the nose.
Nutrition
Calories:
141
kcal
Carbohydrates:
11
g
Protein:
1
g
Fat:
11
g
Saturated Fat:
6
g
Polyunsaturated Fat:
0.3
g
Monounsaturated Fat:
3
g
Trans Fat:
0.04
g
Cholesterol:
16
mg
Sodium:
25
mg
Potassium:
46
mg
Fiber:
1
g
Sugar:
7
g
Vitamin A:
183
IU
Vitamin C:
0.1
mg
Calcium:
10
mg
Iron:
1
mg
Please note that the nutrition information provided above is approximate and meant as a guideline only.