This is a delicious way to prepare courgettes for dinner! My Roasted Parmesan Courgettes (Zucchini) are simple to prepare and succulent to eat. This easy roast courgette recipe takes minutes to prepare and are a perfect side dish for a roast dinner. Cheesy vegetables are delicious and this recipe will have you creating them again and again.
You might have seen this photo on my Instagram account last week, It's my first ever home grown round courgette grown in my little garden in Wimbledon. My dad bought the baby plant which was planted in our little veg patch in May and has thrived ever since. I haven't seen round courgettes before and was pretty convinced they wouldn't grow however I was wrong. Growing round zucchini (the American name for courgettes)
Roasted Parmesan Courgettes
They have grown like crazy! This was the first harvested on but there are 9 more growing and I hope they all reach this crazy size. This one courgette was enough for 6 of us as part of a roast dinner this week. I asked about on social media to know to get the best out of this courgette when cooking. Among the suggestions I had was to try adding parmesan and roasting would be amazing and oh it was!
Growing courgettes at home
I love my little veg patch. It's only 3m long x 50cm deep but most years it does produce a lot. Usually I just plant tomatoes and maybe some potatoes but this year I decided to try planting lots and hope that some would grow. This year I'm growing tomatoes, courgettes, carrots, beetroot and hopefully the Brussels sprouts and broccoli might yield some veg. I bought some stand alone potato bags for the reason that the roots wouldn't disrupt the main veg patch. As a result so far I've had 3kgs of potatoes from 3 potato bags and happy tummies at dinner time. Bring on the Roasted Parmesan Courgettes.
Growing round zucchini at home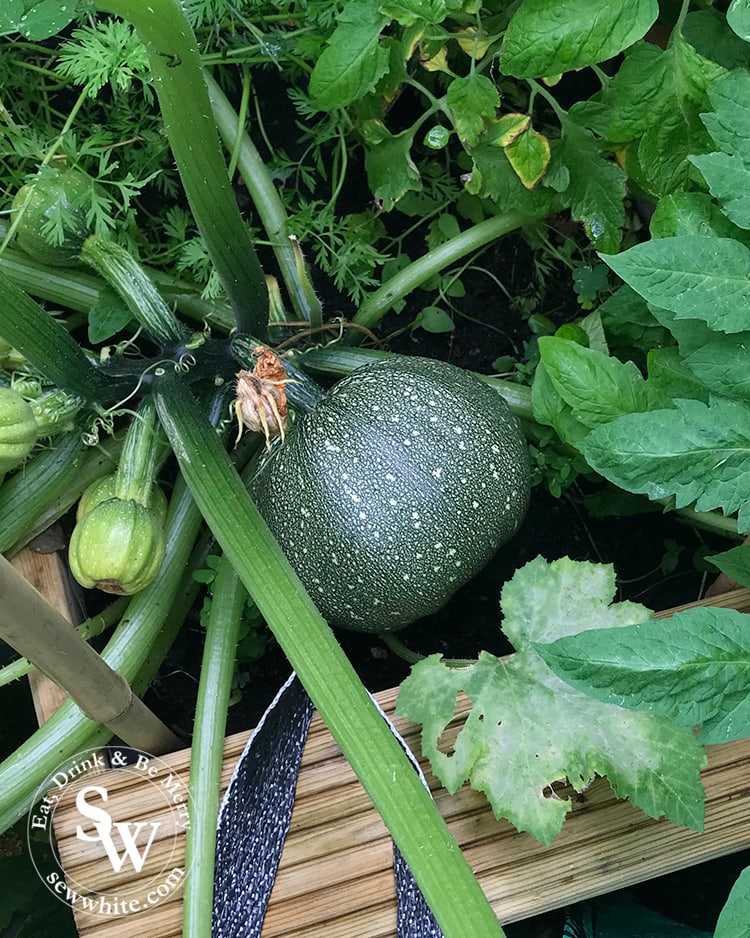 Gorgeous homegrown vegetables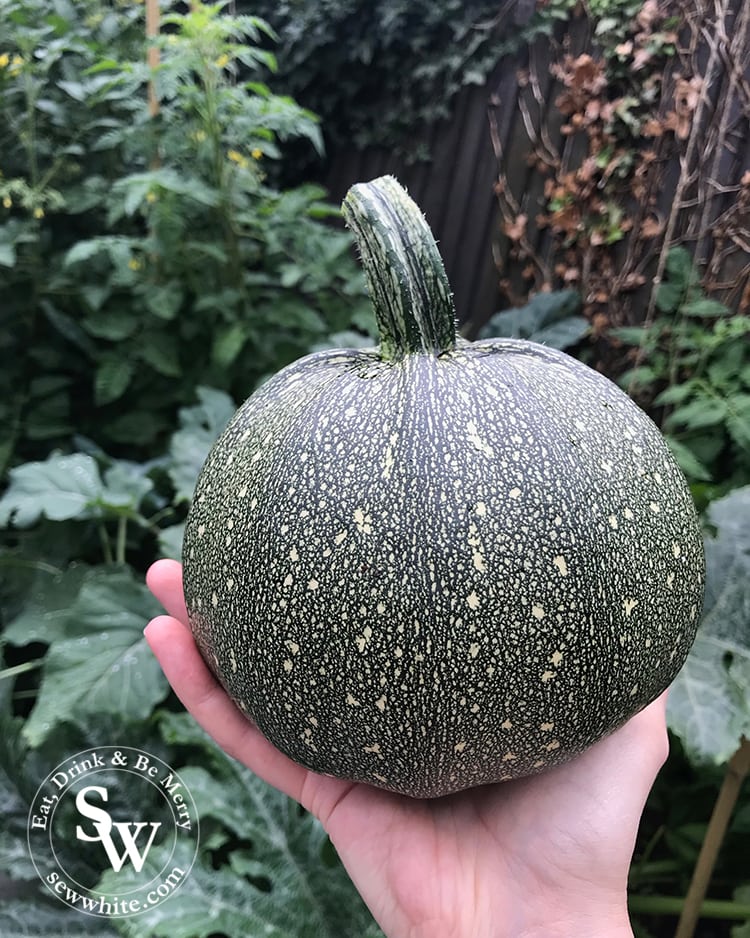 Freshly cut off and ready for dinner
What to do with round courgettes?
Round courgettes like the ones I have grown and used in this recipe are delicious and like regular courgettes they are hugely versatile in what you can use them for. You can use for courgetti spaghetti, chopped up and used in pasta sauces or even roasted with vegetables for a dinner tray bake.
What can I do with round zucchini?
What to do with round courgettes (zucchini) is exactly the same as what to do normal courgettes. They might look weird but they are exactly the same to use when cooking as their regular counterparts. I do love how they look and how they taste. Homegrown definitely taste delicious but I've found a few round ones at markets too. There is something more fun about vegetables when they look a bit weird or unusual.
Roasted Courgettes Recipe
My favourite way to cook courgettes is to roast them. Roasted courgettes are roasted and can always be counted on to work. Adding a sprinkle of Parmesan makes them feel more indulgent and a bit naughty. However you don't need much to make them taste lovely. For roasting it is best to cut them, add a pinch of salt and allow for the water to come out. Leave for a bit to get as much water off as possible. Drain them or dab them with kitchen paper to absorb the last of the water and then sprinkle with Parmesan before popping in to the oven.
Baked zucchini recipes
Look how gorgeous the Roasted Parmesan Courgettes (zucchini) look when it has just come out of the oven. The cheese has melted into the courgette and has a caught a little to give crispy bits which were everyone's favourite.
Easy roast zucchini recipe
This roast zucchini recipe is simple. It's beautifully easy and tastes great. Isn't that what we want from recipes! The best tip I have for this Roasted Parmesan zucchini recipe is to take the time and let them sit with the salt to pull out the water. Removing some of the water is the key to making this recipe super delicious and roast up beautiful. When the water has been removed, even slightly, you will find that the cheese will stick and melt better on to the courgette (zucchini). The crisp up beautifully.
Easy Roast Courgettes Recipe
I never really like courgettes as a child but having seen the courgette recipes by Jamie Oliver and experimenting over the years, this recipe for Roasted Parmesan Courgettes is now my go to. Having seen how other chefs and cooks use this brilliant ingredient I felt encouraged to have a go. Since pairing them with a sprinkling of cheese I am convert. Now I adore courgettes. If you cut these up in to chip shapes you could get some really nice vegetable style chunky cheesy chips.
Can anyone grate Parmesan without eating a little bit as you go? It's looking with wine you always have a little bit as you go. Or is that just me?
Pin the roasted Parmesan Courgettes for later
Roasted Parmesan Courgettes
This is a delicious way to prepare courgettes for dinner! My Roasted Parmesan Courgettes (Zucchini) are simple to prepare and succulent to eat.
Ingredients
Courgettes (Zucchini)

1 large round or 3 normal courgettes

salt

pepper

olive oil

You can use vegetable oil instead

Parmesan
Instructions
Slice the courgettes. I sliced them just shy of a 1cm. Be careful when cutting them as they can roll.

Lay them on a baking tray and sprinkle with salt – a good pinch per slice. This will help draw out the moisture before cooking.

Drizzle with olive oil and leave for about 30 minutes to an hour for the moisture to be bought out.

After it's resting time pour any water away.

Preheat the oven to 180ºC

Freshly grate pamesan on to the courgette and drizzle a little more oil

Bake for about 25-30 minutes until it starts to go golden brown.
Notes
It is worth spending the time to leave the salt to draw out the water. This will really help the finished courgettes (Zucchini) go nice and crisp.
Nutrition
Please note that the nutrition information provided above is approximate and meant as a guideline only.
Follow me on instagram to see what I've been making recently. www.instagram.com/sewwhite
This easy lemon roast chicken is so succulent and carries that beautiful citrus flavour through cooking until serving. Cooked with fresh herbs it has a fresh and delicious flavour.
Pesto chicken mixes two great flavours together for a fresh take on the classic roast chicken. With a mix of almonds and parsley you have a nutty and earth take for this pesto roast chicken.
This is a very simple way to roast a piece of lamb and can be done on lamb steaks too. If you have fresh mint growing your garden brilliant, otherwise dried will do. I hope you enjoy this easy roast lamb.