Explore my Top 5 treats for Wimbledon Finals Weekend. From drinks, chocolate treats, the cutest way to serve the iconic Wimbledon strawberries and more.
With the Wimbledon Finals weekend this weekend I've chosen a few pieces perfect to help celebrate the weekend in style. I have tennis themed chocolate from Choc on Choc, a choice of tasty drinks, tennis racket salad servers from Elys Wimbledon, miniature casserole dishes from Le Creuset and a silk eye mask from Caroline Randell.
Ace tennis themed chocolate top treats for Wimbledon with Choc on Choc
The incredible chocolate company Choc on Choc have released a wonderful winning gift set for Wimbledon. The Wimbledon gift set is an online exclusive and my favourite item off their website. The set is made up of beautifully and individually wrapped chocolate Prosecco bottle, chocolate tennis balls and chocolate strawberries. Find the gift set here.
The gift set is so super cute and perfect for picnics. I added a few real strawberries to the box for our picnic and it was lovely going between the fruit and delicious chocolate.
The chocolate tennis balls are brilliant and great to break up and nibble on. The are really vibrant green and look very realistic (except being furry thank goodness).
The Prosecco bottle has a soft pink and gold shimmer which looks beautiful in the sunshine. It is so quirky and the chocolate is delicious too. A great combination of creativity with food and tasty chocolate. Definitely grab some fresh strawberries and a bottle of Prosecco to enjoy with them.
A splendid sleep with Caroline Randell
Caroline Randell, the incredible lingerie shop in Wimbledon Village has worked with designer Jessica Russell Flint to create these exclusively commissioned silk masks for the tennis.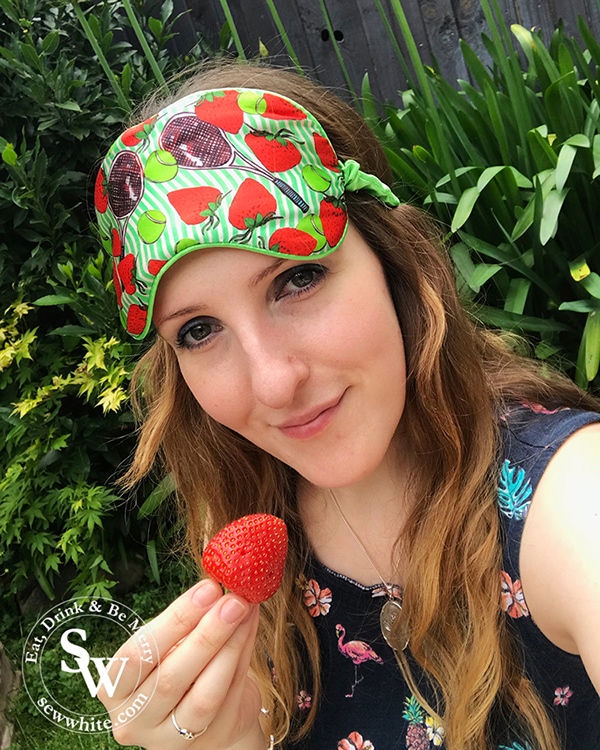 With the very early sunrise at the moment and possibly a few too many Pimm's on the Wimbledon finals weekend these silky smooth eye masks will let you sleep in style.
This gorgeous tennis print is made up of illustrated strawberries, tennis rackets and tennis balls. It's filled with super soft filling so it moulds to your face and lets you sleep very comfortably. The silk keeps your face cool too. Perfect for summer evenings.
I love how silky they are and having tried them on they are super comfortable too. A fantastic buy for life not just for the tennis.
Find Caroline Randell at 6 Church Road, Wimbledon Village, SW19 5DL or online here.
Top 5 treats for Wimbledon Finals – Strawberries and Cream with Le Creuset
This is my favourite way to present strawberries this summer for events and dinner parties. The petite casserole dishes from Le Creuset are the cutest way to serve up portions of strawberries. I also used one of the glacé bowls to have cream ready to dip in.
What I love so much about these little casserole dishes is the lids are great for alfresco dining. I've taken them camping and on picnics too. They look adorable and they stop the bugs bothering you. I chose the pastel colours and I love them. Like all Le Creuset pieces they are designed to work together with design and colour no matter what colours you choose. Plus they are dishwasher safe and who doesn't love that!
What better way to serve up strawberries and cream for the finals weekend.
A toast to the Town with my top summer drinks
The finals weekend needs drinks! As well as the iconic Pimm's I've rounded up my favourites for this weekend.
I have the delicious and super creamy Baileys Strawberries and Cream. The delicious and summer favourite Pimm's. Strawberries and Cream gin by Poetic License. Plus a new drink which is the Marks and Spencer's take on Pimm's called Summer Cup. Although similar to Pimm's it has it's own flavour points and what I love in the Summer Cup is the citrus and Earl Grey tea notes.
They are all really delicious, however given the choice of all four I would probably start with the Summer Cup.
Serving up an ace salad with Elys Wimbledon
My top 5 treats for Wimbledon Finals had to include the Tennis racket salad servers from Elys Wimbledon. What a fantastic accessory for the table and definitely a way to make people giggle as they help themselves to a delicious salad. I've been using them through the Championships and they bring a smile to my face every time I've used them.
The salad servers are made of solid beech wood and have a laser burned pattern on. They are also so super light so perfect for taking on picnics or camping. The bring an element of fun to your dinner parties and summer events especially during Wimbledon.