The Elys Wimbledon Homeware department in Wimbledon has just had a fabulous makeover. To celebrate I've picked out 5 items to create a sophisticated summer table.
At Elys their homeware department has just had a fabulous makeover. With an incredible range of brands, beautiful items for dining, soft furnishings, kitchen gadgets and so much more there is a lot to explore when you visit.
With brands ranging from Royal Daulton, Le Creuset, LSA glassware, Kenwood, KitchenAid, Alessi, Ladelle, Ellen DeGeneres, Emma Bridgewater, Portmeirion, Royal Worcester and so many more. The food and drink areas are also growing constantly with ranges of specially chosen alcohol brands including Wimbledon Brewery beer. On the ground floor there is the divine chocolate section. With chocolates from Godiva and Hotel Chocolate, Prestat, Rococo, Charbonnel et Walker and a few more too.
Picking the pieces from the Elys Wimbledon Homeware department
With Wimbledon tennis and a hot summer a head of us I visited Elys to pick out 5 items to create a simple yet stunning summer table.
I started with a dark navy linen table cloth from Also Home. It's a beautiful colour and perfect for using with plain white plates to make them really stand out from the table. I folded the table cloth in half to create a runner. I love the mix of a rough wood table and the elegance of a linen table cloth over the top.
The second product I went for my summer table were gin balloon glasses. These iconic glasses are now available to buy and perfect for drinks at home. They turn any excuse for a G&T into an experience. The balloon glasses I chose were the gold stemmed edition from LSA. The classic shape glass has a hand painted golden stem which glistens in the sunshine.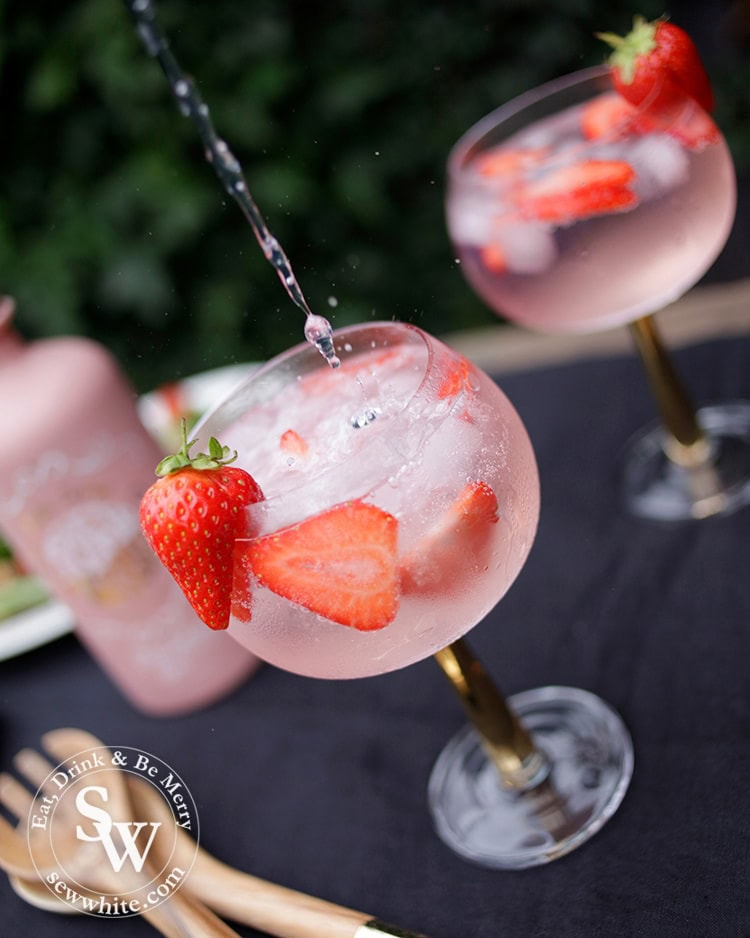 To go with the glasses of course I had to choose a bottle of gin. For the tennis and summer it had to be the Strawberries and Cream gin by Poetic License. This fruity flavoured gin offers an incredible taste of strawberries with a soft after taste of cream. It sounds odd but I promise it's something different, that I think will be a hit this summer.
On a warm day with friends an ice cold G&T in the sunshine is a great way to spend your afternoons and evenings. All you need is a few nibbles to go with them. My forth choice from the Elys homeware department was the Ladelle serve stick. A stylish white ceramic bowl perfect for nibbles but what makes this extra special is it comes with a wooden handle.
Being able to pick up the handle and present the food for friends and family is lovely and I've not seen anything like it before. Elys also have a range of other items in this style including a large plate with a handle which would be great for homemade pizzas.
The final piece on my table is the gold handled salad servers. They tie into the gold accents on the gin glasses and the acacia wood has a similar warm toned wood to the handle on the serve stick. The pieces all work so well together on the dark table cloth. The long handled servers have a hammered gold pattern that glisten in the sunshine and will certainly encourage your guests to start eating.
Table cloth by Also Home £65.
2 part serving stick with handle by Ladelle £14.
Gold Handled salad servers by Ladelle £15.
Gold Stemmed gin balloon glasses by LSA £48 set of 2.
Strawberries and Cream gin by Poetic License £35.
All available at Elys Wimbledon.
Disclaimer - this is a sponsored post. All opinions are my own.
After summer comes winter so check out the Christmas table I created for Elys Wimbledon for their style magazine here.