Who else loves strawberries and prosecco? Mix them together and enjoy a slice of my incredible Strawberry Prosecco Cake this summer. It's a fruity strawberry light sponge with Prosecco drizzle to keep is soft and moist. It's the perfect bake for a party or summer event.
This is the most beautiful cake for summer parties and events. It's so easy to make with the Le Creuset Kugelhopf tin. Add the cake mixture and cook for 1h30. Once the cake is cool, decorate and it's ready to serve.
How to decorate a bundt or Kugelhopf cake
The mix of mini meringues, fresh strawberries on buttercream swirls plus sugar flowers, is a wonderfully quick way to decorate. It really looks spectacular as it's served.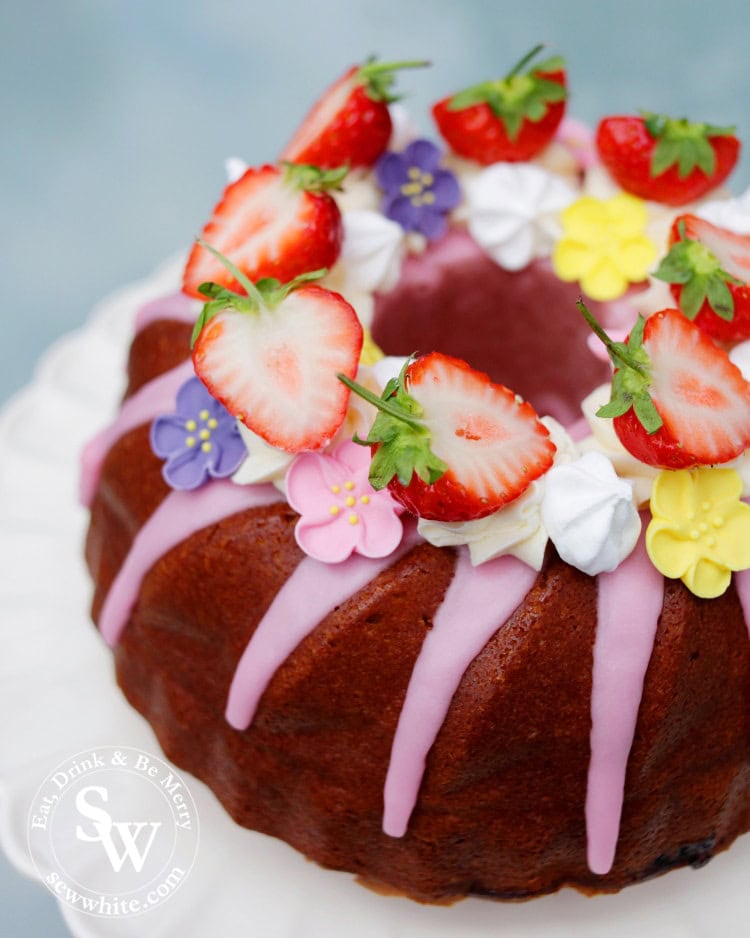 The bright colours looks fantastic. I am so proud of how this cake came out. The shapes from the Kugelhopf tin are evident and I really love how the icing moves with the swirl design.
The pink icing I think really works with the cake to make the strawberries and flowers really stand out. It's a lovely cake and would certainly look beautiful out on a picnic or on the table for a party.
Put the kettle on. It's time for a slice or two!
Easy Strawberry cake for Wimbledon Tennis
This is a perfect cake to make for Wimbledon tennis. The Strawberry cake is now iconic in my house to celebrate this sporting fortnight. A Strawberry and Prosecco cake always goes down well. Especially when served with even more prosecco. A little extra of the good bubbles is always a joy.
Strawberry Prosecco Cake Recipe
Recipes for Le Creuset Kugelhopf cake tin
However, as well as the iconic stoneware and cast iron cookware that Le Creuset are famous for they also have wonderful range of bakeware. As a cake fan the first piece I chose to try out was the Kugelhopf cake tin.
The Kugelhopf cake tin is similar to a Bundt cake tin. A decorative moulded tin that leaves the finished cake with a beautiful pattern which doesn't need too much decorating. Most of the time it's complete with just a sprinkling of icing sugar.
The Le Creuset cake tin is so super non stick, as a result the cake will slide out without any problem. The design includes two handles perfect to help you put it in and out the oven. To make this Strawberry Prosecco Cake I gave it a light brush with melted butter and a dust with flour. The cake came out of the tin without effort and looked incredible.
How to use a Kugelhopf cake tin
The Le Creuset Kugelhoph cake tin is easy to prepare for using. When you first buy it make sure you give if a wash. Use warm soapy water and a soft washing up brush or cloth. Don't use any scourers or anything abrasive otherwise the coating could be damaged.
When you are ready to make a cake gently melt some butter in short bursts in the microwave. For best results use the same butter that you are using in the cake. This helps keep the flavour the same in case the butter leaves a flavour on the outside of the finished cake. Using a pastry brush paint the inside of the tin with the butter. Leave it too cool and harden.
Gently sieve some plain flour into the cake tin to cover every side. Tap the tin on the work top to remove any excess flour. You will be able to see any bits you've missed. Repeat with the butter and flour if you have any gaps. This process will help the finished cake slide out easier. Even though it has a not stick coating there is still a chance depending on the type of cake that it could stick and it's worth doing this extra step to make sure it doesn't.
What do I need to make the Strawberry Prosecco cake?
For this beautiful Strawberry Prosecco Cake you only need 8 ingredients. It's like a normal sponge but the added yoghurt gives a beautiful flavour. However it also keeps the sponge moist and helps it last longer.
220 g butter
450 g golden caster sugar
4 medium eggs
350 g plain flour
1/2 tsp bicarbonate of soda
1/2 tsp salt
350 ml strawberry yoghurt
3 tsp vanilla extract
How to make the Prosecco jam
The strawberry prosecco purée is like a jam that adds a great flavour in the centre of the cake. Chop up strawberries and add them with prosecco to a saucepan. On a low to medium heat let it bubble and thicken. There will still be some juice but it will be absorbed as the cake cooks.
What do I need to make the strawberry prosecco jam?
For this Prosecco Strawberry Jam which goes in the centre of the cake you only need three ingredients.
100 ml prosecco
10 strawberries
1 tablespoon sugar
All of this mushes down to make a lumpy jam which is added into the middle of the cake mix to give it a soft centre. It tastes wonderful and looks beautiful when cut into later as you can see in the photo below.
Two of the best summer flavours – Prosecco and Strawberries
Other Recipes you might enjoy
Hands up who wants a slice of this incredible Pimms Cake! This is a gorgeous citrus cake with a Pimm's syrup drizzle, topped with a cream cheese buttercream and studded with all the iconic Pimm's fruit. This impressive cake is easy to make and a perfect summer cake for summer events and summer parties. It is also a brilliant showstopper cake to serve during Wimbledon fortnight as a tennis party cake.
This delicious Strawberry Bread and Butter Pudding is easy to make and is topped with flaked almonds and oven baked. Great family favourite pudding recipe.
My bite-sized strawberry and chocolate pastry tart bites are a delicious party snack or summer dessert. The rich chocolate truffle and sweet fresh strawberry work perfectly together – and they're perfect for BBQ season!
For a rich and fruit tart try my Balsamic Vanilla Strawberry Tart. The mix of sweet vanilla, fruit strawberries with the acidic balsamic works a treat.
Pin me for later
Strawberry Prosecco Cake
Enjoy a slice of my Strawberry Prosecco Cake this summer. It's a fruity light sponge with prosecco drizzle. Made in a Le Creuset Kugelhopf tin.
Equipment
Kugelhopf tin or bundt tin

Mixing bowl

wood spoon

pastry brush

small microwavable bowl
Ingredients
220

g

unsalted butter

450

g

golden caster sugar

4

medium eggs

350

g

plain flour / all purpose flour

½

tsp

bicarbonate of soda

½

tsp

salt

350

ml

strawberry yoghurt

3

tsp

vanilla extract
Prosecco Strawberry Jam
100

ml

prosecco

10

strawberries

1

tablespoon

sugar
Decorating
200

g

icing sugar / confectioners sugar

few drops of water

pink food paste

butter cream

strawberries

mini meringue

flower sprinkles
Instructions
Making the Strawberry and Prosecco filling
Chop the strawberries in to small pieces and pop into a saucepan along with the prosecco and 1 tablespoon of sugar.

On a low to medium heat allow the mix to thicken up slightly. Remove from the heat and allow to cool.
Making the cake
Preheat the oven to gas 180ºC/160ºC fan

Melt a tablespoon of butter in a pan or microwave and using a pastry brush, brush the melted butter into the tin. Dust the tin with flour. Dusting the tin with flour will help show if you missed any bits.

In a mixer or by hand cream the butter and sugar until light and fluffy.

Add the eggs one at a time and mix well.

Pour in the yoghurt and mix in well.

In a separate bowl, measure and sieve out the flour, bicarbonate of soda and salt.

Sieve in the flour in a bit at a time. Mix this slowly until all the flour has disappeared.

Pour just over half the mix into the greased and floured tin. Lightly tap the tin on a hard surface to get rid of any air bubbles.

Spoon in a ring of the strawberry and prosecco mix. Try to just scoop out the strawberries and not any liquid.

Pour the rest of the cake mix over the top.

Bake in the centre of the oven for about 1 hour 15 minutes and until a skewer comes out clean. (The cake will start to pull inwards away from the metal tin when it's done.)

Leave the cake to cool before removing from the tin and placing the other way up on a cooling wrack.
Decoration
To decorate the cake I made up a simple runny icing with the icing sugar a few drops of water to get an icing that would fall over the cake. I also add a little pink food colours go get that gorgeous colour.

With a star nozzle I pipped 9 blobs of buttercream on the cake.

I then topped off the cake with half a strawberry on each buttercream blob. Then I added little meringues and sprinkle flowers to add an extra floral look to the finished cake.
Nutrition
Please note that the nutrition information provided above is approximate and meant as a guideline only.
Follow me on instagram to see what other cakes I've been making recently. www.instagram.com/sewwhite
Other bakes to inspire you…
A fresh and fruity cake and easy to make at home. Enjoy the Passion fruit bundt cake this spring and summer. Using a Nordicware bundt tin.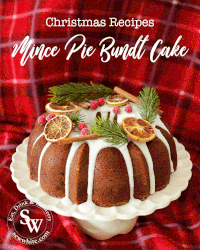 It's beginning to taste a lot like Christmas with my Mince Pie Christmas Bundt Cake. Filled with mince pie filling and spices it's great Christmas bake.
My cherry bundt cake is a light and fruity cake perfect to accompany a cup of tea or coffee this spring. Enjoy my delicious recipe today and get baking.
Have you been picking blackberries or have some to use up? This moist and slightly spicy Blackberry Cake is a yoghurt based bundt cake with mixed spice, ground ginger and fresh blackberries. It is a warming bake for blackberry fans. Plus a great way to use up any extras to make them last a little longer.
My Cranberry and Lemon Bundt Cake is a delicious showstopper of a cake. It's also so easy to make and quick to decorate. This recipe can also be used to create a normal layer cake in time for Christmas.