This Pimm's traybake brings together the best of the iconic summer drink and a lovely vanilla traybake. With a drizzle of Pimm's on the cake, the traybake stays moist and fruity. I topped the traybake with a cream cheese buttercream and of course decorated it with the iconic Pimms decorations of strawberries, orange, cucumber and mint. A perfect summer traybake cake.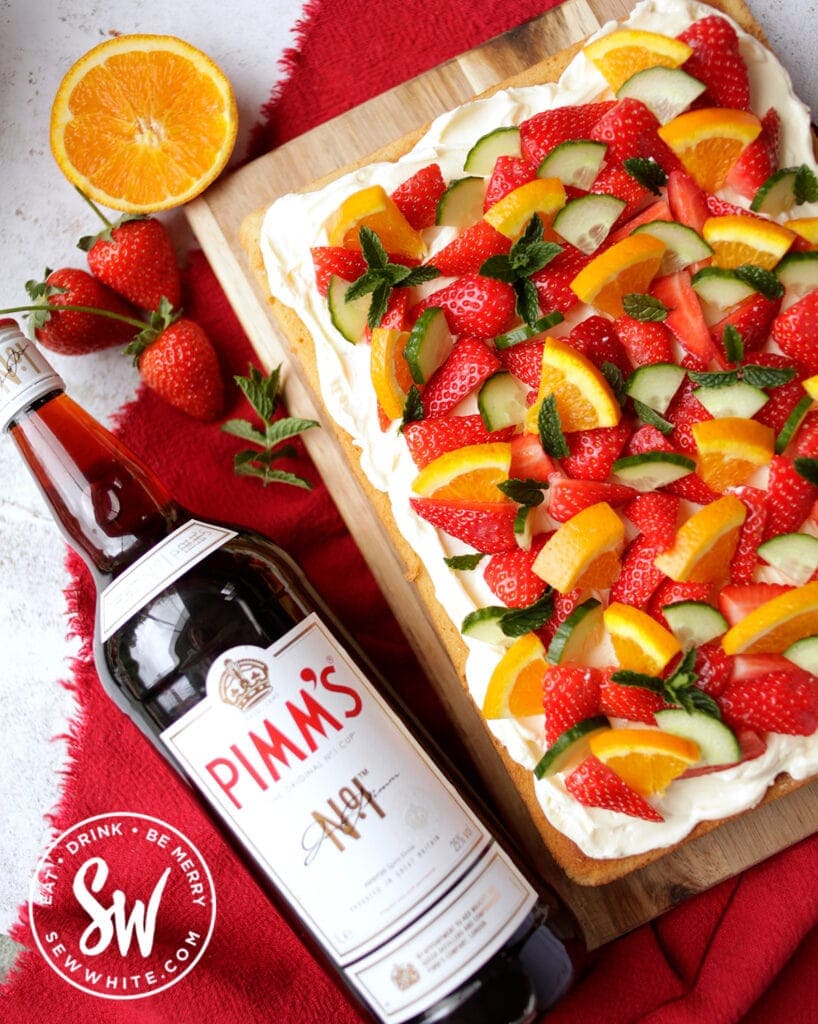 The sun is shining and Wimbledon is just around the corner which means my bottle of Pimms is making its way out of the cupboard and into a stunning cocktail glass! Making a Pimms traybake is the best way to celebrate the summer and it's perfect for sharing. Carry on reading for my traybake recipe.
Why you'll love this pimms traybake recipe
What's not to love?! It's a classic summer vanilla traybake with all the joyful flavours of a glass of Pimms!
The vanilla traybake is so easy to whip up that you can prep, bake and decorate all in one day prior to serving.
It can be made alcohol-free for anyone wanting a non-alcoholic Pimms traybake.
Top Questions
Can you add Pimms in cakes?
What is Pimms?
Can you drink Pimms straight?
What is Pimms cake?
What are the alternatives to Pimm's?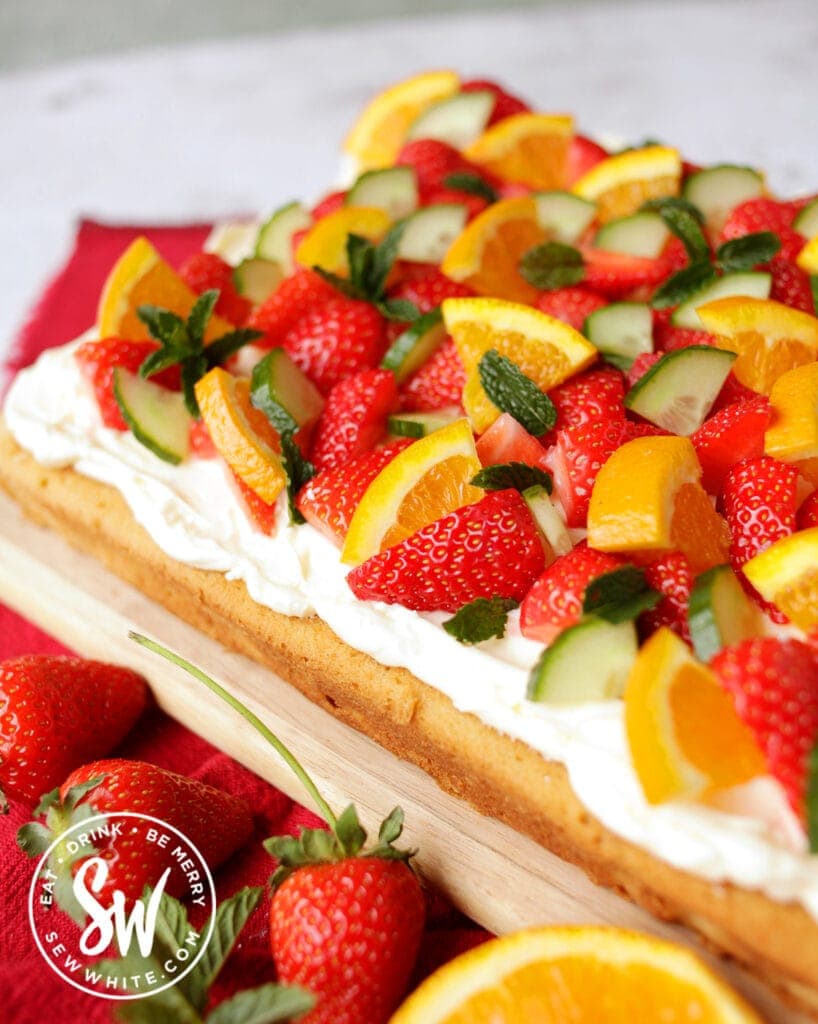 Ingredients
For the full recipe and instructions scroll to the bottom of the page for the recipe card.
PIMMS
The perfect summer gin. Pimms is a fruity gin-based liqueur that pairs perfectly with lots of fruit and is topped up with lemonade. In this vanilla Pimms traybake recipe, you use the Pimms to create a wonderfully sweet syrup infused into the sponge.
FRUIT
A Pimms traybake is not complete without a healthy dose of all your favourite fruits (and veggies, cucumber). It combines strawberries, oranges and a few mint leaves for freshness too. The perfect topping to your Pimms Summer traybake.
CREAM CHEESE BUTTERCREAM
To top this beautiful light and moist sponge cake I made my signature cream cheese buttercream. It's sweet but not too sweet like normal buttercream.
It's a perfect blank canvas to decorate a traybake with. Allowing for the addition of all the iconic Pimm's fruits.
How to make pimms traybake – step by step
Mix until light and fluffy.
If you want to make the Pimm's drizzle you can at this point and brush over the cake as it cools.
Decorating the pimms traybake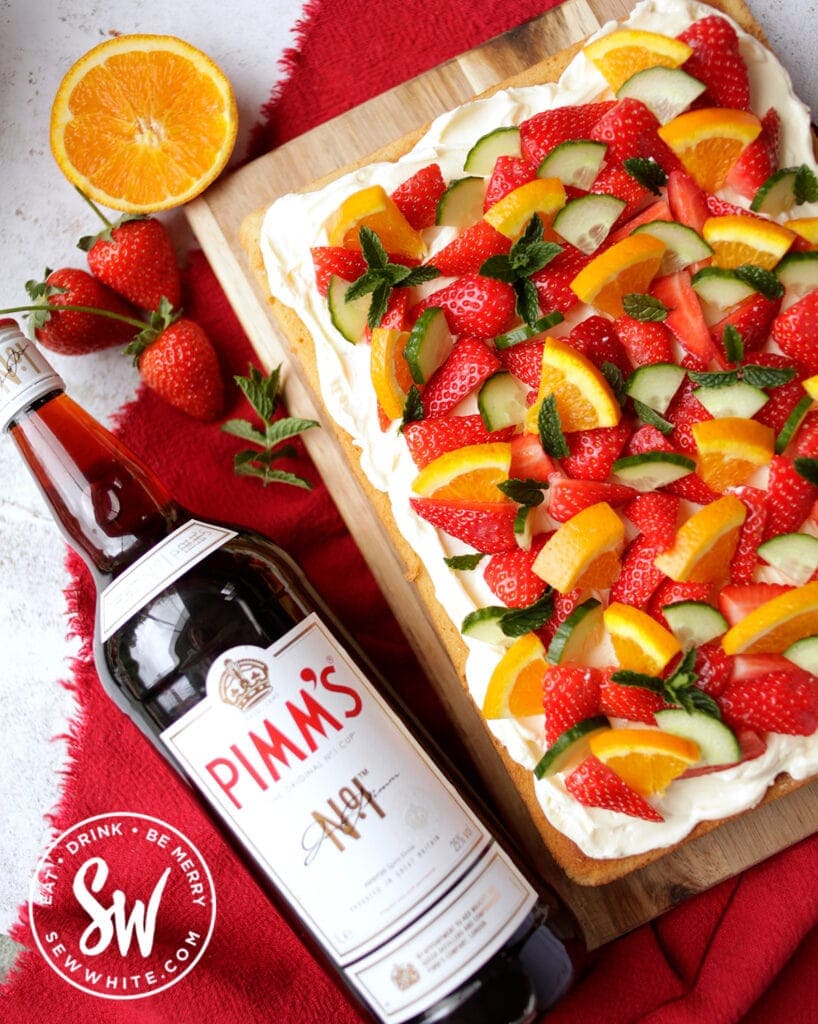 Top Tips
To make decorating the top easier, chop all your fruit up whilst your Pimms traybake cooks in the oven.
Be sure you allow your cake to fully cool before your try to start spreading your buttercream, otherwise, it will melt. You can however drizzle your Pimms syrup whilst the cake is still warm.
Serving Suggestions
This Pimms traybake is best served with a glass of Pimms and a healthy dose of sunshine!
If you, like me are stuck in England then the sunshine is optional.
In my humble opinion, I think this vanilla traybake is best served as is, it doesn't need any fancy serving ( although it does go very well with a large dollop of vanilla ice cream).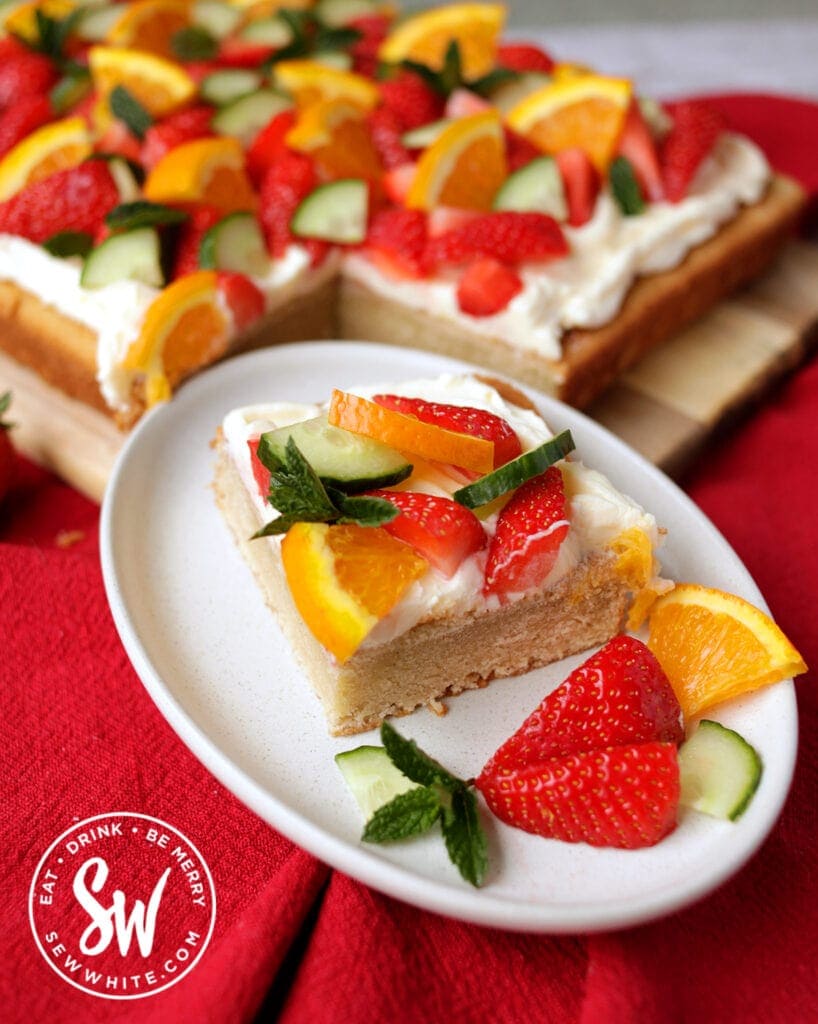 Equipment
This list contains affiliate links
9-inch x 12-inch cake tin
greaseproof paper
Mixing bowl x 2
Wooden spoon
weighing scales
Electric whisk
Substitutions and variations
You can of course choose to omit the Pimms drizzle from this cake, especially if you would prefer an alcohol-free Pimms traybake.
You can also swap out the fruit for your favourite options! I love using the classic Pimms fruit flavours but you could create a Summer berries Pimms traybake with Blueberries, raspberries and strawberries.
Or, if it's a little later in the year, you could make this Pimms traybake into a warming apple cider traybake by creating an apple cider drizzle, cooking some apples in brown sugar and decorating your freshly baked vanilla traybake. This warm traybake is best served with ice cream.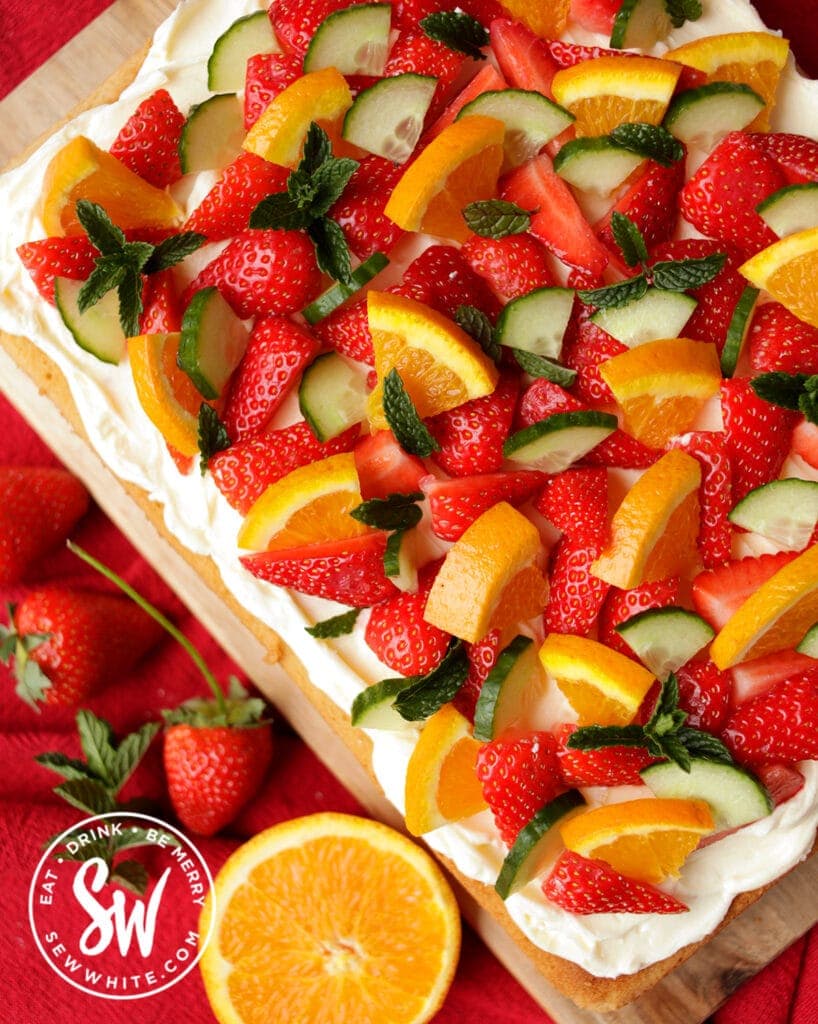 Storing pimms traybake / Making ahead-of-time options
This Pimms traybake is best served on the day of baking and I always find a fresh vanilla sponge unbeaten!
However, you can keep this vanilla traybake in an airtight container for a few days after you have baked and decorated it. Although the fruit may start to wilt so I would suggest eating this whole cake in one sitting with friends in the sunshine!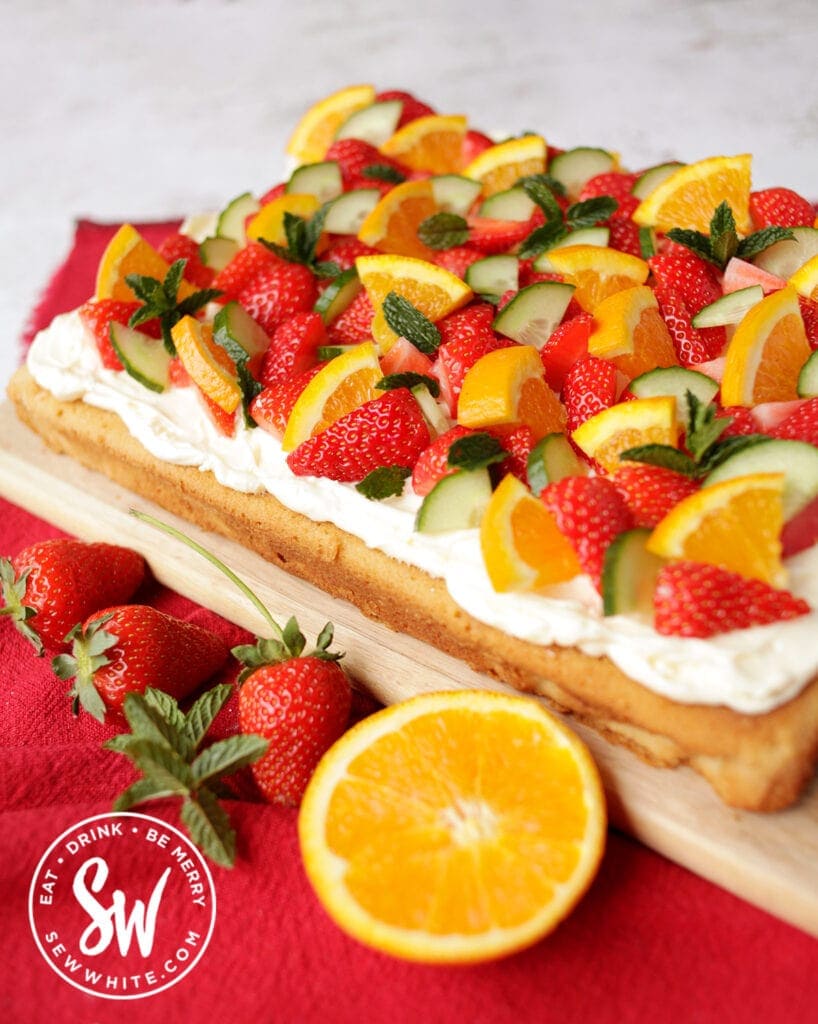 Pimms Traybake FAQS
Can you add Pimms in cakes?
Yes you absolutely can add Pimm's in cakes. The best way to keep the iconic Pimm's flavour in your cake is to make a drizzle (like the one listed in my recipe below).
Once the cake is cooked and cooling, poke holes in the cake and drizzle the Pimm's drizzle over the top. This will give the falvour of the Pimm's throughout the cake but also keep it moist.
Can you drink Pimms straight?
You can drink Pimms straight. But it is much tastier when mixed with a fresh, cool lemonade. You can add a twist of lemon and a few ice cubes to make the perfect summer cocktail.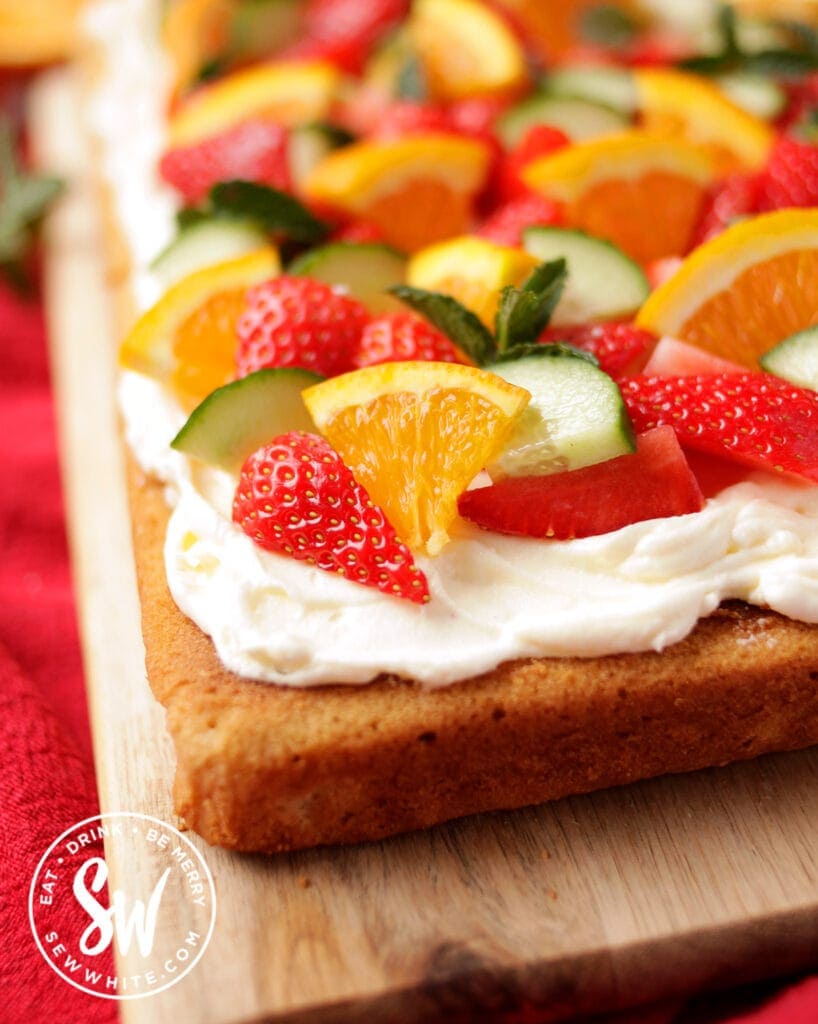 What is Pimms cake?
Pimms cake is a soft and moist cake with a Pimm's drizzle on the sponge. It's topped with a layer of cream cheese buttercream and lots of the iconic Pimm's fresh fruit and herbs. Strawberries, cucumber, orange and fresh mint.
If you want to make this a layer cake then you can sandwich the cake together with strawberry jam and more buttercream.
What is Pimms?
Pimm's is a gin-based liqueur which is used to create an iconic drink in the U.K. It's drunk at Wimbledon and during the summer and the hot weather calls for a glass of Pimm's full of fresh fruit and fizzy lemonade.
What are the alternatives to Pimm's?
There are a few different gin liqueurs which are great alternatives to Pimm's. The top drinks I would recommend are Sainsbury's Pitchers, ASDA Summer Cup and my favourite Sipsmith London Cup.
Sainsbury's Pitchers
This is best served chilled in a tall glass topped with lemonade, due to its fruity flavour I would also pop a slice of orange on the rim of your glass to make it extra fancy! Whilst slightly more expensive than its Asda counterpart, Sainsbury's pitchers is a great addition to Pimms.
Asda Summer Cup
The Asda Summer Cup is £7.50 for a bottle (of which the same size bottle of Pimms would set you back £12). It's perfectly fruity and in their own words "beautifully blissful".
Sipsmith London Cup
A perfect summer gin. I have many recipes using the Sipsmith London cup, it is one of my favourites. I enjoy it with tonic and lemon. It's refreshing and goes down far too easily.
Other Recipes you might like
Pimm's Cocktail Ideas
Pin this pimms traybake recipe to enjoy later
Pin me for later or follow me @sewwhiteblog on Pinterest for my latest recipes and to discover my others.
These would be great addition to your Coronation party along with my King Charles Coronation Cake.
Recipe
Pimms Traybake
This Pimm's traybake brings together the best of the iconic summer drink and a lovely vanilla traybake. With a drizzle of Pimm's on the cake the traybake stays moist and fruity. I topped the traybake with a cream cheese buttercream and of course decorated it with the iconic Pimms decorations of strawberries, orange, cucumber and mint. A perfect summer traybake cake.
Ingredients
400

g

(

13.4

oz

)

unsalted butter

(or baking block like Stork)

100

g

(

3.5

oz

)

light brown soft sugar

250

g

(

1.25

cups

)

caster sugar

4

medium

(

4

medium

)

eggs

375

g

(

3

cups

)

plain flour / all purpose flour

0.5

teaspoon

(

0.5

teaspoon

)

baking powder

small pinch

(

small pinch

)

salt

lemon

(zest only)

100

ml

(

150

ml

)

semi skimmed milk
Pimm's Cake Drizzle (Optional)
50

ml

Pimms

100

ml

water

4

tbsp

granulated sugar
Cream Cheese Buttercream Frosting Decorations
125

g

(

4.4

oz

)

unsalted butter

150

g

(

1.25

cups

)

icing sugar / confectioners sugar

180

g

(

6.35

oz

)

cream cheese

200

g

Strawberries

half

Cucumber

half

Orange

fresh mint
Instructions
Preheat the oven to 180ºC.

Grease and line a 9 inch by 12 inch traybake cake tin with greaseproof paper.

In a large mixing bowl cream together the 400g butter, 100 light brown soft sugar and 250g caster sugar until light and fluffy.

Add the 4 medium eggs and mix in.

Sieve the 375g flour, 0.5tsp baking powder and pinch of salt in to the mixing bowl.

Mix in the lemon zest until well incorporated.

Gently add in the 100ml milk little at a time. If it starts to curdle add 1 tablespoon of plain flour.

Pour the mix into the prepared tin and level out. Gently tap the tin on the worktop to remove any air bubbles.

Bake for 35-40 minutes until the centre of the cake is cooked – use a cake tester or skewer to check. If the tester comes out clean the cake is cooked. If it has pieces of uncooked cake on leave the cake to cook for a few minutes more and test again.

Leave in the tin to cool for 30 minutes and then remove from the tin to cool completely.
Pimm's Drizzle (Optional)
Add the Pimm's, water and sugar to a saucepan and put on a medium-low heat.

Bring to a simmer and keep stirring until the mixture gets thicker and becomes more like a syrup. When the cake is cooling jab the cake with a skewer and drizzle the mixture over the cake. Leave it to sink in.
Cream Cheese Buttercream
Make sure the unsalted butter is at room temperature as it will help make it a lot easier to make.

Using a hand mixer, mix the 125g butter and 150g icing sugar together.

Add the 180g cream cheese and create a smooth mix. It should be more thick than runny and will hold its shape. If it's too runny add a tablespoon of icing sugar at a time and whisk until it thickens up.

Smear the cream cheese buttercream thickly over the cold cake.

Chop up the strawberries, orange and cucumber and sprinkle them over the cake. Finish off by adding fresh mint leaves and it's ready to serve.
Notes
It makes 12 large slices but we often make these bitesize pieces where you can actually get 48 pieces out of the cake.
The cake will last for up to 3 days in an air tight container.
Store somewhere cool but not the fridge.
For the best results use the eggs and butter from room temperature.
Nutrition
Calories:
696
kcal
Carbohydrates:
72
g
Protein:
7
g
Fat:
43
g
Saturated Fat:
26
g
Polyunsaturated Fat:
2
g
Monounsaturated Fat:
11
g
Trans Fat:
1
g
Cholesterol:
164
mg
Sodium:
98
mg
Potassium:
133
mg
Fiber:
1
g
Sugar:
47
g
Vitamin A:
1384
IU
Vitamin C:
10
mg
Calcium:
68
mg
Iron:
2
mg
Please note that the nutrition information provided above is approximate and meant as a guideline only.