Boozy Summer Pimms Cake Roulade
Spring is in the air and it's the perfect time to start with the summer bakes! My first really summery cake recipe for this year is my Pimms Cake.
The cake is very fresh, fruity and with a touch of alcohol this cake will be a great centre piece for parties, barbecues and summer events. It will also be a perfect thing to make to enjoy while watching the tennis Championships from Wimbledon. It is definitely served best with a glass of Pimm's in the sunshine. My Pimm's Roulade looks hard but is a lot easier to make and tastes brilliant.
Making a summer roulade
Roulades look hard but although they can be tricky they are fun to make. Keeping the cake sponge moist is a really important part of the rolling. If it dries out then it might crack. Even if it does crack there is nothing wrong it will still taste wonderful and be absolutely delicious.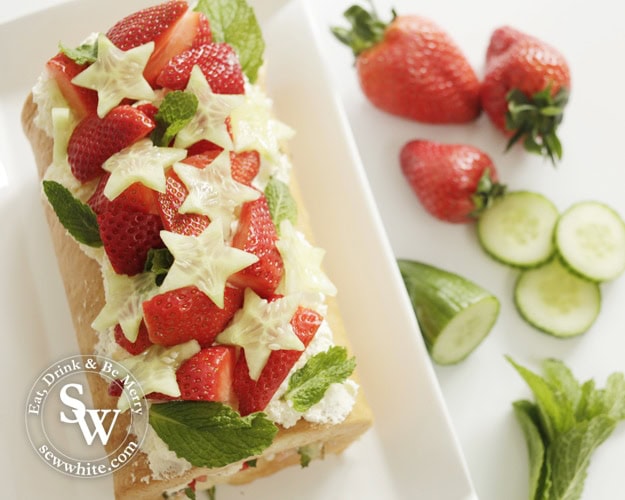 Pimm's meet cake.
With Pimms having such an incredible flavour it makes it the best choice for a summer roulade. The boozy pimms cake gives you the most iconic flavours in cake form. The soft roulade sponge absorbs the Pimms drizzle and the centre of infused fruit with cream is calling out to eaten. The smell will entice you in and the fresh fruit will attract your eye. Once you taste it you will want seconds!
What is Pimms drink made of?
Pimm's is a famous British gin-based liqueur which is an icon of a British summer. It has a bitter taste which goes with herbs and citrus. You top the Pimms up with lemonade to add the sweetness. It's best served as a tall drink and with a garnish of fresh strawberries, mint and usually a slice of orange.
For this recipe I tested out the new roulade tin from OXO Good Grips. It was brilliantly non stick and although I over filled the tin a little which resulted in a bit of a thicker roulade than planned. It still rolled beautifully and tasted great – and that's the main point! A lovely tin. Find it here.
Let's get ready to roll…
What do I need to make a pimms cake?
1 tablespoon of butter for greasing
4 eggs
100 g caster sugar
100 g plain flour
30 g unsalted butter
400 ml double cream
strawberry or berry jam
strawberries
cucumber
50 ml Pimm's
Is Pimms alcoholic?
Yes it is, Pimms is 25% alcohol so can very strong. For this recipe I used it neat as it was being used to soak the fruit in before it went in to the centre of the boozy pimms cake. There is only about 2 portions of Pimms in this cake so it won't get you drunk but it will have the incredible Pimms flavours through out.
How to decorate a Pimms cake?
The best way to decorate a Pimm's cake is lots of the iconic fruit it's usually served with. I would recommend lots of double cream whipped up – it helps hold the fresh fruit. Plus using the double cream doesn't have too strong of a taste so you won't take anything away from the Pimms flavour.
For the cucumber and strawberries I used a small cookie cutter in the shape of a star. After cutting slices of the cucumber I punched out the shapes. I ate the off cuts to make sure no waste. For the strawberries I sliced up to keep them large but sometimes I use a cookie cutter to make them in to hearts like you can do here.
Strawberry Hearts are the cutest addition to cakes and bakes. They are simple to make and great fun for children to make with cookie cutters.
Add a few mint leaves too just like when you get the glass of Pimms at a party. The strawberries, cucumber and mint are such bright colours and they look incredible on a plate. This really is a show stopper dessert and the boozy pimms cake will be joy of your summer.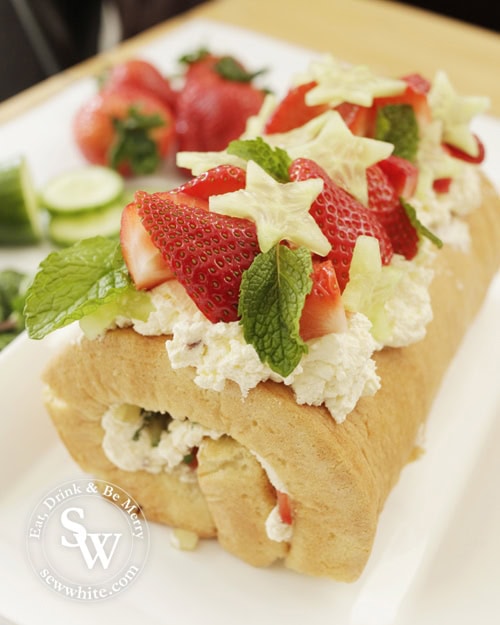 Best served with a tall glass of Pimms.
My extra special with my Pimms Cake
Eat, drink and be merry…
Who fancies a slice? I've made this a good few times and they have never lasted more than a few hours. Everyone goes in for seconds and thirds. If you did have some left over pop it in an air tight container and pop in the fridge. It will last a few days but definitely best enjoyed fresh. The fruit will still be juicy and the cake will be the best it can be.
If you want to try another Pimm's recipe check out my sponge version of my Pimm's Cake
Disclaimer – I was given the roulade tin to use. Recipe and opinions are my own.
Check out my other cakes and sweet treats
Pimm's Roulade
Ingredients
1

tablespoon

unsalted butter

for greasing

4

eggs

100

g

caster sugar

100

g

plain flour / all purpose flour

30

g

unsalted butter

400

ml

double cream / heavy cream

strawberry or berry jam

strawberries

cucumber

50

ml

Pimm's
Instructions
Preheat the oven to 180ºC (160 fan) degrees.

Line and grease a roulade tin.

Add the eggs and sugar to a heatproof bowl and place over simmering water making sure the bowl doesn't touch the water.

Whisk until the sugar has dissolved and the mix is warm.

Remove from the heat and using an electric whisk, whisk on high for for 5 minutes and then reduce to a low speed for 3 minutes until the mixture has tripled in size.

Sieve the flour into a bowl and then gently fold into the egg and butter mix.

Melt the butter and add a spoonful of the egg mix to it and stir before folding it back into the egg/butter/flour mix.

Spoon into the roulade tin and bake for for 15 minutes.

When the roulade has cooked, remove from the oven, cover with a slightly damp tea towel. This will help it stay soft and easy to roll.

While it's baking cut up a few strawberries (4-8), a quarter of a cucumber and a few mint leaves and mix together with the Pimm's.

Once the roulade has cooled turn out on to a piece of greaseproof paper. This will help you to roll it.

Spread a layer of jam on the roulade.

Whisk up the double cream until it's thick and holds it's peaks. Spread a layer on top of the jam.

Add the Pimm's soaked strawberries, cucumber and mint mix. Save the Pimm's for later.

Using the greaseproof paper for grip start rolling.

Using the left over Pimm's drizzle it over the roulade.

Add the remaining cream to the cake and stud with more strawberries, cucumber and mint.

Enjoy it straight away. If you do have any left over store in the fridge in an air tight container.
Please note that the nutrition information provided above is approximate and meant as a guideline only.
Follow me on Instagram to see what I've been making recently. www.instagram.com/sewwhite
Pimm's is a highlight of summer and the flavours of it are something I absolutely love. So of course I had to make it into a Pimm's Cake.
This delicious Summer Berries Gin and Tonic uses up frozen berries to create an easy cocktail. It is a wonderful way to add flavour without using fresh fruit.
My delicious summer fruit sponge pudding combines a light and fluffy lemon sponge on top of a rich layer of summer fruits perfect to enjoy all year.

My Summer Fruit Tray Bake is a simple lemon sponge dotted with raspberries, blackberries, blueberries and cherries. An easy tray bake cake.