The perfect fresh summer salad. Heirloom Tomato and Peach Salad with creamy mozzarella and earthy green basil. This is a fresh and fruity salad. This is a great picnic salad and tastes wonderful for Al Fresco event food. It is also lovely lunch box salad. A great easy tomato salad it is also a wonderful for summer recipe.
I love a summer salad that is full of flavours. Especially with one with fruit mixed in. I love peaches at the moment and adding them with a mix of Heirloom tomatoes and mozzarella with fresh basil and a drizzle of olive oil, is absolutely incredible.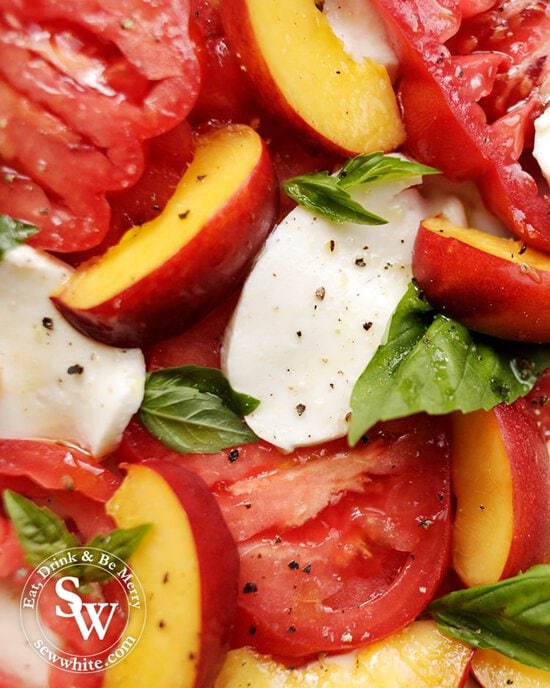 Peach tomato mozzarella salad
A delicious close up of the big buffalo tomato, mozzarella slice along with the yellow golden peaches and vibrant green of the basil. I love the cracked pepper on it too. This close up makes me so hungry every time I see it. You can almost reach out and taste it.
It's a simple salad but is one that impresses. I have made this a few times for family events and dinner parties with friends. It looks good and takes minutes to prepare and we all love that! Adding peach to a salad might sound weird but it works. The fruitiness of the peach with the earthy basil, creamy mozzarella and juicy Heirloom tomato compliment each other perfectly.
Bon appétit!
For a family BBQ this summer I made this salad but instead of leaving it a little more thrown together I stacked it to make this beautiful salad display. It's exactly the same salad but I think it looks so super gorgeous for an event to be like this. It's a little more time consuming but I think worth the effort. Normally it's just thrown together and even that still looks incredible on the dining table.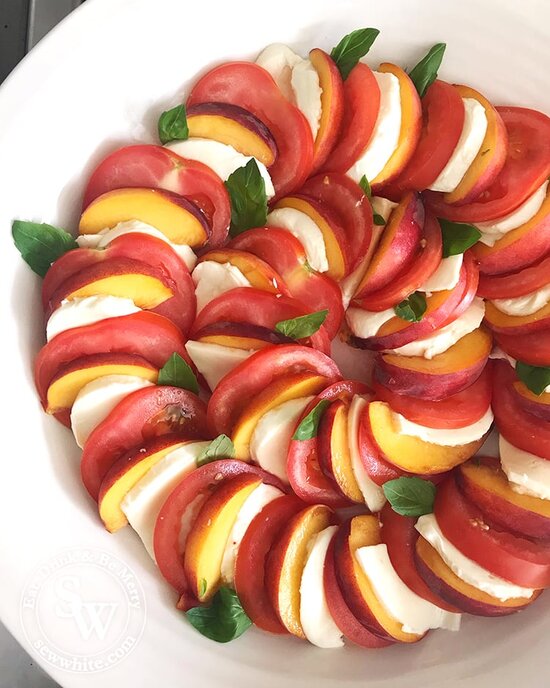 These gorgeous Heirloom tomatoes I picked up from the Wimbledon Village Farmers Market. The incredible Isle of Wight Tomato stall produce wonderful tomato varieties and you can buy them online from here.
Peach basil and tomato salad with balsamic vinaigrette
What goes so well with a peach basil and tomato salad is a balsamic vinaigrette. The choices of balsamic vinegar are numerous but there are a few which I have found to work include fruitier ones and slightly tart ones. It depends on your taste but my favourite at the moment is a raspberry balsamic vinegar we found at a farm shop. Even normal supermarket balsamic vinegar will work but if you can don't get supermarket own brand, get a posher one. So far I haven't found a supermarket own brand one I love for this sort of dish. As we are using it as a vinaigrette we want a beautifully tasting one as it will be dominant and compliments the dish. If it was being used in a dish or sauce then supermarket would be fine.
The simple balsamic vinaigrette I make for this recipe is very simple and easy. It's 3 parts olive oil to 1 part balsamic vinegar, with a pinch of salt and pepper. From there if you want to add something extra you can half a teaspoon of mustard. Pop it all in a jam jar and give it a shake drizzle over and serve. Then season to taste and make adjustments.
An even quicker version is to drizzle the olive oil over the salad and very carefully drizzle the balsamic vinegar over the top. I prefer the pop in a jam jar way as it means I can control the amount of balsamic vinegar and get the dressing to taste perfectly. Sometimes you might want a little extra oil or salt and in the jam jar you can if you haven't poured it over yet.
peach tomato mint salad
By adding mint as well as basil, or instead of basil, you create a wonderful dish. Peach tomato and mint salad tastes beautiful and is one that you will make time and time again. If you prefer mint over salad replace the basil in the recipe with the same amount of mint. To get the smell of the mint to really boost itself and make everyone hungry from the smell. Give it a little slap between your hands. This helps to warm up the mint and allows it to start releasing the oils.
Easy summer salad with peaches
Summer salads in my kitchen need to be quick but delicious and this recipe really does take minutes but makes everyone happy. Peaches are such a versatile ingredient and work so well with other salad ingredients. Peaches in summer salads along with fresh herbs, if you like cured meat it goes really well the saltier ones like Parma Ham and some salami types too.
Peach tomato burrata salad
Move over mozzarella there is a new kid in town and oh my gosh how incredible this salad becomes when you add burrata is next level. Burrata is a cheese made from mozzarella and cream. The outer shell of the burrata is solid mozzarella, while the inside contains a creamy smoother version of mozzarella. If you have one burrata in the middle of the peach tomato salad it is a joy to cut open.
Peach tomato cucumber salad
To add a bit of crunch to this salad I often add cucumber. It it's still soft but it's definitely on the crunchier end. Cucumbers add that texture while the peaches hold on to the sweetness and the juiciness.
If you like this you might like my Maple Syrup Grilled Peach and Nut Salad
Pin me for later
Heirloom Tomato and Peach Salad Recipe
Happy salad making. I hope you enjoy my latest easy summer recipe for Heirloom Tomato and Peach Salad.
Easy Tomato Peach Salad with Heirloom tomatoes
The perfect fresh summer salad. Heirloom Tomato and Peach Salad with creamy mozzarella and earthy green basil. Fresh and Fruity.
Ingredients
2

Heirloom Tomatoes

4

peaches

2

mozzarella balls

salt and pepper

extra virgin olive oil

fresh basil

Balsamic Vinegar

(optional)
Instructions
Slice the tomatoes, peaches and mozzarella and arrange them on a large serving plate.

Pull apart the basil and sprinkle of the top.

Sprinkle a little salt and pepper over the top.

Drizzle the olive oil and balsamic vinegar (optional) and serve.
Notes
Best served at BBQs and wonderful as a pot luck dish for events.
Nutrition
Please note that the nutrition information provided above is approximate and meant as a guideline only.
Other summer favourite recipes
These easy roasted tomatoes with garlic, basil and chilli are a delicious and super simple dish to make. They're inspired by long Summer evenings and the Mediterranean diet, which is just perfect for hot days!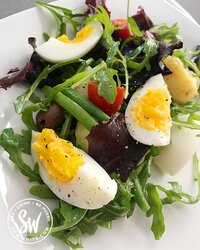 This easy to make and super healthy boiled egg salad mixed together hard boiled eggs, new potatoes and green beans to make this delicious boiled egg salad. Perfect for a main meal or for lunch boxes!
This is a delicious way to prepare courgettes for dinner! My Roasted Parmesan Courgettes (Zucchini) are simple to prepare and succulent to eat.
This easy butternut squash tart with chorizo is a wonderful light dish that's perfect for all weathers – spring, summer, autumn or winter!
This delicious Lamb Meatball Salad is a perfect summer dish. Marvellous hot and minty meatballs, fresh crunchy salad with roasted tomatoes and creamy mozzarella.
Easy to make delicious bites size treats, my Vietnamese steak lettuce bites are packed full of flavour and healthy too.
Focaccia Bundt Loaf is a great way to serve a focaccia at a party or event and even for dinner. The Bundt tin makes the finished bread shape look gorgeous.
Follow me on instagram to see what I've been making recently. www.instagram.com/sewwhite