This quick, healthy and delicious easy vegan rainbow salad is perfect no matter the weather. Crunchy, zesty and with chopped mint for extra flavour.
My Easy vegan rainbow salad is so simple to make and has such a great taste. It works so well with other dishes as a side salad or on it's own. I use this recipe as a base and add other things from there. Sometimes it accompanies Thai inspired fish cakes, spicy chicken BBQ skewers or even as a simple accompaniment to gammon and mash potato to add a little freshness.
For only 4 ingredients plus some fresh herbs it's so cheap and quick to make.
Cheap, quick and delicious. Yes please. If you don't want to make quinoa yourself most supermarkets have some ready made in packets. The Merchant Gourmet packets are really good if you want some ready made.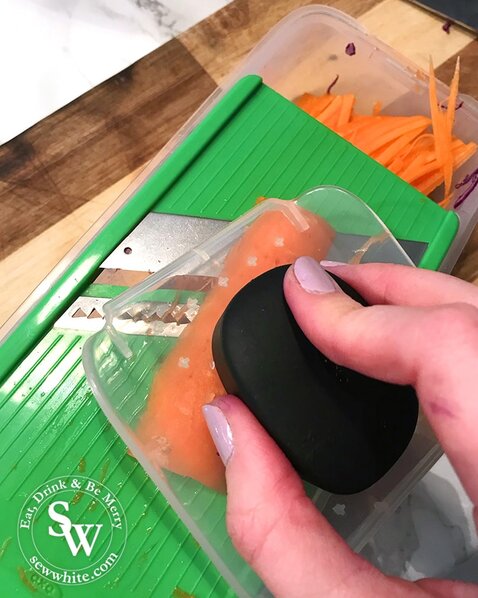 I used my OXO Good Grips mandolin to slice. It's super piece of kit which I have loved for years. It's very sharp and slices so well especially for these types of salads. It also comes in a lovely little box which the lid is where the blade piece fits in the lid to collect what you slice. Easy to clean and store too.
How to make the easy vegan rainbow salad
I love making a large bowl as it will feed 4 hungry adults with dinner but it also works the next day in lunch boxes too. Thinly chop the red cabbage and add it to a large serving bowl. Add chopped plum tomatoes. Thinly slice the carrots into battens and add in. I added 250g of freshly cooked quinoa (I always cook a good amount as it will last a few days in the fridge). The herb which I find work best is mint,. It's a fresh earthy flavour that adds to the overall salad and it definietly misses it if you don't use it. You can also add coriander, which works well with chillies and red onion if you add them in too.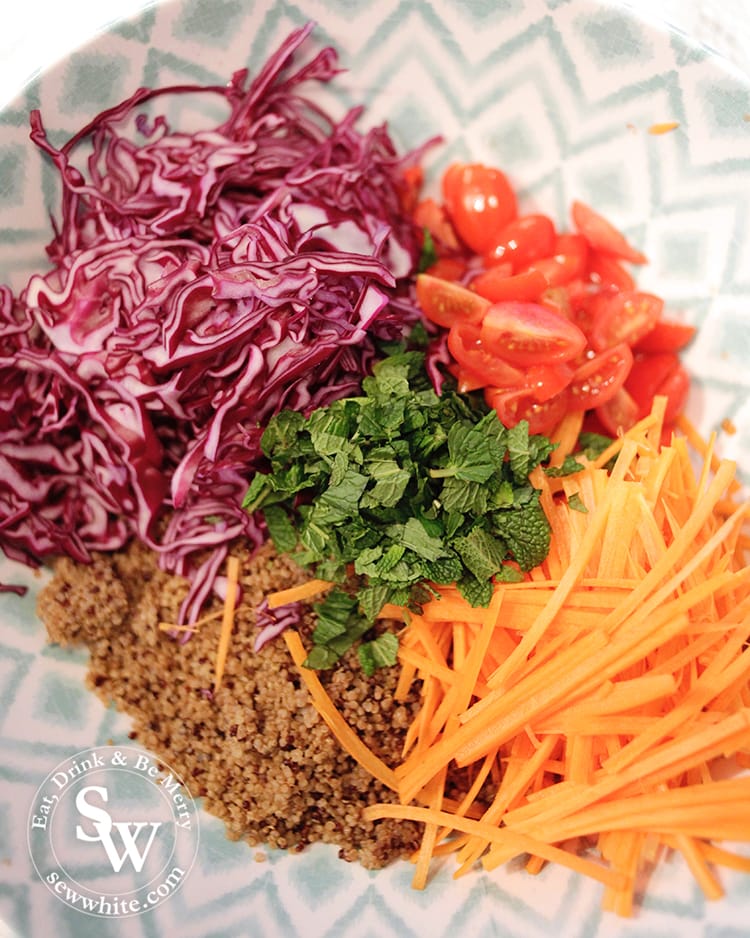 Making the Lemon mustard dressing for the salad
My lemon and mustard dressing is so good and packs a good punch. The mustard adds a rich flavour which works so well combined with lemon and olive oil. Simply mix the ingredients together and drizzle over the salad.
Easy Vegan Rainbow Salad Recipe
Ready to serve… a beautiful and crisp easy vegan rainbow salad
Pin me for later
Click here to find my other spring and summer recipes
Easy Vegan Rainbow Salad
Ingredients
Rainbow Salad
Quarter

Red Cabbage

2

medium

carrots

200

g

plum or cherry tomatoes

200

g

cooked quinoa

handful

fresh mint
Vegan Lemon and mustard salad dressing
half

lemon

half a teaspoon

wholegrain mustard

make sure it's vegan

quarter of a teaspoon

rock salt

5

tablespoons

extra virgin olive oil
Instructions
Easy Vegan Rainbow Salad
Thinly chop the red cabbage using a knife or mandoline and add to a serving bowl.


Chop the tomatoes and add to the bowl.


Using a knife of mandoline with a julienne attachment thinly cut the carrots.


Chop up the mint and add to the ingredients.


Add 200g of cooked quinoa (now cold) to the bowl and stir it all together. It's now ready to serve.

Vegan Lemon and mustard salad dressing
Squeeze the juice from half a lemon juice. Should be about 2 tablespoons.


Add the other ingredients and stir together or if your pot has a lid give it a good shake.


Taste and add a little more oil, salt or lemon to taste and drizzle a little over the salad. It will last in the fridge for 2-3 days.

Please note that the nutrition information provided above is approximate and meant as a guideline only.
Other Salads and fast food to try
I love making this Rainbow Salad with Spicy Dressing as it goes with so many other dishes. It's great on it's own too and full of flavour.
Easy to make delicious bites size treats, my Vietnamese steak lettuce bites are packed full of flavour and healthy too.
The perfect fresh summer salad. Heirloom Tomato and Peach Salad with creamy mozzarella and earthy green basil. Fresh and Fruity.
This easy tomato salad with quinoa, rice and asparagus is simple to make but tastes just incredible. The base is the rice and quinoa, which are then topped with fresh tomatoes, fresh basil leaves, fresh mozzarella and perfectly cooked asparagus.
Using fresh summer peaches this grilled peach salad with balsamic vinaigrette is a fresh and fruity salad which is perfect as a BBQ salad. I have walnuts in my salad but other great additions are grilled peach salad with burrata or feta cheese.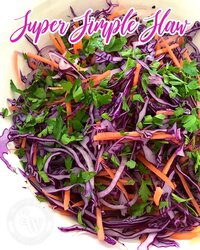 This Super Simple Slaw is quick to make and tastes wonderful with a range of dishes. Perfect for BBQ season when you want a little crunch with your meal.