This easy tomato salad with quinoa, rice and asparagus is simple to make but tastes just incredible. The base is the rice and quinoa, which are then topped with fresh tomatoes, fresh basil leaves, fresh mozzarella and perfectly cooked asparagus.
After buying 3kg of baby tomatoes, I had to think of as many different ways to use them as I possibly could! I decided that since I also bought asparagus, the two would be a match made in heaven! Therefore, this easy tomato salad was born.
I decided to add the rice and quinoa to round out the meal with some healthy carbs, while the mozzarella and basil are there purely because they're such iconic summer flavours!
How to cook the asparagus
I cooked the asparagus using my pastel pink Le Creuset shallow casserole dish as it's non-stick (washing it up is amazingly easy!), plus it distributes heat very well. I find it perfect for dishes that I start cooking on the hob but then finish them off in the oven such as browning chicken before baking it.
Plus it's so stylish you can take the casserole dish straight to the table to serve! Find out more about the shallow casserole here.
What ingredients do I need to make this easy tomato salad?
You don't need many ingredients, and certainly none that are difficult to get hold of or are often expensive.
asparagus spears – about 250 grams should be the perfect amount
a microwave rice and quinoa sachet – this speeds up the making of the salad so that it can be on the table even faster – and with even less washing up! You can, of course, cook the rice and quinoa yourself or only use one of the two if you prefer.
some little cherry tomatoes – it's great to use some different coloured cherry tomatoes here if you have them. It makes the dish even more absolutely stunning! You could also use any other type of small tomato instead.
1 ball of fresh mozzarella, torn up to form small chunks that can be sprinkled over the salad. As much as I love mozzarella, I don't want a bite that's mozzarella and nothing else so I try to keep the pieces fairly small.
a handful of fresh basil leaves really takes this salad to the next level, as well as bringing more of those gorgeous fresh summer flavours that we all know and love!
a touch of olive oil and balsamic vinegar to lightly dress the salad. As this is a matter of personal taste, I haven't given exact quantities but I would strongly recommend starting off with a small drizzle of each as you can always add more but you can't take it back!
You can, of course, add other veggies to this tomato and quinoa salad if you like. For example, you could:
add a little bit of lemon zest and use lemon juice instead of balsamic vinegar
adding some diced cucumber or cook down some slices of bell pepper with the asparagus for some more fresh flavour
add other herbs such as parsley as well as the basil
use feta instead of mozzarella for a Greek touch
and really anything else that you like! This tomato rice salad is a great base to customise to use up whatever you have in the fridge!
How do I make the easy tomato salad?
It's super simple and quick to make, trust me:
cook the pouch of rice and quinoa and spoon it out onto a plate
chop up the little tomatoes and add them to the plate (you can decide how small to cut them – I'd recommend cutting them into halves)
tear apart the mozzarella ball and sprinkle it over the top
add the basil and drizzle over the balsamic vinegar and olive oil
cook the asparagus in butter and add it to the salad
dig in and enjoy!
What should I serve with this simple salad?
I like to keep it simple and enjoy this salad as a main dish, but if you serve it at a barbecue or other summer party, then you might also want to consider these dishes:
Follow me on instagram to see what other cakes I've been making recently. www.instagram.com/sewwhite
Disclaimer - Ad for Le Creuset. The recipe is my own.
This leftover roast chicken pasta salad gives you a way to use up your roast chicken to create a fresh and healthy dish full of herbs and flavour.
The perfect fresh summer salad. Heirloom Tomato and Peach Salad with creamy mozzarella and earthy green basil. Fresh and Fruity.
My quick and easy puff pastry tomato tart is a super delicious seasonal summer dish. It is absolutely brilliant for summer parties, events and picnics. The puff pastry tomato and mozzarella tart is perfect for using up all your fresh home-grown tomatoes! Serve with a few fresh basil leaves to really add some extra aroma and taste to the finished tomato tart.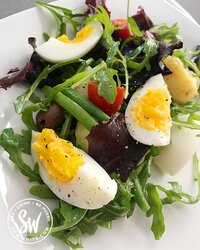 This easy to make and super healthy boiled egg salad mixed together hard boiled eggs, new potatoes and green beans to make this delicious boiled egg salad. Perfect for a main meal or for lunch boxes!
Easy Tomato Salad with Rice, Quinoa & Asparagus
This easy tomato salad with quinoa, rice and asparagus is simple to make but tastes just incredible. The base is the rice and quinoa, which are then topped with fresh tomatoes, fresh basil leaves, fresh mozzarella and perfectly cooked asparagus.
Equipment
Nonstick frying pan

large serving plate
Ingredients
250

g

asparagus

250

g

quinoa and rice mix pouch

I make up a mix of these but microwaveable packets are available

300

g

cherry tomatoes

1

ball

Mozzarella

handful

basil leaves

virgin olive oil

balsamic vinegar
Instructions
On a large plate spoon out the quinoa and rice mix.

Chop up the tomatoes and add them to the rice.

Pull apart the mozzarella balls and add it to the rice.

Drizzle over a little olive oil and balsamic vinegar to taste. I usually do about 2 tablespoons of olive oil to 1 tablespoon of balsamic vinegar.

Add a knob of butter into a non stick pan on a medium head.

Add the asparagus and reduce the heat a little. Keep checking the asparagus and turning it until cooked.

Once the asapargus is cooked add it to the salad and serve.
Notes
Adding a little chilli or crushed garlic to the pan with asparagus also tastes delicious.
Nutrition
Please note that the nutrition information provided above is approximate and meant as a guideline only.