Are you looking for an easy hard boiled eggs salad recipe? I love hard boiled eggs in salad so have created this wonderful recipe to unite them in a delicious way.
This easy to make and super healthy salad mixed together hard boiled eggs, new potatoes and green beans to make this delicious boiled egg salad. Perfect for a main meal or for lunch boxes!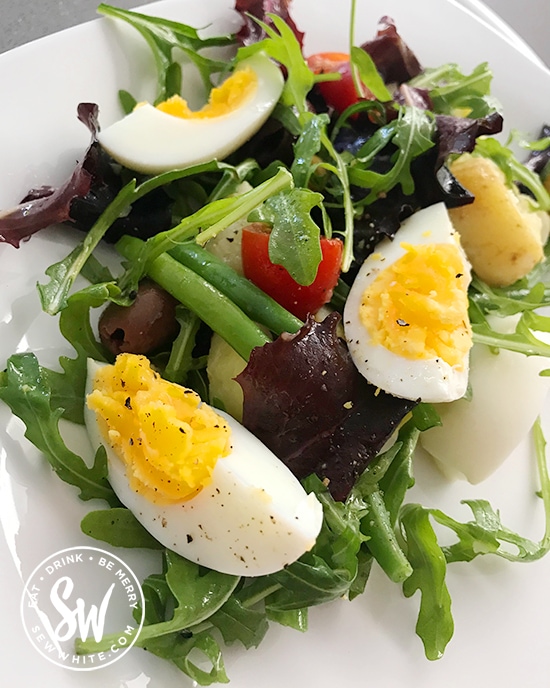 Boiled eggs in salad sounded so weird to me when I was little and now they are so common! Hard boiled egg salad is a super way to add some extra protein and of course flavour to your dish.
The soft boiled eggs with the hot potatoes and green beans along with the salad leaves and juicy tomatoes combine to make a truly epic dish. It is topped with an easy salad dressing made with olive oil, lemon juice, mustard and salt/pepper.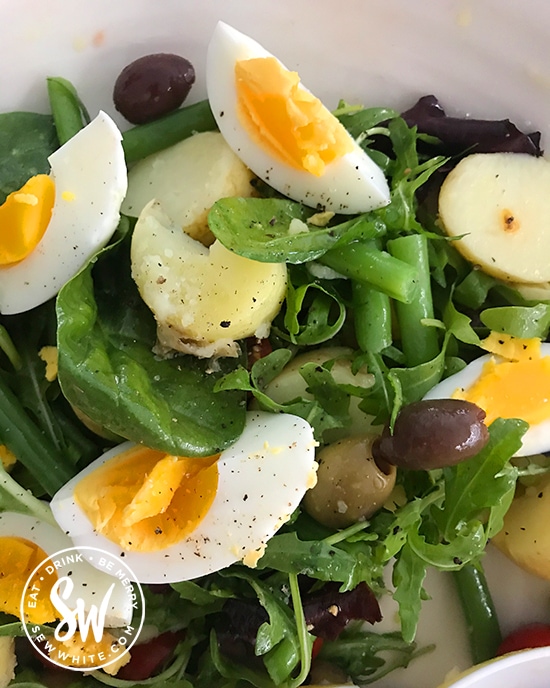 Boiled Egg Salad
This easy egg summer salad is beautifully easy to make. The mix of warm potatoes and beans with the creamy soft egg and crunch of the leaves is beautiful.
To add an extra flavour to this already tasty and healthy egg salad, I often add olives. A mix of green or black olives works well. If they are slightly salty that makes the finished result of this dish even better.
I've tried it with different olives, olives stuffed with chillies are a favourite of mine. I cut them before adding them as they can sometimes be huge and also hot! Olives in garlic work well as do olives in herbs and oil.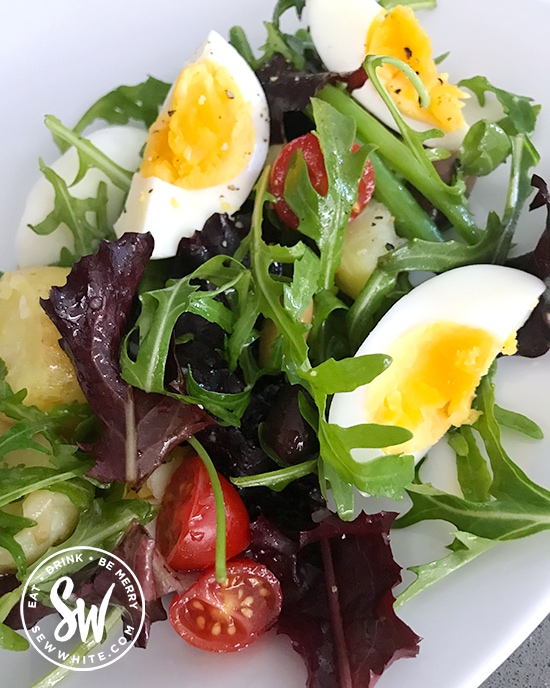 What do I need for the boiled egg salad?
6 eggs
80 g green bans
handful of new potatoes (about 3 to 4 per person)
bag of salad leaves
100 g baby or cherry tomatoes
olives (optional)
This salad is so easy to make and super healthy too. With only 6 ingredients for the main part of the recipe, it proves you really don't need a lot ingredients to make something delicious.
Can I make this ahead of time?
Yes you absolutely can! Everything in this salad works so well cold. Make the salad and don't add the dressing until you are ready to serve. If you make the dressing in a jam jar and pop the lid you will have everything ready to go.
Once you've made it the easy egg salad will be perfectly kept in the fridge for a few days. Just make sure you have popped it in to a container with a lid and eat within 2-3 days.
This is a perfect picnic dish and works so well for lunch boxes too. If you have flat breads this salad works really well when served together.
How to boil a hard boiled egg?
Boiling eggs is one of those things which so many people say they can't do. But I promise you, you can! The great thing about boiling eggs for this boiled egg salad is that we want them hard boiled. Trying to get the eggs soft boiled can be a knack but hard boiled we can do.
Add the eggs to a saucepan and cover with cold water. Pop on the hob, with a lid, on a medium heat until the water starts bubbling. Once it reaches a rolling boil set the timer for 10 minutes. At the end of 10 minutes drain the water and top up the saucepan with cold water. This will help cool the eggs down and stop them from cooking.
What do I need for an easy salad dressing?
For the easy salad dressing you will need
1 teaspoon grainy mustard
4 tablespoons olive oil
1 tablespoon lemon juice
pinch of salt
pinch of pepper
Extras you can add into the easy salad dressing include chopped up shallot or chilli if you want to make it a bit tangy. Add some herbs to bring in other earth flavours. Oregano and herbs de Provence both work well with fresh or dried herbs.
Another idea is adding balsamic vinegar to the mix. Depending on the choice of the balsamic you can turn the dressing in to a sharper or sweeter final dressing. Red wine vinegar also happens to be a wonderful addition, especially with summer salad.
The best ways I have found to mix salad dressing is to pop all the ingredients into a jam jar and give it a good shake. Make sure the lid is on. I have definitely started shaking more than once before the lid was on. It really helps combine everything together.
Plus you can pop the lid and save any leftovers for the next day. If you don't have a jam jar pop it in a little jug and give it a good stir.
How do you cook green beans?
The best way I have found to cook green beans is by popping them into a saucepan of boiling water for a few minutes. About 2 or 3 minutes until they are bit softer but still have a bite.
If you like them softer cook a little longer. Be careful of the boiling water though, even though they are only in for a short time they really get hot quickly. After they have been cooked run them under a cold tap to stop the cooking. I don't always do this but I do remove them from the saucepan.
Pin me for later
Follow me on Instagram to see what I've been making recently. www.instagram.com/sewwhite
This leftover roast chicken pasta salad gives you a way to use up your roast chicken to create a fresh and healthy dish full of herbs and flavour.
The perfect fresh summer salad. Heirloom Tomato and Peach Salad with creamy mozzarella and earthy green basil. Fresh and Fruity.
This easy tomato salad with quinoa, rice and asparagus is simple to make but tastes just incredible. The base is the rice and quinoa, which are then topped with fresh tomatoes, fresh basil leaves, fresh mozzarella and perfectly cooked asparagus.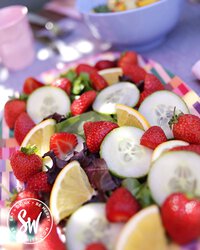 This year I have turned the iconic drink into a fresh and fruity Pimm's salad. I have used the essential Pimm's ingredients for the salad and use a measure of Pimm's itself for the dressing.
This beautiful summer salad with Pimm's dressing will soon be a family favourite in your house as it is in mine for family events, summer BBQs, picnics and even a midweek special when we want a super salad.
Using fresh summer peaches this grilled peach salad with balsamic vinaigrette is a fresh and fruity salad which is perfect as a BBQ salad. I have walnuts in my salad but other great additions are grilled peach salad with burrata or feta cheese.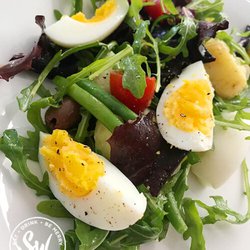 Healthy Boiled Egg Salad
This easy to make and super healthy boiled egg salad mixed together hard boiled eggs, new potatoes and green beans to make this delicious boiled egg salad. Perfect for a main meal or for lunch boxes!
Ingredients
6

eggs

80

g

green bans

handful

of

new potatoes

(about 3 to 4 per person)

bag of salad leaves

100

g

baby or cherry tomatoes

olives

(optional)
Dressing
1

teaspoon

grainy mustard

4

tablespoons

olive oil

1

tablespoon

lemon juice

salt

pepper
Instructions
Fill a saucepan with cold water and add the eggs. Pop the lid on and put on the hob on a medium heat, bring to the boil and leave to cook for 10 minutes once it starts boiling. Once the ten minutes is up drain the boiling water away and refill the saucepan with cold water to stop the eggs from cooking and to help them cool down. Leave them to cool.

Add the new potatoes to a saucepan and fill up with cold water to just cover the potatoes. Pop a lid on and bring to the boil.

At this point add the green beans and cook them on the boil for 3-5 minutes depending on how soft you like them. Remove them from the potato water and pop them in a bowl to cool.

Reduce the heat on the potatoes until the water is a nice simmer and cook for about 10 minutes more (10-15 minutes in total). Check they are cooked by piercing with a sharp knife. The knife should slide in gently showing they are cooked.

White the potatoes are cooking prepare the salad. Add the salad leaves to a serving dish, chop up the tomatoes and add them.

Gently remove the shells from the eggs and slice up the eggs and add them to the salad.

Mix everything together before adding the dressing.
Dressing
In a jam jar or in a jug add all the dressing ingredients in to it.

If it's a jam jar add the lid and shake together. If it's the jug gently stir with a spoon until everything is combined.
Notes
Extras you can add to the dressing include
• chopped up shallots,
•1 tablespoons of balsamic vinegar
•sprinkle of fresh or dried herbs, such as oregano or thyme
Nutrition
Please note that the nutrition information provided above is approximate and meant as a guideline only.