Enjoy my sticky and sweet Maple Syrup Grilled Peach and Nut Salad this summer. Hot fruit with herbs and sticky sweet nuts combine to create a great summer dish.
To celebrate the bank holiday I've joined with Le Creuset to get my grill on! Le Creuset have a great range of grills including the new Signature Rectangular Grill. It's mad of cast iron and as well as being hob safe you can also pack it away for camping and use it on the BBQ.
Waitrose have their new season of peaches in and although still a little unripe they are perfect for this as the heat softens them perfectly.
I loved laying out the ingredients as they were all so photogenic. The rich brown of the nuts, the mix of tones with the sprouts, green fresh herbs and mix of earthy green and purple leaves. Plus the warm and inviting peaches with their pinks and oranges tones. However their smell when cooking was what made me the most hungry.
How to make Maple Syrup Grilled Peach and Nut Salad
With the pan on a medium heat, add the herbs and peaches. Add a little water and the maple syrup and that's mostly it
Just look at the beautiful peaches as they caramelise!
Maple Syrup glazed walnuts and pecans
Warming up the walnuts and pecans was a great idea. I drizzled them with a little extra maple syrup to make them beautifully sweet and a little softer. Plus it give them a super caramel flavour to the finished salad.
Serving up the peaches was so incredible. They smelled amazing. The fruity and sweet smell which makes you want to eat them all. The herbs had infused their smell and of course their taste too.
The glistening maple syrup nuts topping the salad were so appealing. I'm surprised there were any left when it was served as I kept snacking on them.
If you like the look of this you might enjoy my Focaccia Party Bites topped with Parma Ham and Peaches
Maple Syrup Grilled Peach and Nut Salad Recipe
Due to the sugary nature of the recipe it is likely that if the pan is too hot the sugar will burn. If this starts to happen reduce the heat and carefully add a little water to the dish. If the grill pan has burnt pieces on after let it soak in hot water and follow the cleaning instructions on Le Creuset's website.
https://www.lecreuset.co.uk/care-and-use#wineaccs-cleaning
Mine caught a bit but after a soak and putting the grill pan back on the heat the last of the burnt sugar came off very easily. Le Creuset also sell a cleaner and brush to keep your pan looking new.
Maple Syrup Grilled Peach and Nut Salad
Enjoy my sticky and sweet Maple Syrup Grilled Peach and Nut Salad this summer. Hot fruit with herbs and sticky sweet nuts combine to create a great summer dish.
Ingredients
4

peaches

6

tablespoons

maple syrup

3

tablespoons

water

you might need a little extra

handful of peacans

handful of walnuts

bag of salad leaves

2

stems

resh rosemary

small handful

fresh thyme

lentil sprout mix

(I got mine from Waitrose)
Instructions
Note – the sugar from the peaches and maple syrup might burn on the pan if if it's too hot. If it's starting to burn lower the heat. See my notes below for how to clean the pan. As it's not non stick it will catch a little but the pan is easy to clean following Le Creuset's instructions.


Chop up the peaches into quarters and remove the stones.


Pull the rosemary off the stem and do the same with the thyme.


Warm up the Le Creuset grill pan to a medium heat and add the herbs. After a few seconds add the peaches on top with a 3 tablespoons of water. Allow the peaches to warm up for a few minutes each side.


Drizzle over the maple syrup and move the peaches around so they get a good coating. Carefully add a little more water if it dries out too quickly.


When the peaches start to brown remove them from the heat.


Add a little more maple syrup and water to the grill pan and add the chopped up nuts. Move them around so they get coated in the syrup.


After a minute or so when they are warm remove from the heat.


Place the lettuce leaves on a plate, add the warm peaches and nuts.


As a lovely extra flavour sprinkle a few lentil sprouts on the top. Serve straight away.

Notes
Soak the dish straight away with hot water as it makes it a lot easier to clean off the caramelised sugar.
Nutrition
Please note that the nutrition information provided above is approximate and meant as a guideline only.
Follow me on instagram to see what other cakes I've been making recently. www.instagram.com/sewwhite
Pin me for later
I've joined my recipe with loads of gorgeous other bloggers with #CookBlogShare. Find more delicious recipes here.
Other Recipes you might enjoy
I love making this Rainbow Salad with Spicy Dressing as it goes with so many other dishes. It's great on it's own too and full of flavour.
Easy to make delicious bites size treats, my Vietnamese steak lettuce bites are packed full of flavour and healthy too.
This easy tomato salad with quinoa, rice and asparagus is simple to make but tastes just incredible. The base is the rice and quinoa, which are then topped with fresh tomatoes, fresh basil leaves, fresh mozzarella and perfectly cooked asparagus.
This delicious Lamb Meatball Salad is a perfect summer dish. Marvellous hot and minty meatballs, fresh crunchy salad with roasted tomatoes and creamy mozzarella.
The perfect fresh summer salad. Heirloom Tomato and Peach Salad with creamy mozzarella and earthy green basil. Fresh and Fruity.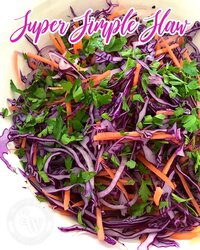 This Super Simple Slaw is quick to make and tastes wonderful with a range of dishes. Perfect for BBQ season when you want a little crunch with your meal.
Focaccia Bundt Loaf is a great way to serve a focaccia at a party or event and even for dinner. The Bundt tin makes the finished bread shape look gorgeous.