These Filo Pastry Mince Pie Rolls are a delicious twist on the classic British festive treat. Extra crispy and spiked with cranberry sauce, they're easy to make, easy to bake and easy to eat. What more could you ask for?! They're ideal as a simple festive snack, a fun addition to a buffet or party spread or even as a cheeky appetiser. Or warm them through and serve with brandy butter for the ultimate Christmas dessert.
This recipe is such a delicious and fun way to make mince pies even more easy to eat. The filo pastry is crisp and flaky against the warm spiced cranberry mincemeat! They make a lovely change from traditional mince pies.
Cranberry Mince Pie Filo Pastry Rolls are so easy to make and far too easy to nibble on. I make these each year and will be no doubt making seasonal changes as I love filo pastry and how crispy it is.
This is a great festive bake to make with children as they're real fun to roll. A little messy perhaps but the results are tasty and everyone will have a lovely festive time. Plus being baked and not fried, there is less peril!
How to Serve Crispy Mince Pie Rolls
These cranberry spiked rolls taste fantastic when they're still warm from the oven (but not hot or they will burn!). But they are equally delicious served at room temperature.
If you want to be decadent try serving with a little pot of melted chocolate to dip them into. It really really works!
You can also dust them with cinnamon sugar or regular icing sugar before serving. I really enjoy dipping them into a little brandy cream and they are great served like this is a dessert.
What pastry are Traditional Mince Pies made from?
Traditional mince pies are made with shortcrust pastry. It's easy to make at home and tastes incredible when handmade. To make shortcrust pastry even more spectacular, you can add in some freshly grated orange zest. An extra flavour of Christmas added right into the pastry is really quite something.
Mince pies made with puff pastry have also become popular. Some pies have almond sponge (frangipane) tops and others have crumble toppings. The varieties available are really quite endless.
Filo pastry is also sometimes used but more commonly to make a traditional shaped pie. They usually don't have a pastry top. My filo pastry rolls are my spin on this and much easier to eat!
What You Need to Make Filo Pastry Mince Pie Rolls
You can find the full printable recipe with ingredient quantities and detailed instructions further down this page.
The ingredients are really very simple. Basic mincemeat is jazzed up with some cranberry sauce and extra spices. Then it's rolled in store-bought filo pastry sheets, doused in melted butter and baked. They're very simple.
Mincemeat
You can use almost any mincemeat recipe you fancy. There are lots of options available to buy for almost any taste and dietary requirement. You can look for gluten free, dairy free, vegetarian and vegan options amongst others. Not to mention all the various flavoured varieties you can buy.
You can of course also make your own mincemeat. This is a lovely option to customise the ingredients to exactly how you like them. My favourite recipe to use is my Vegan Slow Cooker Mincemeat.
I generally use a relatively plain mincemeat to make this recipe as I like the additional cranberry flavour to really sing. If you are using a mincemeat with a really strong or specific flavour, you might want to consider using it as it comes rather than mixing with the other filling ingredients in the recipe.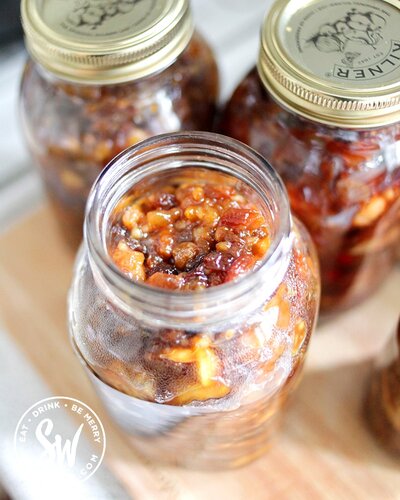 Does mincemeat contain alcohol?
Different mincemeat jars that you get from the supermarket can have alcohol in them but there are definitely ones available which are alcohol free.
If you are making the mincemeat yourself I would encourage you to use some brandy in the mix. It adds a flavour that you just don't get without it. It also helps combine everything together and the dried fruit will plump back up with its gorgeous flavour. With the addition of spices and a little fresh orange juice, you will have a great mincemeat to get baking with.
The mincemeat I used for this recipe does have alcohol in but can be made in the same with alcohol free mincemeat.
Filo Pastry
Filo is also knows as phyllo, especially in the US. It is a very thin unleavened pastry made with wheat flour, water and a little oil. It is stretched very thin and is then layered to make various pastries – both sweet and savoury.
The specific origins of filo are contested but it is historically common across the balkans and middle east regions. You might be most familiar with it used to make spanakopita, baklava or börek.
These mince pie rolls are similar to sigara börek (cigarette pastries) from Turkey, except with a very British filling. The pastry also has much in common with Chinese spring roll pastry. They both go beautiful and crisp when baked or fried.
How Is Filo Pastry Sold?
I am never going to suggest that you use homemade filo pastry unless you are extremely dedicated! It is much easier to buy it ready made and rolled. It is usually sold in sheets that are layered and then sold in a roll – usually found in the chiller section but may occasionally be found frozen.
In the UK, filo pastry is usually sold in 270g packs which contain 7 sheets around 48cm x 22.5cm in size. This recipe used one pack to make 21 individual rolls. 3 sheets are sandwiched with another 3 sheets and cut into 6 rectangles each. The 7th sheet is folded in half and cut into 3 rectangles.
In the US, phyllo is usually sold in 1lb packages which contain 24 sheets around 9.5 inches x 4.5 inches in size. The sheets are roughly half the size of the UK version. You will need 14 US sheets to make this recipe. 7 sheets are sandwiched with 7 other sheets and each cut into 3 rectangles.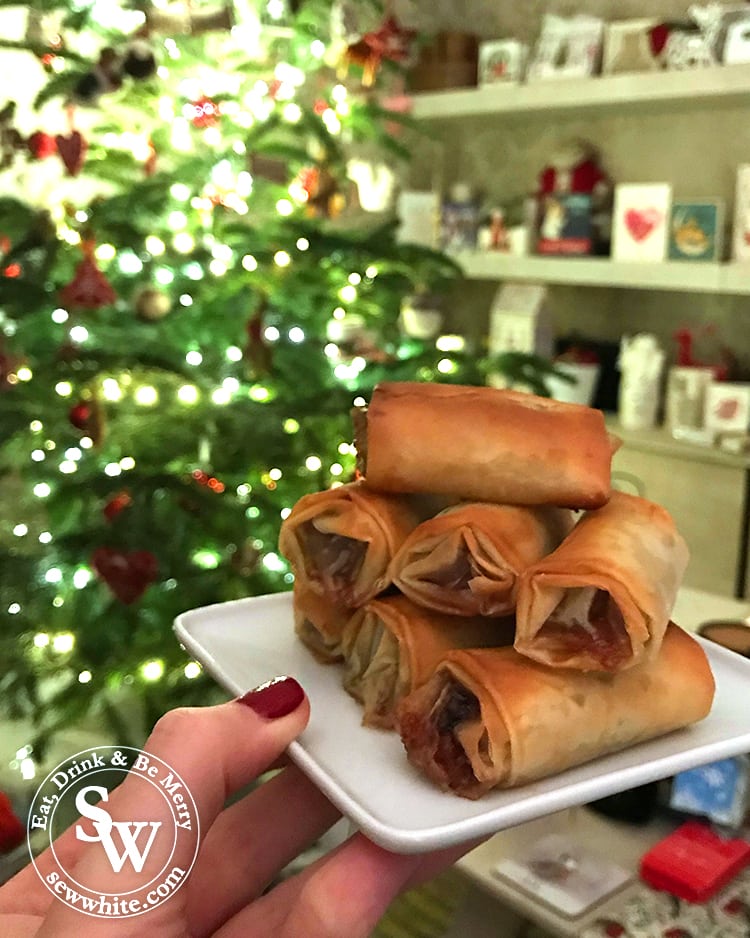 Cranberry Sauce
You can use your favourite! I prefer to use a chunky whole cranberry sauce rather than a smoother cranberry jelly. This gives this mincemeat rolls an extra delicious texture.
You will need to taste to see if the mix is sweet enough. Some cranberry sauces can be very tart so you might need to add some sugar to the mix to taste and stir in.
Using Fresh Cranberries
You also have an option for using fresh cranberries which takes a bit longer. You need to put them in a saucepan with a little water and sugar over a low/medium heat. Let the cranberries soften down then add the mincemeat to the bowl and stir it all together.
If you do it this way make sure you leave the mix to go cold before making mince pies or these filo pastry mince pie rolls. A hot mincemeat mix will melt the pastry before you get it in the oven and we don't want that.
How to make Cranberry Mince Pie Rolls using filo pastry
You can find the full printable recipe with ingredient quantities and detailed instructions further down this page.
Mix the mincemeat with cranberry sauce and then the spices. It will smell incredible!
Really give it a good stir to make sure everything is well combined.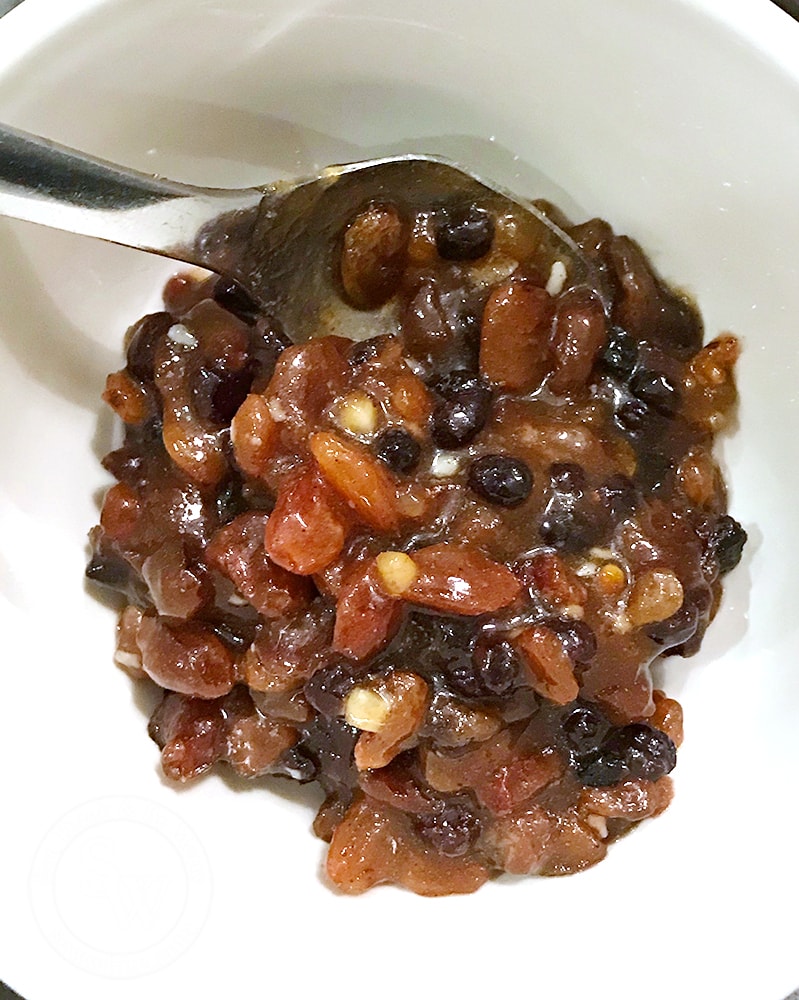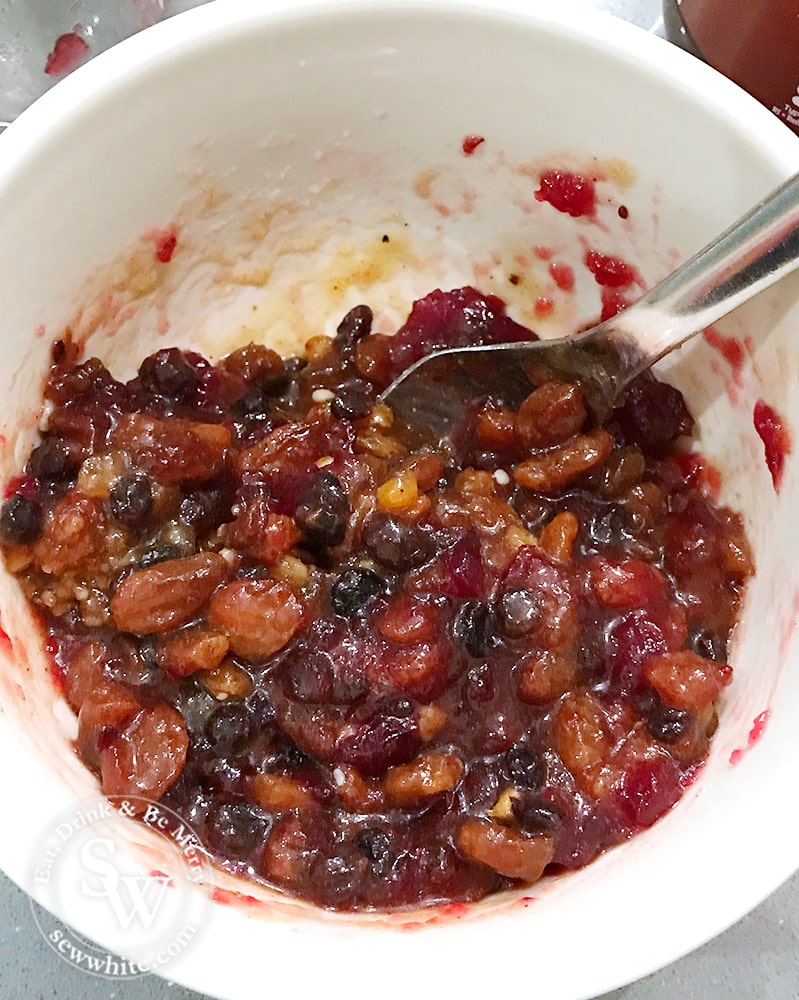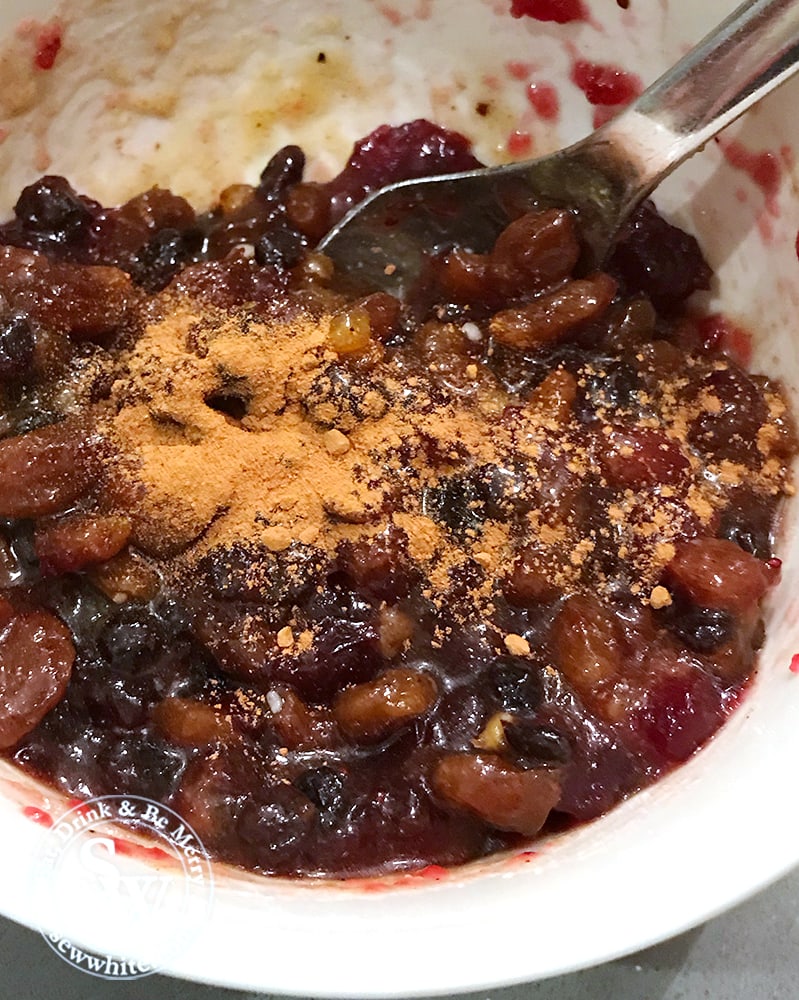 Brush one layer of the filo pastry with melted butter and place another on top.
Cut each double layered sheet into six pieces. Each piece should be long and thin – use my photos for reference,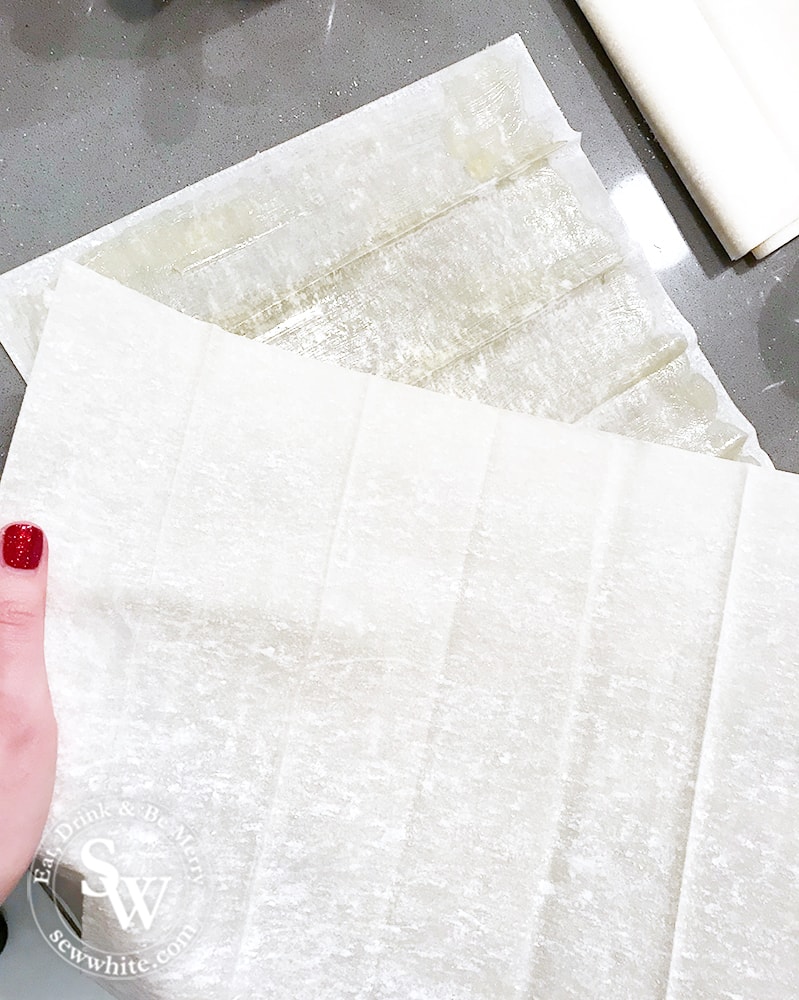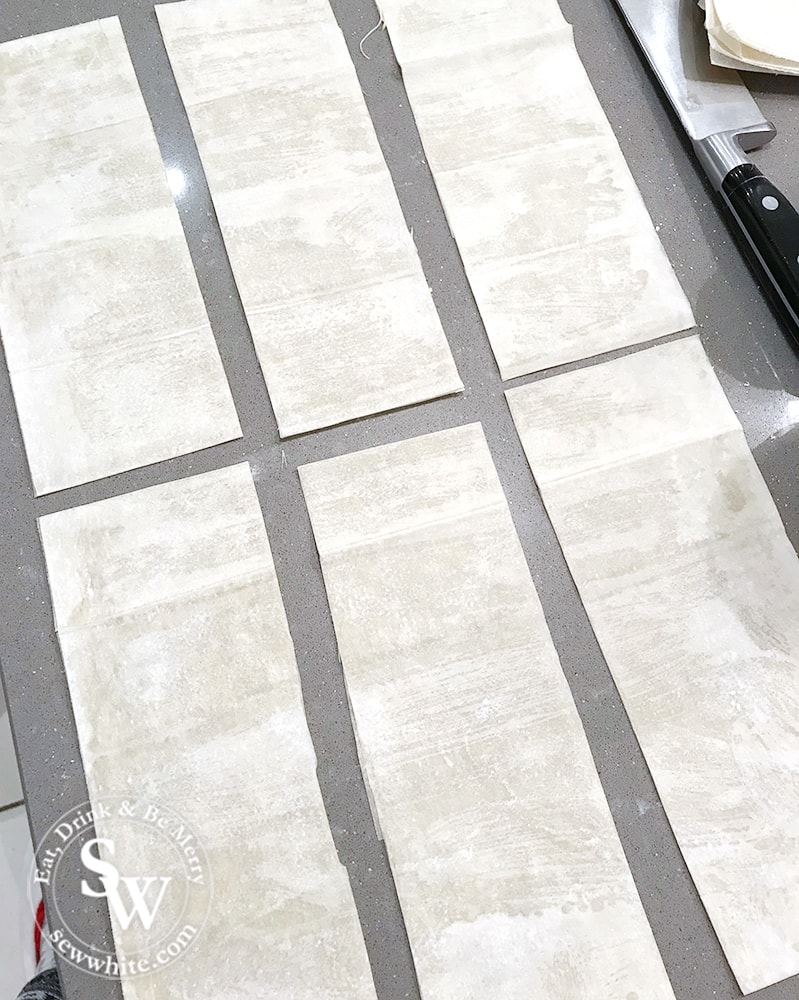 Spoon the mincemeat onto the bottom edge of the filo pastry.
Fold in the sides to hold it in and then start rolling.
Keep rolling to the end.
Top Tip – It's fiddly to keep the sides in but after you've done a few you'll be an expert. If they don't work perfectly it doesn't matter too much, When golden brown and ready to eat, they will still look and taste gorgeous. Everyone will love them.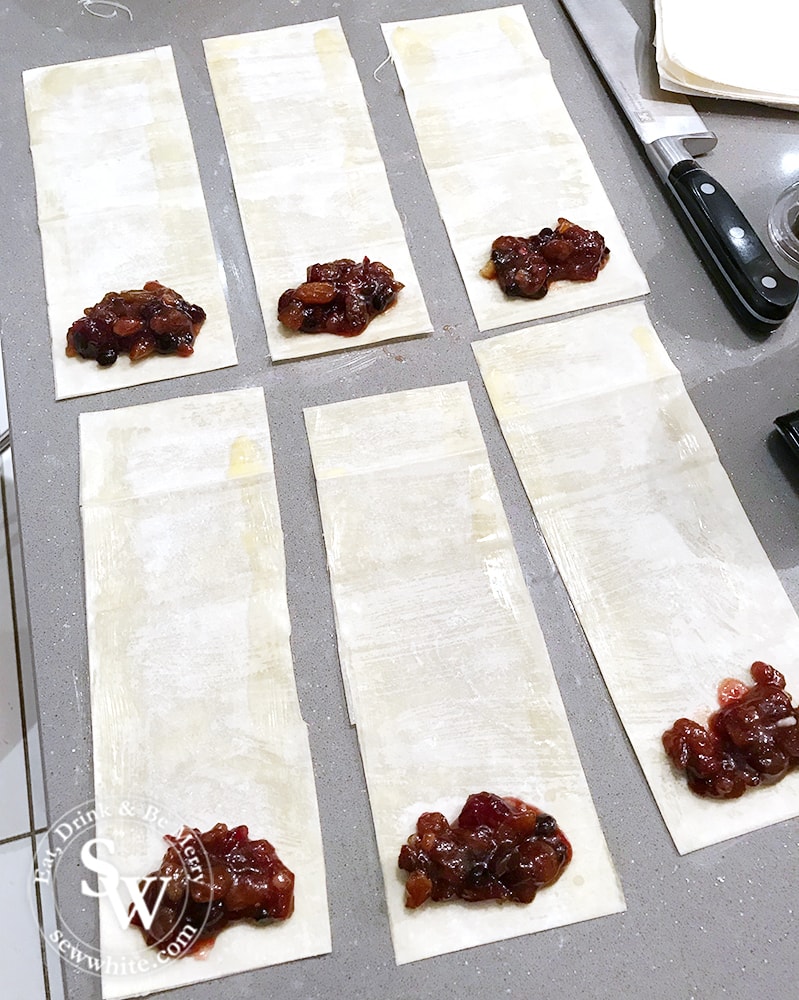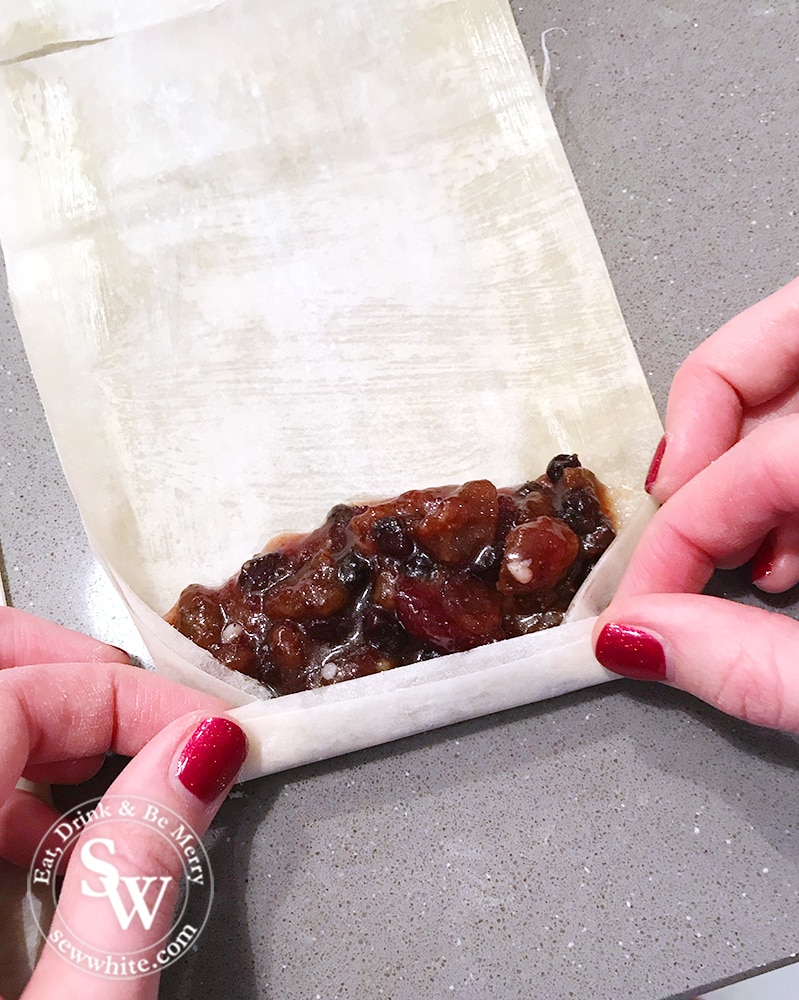 Repeat with the remaining filo sheets.
Place on a greaseproof paper lined tray with the pastry join facing down.
Brush them with the last of the melted butter and bake them for approximately 8-10 minutes until golden brown.
Top Tip – Brush half of the 7th sheet of pastry with butter and then fold it in half. Cut this final sheet into 3 rectangles.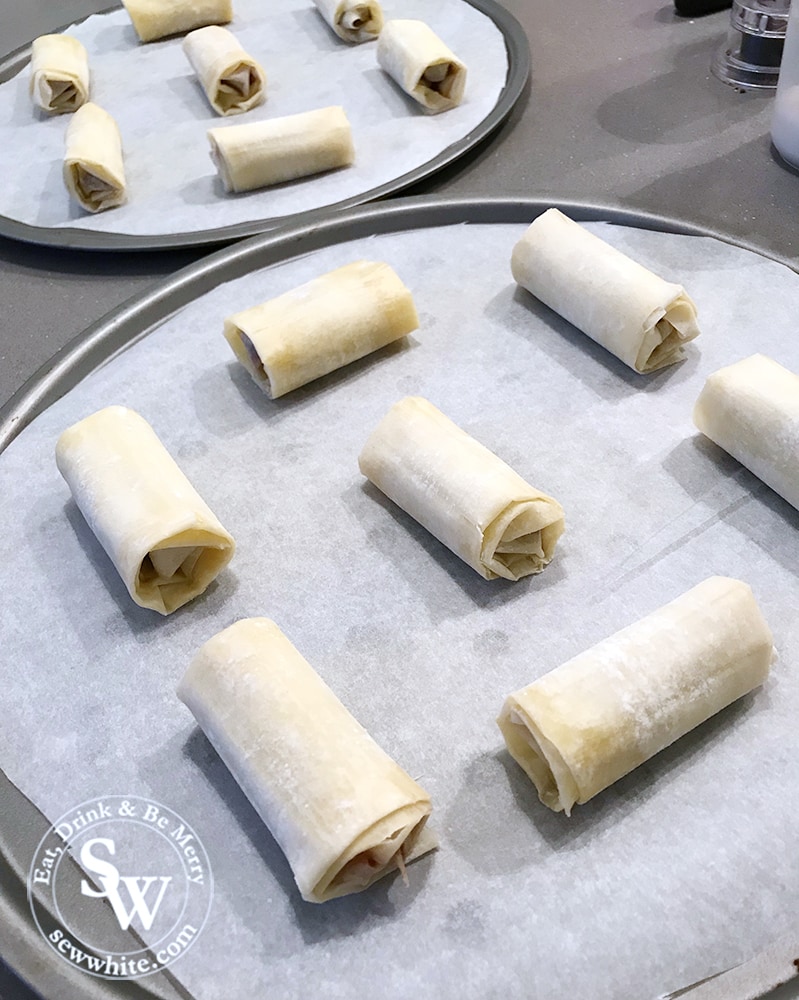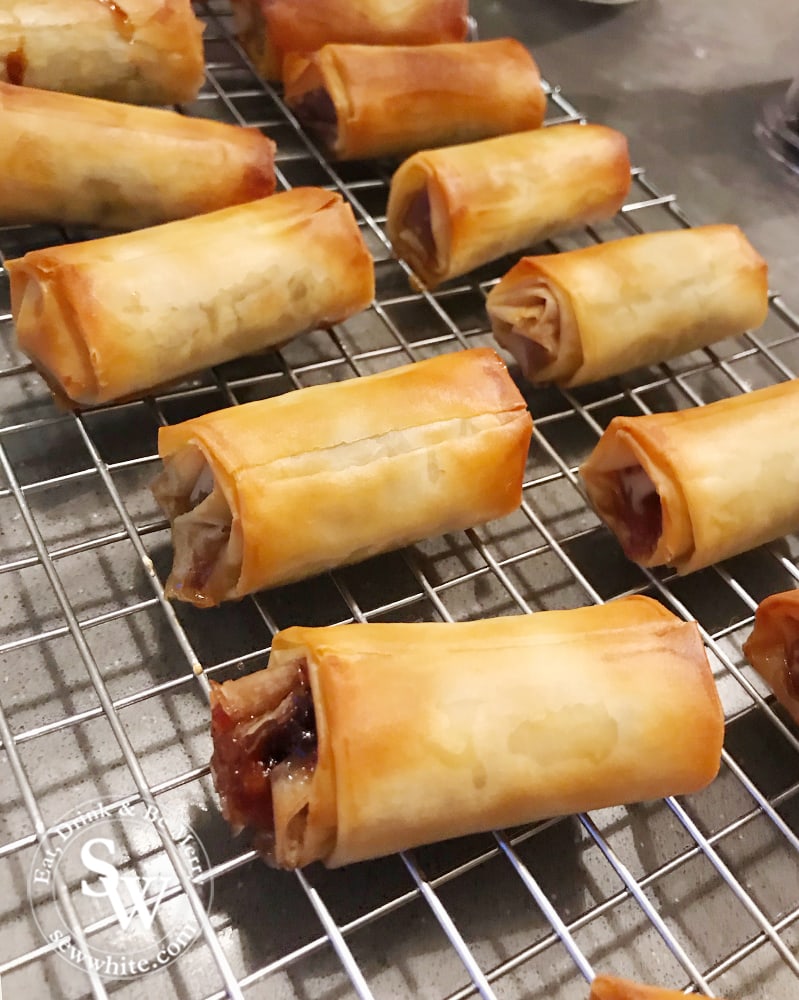 How to Store Christmas Filo Rolls
Realistically these tasty treats aren't likely to last that long!
But if you do need to keep them, they should be stored in an airtight container. They are fine to be stored at room temperature.
How Long Will Mince Pies Keep?
About 5 minutes in my house!
If you have more self control, these filo rolls will keep for 1 to 2 days.
They will be perfectly ok to eat for many more days after this but the pastry is likely to start going soggy. And nobody wants a soggy filo mince pie.
WARNING! – Do Not Eat Filo Pastry Mince Pie Rolls straight from the oven!
Just be warned that these lovely filo mince pie rolls will be very hot after being cooked, as the sugars in the mincemeat are going to be bubbling.
Molten sugar will burn so do let them cool down slightly before eating. They will still be hot for a long time as the heat will hold inside.
Nobody wants a burnt mouth at Christmas!
Pin this Filo Pastry Mince Pie Rolls with Cranberry recipe for later
Filo Pastry Mince Pie Rolls with Cranberry
These Filo Pastry Mince Pie Rolls are a delicious twist on the classic British festive treat. Extra crispy and spiked with cranberry sauce, they're easy to make, easy to bake and easy to eat. What more could you ask for?! They're ideal as a simple festive snack, a fun addition to a buffet or party spread or even as a cheeky appetiser. Or warm them through and serve with brandy butter for the ultimate Christmas dessert.
Ingredients
270

g

(

1 ⅐

cups

)

filo pastry sheets (phyllo)

UK – 7 sheets, US – 14 sheets

100

g

(

7

tbsp

)

unsalted butter

melted
Cranberry Mincemeat Filling
400

g

(

2

cups

) mincemeat

homemade or store-bought

150

g

(

½

cup

) cranberry sauce

3

tbsp

(

3

tbsp

)

sugar

1

tsp

(

1

tsp

)

mixed spice

1

tsp

(

1

tsp

)

ground cinnamon
Instructions
Making the cranberry mincemeat
Mix together the mincemeat with the cranberry sauce, sugar and spices in a bowl.
Making the mince pies
Preheat your oven to 180ºC / 160ºC fan / 350f.

Take the first sheet of filo pastry, brush with melted butter and place the second sheet of filo pastry on top. The butter will act like glue and stick them together. Repeat with the rest of the sheets. On the 7th sheet butter half and fold over.

Take the first filo pastry double sheet and cut into 6 slices (3 in the US).

Using a pastry brush, brush a rectangle around the filo pastry like a frame. Spoon one tablespoon of the mince meat on to the thin side of each rectangle.

Fold in the outside edges first and start rolling up the filo pastry mince pie.

Repeat with the rest of the filo pastry. (If you have any mincemeat left, you can pop it in a sterilised jar and store in the fridge).

Put the rolls, join side down on a greaseproof paper lined baking tray.


Brush with more melted butter and pop them in the oven for approximately 10 minutes or until they're golden brown. I recommend checking after 5 to 8 minutes.

Allow them to cool a bit before eating as they will be really hot.

The are also great to eat once fully cool and will last a few days.
Nutrition
Calories:
148
kcal
Carbohydrates:
26
g
Protein:
1
g
Fat:
5
g
Saturated Fat:
3
g
Polyunsaturated Fat:
1
g
Monounsaturated Fat:
1
g
Trans Fat:
1
g
Cholesterol:
10
mg
Sodium:
171
mg
Potassium:
14
mg
Fiber:
1
g
Sugar:
17
g
Vitamin A:
123
IU
Vitamin C:
1
mg
Calcium:
4
mg
Iron:
1
mg
Please note that the nutrition information provided above is approximate and meant as a guideline only.
Check out more of my festive recipes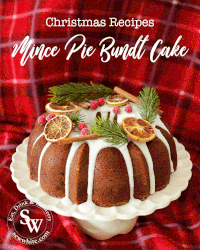 It's beginning to taste a lot like Christmas with my Mince Pie Christmas Bundt Cake. Filled with mince pie filling and spices it's great Christmas bake.
This light and fluffy Orange Cranberry Loaf Cake is packed with dried or fresh cranberries and zesty orange flavour. The cake is simple to make in one bowl with no fancy equipment. And the decoration is so simple you can enjoy it freshly baked and warm from the oven without delay! Plus it's an ideal Christmas Loaf Cake if you are looking for something a little lighter than traditional fruit cake.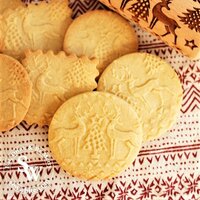 This easy to follow and lightly spiced Embossed Cookie recipe produces a dough which holds the pattern of an embossed rolling pin whilst tasting great! I've got all the tips and tricks you'll need to make perfect rolling pin cookies plus a troubleshooting guide so you'll be able to make the most out of your patterned rolling pin. These spiced sugar cookies are simply perfect and you can use the same recipe to make simple cookie cutter biscuits too.
This is a delicious, lovely, fun and festive dessert. My Christmas Strudel Wreath looks gorgeous on the dinning table and tastes pretty good too. A Christmas strudel is a fun Christmas dessert to make. You build up layers of filo pastry to give a beautifully crisp shell that holds the beautifully sweet mincemeat filling inside.
These White Chocolate Christmas Cupcakes are the cutest addition to a Christmas party. They are easy to make, taste delicious and look wonderful.
Looking for easy Christmas cookies? Then look no further, this is the Christmas recipe for you. My White Chocolate and cranberry Cookies are my favourite bake at Christmas. The creamy white chocolate and sweet cranberries are fantastic together in these white chocolate cranberry cookies. Cranberry and oat cookies are a quick and easy bake perfect to dunk in your coffee or give as gifts at Christmas.
I love apple crumble so I had to put a Christmas twist on it and make an Apple and Cranberry Christmas Crumble with oat crumble topping. Adding cranberries makes the festive crumble extra special and perfect for a winter dessert.