This easy to follow and lightly spiced Embossed Cookie recipe produces a dough which holds the pattern of an embossed rolling pin whilst tasting great! I've got all the tips and tricks you'll need to make perfect rolling pin cookies plus a troubleshooting guide so you'll be able to make the most out of your patterned rolling pin. These spiced sugar cookies are simply perfect and you can use the same recipe to make simple cookie cutter biscuits too.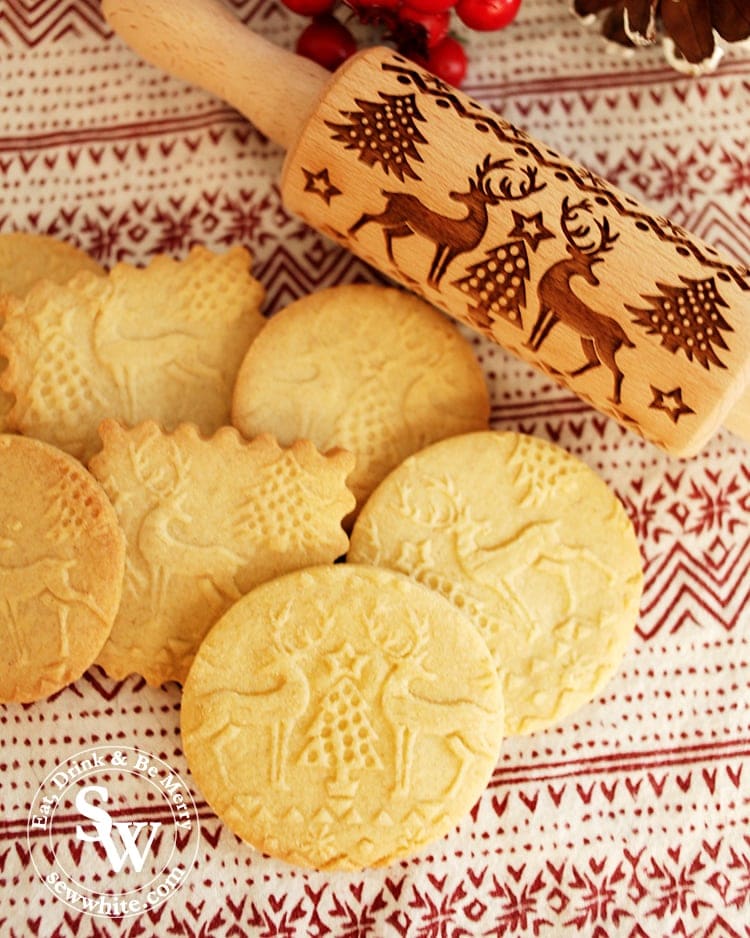 This post contains affiliate links.
I love my embossed rolling pin! The pattern is so super cute and being that it is festive patterned, I like to make the most of it during the holidays. Not all cookie recipes work well with the rolling pin. Many of them shrink, spread or simple lose the embossed pattern when baked.
So I've experimented and come up with the perfect recipe. It was no hardship eating the "fails" I can assure you! As a result I've got a bunch of top tips to help you make sure that it works for you perfectly every single time. Just keep reading, this is not the time to skip straight to the recipe unless you're a confident baker.
This recipe is vanilla flavoured with a light hint of spice. It makes the recipe absolutely perfect for Christmas and any other event over the festive season. But it is also easily adaptable.
There are many embossed rolling pins available that don't have festive patterns. So If you're looking for a cookie recipe to use at another time of the year, this one still works! You can either stick with the spiced recipe, stick with simple vanilla or just use one spice like ginger or cinnamon.
I love how these biscuits came out. The embossed rolling pin really left a beautiful pattern which cooked without distorting it. They also taste incredible. The smell of the Christmas spices really fills the kitchen which makes them a pleasure to make as well as eat.
What is an embossed rolling pin?
An embossed rolling pin has a pattern carved into it which can be transferred onto dough by rolling over it whilst gently pressing down on the rolling pin. The dough can then be baked and if you are using the right dough recipe and keeping it will chilled, the pattern will be seen on the finished baked good.
Unless they're designed for a particular purpose, patterned rolling pins have a pattern that keep repeating seamlessly. Some have simple pretty or geometric patterns and others like the Christmas rolling pin that I've used are themed for special occasions.
In theory that dough can be bread dough, pastry or pie crust or cookie dough. It is much easier to make embossed cookies than bread or pastry and so they are the most common. You do need to use a recipe that is designed to hold pattern when being baked – like this one!
How do you use an embossed rolling pin?
Embossed rolling pins can be a fiddly but taking it gently and using a good cold dough will give you the best results. As will chilling the cookie dough again before popping them in the oven. Keeping the dough cool/cold the when rolling and baking will keep the pattern from spreading.
Once the cookie dough has been properly chilled, it needs to be rolled out the right thickness with regular rolling pin. You can't use an embossed pin for the mechanics of making the cookies. It is only for creating the decorative pattern afterwards.
To ensure the dough doesn't stick to either of the rolling pins or counter, make sure to dust everything with a light coating of flour. Try not to be too generous or you will change the texture of the dough.
The dough needs to be rolled to an even thickness – around 1/2 inch thick. It is best to try and roll it to a rectangle shape just wider than the width of your embossed rolling pin.
Unlike with a normal rolling pin, you only roll once with the embossed rolling pin. Place the rolling pin at one of the dough rectangle and gently roll it along the whole length of the dough. Try to apply the same level of force through the entire roll and don't stop/start.
My embossed rolling pin has handles but I find it easier to press on the main rolling pin rather than use the them. Experiment with the amount of pressure and take it slowly.
Once the pattern is transferred, you can cut out cookie shapes using cookie cutters. If you don't want to cut shapes you can simply use a sharp knife to cut them into squares or bars.
It is worth experimenting with the cookie cutter shapes and sizes to get the best design from your rolling pin pattern. You will see how I centre the reindeer in the middle of my cookies. And I use a mix of shapes which creates a fun variety of finished cookies.
Once the cookies have been carefully moved to a lined baking sheet, they need to be chilled for another 30 minutes before they are baked straight from the fridge.
How do you clean embossed rolling pins?
Cleaning an embossed rolling pin is actually really easy. Hopefully you will have floured the rolling pin before using so you shouldn't have any actual dough stuck to it. But even if you do, they're not difficult to clean.
Once you've used it, use a pastry brush or soft washing up brush (dry) to wipe away any left over dough and/or flour. Once it's free of bits, gently scrub it with a soapy brush to remove the grease.
Don't over scrub and leave the rolling pin to air dry after taking most of the water off with a dish towel. Do not put them in the dishwasher. They are usually made of wood which can split. And plastic ones can actually melt a little and lose their shape.
The Spiced Sugar Cookie Recipe
My embossed cookie recipe is basically a simple sugar cookie recipe with a little added zing. And of course the ratios of ingredients are designed specifically to not spread when baked.
I most often refer to this specific recipe as a "Christmas Spiced Cookie" but really it is a great recipe to use year round. The ginger, cinnamon and vanilla along with mixed spice (more on that in a minute!) are however especially popular through the fall / autumn and across the holiday season.
How to Make a Vanilla Embossed Cookie
If you want to make a more simple cookie, you can just leave the spices out the recipe. Or just use one on its own if you would like an embossed ginger cookie or embossed cinnamon cookie. Whichever option you choose, I would recommend not leaving out the vanilla as it provides a great base for any of the other flavours.
If keeping them plain vanilla, you can add a little extra extract to give them a super vanilla flavour.
Other Flavoured Embossed Cookies
Try replacing the vanilla with one of these flavourings to totally change the flavour without affecting the cookie dough recipe:
Lemon Extra
Orange Extract
Almond Extract
Peppermint Extract
You will see that all of my suggestions are extracts. Itis possible to flavour the dough by adding say lemon zest but it might interfere with the finished design. The same is true for other additions like chocolate chips.
So What is 'mixed spice'?!
Mixed spice is basically the British equivalent of pumpkin spice. It is a pre-blended mix of winter spices which does vary a little depending on which one you buy. But mixed spice almost always contains cinnamon, ground nutmeg, ginger and ground cloves.
Don't confuse mixed spice with allspice. Allspice is a spice in its own right and it quite a different thing.
If you cannot get hold of mixed spice, you can simply use any similar type of spice blend like pumpkin pie spice or apple pie spice. Or if you are really struggling, leave it out entirely and simply up the amount of ginger and cinnamon that you use.
More recipes featuring mixed spice
Embossed Cookie Recipe – Frequently Asked Questions
If you have any other questions which I haven't answered, scroll to the bottom of this page and let me know what you want to know in the comments section.
How Long will These Cookies Keep For?
These cookies will keep for up to 7 days in an airtight container. This makes them ideal for holiday cookie swap or parties as you can make them a few days in advance.
Can I Freeze Embossed Cookies?
I do not recommend freezing the baked cookies. They are rather delicate and could snap easily in the freezer or when defrosting.
You can freeze the sugar cookie dough. Make sure that the dough is fully defrosted but still cold before trying to roll it.
Can I Add Icing to Embossed Rolling Pin Cookies?
You can add more decoration to the cookies once they are cool if you wish.
I would recommend trying to work with the pattern from your rolling pin. So that might involve icing little sections, along certain lines or creating a border. You can also add on extra embellishments like sprinkles or dragées.
This can be a great activity for children, especially as a fun holiday activity.
Why are my embossed cookies a different colour?
The ingredients that you use will affect the finished cookie colour. Because it only goes slightly golden in the oven, the finished cookies are generally the same colour as the dough.
The colour of your butter and egg can make a difference. If you don't add the spices in the recipe, this could also make them a little more pale than normal.
The cookies will taste great just as they are. If you do want to play with coloured dough, you can add a little food colouring. Please make sure to use a paste or gel as liquid food colour will affect the texture of the dough.
Embossed Cookie Recipe – Top Tips!
The best tip I can give for this recipe is keep the dough cold. If it's cold the pattern with stay when it's cooked. When it goes from the cold fridge to the oven it doesn't get a chance to spread before the outer layers have cooked and hardened.
Also try not to work the dough too much. Once it rolled out the first time, cut out as many biscuits as you can. Stack the remaining offcuts then roll them out again. Put the dough back in the fridge to get it get it cold again if you are going to use the embossed rolling pin a second time.
When you use the rolling pin dust it over with a little flour. If anything gets stuck in the grooves then use a pastry brush or clean paint brush to remove it. Dust every few rolls.
This recipe also works really well for for making cookie cutter biscuits. You don't even need an embossed rolling pin to make these cookies!
When you cook them make sure you take them out before they go golden brown as they will dry really hard. Unless you dip them in a mug of hot tea like a Brit, they won't be easy to bite.
Troubleshooting Embossed Rolling Pin Cookies
Because of the nature of it, there are a few things which can go a little wrong with this recipe. But from my experience they can all be fixed.
The Dough Is Too Dry
Sometimes the dough might not come together and stick as a dough. Which will then make it too crumbly to roll out.
If the dough isn't coming together when you mix it together, add a few drops of water. Don't add too much a once. You can add a little more but you cannot take it away.
Another reason it might be too crumbly when being rolled out is that the dough has been overworked when you brought the dough together. You can't turn back the clock so add a little water and keep going.
The dough is cracking at the edges when being rolled
It might be that your dough was too dry for the reasons above.
Or the dough might have been in the fridge too long. Simply give it a moment to warm up a tiny bit, push the cracks back together and keep going.
The pattern doesn't transfer to the dough
If the pattern isn't rolling out, your rolling pin might not have a deep enough design or you aren't pressing hard enough. It takes a bit of practice to work out how to do it.
If you are struggling with the rolling pin, it might be worth practising on something like play-doh first. Just make sure to wash it thoroughly before using on the cookie dough!
The pattern disappears when baked
If everything is going to plan but when you bake this embossed cookie recipe but the design disappears, it could be that your oven is running a bit too hot or they are being placed in a part of the oven which is running hot. (In my oven the top left side runs hotter than the rest so I avoid putting these biscuits near that side)
The biscuits could also have not been chilled for long enough. Make sure your oven is up to temperature before removing them from the fridge and pop them straight in the oven. They don't need to be bought back to room temperature before being baked.
Pin this Embossed Cookie Recipe for later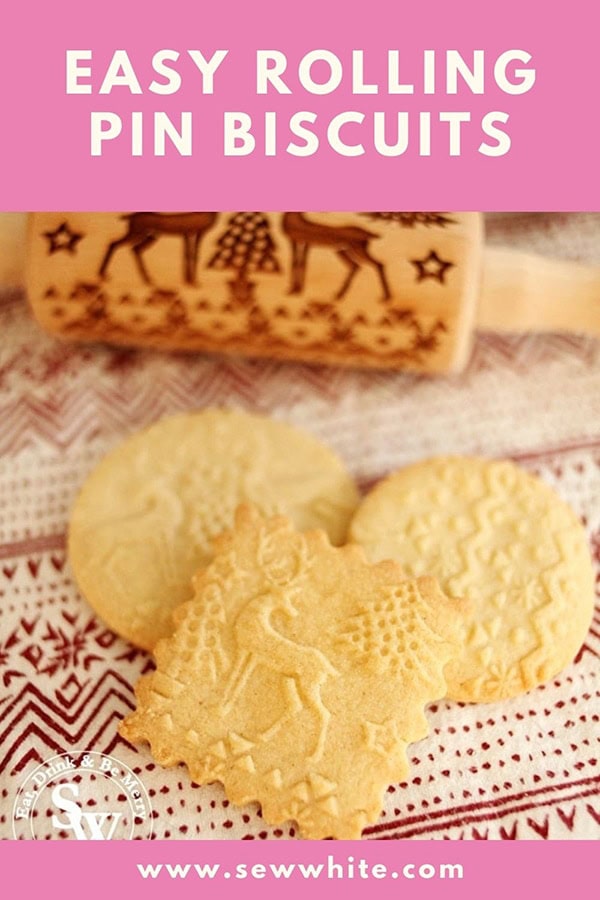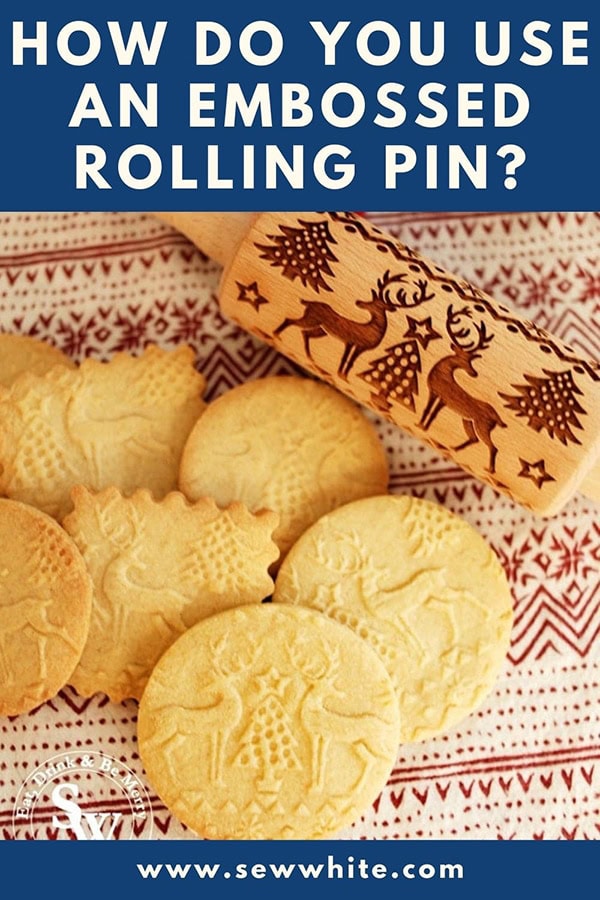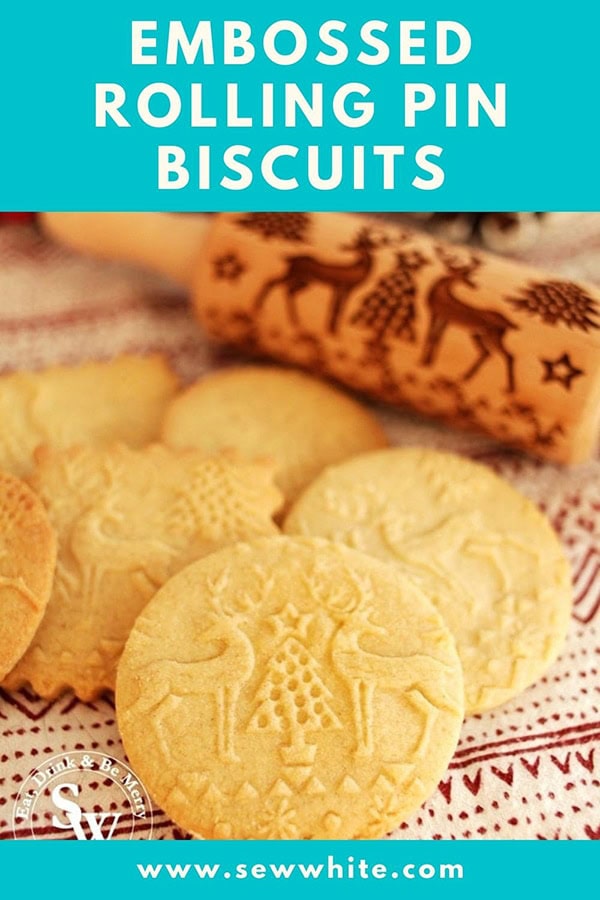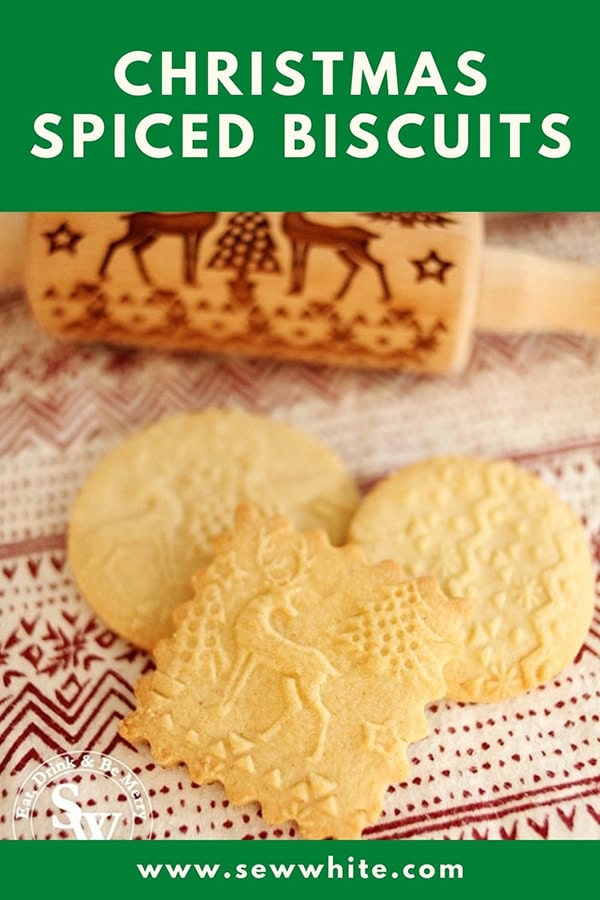 ---
---
Shop My Favorite Embossed Rolling Pins
---
More Cookie Recipe Ideas
---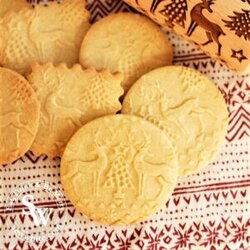 Embossed Cookie Recipe – Embossed Rolling Pin Recipe
This easy to follow and lightly spiced Embossed Cookie recipe produces a dough which holds the pattern of an embossed rolling pin whilst tasting great! I've got all the tips and tricks you'll need to make perfect rolling pin cookies plus a troubleshooting guide so you'll be able to make the most out of your patterned rolling pin. These spiced sugar cookies are simply perfect and you can use the same recipe to make simple cookie cutter biscuits too.
Equipment
Embossed Rolling Pin

Regular Rolling Pin

Cookie cutters

Sieve
Ingredients
200

g

(

1¾

sticks

)

unsalted butter

200

g

(

⅔+¼

cups

)

caster sugar / superfine sugar

1

(

1

)

egg

medium

1

tsp

(

1

tsp

)

vanilla extract

½

tsp

(

½

tsp

)

ground ginger

½

tsp

(

½

tsp

)

mixed spice

or pumpkin spice

½

tsp

(

½

tsp

)

ground cinnamon

400

g

(

2½

cups

)

plain flour / all purpose flour

plus extra for dusting
Instructions
Make The Dough
Cream the butter and sugar together until light and fluffy.

Mix in the egg and vanilla extract.

Sieve in the flour and combine into a dough. If it is a bit crumbly to hold, add a few drops of water at a time to help bring it together.

Once the dough has come together, wrap it in cling film (saran wrap) and put it in the fridge for 30 minutes.
Roll and Cut the Cookies
Dust a surface with a little flour. Roll out the dough with a regular rolling pin to just thicker than 1cm – around ½". You will want to use a little flour on the rolling pin too.

Try to keep the dough rectangle and no wider than the width of your embossed rolling pin.

Lightly flour then roll over the dough with the embossed rolling pin with medium pressure. Just enough to create the pattern with sufficient sharpness but not so hard that you press the pattern out of shape.

Use the cookie cutters to cut out the shapes you want and pop the cookies on a greaseproof paper lined baking tray.

Again it is helpful to dip the cutters in a little flour before each cut.

You can reroll any scraps and repeat the process until it is all used.

Put the cut out dough back into the fridge for a further 30 minutes.
Bake the Cookies
Preheat the oven to 180ºC / 160ºC fan oven/ gas mark 4 or 350ºF around 15 minutes before you intend to start baking.

Place the cookies in the oven for 8-10 minutes until the dough is firm to the touch and just starting to brown around the edges.

You don't want the cookies to colour more than a little else they will dry too crispy. You can see how pale the finished cookies are above.

Leave to cool on a rack and once fully cool, store in an airtight container.
Notes
•To make them great for all year remove the spices and keep them with a beautifully vanilla flavour.
•Troubleshooting ideas and solving problems in the blog post above.
•When making these biscuits don't use spread or margarine. Proper butter will give you the best results.
Nutrition
Calories:
125
kcal
Carbohydrates:
17
g
Protein:
2
g
Fat:
6
g
Saturated Fat:
3
g
Polyunsaturated Fat:
1
g
Monounsaturated Fat:
1
g
Trans Fat:
1
g
Cholesterol:
20
mg
Sodium:
3
mg
Potassium:
19
mg
Fiber:
1
g
Sugar:
7
g
Vitamin A:
175
IU
Vitamin C:
1
mg
Calcium:
5
mg
Iron:
1
mg
Please note that the nutrition information provided above is approximate and meant as a guideline only.
Other delicious Christmas Sweet Treats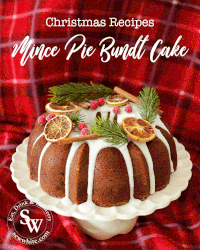 It's beginning to taste a lot like Christmas with my Mince Pie Christmas Bundt Cake. Filled with mince pie filling and spices it's great Christmas bake.
This delicious small batch Christmas Cheesecake with Orange & Cinnamon is filled with iconic flavours of the season and is the ideal make-ahead dessert for any festive occasion. With a no-bake creamy cheesecake layer spiked with orange and chocolate orange Lindor Truffles on a buttery shortbread base, it even makes a showstopping lighter alternative to Christmas pudding!
These Filo Pastry Mince Pie Rolls are a delicious twist on the classic British festive treat. Extra crispy and spiked with cranberry sauce, they're easy to make, easy to bake and easy to eat. What more could you ask for?! They're ideal as a simple festive snack, a fun addition to a buffet or party spread or even as a cheeky appetiser. Or warm them through and serve with brandy butter for the ultimate Christmas dessert.