Enjoy a slice of the Black Forest Bundt Cake. This easy recipe is made with delicious cherry yoghurt and chocolate chips to bring you those iconic flavours in this beautiful cake. Chocolate and cherry cake is a family favourite recipe especially when it's so easy to bake.
I am making this delicious cake for my second live baking demo at Neptune Wimbledon for their Christmas launch event. On a cold November day I will be baking up a storm in the most glorious show room in Wimbledon.
The Neptune homestore is made up of different room sets including kitchens, living rooms, bedrooms and bathrooms. On my first Neptune event on the Autumn launch weekend I was I made my Autumn Blackberry and Ginger Cake. It was such a success. I thought for this event I would make a new cake with a Christmas twist. Ta-Da – I give you my Black Forest Christmas Bundt Cake
Decorating the Black Forest Christmas Bundt Cake
For this new cake I wanted to decorate it in a classy and sophisticated way. Keeping it simple but stylish, I think I pulled it off. I used a basic thick white icing and let it drip down the sides, I love a drip cake. I used fresh rosemary to look like Christmas tree pine leaves. It also smells amazing and has that beautiful earthiness like Christmas tree.
Of course a black forest cake has to have cherries. I used the best sticky glacé cherries. They seem to be a real love hate item. Some people want extra and some are happy to give it up for more cake. I did try adding squares of chocolate on too which I think looked nice but I ended up going with just the rosemary and cherries for the final cake. Don't worry there is chocolate in the cake too.
What is special about a bundt cake?
What makes a bundt cake so special and why I love them is that they are a cake tin with an elaborate design which produces a stunning looking cake. It's a lovely way to make a cake which bakes into a design that doesn't need a huge amount of icing or decorating. Turning it out is a lovely treat and scary moment as you see the design of the finished cake being released.
Proper Bundt tins are created by the iconic American company Nordic Ware. The designs are beautiful and I for one have a wish list for them as long as my arm. The tin I used for this cake is the Anniversary Bundt tin. It's a simple and iconic tin where the finished cake looks striking and is easy to decorate.
How to decorate a Black Forest Bundt cake?
To decorate a Bundt cake, especially for a Black Forest Bundt cake, I would always recommend a simple drizzle of white icing, topped with cherries. The white icing makes a beautiful and striking back drop for the red cherries. To add the forest idea to the cake I wanted to add some fresh rosemary. Partly as it looks like Christmas tree and that helps to make it more Christmassy. It also adds a beautiful smell to the cake. The earthy rosemary and sweet icing is a beautiful combination. Please tell your guests not to eat the rosemary though, you can but the cake is definitely more delicious.
I will let you know how the event goes next weekend. This is all very exciting to be able to create new recipes. I loved creating this as a practice and will love creating again.
Beautiful Christmas Bake
This Black Forest Bundt Cake is a beautiful Christmas bake. It looks slightly like a wreath so that adds points to the Christmas column. The Black Forest flavours of dark chocolate and cherry could be argued as the ultimate of winter flavours. It's so rich and indulgent but in this cake form it's so much lighter than a thick gateaux. I decorated the Black Forest Bundt Cake with a simple white icing, cherries, sprigs of rosemary to give even more of a Christmas feel. Plus it smelled incredible.
What is the difference between chocolate cake and black forest cake?
The difference between chocolate cake and black forest cake is the addition of cherries and berries to the mix. Chocolate late is normally a simple chocolate sponge with chocolate butter cream or chocolate frosting in the middle. Plus usually some cream too!
Black Forest cake is a rich a luxurious cake which combines the best of a chocolate cake mixed with berries, usually cherries. However you can also find Black Forest cakes with blackberries and other berries too. Black Forest traditionally comes with the addition of Kirsch. Kirsch is a clear brandy that is distilled from cherries. So adding it to the Black Forest mix means you get even more of that beautiful rich cherry flavour in the finished cake.
Kirsch Drizzle Cake
In this recipe I didn't use Kirsch as I wanted it suitable for the whole family. If you wanted to add I would use as a glaze or drizzle on the cake. Once you have the cake cooked, cooled and turned out. Mix up 3 tablespoons of Kirsch with 1 tablespoon of sugar and cook on a low heat in a saucepan for about 5 minutes until it starts to turn into a syrup. Keep an eye on it and keep stirring. Then drizzle the syrup over the cake and let it soak in. The Kirsch flavour will absorb in and make the cake taste incredible. A Kirsch Drizzle Cake will definitely be in the pipeline soon. As soon as I have it perfected I will pop it on blog.
black forest mini bundt cake
If you have mini Bundt cake tins then this recipe will work perfectly. For the mini tins I would fill them about just slightly higher than half full as they will rise. Make sure you grease them well too with melted butter and dusting of plain flour to make sure you have greased everywhere well. This will help the little mini bundts comes out easily.
Pin me for later
Black Forest Bundt Cake
Enjoy a slice of the Black Forest Christmas Bundt Cake this festive period. It's made with delicious cherry yoghurt and chocolate chips.
Ingredients
250

g

unsalted butter

220

g

golden caster sugar

200

g

light muscovado sugar

4

large eggs

350

g

cherry yoghurt

2

heaped teaspoons mixed spice

300

g

plain flour / all purpose flour

50

g

cocoa powder

2

teaspoon

bicarbonate of soda

tiny pinch of salt

100

g

chocolate chips or chocolate bar chopped up
Decorations
200

g

icing sugar / confectioners sugar

a few drops of water

glacé cherries

fresh rosemary

chocolate squares
Instructions
Preheat the oven to 180ºC/175ºc fan.

Grease the bundt cake tin (or 2 x 6inch round cake tin) with melted butter and dust with flour – this will help you see if you haven't greased any spots.

In a stand mixer cream the butter at room temperature and sugars until pale and fluffy.

Add the eggs one at a time and mix together.

Mix in the yoghurt.

In a separate bowl, measure and sieve out the flour, bicarbonate of soda, salt and all the ground spices.

Sieve in the flour gradually and stop when the flour is evenly mixed in.

Pour three quarters of the mix into the tin. Add the chocolate chips or chopped chocolate and add them in to the left over mix and add it to the tin. This stops the chocolate falling to the bottom of the cake.

Bake for 1 hour or until a skewer comes out clean and the cake starts to pull away from the sides of the tin. Turn it around after 35 minutes to make sure it's evenly cooked.

Leave the cake to cool fully before removing from the tin.

Mix the icing sugar with a few drops of water to make an icing and drizzle it over the cake.

Top with cherries, rosemary and squares of chocolate. Serve and enjoy.
Notes
To make it extra chocolatey replace 40g of flour and add 40g cocoa powder.
Nutrition
Please note that the nutrition information provided above is approximate and meant as a guideline only.
A fan of bundt cakes? Try my other recipes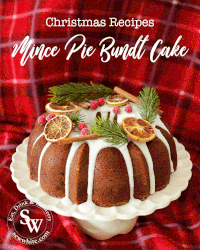 It's beginning to taste a lot like Christmas with my Mince Pie Christmas Bundt Cake. Filled with mince pie filling and spices it's great Christmas bake.
My Daiquiri bundt Cake is a simple and delicious cake perfect for gatherings, parties or just a nice snack with a cup of tea. It also tastes amazing served with a cocktail!
Have you been picking blackberries or have some to use up? This moist and slightly spicy Blackberry Cake is a yoghurt based bundt cake with mixed spice, ground ginger and fresh blackberries. It is a warming bake for blackberry fans. Plus a great way to use up any extras to make them last a little longer.
My Cranberry and Lemon Bundt Cake is a delicious showstopper of a cake. It's also so easy to make and quick to decorate. This recipe can also be used to create a normal layer cake in time for Christmas.
What a great and delicious dessert to share around the dinner table. My Black Forest Truffle Eton Mess mixes the great black forest flavours in a new way.
Other Bakes from my Christmas Demo at Neptune Wimbledon
These White Chocolate Christmas Cupcakes are the cutest addition to a Christmas party. They are easy to make, taste delicious and look wonderful.
It's finally Christmas season and that means it's time to enjoy this easy chocolate cranberry cake! It's fruity, sweet and creamy – and ridiculously delicious!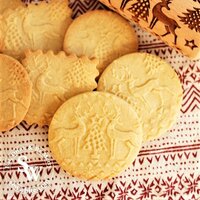 This easy to follow and lightly spiced Embossed Cookie recipe produces a dough which holds the pattern of an embossed rolling pin whilst tasting great! I've got all the tips and tricks you'll need to make perfect rolling pin cookies plus a troubleshooting guide so you'll be able to make the most out of your patterned rolling pin. These spiced sugar cookies are simply perfect and you can use the same recipe to make simple cookie cutter biscuits too.
Black Forest Recipes
My take on the classic Black Forest Cake combines the flavours of chocolate and cherries in a light sponge bundt cake perfect for afternoon tea.
This Black Forest Cheesecake is inspired by the gorgeous chocolate cherry and cream flavours of a traditional Black Forest Cake. Juicy kirsch spiked cherries are piled onto a super creamy no-bake cheesecake layer and bourbon biscuit base then topped with lashings of dark chocolate shards. Small but perfectly formed, this is an ideal dessert at any time of year!
This easy black forest cake is a delicious dessert, perfect for enjoying in the Winter months as it's full of subtle Christmas flavours.
A delicious mix of the fresh fruit flavours from a Black Forest Gateau and the rich chocolate from brownies make these Black Forest Brownies perfect combination and are easy to bake at home.
View all my sweet treat recipes.
Follow me on instagram to see what I've been making recently. www.instagram.com/sewwhite