My Daiquiri bundt Cake is a simple and delicious cake perfect for gatherings, parties or just a nice snack with a cup of tea. It also tastes amazing served with a cocktail!
The strong lime flavour mixed with the sugar white rum makes this cake tart but still has a sweetness. It's like a drizzle cake but with an alcoholic drizzle. The Daiquiri cocktail is not just drizzled in after baking but also in the cake itself. What is better than one cocktail in cake? two in a cake. If you love Daiquiri cocktails as much as me you will love this. I actually made this for my birthday one year I loved it so much.
Lime Cake
The daiquiri cake is a special cake and one that I make for myself for a weekend treat and even for my birthday last year. The light sponge and limey and zesty flavour of the cake makes it a perfect for a spring bake. The moist Bundt cake really holds the Daiquiri flavour well. Bundt cakes are also really good for turning into drizzle cakes.
Making a drizzle bundt cake
Bundt cakes work so well as drizzle cakes as the yoghurt mixture keeps the cake moist already. The drizzle can move through the cake crumb really easily too. I know that sounds weird but I know it works. I love making a lemon drizzle bundt. Using lemon yoghurt in the middle and then adding a lemon drizzle on top. Divine. Using cocktails works so well too. The sugar in the cocktails really helps makes a syrup that can easily be drizzled.
The Daiquiri bundt Cake recipe
You can make this cake on the day you need it or as it will so extra moist from the drizzle you can make it a day or so before. Just store in a air tight box until you need it. Don't put it in the fridge but keep it somewhere cool.
Can I make daiquiri cocktail bundt cake?
Yes you can. It is a wonderfully easy thing to turn a delicious bundt cake into a cocktail cake. I made sure there were the essentials daiquiri flavours of lime, rum and of course a little sugary sweetness. I used a lemon yoghurt but you can use a lime flavour if you can find it. I used lemon and then add lime juice and lime zest too. It really gave such an incredible flavour. I used a cocktail as a drizzle to really infuse the flavour of this iconic cocktail into the finished bake. Make sure you add the drizzle when the cake is still slightly warm as it will sink through beautiful.
What do I need for a Daiquiri cake?
For this delicious recipe you will need
butter
golden caster sugar
medium eggs
lemon yoghurt if you can find lime then use that
plain flour
bicarbonate of soda
tiny pinch of salt
For the daiquiri cake drizzle you will need
white rum
limes
granulated sugar
limes as decoration
icing sugar
How to decorate a drizzle bundt cake?
The best way to decorate a drizzle bundt cake, once you've done the drizzle and let it sink in and infuse the finish cake, to do a thick drizzle of icing on top. I love how the Nordic Ware tins produce such beautiful results and a simple white icing shows off the shape but also looks striking against the golden brown cake.
For the daiquiri bundt cake I used some lime zest to add a little extra colour and to give a clue to what the flavour was inside.
Want to try another cocktail bundt cake? Try out my mojito bundt cake
Daiquiri Cocktail Bundt Cake
My Daiquiri bundt Cake is a simple and delicious cake perfect for gatherings, parties or just a nice snack with a cup of tea. It also tastes amazing served with a cocktail!
Ingredients
220

g

unsalted butter

450

g

golden caster sugar

4

medium eggs

350

g

lemon yoghurt

if you can find lime then use that

350

g

plain flour / all purpose flour

½

teaspoon

bicarbonate of soda

tiny pinch of salt

150

ml

white rum

3

limes

(juice of)

4

tablespoons

granulated sugar

the grated zest of 3 limes thinly cut as decoration

icing sugar / confectioners sugar

(and a few drops of water to get a thick yet slightly runny consistency)
Instructions
Preheat the oven to gas 150 (fan) 160 (regular).

Grease the tin well. I use melted butter and paint it on with a pastry brush and then I dust with plain flour which helps to find any places on the tin I've missed to grease. (the best thing to do with detailed Nordic Ware tins)

In the mixer cream together the butter and sugar until fluffy.

Add the eggs one at a time until well mixed in.

Add the yoghurt into the butter mixture and mix.

In a separate bowl measure out and sieve the flour, bicarbonate of soda and salt.

Mix the flour mix in slowly until all the flour has disappeared.

Add the mixture to the prepared bundt cake tin.

Bake in the centre of the oven for about 1 hour 15 minutes or until a skewer comes out clean. When the cake pulls away from the edge of the tin the cake is ready.

After 30 minutes turn the cake out on to a cooling rack. Using a skewer, poke holes in the cake ready for the drizzle.

Zest the lime and set aside, squeeze the juice of the lime into a saucepan.

Add the white rum and granulated sugar.

Keep stirring until the mix starts to thicken and then take off the heat and drizzle over the cake.

When the cake is cold make up the icing and decorating with the lime zest.
Nutrition
Calories:
210
kcal
Carbohydrates:
41
g
Protein:
4
g
Fat:
2
g
Saturated Fat:
1
g
Trans Fat:
1
g
Cholesterol:
36
mg
Sodium:
60
mg
Potassium:
84
mg
Fiber:
1
g
Sugar:
26
g
Vitamin A:
88
IU
Vitamin C:
3
mg
Calcium:
45
mg
Iron:
1
mg
Please note that the nutrition information provided above is approximate and meant as a guideline only.
Follow me on Instagram to see what I've been making recently. www.instagram.com/sewwhite
My Cranberry and Lemon Bundt Cake is a delicious showstopper of a cake. It's also so easy to make and quick to decorate. This recipe can also be used to create a normal layer cake in time for Christmas.
Enjoy a slice of the Black Forest Christmas Bundt Cake this festive period. It's made with delicious cherry yoghurt and chocolate chips.
My cherry bundt cake is a light and fruity cake perfect to accompany a cup of tea or coffee this spring. Enjoy my delicious recipe today and get baking.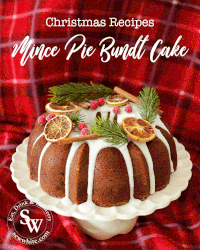 It's beginning to taste a lot like Christmas with my Mince Pie Christmas Bundt Cake. Filled with mince pie filling and spices it's great Christmas bake.
Focaccia Bundt Loaf is a great way to serve a focaccia at a party or event and even for dinner. The Bundt tin makes the finished bread shape look gorgeous.
This is one of my favourite recipes. The Strawberry and Banana Smoothie Bundt is easy to make and tastes wonderful no matter what the event.
I love chocolate cake so I created this beautiful chocolate bundt cake. For Easter I turned it into a chocolate nest and filled it with mini eggs.
A fresh and fruity cake and easy to make at home. Enjoy the Passion fruit bundt cake this spring and summer. Using a Nordicware bundt tin.
Have you been picking blackberries or have some to use up? This moist and slightly spicy Blackberry Cake is a yoghurt based bundt cake with mixed spice, ground ginger and fresh blackberries. It is a warming bake for blackberry fans. Plus a great way to use up any extras to make them last a little longer.