It's finally the Christmas season and that means it's time to enjoy this easy white chocolate cranberry cake! It's a fruity cake which has a sweet buttercream and of course is an easy Christmas cake. Wonderful for a Christmas party or Christmas event and above all it is ridiculously delicious! White chocolate Christmas cake with cranberry ready needs to be on the menu a lot more over the festive period.
Now I may be biased but I think this cake is incredible! It's soft, moist, chocolatey and fruity in every single bite! The white chocolate and cranberry combination is a popular one for good reason – it's delicious!
Plus, cranberries are perfect for Christmas – making this the perfect Christmas cake for anyone who's not a massive fan of fruitcake!
White Chocolate Cranberry Cake – the perfect Christmas layer cake
The white chocolate may make the cake look overly sweet, but thanks to the tart cranberries it's just right – not too sweet and not too acidic! It's definitely moreish – everyone always wants seconds when I make it!
I decorated my cake by piping buttercream swirls around the top, which also work well as indicators for the size of a slice! I added extra cranberries and white chocolate around the edge too – to make it look like a wreath! Plus, just a few pink and white sprinkles – because it's not a proper cake if it doesn't have sprinkles!
What I baked at Neptune Wimbledon
At the Christmas event at Neptune Wimbledon, I made this cake go a bit further by turning it into a larger 2-layer cake. This meant that I changed it from 3 6 inch cake tins to one 10 inch cake tin – and then sliced that one cake in half to form the two layers. This does affect cook time, but if you're feeding a larger group then it's definitely worth it!
For the larger cake, I decorated it in the same way except without the buttercream in the middle of the top to make it look even more like a wreath. It looked stunning (if I do say so myself!) and we got a massive 25 slices out of it! We could probably have gotten even more portions out of it if I'd calculated them beforehand though!
Cranberry layer cake
What I love about this cranberry layer cake is the moist cake studded with gorgeous dried cranberries. As the cake cooks the cranberries rehydrate slightly and almost become juicy. Definitely squidgier than before anyway. By building up the layers it looks beautiful but it's also easy to stack.
Top tips for the white chocolate cranberry cake
My top tips for the white chocolate cranberry cake are
slightly chop up the cranberries before adding them in to the cake mix. This helps the cranberries be mixed equally through the mix.
White chocolate chips will work but taking a white chocolate bar and chopping it into small shards and pieces will help the white chocolate spread beautifully throughout. Either way works but white chocolate bar is my top tip!
The buttercream can be made and frozen until you need it. Just defrost and then whip up again to get it fluffy again. I love storing it ready for later.
What do I need to make this white chocolate cranberry cake?
There are effectively 3 parts to this cake – the cake itself, the buttercream and the decorations.
For the cake:
Unsalted butter so that you can season the cake properly yourself
Golden caster sugar. It adds a wonderful flavour that you just don't get with regular caster sugar!
Large eggs – and make sure they are actually large! Medium or small aren't good substitutes here.
Vanilla yoghurt. You can choose your yoghurt based on how sweet you like it – choose sweeter yoghurt for a sweeter cake!
Mixed spice – this spice blend just smells like Christmas!
Plain flour to give the cake structure.
Bicarbonate of soda to help the cake rise and become light and fluffy.
A pinch of salt to season the cake (skip this if your butter is salted)
Finely chopped white chocolate instead of chocolate chips – it melts into the cake batter better to provide a more even white chocolate flavour.
Chopped dried cranberries – because it wouldn't be a Christmas cranberry cake without them!
For the buttercream for the cranberry layer cake:
Unsalted butter – and plenty of it!
Icing sugar to provide sweetness and structure to the buttercream. And yes, the quantity in the recipe card is correct – I know it looks like a lot!
A little bit of milk to give the frosting some richness.
A touch of vanilla extract so that it has a nice subtle flavour.
For the decorations for the white chocolate cranberry cake:
Really, this is optional – I just used the buttercream, white chocolate chips, dried cranberries and some sprinkles. If you want to use more then go for it – the brighter and more colourful the better! The taste of the cake is sorted so be creative with the white chocolate cranberry cake decorations.
On top of your buttercream swirls, you can even add some dried orange slices. They look amazing and smell just as good.
How do I make this easy cranberry cake?
We'll just cover the main cake here since the buttercream follows the standard method! Don't worry – it's easier and quicker than it looks!
Preheat the oven and grease and line the cake tins.
In a stand mixer, cream the butter and sugar until pale and fluffy.
Add the eggs one at a time and mix in gently.
Gently mix in the yoghurt.
In a separate bowl, sift together the flour, bicarbonate of soda, salt and mixed spices.
Gradually add the flour to the wet ingredients, mixing until just combined.
Add the finely chopped chocolate and cranberries and gently mix them in.
Divide the mix between the cake tins and bake until golden and cooked through.
Leave to cool before removing from the tins and levelling the cakes off if they need it.
Mix up the buttercream and add to a piping bag. Build up the layers and decorate however you like!
And that's all, really! You could consider colouring the buttercream, but I prefer to keep things simple when it comes to food dye since it can be so difficult to get the colour just right!
I'd recommend storing this cake at room temperature for 3-5 days maximum, although I'm sure it'll be long gone by then! It's best stored in an airtight container like a cake tin or large tupperware.
Equipment you will need *Affiliate Amazon links*
Pin me for later
I've linked up this recipe to this week's CookBlogShare Sweet Winter Treats hosted by me
Easy Christmas White Chocolate & Cranberry Cake
It's finally Christmas season and that means it's time to enjoy this easy chocolate cranberry cake! It's fruity, sweet and creamy – and ridiculously delicious!
Ingredients
250

g

unsalted butter

425

g

golden caster sugar

4

large eggs

350

g

vanilla yoghurt

2

heaped teaspoons mixed spice

350

g

plain flour / all purpose flour

2

teaspoon

bicarbonate of soda

tiny pinch of salt

100

g

white chocolate bar

finally chopped up

75

g

dried cranberries

chopped up
Decorations
1

portion of

buttercream

below

white chocolate chips

dried cranberries

sprinkles
Buttercream
300

g

unsalted butter

700

g

icing sugar / confectioners sugar

2

tbsp

milk

0.5

teaspoon

vanilla extract
Instructions
Preheat the oven to 180ºC/175ºc fan.

Grease and line 3 x 6inch round cake tin with melted butter and greaseproof paper.

In a stand mixer cream the butter at room temperature and sugars until pale and fluffy.

Add the eggs one at a time and mix together.

Mix in the yoghurt.

In a separate bowl, measure and sieve out the flour, bicarbonate of soda, salt and the mixed spices.

Sieve in the flour gradually and stop when the flour is evenly mixed in.

Finely chop up a bar of white chocolate and mix in to the cake mixture.

Lightly chop up the dried cranberries. This stops them sinking when baking. Mix them in.

Divide the mix into the cake tins.

Bake for 35-45 minutes or until it's golden brown, a skewer comes out clean and the cake starts to pull away from the sides of the tin. Turn it around after 30 minutes to make sure it's evenly cooked.

Leave the cake to cool for 30 mins before removing from the tin.

Level off the cakes if they need it.

Mix up the buttercream in a mixer until light and fluffy.

Add the buttercream to a piping bag with a star nozzle.

Add a few swirls to each layer and build them up.

Add the final buttercream siwrls to the top and decorate with the white chocolate, dried cranberries and sprinkles.
Notes
You can make this a bigger family cake by using a 10inch cake tin for all the mix and dividing it in half once cooked. It will then feed about 25 people.
Nutrition
Please note that the nutrition information provided above is approximate and meant as a guideline only.
This cake featured on my Christmas demo at Neptune Wimbledon along with these bakes…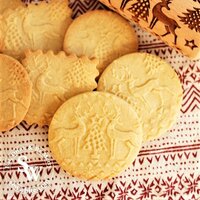 This easy to follow and lightly spiced Embossed Cookie recipe produces a dough which holds the pattern of an embossed rolling pin whilst tasting great! I've got all the tips and tricks you'll need to make perfect rolling pin cookies plus a troubleshooting guide so you'll be able to make the most out of your patterned rolling pin. These spiced sugar cookies are simply perfect and you can use the same recipe to make simple cookie cutter biscuits too.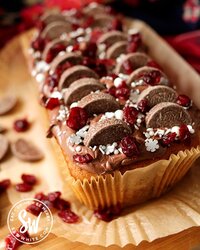 If you are looking for a really delicious easy Christmas loaf cake then you are in the right place. In this fun chocolate cranberry loaf I combine the iconic flavours of Terry's Chocolate Orange and cranberries to make a delicious and easy Christmas loaf.
Enjoy a slice of the Black Forest Christmas Bundt Cake this festive period. It's made with delicious cherry yoghurt and chocolate chips.
These White Chocolate Christmas Cupcakes are the cutest addition to a Christmas party. They are easy to make, taste delicious and look wonderful.
What a great and delicious dessert to share around the dinner table. My Black Forest Truffle Eton Mess mixes the great black forest flavours in a new way.
This light and fluffy Orange Cranberry Loaf Cake is packed with dried or fresh cranberries and zesty orange flavour. The cake is simple to make in one bowl with no fancy equipment. And the decoration is so simple you can enjoy it freshly baked and warm from the oven without delay! Plus it's an ideal Christmas Loaf Cake if you are looking for something a little lighter than traditional fruit cake.
Welsh cakes are incredibly moreish and to make mine I decided to add a delicious twist of flavours. My cranberry Welsh cakes taste so good! You will want more than one!
My Cranberry and Lemon Bundt Cake is a delicious showstopper of a cake. It's also so easy to make and quick to decorate. This recipe can also be used to create a normal layer cake in time for Christmas.
If you like fruity cakes then you might like these cakes too…
My Orange Drizzle Cake recipe is full of fresh and fruity orange flavours combined with light and fluffy sponge cake. This fresh orange cake is full of flavour and absolutely delicious. I love this orange juice cake for a light easy-to-eat cake all year round. It's a lovely cake for a weekend bake and is great as an afternoon tea cake too. This easy orange upside-down cake with fresh orange is so moist and above all sweet and juicy.
My delicious summer fruit sponge pudding combines a light and fluffy lemon sponge on top of a rich layer of summer fruits perfect to enjoy all year.

View all my sweet treat recipes.
Follow me on Instagram to see what I've been making recently. www.instagram.com/sewwhite
I've linked this recipe to the incredibe #CookBlogShare round up for food bloggers.