My delicious summer fruit sponge pudding combines a light and fluffy lemon sponge on top of a rich layer of summer fruits perfect to enjoy all year.
I love the mix of sponge and fruit together in the same pudding. The fruit is able to soak into the sponge a little and is just great to have a pudding you can serve straight from the oven
It doesn't take long to make and could be easily adapted to use different fruits. Next time I think I will try adding strawberries to make it a perfect summer pudding. Especially drizzled with cold cream.
The shallow casserole dish from Le Creuset
To make this dish I used the gorgeous shallow casserole dish from Le Creuset. It's a hob and oven safe dish made of cast iron and since I received it, I have used it for everything.
Like great cookware it's so versatile. I have cooked chicken dinners, pancakes, scrambled eggs, risottos and puddings in the same pan. I loved using this pan for the pudding as it started catching and browning too much I popped the lid on. It's also easy to wash up and we can all agree that is a massive bonus aspect.
Check out the range of colours this beautiful shallow casserole dish comes in. Click here to be taken to the Le Cresuet website.
Can I use fresh fruit in the bottom of the sponge instead of frozen fruit?
Yes of course. If you want to make this a fresh fruit sponge pudding then I would recommend chopping the fresh fruit in to 1cm or so chunks. Sprinkling them with a little sugar and squeezing a little lemon juice over the top. About 1 tablespoon should be enough.
If you want to make it more saucy then pop the fruit in to a saucepan and add the lemon and sugar as above. Then allow the fruit to soften on a low heat for a few minutes. They will get soften and more gooey and will make the finished sponge a lot more saucy and jammy once cooked.
Can I add frozen fruit to a cake?
It is easy to add frozen fruit to cakes and bakes. Most of the time recipes will call for the fruit to be thawed before cooking. In this recipe for summer fruit sponge pudding I have used frozen fruit which is used straight from the freezer. The cake sponge mix that goes over the frozen fruit and cooks up there. As the fruit is in the oven it will thaw and squish. The moisture from the frozen fruit will also help create that jamminess, which is one of the things which is so good about this sponge cake.
Can I add alcohol to the sponge cake?
The best way to make this sponge slightly boozie is by adding alcohol to the fruit under the sponge. The sponge will absorb some of the flavour and smell especially wonderful. The best alcohol beverage you can add to this summer fruit sponge pudding includes;
When using alcohol in this recipe I would recommend using about 50ml for a sponge this big. Pour the spirit over the frozen fruit and let it melt slightly so you can mix it together. It might take a while but if you want it done quick. Pop the fruit and spirit into a saucepan and allow it all to melt together and soften. Remove from the heat and allow to cool before adding to the oven proof dish and adding the sponge toppings.
Cold cream over hot sponge and fruit. It's a delicious!
How do I make the summer berry sponge pudding?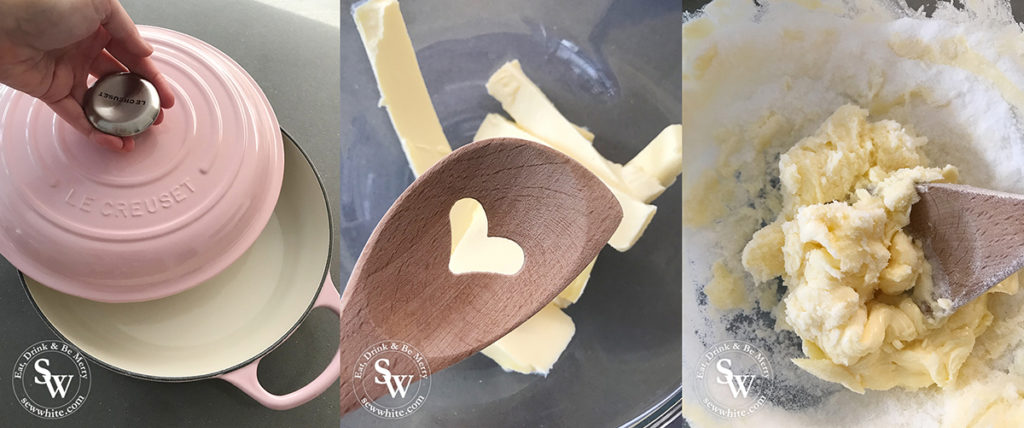 Cream together the butter and sugar until light and fluffy.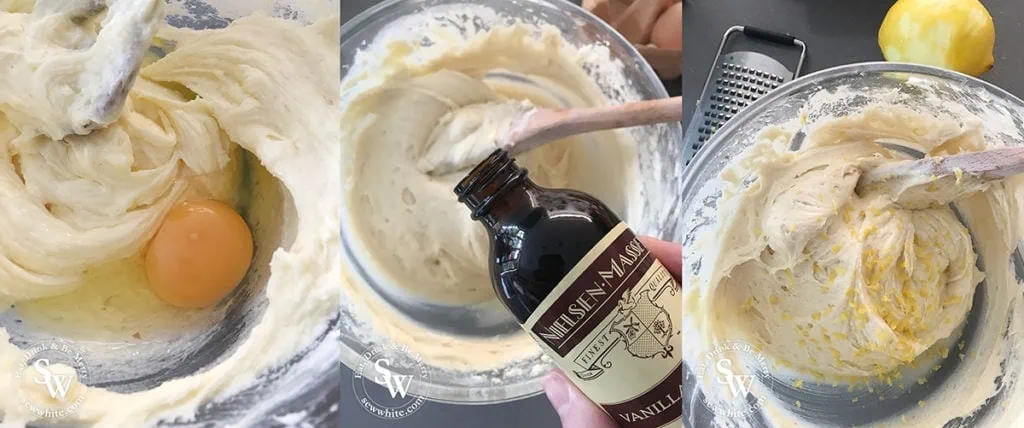 Stir in the eggs one at a time. Add the vanilla extract followed by the flour and baking powder. Add the zest of one lemon plus the juice of half the lemon to the mix and stir together.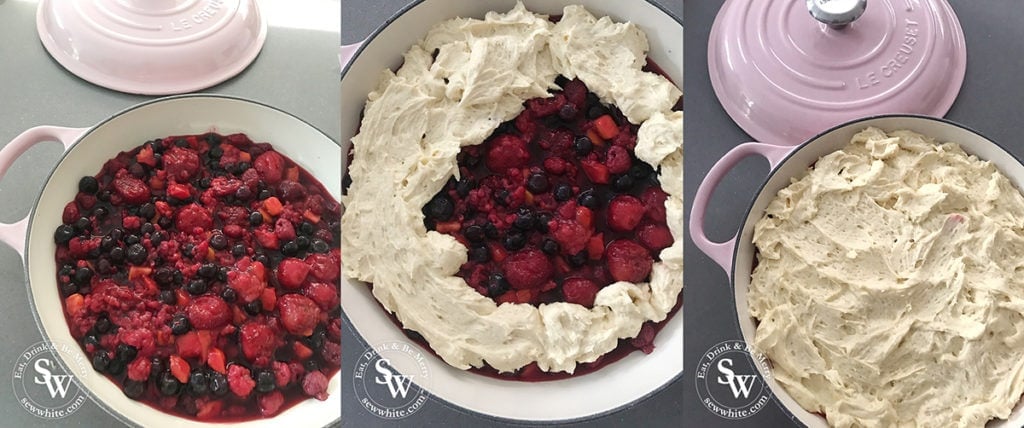 Spoon in the defrosted summer berries into the oven proof dish. Gently spoon over the sponge and pop it in the oven.
When the cake is cooked I loved scooping into it to reveal the gorgeous bright red fruit underneath. The recipe easily makes enough for 8 portions.
My gran described it as a self saucing pudding and I think she's right! It also lasts really well when cool and then reheated the next day.
Hot fruit and sponge is a winning combo!
Serving the summer fruit sponge pudding straight from the oven is a joy and I love how warm the sponge and fruit was. Drizzling cream over the pudding added a delicious coolness to the dish. However we did discuss the possibility of adding ice cream and custard.
Pin me for later
Summer Fruit Sponge Pudding
My delicious summer fruit sponge pudding combines a light and fluffy lemon sponge on top of a rich layer of summer fruits perfect to enjoy all year.

Ingredients
1

kilo

frozen mixed berries

allow to defrost before using

180

grams

unsalted butter

180

grams

caster sugar

180

grams

self-raising flour

3

eggs

1

teaspoon

vanilla extract

1.5

teaspoon

baking powder

1

lemon zest

Juice of half a lemon

icing sugar / confectioners sugar
Instructions
Preheat the oven to 180 degrees.

Add the berries in the bottom of a large oven safe dish.


In a bowl cream the butter and sugar together until light and fluffy.


Stir in the eggs one by one. Add a spoonful of flour if the mixture starts to curdle.


Add the vanilla extract.


Sieve in the flour and baking powder and mix together.


Zest the lemon and add juice from half with the zest it in to the mix. Stir together.


Gentle spoon over the cake mix.


Bake for approx 35 minutes to 45 minutes until the cake is golden brown and a cake tester comes out clean. (I added the lid after 20 minutes as my oven was browning the top too quickly.)


Sprinkle with icing sugar and serve straight away with cream.

Nutrition
Please note that the nutrition information provided above is approximate and meant as a guideline only.
If you like this you might enjoy these other fruity bakes
It's finally Christmas season and that means it's time to enjoy this easy chocolate cranberry cake! It's fruity, sweet and creamy – and ridiculously delicious!
My Blueberry and Lemon Bread and Butter Pudding is so light and fluffy yet it is filled fresh flavours and is the perfect crowd pleaser for pudding.
Orange Lavender Loaf is a wonderful summer bake. It combines the fruitiness of oranges and floral delight of lavender. Perfect for picnics.
This brioche bread pudding is a warm, fruity treat and is perfect for brunch or dessert all year round. In my humble opinion, it's the best dessert there is!
Follow me on instagram to see what other cakes I've been making recently. www.instagram.com/sewwhite
I've joined my recipe with loads of gorgeous other bloggers with #CookBlogShare.