This brioche bread pudding is a warm, fruity treat and is perfect for brunch or dessert all year round. In my humble opinion, it's the best dessert there is!
This is a super simple pudding and is always popular at home – I always keep a bag of frozen fruit in the freezer so that I can whip it up in seconds if I come across a brioche loaf. After all, I couldn't just not buy brioche!
My favourite part of making this recipe is spooning the hot fruit over the bread – the berry smell is so rich, sweet and tart! The soft creamy brioche smells amazing at the same time – it's crisp, toasted and while the fruit can be a little sour alone, the sweetness of the brioche compliments it perfectly.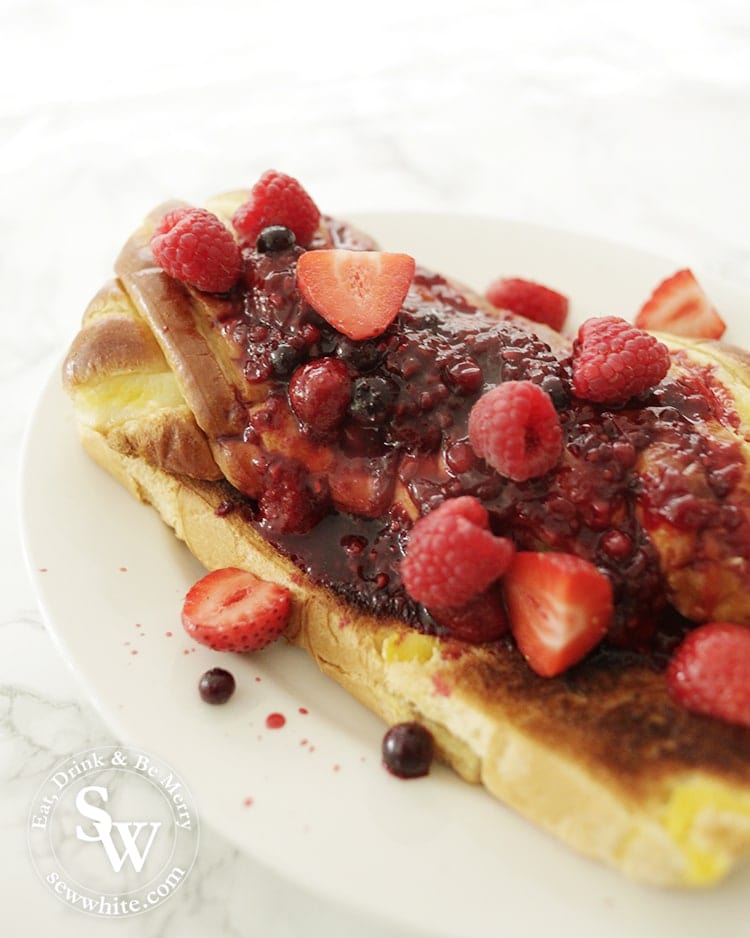 What do I need to make a brioche bread pudding with berries?
You really only need a handful of fairly common ingredients here. None of it is too expensive or hard to work with – trust me.
A brioche loaf – ideally approximately 400g in weight
100 grams redcurrant jelly – it brings a brilliant tart sweetness to the compote
500 grams of frozen summer berries – I used a mix of strawberries, blackberries, blackcurrants, blueberries, raspberries and redcurrants
50ml of brandy – this is strictly optional, but I just adore the flavour it adds to the compote!
The juice of half a lemon – this helps to break down the fruit, as well as balancing the sweetness and acidity
And then for decoration, icing sugar (to dust) as well as fresh strawberries and raspberries. Nothing too weird or wonderful here!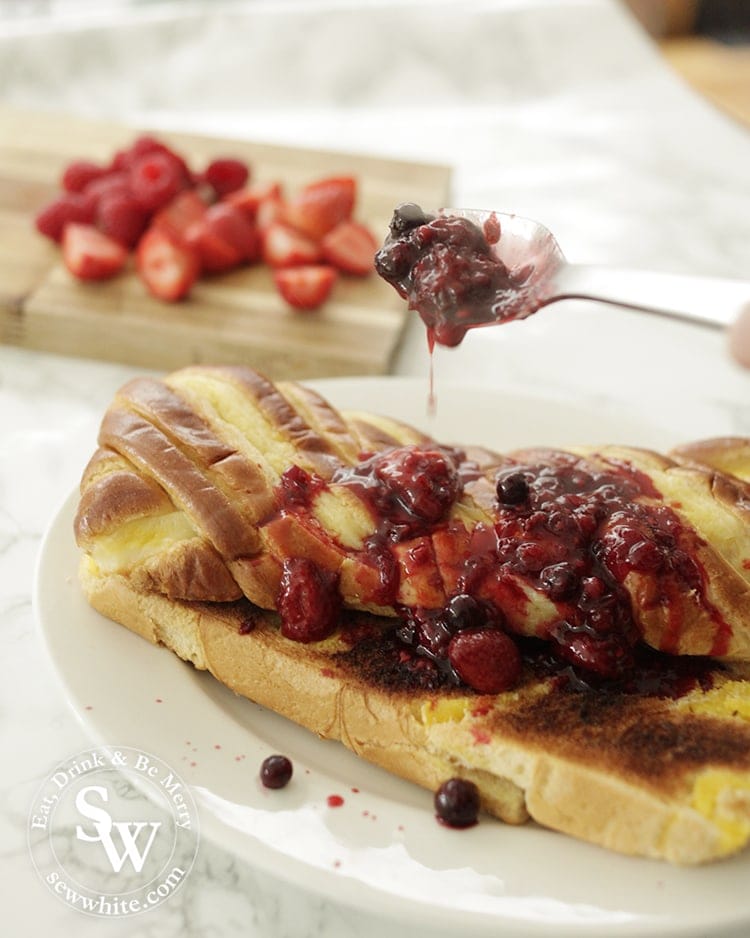 How do I make this simple berry bread pudding?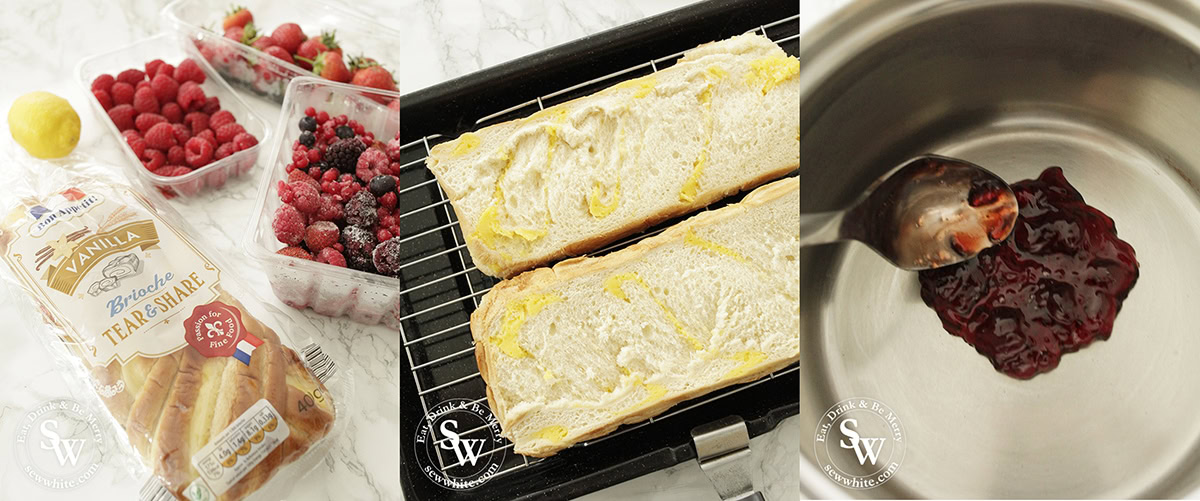 Slice open a large brioche loaf lengthways and place it on a grill tray. On a low heat, warm up the brioche and lightly toast it
To make the berry compote, add the red currant jelly to a saucepan, then add the frozen fruit.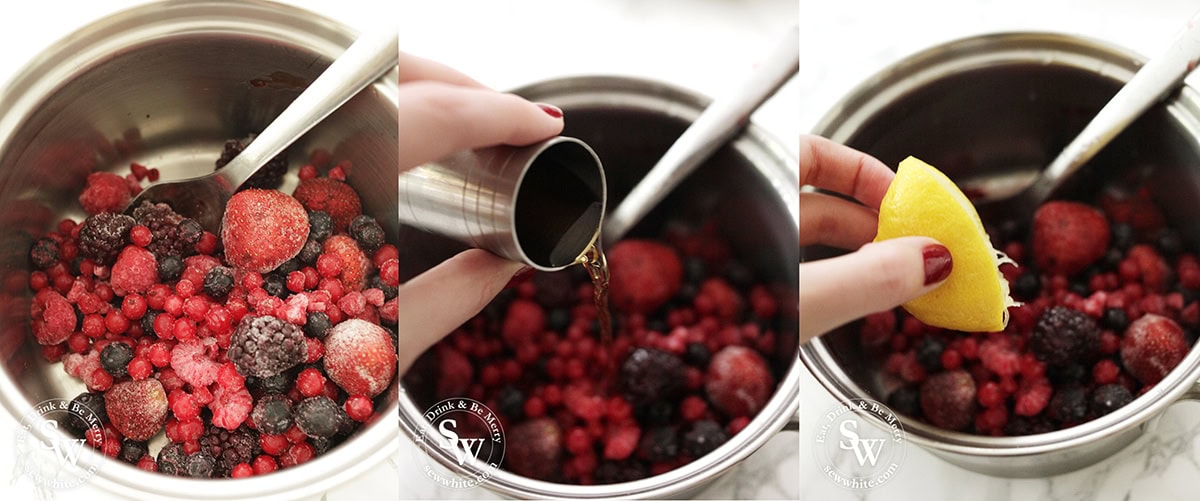 3. Add a little brandy and stir it in for flavour, then add the juice from half a lemon
4. Put the saucepan on a low heat to allow the fruit to soften and mix together. Lots of juice is released at this stage.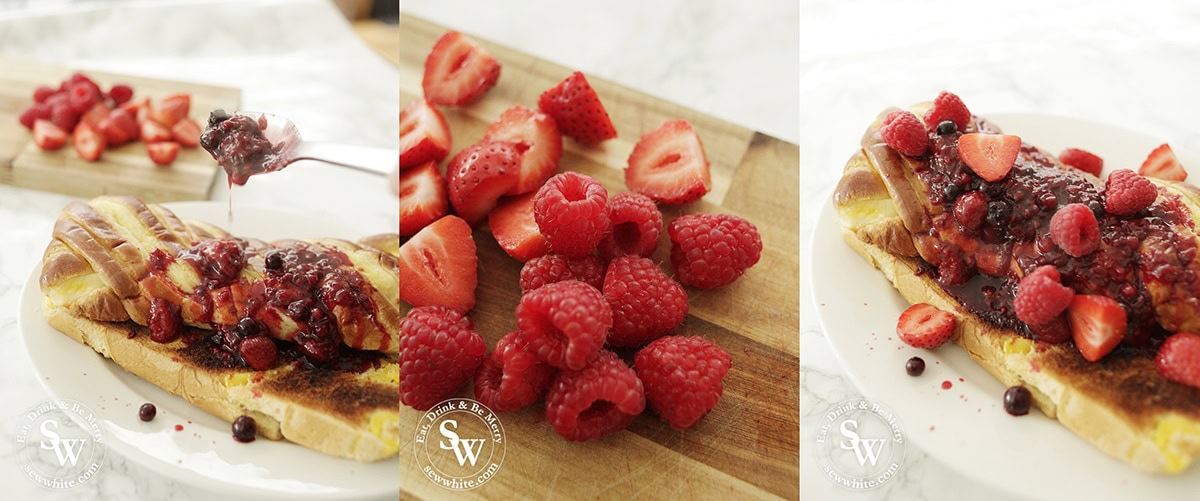 5. When the brioche has toasted, remove it from the grill and place it on a warm plate. Drizzle over the hot berry compote.
6. Chop up some fresh berries (I like to use strawberries and raspberries) and use them to top the loaf.
It's nothing complicated, but sometimes the best recipes really are incredibly simple!
What should I serve with this recipe?
If you're serving it for brunch, I'd recommend pancakes, waffles and a lovely bar of toppings (including ice cream and regular cream!).
It would work wonderfully with people choosing which berries they'd like to top it with and adding cream if they like it (personally, I didn't think that this recipe needed it, but some may disagree).
Or, if you're serving it for dessert then I'd recommend keeping it simple and just serving this as-is with plenty of fresh berries for variety. Sometimes simple is the best option!
Pin me for later
Simple Berry & Brioche Bread Pudding
This brioche bread pudding is a warm, fruity treat and is perfect for brunch or dessert all year round. In my humble opinion, it's the best dessert there is!
Ingredients
brioche loaf

(approx 400g loaf)

100

g

redcurrant jelly

500

g

frozen summer berries

(strawberries, blackberries, blackcurrants, blueberries, raspberries, redcurrants)

50

ml

Brandy

optional if you'd prefer without alcohol

juice of half of 1 lemon

icing sugar / confectioners sugar

Fresh strawberries

Fresh raspberries
Instructions
Slice the brioche loaf lengthways and place on a tray. Pop it under the grill on low to warm and lightly toast each side. Keep an eye on it to make sure it doesn't burn.


Add the redcurrant jelly, frozen berries, brandy and lemon juice in to a saucepan and place on a low heat to melt. Mix together as it cooks.


When the brioche is toasted place on a plate and gently spoon out the fruit over the top when it's softened and ready.


Wash and chop the fresh berries and pop them on top of the dessert. It's lovely to have the mix of hot and cold fruit.


Add a sprinkle of icing sugar and serve straight away.

Nutrition
Please note that the nutrition information provided above is approximate and meant as a guideline only.
If you like this recipe you might enjoy these too.
Doughnut waffles are so fun and quick to make. They make great treats and special weekend brunches. Best served with ice cream and fresh fruit.
These White Chocolate Christmas Cupcakes are the cutest addition to a Christmas party. They are easy to make, taste delicious and look wonderful.
Follow me on instagram to see what other cakes I've been making recently. www.instagram.com/sewwhite
This delicious Strawberry Bread and Butter Pudding is easy to make and is topped with flaked almonds and oven baked. Great family favourite pudding recipe.
My Blueberry and Lemon Bread and Butter Pudding is so light and fluffy yet it is filled fresh flavours and is the perfect crowd pleaser for pudding.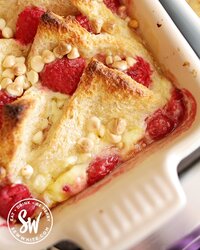 This Raspberry Bread & Butter Pudding with White Chocolate Chips recipe is wonderful twist on a classic hot British dessert. The fresh raspberries pair beautifully with the creamy custard bread pudding. This family favourite is easy to make in advance and is perfect when you want a lighter pudding with fresh flavours. So all that remains is to decide on custard, cream or ice cream?