Looking for an easy Christmas or winter dessert? Then try my Black Forest Eton Mess. It mixes the iconic flavours in a new delicious way.
What a great and delicious dessert to share around the dinner table with friends and family. My Black Forest Eton Mess mixes the great black forest flavours in a new way. The classic summer Eton mess of cream and meringues with the rich Black Forest flavours work so incredibly well.
Christmas Eton Mess
This Christmas Eton Mess happens to be my favourite dinner party dessert as it can be made very elegantly presented in one glass per person. Or popped into a large dish and your guests can help themselves. I love it's flexibility as well as it's taste. You can also make it in advance if you need to. I had the cream and pieces already in bowls and then built it up fresh just before serving.
This Christmas Eton Mess mixes together the best winter flavours to produce a lovely dessert which is simple to make and can be made before hand if it's for an event or party.
Black Forest Eton Mess
Turning a summer classic Eton Mess into a Christmas Eton Mess. If you want to make it even more Christmassy then add fresh cranberries too.
Easy frozen berry pudding
For this wonderful take on the classic Eton Mess I have used the classic Black Forest winter flavours. Kir Royal flavours from the truffles, rich chocolate from the brownies and gorgeous squidgy berries desperate to combine them all together.
What do I need for Black Forest Eton Mess?
For this recipe you only need 8 ingredients and from there you can create something so delicious. I love the addition of brandy to make it even more luxurious. I'm sure even though it's only a little bit of brandy it helps warm you and your guests, friends and family a little bit more to help with the cold.
750 g frozen summer berries
4 tbsp brandy
1200 ml double cream (2 pints)
4 tbsp brandy
60 g icing sugar
250 g brownies (approximately 1 supermarket own brand box)
100 g large meringues
1 pot mini meringues approximately 100g (optional)
100 g kir royale truffles
I use frozen berries to save money but also as they are bubbling down on the heat they will all look the same anyway.
As a note; If you have extra fruit in the summer which is on the turn but still usable chop it up and pop it in a sandwich bag in the freezer. Helps reduce food waste and gives you something to use later which will be delicious. (Even if you only heat it up and pour it over pancakes as a hot sauce it will be worth it).
I add brandy to the cream and to the fruit as I want that gorgeous flavour to carry through. If you want to make this recipe non alcoholic then add vanilla extract instead but about a teaspoon to each.
I added an extra chocolate goodness to this recipe by using Kir Royale truffles. These amazing little beauties are chocolate with Dark Chocolate with a decadent Marc de Champagne and blackcurrant centre. They are then lightly dusted with powdered sugar and freeze dried blackcurrants. I got mine from Charbonnel et Walker. It is so hard to not eat them as you go but it's worth holding off so they make it in to the dessert.
If you're like me and you can't help but enjoy a few bites as you go then buy an extra box and keep them just for you.
How to make Eton Mess – The Black Forest Christmas edition
Follow my easy how to make Eton Mess steps below. It's really easy and doesn't take too long which we can all agree is a wonderful thing when it comes to food.
How to make Eton Mess – Step 1
It's super simple to make and most of it is just mixed together. It can mostly be made before hand which is always a bonus. You can make the brownies or buy them also making the dish quicker to make.
Step 2
I use frozen fruit to make the coulis and cook it down with brandy to make it a thick and juicy mess. If you want it non alcoholic you don't need to add the brandy and add some vanilla extract instead. Allow it to cool before you use it.
Step 3
To make the cream layer, mix the double cream, icing sugar and brandy together with whisk together until thick.
Step 4
In a large dish spoon spoonfuls of the cream mix and stud with chopped up brownies, meringues, Kir Royale Truffles (or plain if you'd prefer) and spoonfuls of the mushy berries.
Step 5
The addition of the mini meringues looks so cute. I also added a little edible shimmer I bought from Lakeland. It made the dessert look even more special. I think I'm part magpie as I love shimmery and shiny things.
The mix of the smooth cream, crunchy meringue, rich chocolate truffles, soft brownies and fruity compote work so well together. I can't wait to try this again for dinner parties.
Black Forest Eton Mess
What a great and delicious dessert to share around the dinner table. My Black Forest Truffle Eton Mess mixes the great black forest flavours in a new way.
Ingredients
750

g

frozen summer berries

4

tbsp

brandy

1200

ml

double cream / heavy cream

2 pints

4

tbsp

brandy

60

g

icing sugar / confectioners sugar

250

g

brownies

approximately 1 supermarket own brand box

100

g

large meringues

1

pot

mini meringues

approximately 100g

100

g

kir royale truffles
Instructions
Pop the frozen fruit and brandy in a saucepan on a low/medium heat and allow to mush down for 5 minutes. Turn it off and leave it to cool.

In a bowl whisk together the double cream, icing sugar and brandy until thick and stiff.

Chop up the brownies into bitesize chunks.

Break up the large meringues into bitesize chunks.

In a large serving dish stud the dish with the meringues, brownies, cream and fruit.

Top with mini meringues and chopped up kir royale truffles.
Notes
•If you want to make it ahead of time you can do everything except add the fruit. Pop the rest in the fridge and add the fruit when you're ready to serve.
•If you want to make this recipe non alcoholic then add vanilla extract instead but about a teaspoon to each.
Nutrition
Please note that the nutrition information provided above is approximate and meant as a guideline only.
Follow me on instagram to see what other cakes I've been making recently. www.instagram.com/sewwhite
Other puddings and desserts you might enjoy if you liked this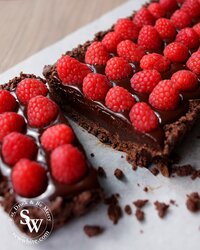 Enjoy a slice of my Chocolate Raspberry Tart with my easy 5 ingredient recipe. A lovely rich truffle recipe studded with fresh raspberries on a bourbon biscuit base.
This rich, creamy and ever so slightly boozy Baileys and White Chocolate Cheesecake is the perfect treat for an event or party. Quick and easy to make in advance, the Bailey's spiked cheesecake layer also contains hidden white chocolate Lindor truffles. With a classic shortbread biscuit base, and white chocolate drip decoration, I know this no-bake cheesecake will become your new favourite dessert.
My Blueberry and Lemon Bread and Butter Pudding is so light and fluffy yet it is filled fresh flavours and is the perfect crowd pleaser for pudding.
My delicious no-bake Cranberry Cheesecake is a beautifully fruity and creamy dessert, packed with iconic Christmas flavours of cranberry and orange. A Christmas cranberry cheesecake is a wonderful alternative (or addition) dessert to a Christmas fruit cake, while still having all the flavours of the festive season. This easy no-bake Christmas cheesecake can be made ahead of time to save time when preparing for a festive dinner, to bring to a family meal, or for a Christmas party dessert.
To make this an 8inch cheesecake then add half again to the ingredients.
My bite-sized strawberry and chocolate pastry tart bites are a delicious party snack or summer dessert. The rich chocolate truffle and sweet fresh strawberry work perfectly together – and they're perfect for BBQ season!
Other Black Forest Recipes you might enjoy
Enjoy a slice of the Black Forest Christmas Bundt Cake this festive period. It's made with delicious cherry yoghurt and chocolate chips.
My take on the classic Black Forest Cake combines the flavours of chocolate and cherries in a light sponge bundt cake perfect for afternoon tea.
A delicious mix of the fresh fruit flavours from a Black Forest Gateau and the rich chocolate from brownies make these Black Forest Brownies perfect combination and are easy to bake at home.
This easy black forest cake is a delicious dessert, perfect for enjoying in the Winter months as it's full of subtle Christmas flavours.