This rich, creamy and ever so slightly boozy Baileys and White Chocolate Cheesecake is the perfect treat for an event or party. Quick and easy to make in advance, the Bailey's spiked cheesecake layer also contains hidden white chocolate Lindor truffles. With a classic shortbread biscuit base, and white chocolate drip decoration, I know this no-bake cheesecake will become your new favourite dessert.
When I made the first test version of this recipe for friends and family, it was devoured in seconds. I took that as a good sign but this Baileys cheesecake is addictive – you have been warned!
My cheesecake journey started when I was in awe of a Mary Berry Cheesecake. Watching her make them made me realise it wasn't so hard and I should have a go. I was about 10 years old. Now, many years later, I've played with recipes and found one that I use time and time again.
This is a super easy recipe for cheesecake and it's amazing how many times we have made this in my house. Cheesecake is moreish anyway and adding Baileys and white chocolate will only increase your love of this no bake dessert.
What are Lindt Lindor Truffles?
Lindt is a Swiss company who make delicious chocolate and are especially famous for their Lindor truffles. The classic version is milk chocolate and comes in distinctive red wrappers.
They now make many other varieties and the white chocolate version is a stone cold banger. They keep it nice and simple with a smooth white chocolate truffle filling covered in crisp white chocolate.
By mixing chopped truffles into the cheesecake base, each eater gets a delicious surprise extra texture and burst of flavour. White chocolate Lindt truffles also go incredibly well with the Baileys in the cream cheese layer.
You could substitute any other white chocolate truffles if you can't get hold of the Lindt version. Or simply leave them out. But the original Lindor version with their golden wrappers do make a beautiful extra decoration.
I love Lindor truffles so much that I use the orange flavoured variety in my Orange and Cinnamon Cheesecake and the white chocolate and strawberry truffles in my Strawberries and Cream Cheesecake. Both are also super simple no bake cheesecake recipes.
What is Baileys Original Irish Cream?
Baileys is a little bit of an institution in the UK, especially around Christmas time. Its a cream based liqueur with hints of chocolate, vanilla and more than a hint of Irish whiskey.
I know that many people think that Baileys is coffee flavoured but nope, it just delicious in a coffee. Irish me up!
It lends itself perfectly to both cocktails and desserts alike. I love to use it in my Baileys Flat White Martini Pudding. Over the years there have been various other flavour varieties. These quite often change from season to season or every few years. RIP Baileys Orange Truffle. Sad times.
A couple of versions seem to be here to stay. I use the Chocolate Luxe variety in my Espresso Coffee & Chocolate Martini cocktail. And I've used the summery Strawberry and Cream version in my Strawberries and Cream Cheesecake. With their creamy and thick texture and lovely boozy kick, I really can't get enough Baileys whether it's Christmas or not!
There are of course other brands of Irish cream liqueur available. Whilst many of them are delicious in their own right, I've not really found one that tastes like the original Bailey's brand. So you can use an alternative but you won't regret trying to get hold of the real thing.
Why Make a No-Bake Cheesecake?
Simple – they're really easy as well as being creamy and delicious.
A traditional baked cheesecake is a thing of beauty but simply by their nature, they do take longer to make. They can also be trickier to master and they can crack or curdle. So I am a huge fan of the no-bake version – in fact I have developed lots of delicious varieties.
Many no-bake cheesecakes use gelatin to help set the cheesecake but I do not find this necessary. This means that this cheesecake recipe is suitable for vegetarians.
You can find my whole range in this handy roundup post – The Best No Bake Cheesecake Recipes. There is everything from fruity and boozy favourites to halloween and christmas themed cheesecakes.
HOW MANY PEOPLE DOES A 6″ CHEESECAKE SERVE?
This recipe uses a 6″/15cm tin to make a fairly small cheesecake. I often find that cheesecake recipes can involve large and often expensive quantities of ingredients to make really large cheesecakes.
Making a smaller cheesecake with 8 portions means that it can be a more regular treat for a smaller family and doesn't need to be saved for a special occasion.
But that doesn't mean that you can't easily scale up the recipe to make a bigger version. If you want to make this to feed a lot more people then double or triple the recipe.
To make an 8″/20cm cheesecake, you should double the recipe. This will serve 12 to 16.
To make a 12″/30cm cheesecake you should triple the recipe. This will serve 16 to 20.
If you want to make little portions but a lot of them, try using a square tin and cutting the cheesecake into nice little squares. A little square of cheesecake is rather lovely.
How to make the Baileys Cheesecake – Step By Step
Keep scrolling for the full recipe, quantities and printable recipe card.
Let's get started making the Baileys and White Chocolate Cheesecake.
Mix together the broken up shortbread and butter.
Press the mix into the cake tin to form the base.
Pop in the fridge until hard.
Mix together the cream cheese and caster sugar until smooth.
In a new bowl whisk up the double cream until thick.
Mix the double cream into the cream cheese and stir in the Baileys.
Chop up the Lindt Lindor chocolate truffles and mix in.
Add the mix to the tin and pop back in the fridge until set.
WHAT CREAM CHEESE IS BEST FOR NO-BAKE CHEESECAKE?
Most cream cheeses are best for cheesecake. The full fat versions are great and do give a great taste. Unlike in baked cheesecakes, the reduced fat varieties can still work.
In both cases if there is any water on top remove it before adding the cheese to the mix. Water can make the final cheesecake not set as well.
BRANDED CREAM CHEESE VS OWN BRANDS
There are so many different types of cream cheese available and having tried a few different ones I think they all work pretty well.
Philadelphia is probably the most well known brand in the UK and US and this is obviously great to use. But I mostly use supermarket own brand varieties and they are just as good.
I would however recommend that you avoid using super savers versions as sometimes they can be a bit bitty and not have the nicest flavour. I would also recommend that you avoid any flavoured varieties.
How To Decorate Bailey White Chocolate Cheesecake
I love when the cheesecake has just come out of the fridge and is put on the plate ready to decorated. This is a very classic looking cheesecake. You wouldn't guess there is truffles inside!
My parents prefer the cheesecake like this which of course is doable and gorgeous. It looks lovely to serve and I for one could dive right in for a slice.
Adding the White Chocolate Drip
I really like adding extra white chocolate to the top creating a cheesecake drip cake. They look so gorgeous and definitely attract everyone's eyes. A few friends have refused a slice until they saw it and then they had seconds!
To make the drip, start by melting the white chocolate in short bursts in the microwave so it doesn't burn. If it's a bit thick you can add a few drops of vegetable oil or even a tiny bit of coconut oil.
Start small and build up to get the best consistency. Most of the time I don't need to do this but sometimes it doesn't melt as smoothly as I would like. This will depend somewhat on the white chocolate you choose to use.
Drizzle the melted chocolate around the edge of the cheesecake. You can use a spatula to tease it over the edge if needed. Take your time and keep turning the cheesecake as you work.
Why not cover the whole cheesecake in melted chocolate?
I keep the chocolate towards the edge of the cheesecake because it's easier to cut the cheesecake when you want to serve it. If it's completely covered, it can be hard to slice as the cream cheese under is soft. If you push too hard it will squish.
Leaving a little around the edge is enough to take it to an extra level but still allow easy cutting. However if you want to completely cover the cheesecake it work too. Just take it easy when cutting into it and use the sharp tip of your knife to break through the chocolate layer.
Adding Whole Truffles
The gold wrappers of the chocolate truffles look so fantastic on the cheesecake. If you want you can remove the wrappers first but I've found when presented everyone loves that they are wrapped. Especially when children are involved – the truffles get pinched off the top!
Luckily guests will find extra truffles inside the cheesecake so not to worry about the ones on the top. They will be surprised with how well the truffles taste with the Baileys. (Don't eat the wrappers!).
HOW TO STORE NO-BAKE TOBLERONE CHEESECAKE
You will need to store your cheesecake in the fridge. It is a good idea to cover it if you can to prevent it from absorbing other flavours from the fridge.
A well stored cheesecake will keep for up to 3 days. This means that you can make it up to several days in advance.
FREEZING NO-BAKE CHEESECAKE
No bake cheesecakes are ideal to freeze. You should remove the cheesecake from the tin and wrap it in clingfilm (saran wrap) then freeze. Storing it in an airtight container will add an extra layer of protection if you have room in the freezer.
To thaw the cheesecake, take it out of the freezer the day before and leave it in the fridge overnight to defrost.
Obviously you don't want to freeze the whole chocolate decorations, so add them when serving. You can however freeze it with the white chocolate drip.
Pin this Baileys and White Chocolate Cheesecake Recipe
Baileys and White Chocolate Cheesecake
This rich, creamy and ever so slightly boozy Baileys and White Chocolate Cheesecake is the perfect treat for an event or party. Quick and easy to make in advance, the Bailey's spiked cheesecake layer also contains hidden white chocolate Lindor truffles. With a classic shortbread biscuit base, and white chocolate drip decoration, I know this no-bake cheesecake will become your new favourite dessert.
Ingredients
45

g

(

1.59

oz

)

Unsalted butter

150

g

(

5.29

oz

)

Shortbread biscuits

300

g

(

10.58

oz

)

Soft cream cheese

60

g

(

2.12

oz

)

Caster sugar

150

ml

(

150

ml

)

Double cream / heavy cream

50

ml

(

50

ml

)

Baileys Original Irish Cream Liqueur

10

(

10

)

Lindt white chocolate truffles

100

g

(

3.53

oz

)

White chocolate

extra truffles for decorating
Instructions
Lightly grease an 6 inch loose base cake tin. (I also added a greaseproof paper circle at the bottom to help it off the base later)

Melt the butter gently in the microwave or in a pan and then take off the heat.

Crush the shortbread biscuits in a food processor, or put the shortbread in a plastic bag and use a rolling pin to break them up.

Put the biscuit crumbs in a bowl and add the melted butter. Stir until all the biscuits are coated in the butter.

Scoop the crumbs into the tin and push down to make a hard layer. Put in the fridge for 20-30minutes to set.

In a bowl cream together the cream cheese and caster sugar until the sugar has dissolved and is well distributed.

In a new bowl lightly whip the double cream until it starts to thicken.

Stir in the double cream and cream cheese mixture together.

Stir in the Baileys.

Chop the truffles and mix into the cream cheese mixture.

Remove the cake tin from the fridge and add the cream cheese to the base and put back into the fridge to set. It takes roughly about 45-60 minutes.

When it is set remove from the fridge and remove from the tin.

Melt the white chocolate in a heatproof bowl in 10 second bursts in the microwave. Once it's melted, allow to cool for a few minutes but while it's still molten drizzle over the cheesecake.

For Decorations you can add more truffles. Unwrapped if you want to add some gold sparkle to the finished cheesecake (remind them to unwrap before eating) or unwrap them so they are ready to go if your guests won't be held back from eating it.
Notes
The sweets in the wrappers are only for decorations to make it look pretty, just like you would with candles, take them off before you slice into the cake. You can remove the chocolates from the wrappers to serve if you would like to. It's up to personal preference. The extra decoration is not included in the nutrition estimation. 

Nutrition
Calories:
544
kcal
Carbohydrates:
38
g
Protein:
5
g
Fat:
41
g
Saturated Fat:
24
g
Polyunsaturated Fat:
2
g
Monounsaturated Fat:
10
g
Trans Fat:
1
g
Cholesterol:
85
mg
Sodium:
250
mg
Potassium:
122
mg
Fiber:
1
g
Sugar:
27
g
Vitamin A:
940
IU
Vitamin C:
1
mg
Calcium:
82
mg
Iron:
1
mg
Please note that the nutrition information provided above is approximate and meant as a guideline only.
This Black Forest Cheesecake is inspired by the gorgeous chocolate cherry and cream flavours of a traditional Black Forest Cake. Juicy kirsch spiked cherries are piled onto a super creamy no-bake cheesecake layer and bourbon biscuit base then topped with lashings of dark chocolate shards. Small but perfectly formed, this is an ideal dessert at any time of year!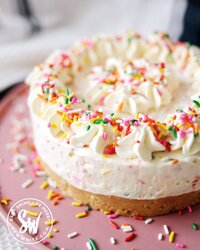 This bright and colourful sprinkle packed Funfetti Cheesecake is a joy to make and eat. This easy cheesecake recipe is packed full of flavour and looks so beautiful. It's a great no-bake dessert and the colour of the sprinkles really allows you to taste the rainbow. It's a great birthday cheesecake and can be updated with your favourite sprinkles. I love rainbow sprinkles but if you can make it any colour you like! Enjoy making and eating this Easy no-bake sprinkle cheesecake with your family and friends.
My delicious no-bake Cranberry Cheesecake is a beautifully fruity and creamy dessert, packed with iconic Christmas flavours of cranberry and orange. A Christmas cranberry cheesecake is a wonderful alternative (or addition) dessert to a Christmas fruit cake, while still having all the flavours of the festive season. This easy no-bake Christmas cheesecake can be made ahead of time to save time when preparing for a festive dinner, to bring to a family meal, or for a Christmas party dessert.
To make this an 8inch cheesecake then add half again to the ingredients.
This Strawberries and Cream Cheesecake with Baileys summer liqueur and Lindor truffles is just incredible! It's my go-to easy no-bake cheesecake for summer parties and of course celebrating Wimbledon fortnight. With a buttery shortbread biscuit base, a truffle studded cheesecake layer laced with Baileys Strawberry and Cream and a fresh strawberry topping, I have no doubt it'll become your favourite easy dessert too!
This delicious No Bake Terry's Chocolate Orange Cheesecake is the perfect dinner party or special occasion dessert. The creamy white cheesecake is flavoured with orange zest and studded with chocolate pieces. With a simple buttery biscuit shortbread biscuit base, fresh whipped cream topping and chocolate orange segments for decoration; it looks as good as it tastes. Chocolate oranges are available to buy year round so no need to save this recipe until Christmas!
This delicious small batch Christmas Cheesecake with Orange & Cinnamon is filled with iconic flavours of the season and is the ideal make-ahead dessert for any festive occasion. With a no-bake creamy cheesecake layer spiked with orange and chocolate orange Lindor Truffles on a buttery shortbread base, it even makes a showstopping lighter alternative to Christmas pudding!
Toblerone Cheesecake is delicious! If you love those milk chocolate Toblerone packed full of nougat, honey and almonds, you can give it no better treatment than to make this super easy no-bake Toblerone cheesecake. With a buttery shortbread biscuit base, an extra drizzle of milk chocolate and fresh whipped cream, it's worth heading to duty free just to stock up and make this dessert!