The Best No Bake Cheesecake Recipes
Explore The Best No Bake Cheesecake Recipes which are easy to make. Plus perfect for parties, events or for a special occasion and taste delicious too!
No bake cheesecake are, in my opinion of the best and easiest things you can make at home. They only need a cool fridge and a few hours from initial ingredients to start with to serving. The quickest you can go from making to serving is about one and a half hours. You can make every single one of these cheesecakes ahead of time. You can keep them in the fridge until you need them. I often make these the day before I need them. To start I will do the base, cream cheese layer and any toppings which won't change or move before serving. I keep fresh fruit or anything that might be juicy until just about to serve.
Can I make no bake cheesecake ahead of time?
Yes you can make no bake cheesecake ahead of time. It works really well when being made ahead of time. I would recommend removing the cheesecake from the cake tin after 1 hour of setting. If the cheesecake is left in the tin for too long it can be harder to get out. I remove it after an hour and place it on the plate it will be served on and pop it back in to the fridge until it is ready.
How do you thicken a no bake cheesecake?
To make sure the cheesecake is going to set make sure you drain off any excess water from the cream cheese before mixing with the sugar. Also make sure the double cream that you use is whipped up until thick. When it is mixed with the cream cheese it will lose some of it's thickness so we need it to be thick to start with. Make sure you don't use anything runny in the cream cheese mixture that will be stop it setting. If you do want to add something try adding it as a layer or add some extra icing sugar to thicken up the mixture.
What soft cheese is best for no bake cheesecake?
For my no bake cheesecakes recipes I normally use supermarket own brand full fat cream cheese. I've found they all work pretty well. If it's on offer I use Philadelphia cream cheese for the no bake cheesecake. No matter which one you use make sure to drain off any water that might have settled in the packet. Any excess water might impact the finished set of the cream cheese layer.
Biscoff No Bake Cheesecake
This no bake Biscoff cheesecake is a hugely popular post and I can see why. It is a delicious mix of that spiced rice biscoff flavour and smooth cream cheese. It was decorated with swirls of pipped double cream and topped with biscoff biscuits. I'm sure you could Bis-coff the lot!
Go to the Biscoff cheesecake recipe
Toffee popcorn cheesecake
Toffee cheesecake is always a popular choice for events and parties. The mix of cream cheese with toffee drizzle works so well. The addition of toffee popcorn makes it look impressive and makes everyone want to start nibbling. If you can find small toffee pieces I would recommend adding to the cream cheese mix. It adds an extra toffee goodness to the finished cheesecake.
Cranberry cheesecake
This is a rich and beautiful cheesecake and perfect for a Christmas centre piece. The dark chocolate biscuit base with rich creamy layer is delicious enough but the addition of the sweet and sour cranberries on top takes it to the next level. Make the cranberries as sweet or sour as you like. I love to make it slightly sour to compliment the sweeter cream cheese below.
Black Forest no bake cheesecake
This is my most ask for cheesecake in my family. It is so wonderful and the slippery gooey cherries with the crisp pieces of dark chocolates on top gives it that beautiful Black Forest flavour. Add the cream cheese and chocolate biscuit base you have all the best flavours together. I would recommend adding the cherries and chocolate when you want to serve it.
Go the Black Forest cheesecake recipe
Strawberries and Cream Cheesecake
This is a summer classic and one that mixed the two iconic flavours of strawberries and cream. I've used Baileys strawberries and cream liqueur and the little bit of alcohol mixes in well and adds a lovely flavour to the cream cheese.
Chocolate Orange Cheesecake
Terry's chocolate orange is a wonderful chocolate treat and being mixed in to the cheesecake makes it so moreish. There is chocolate and orange in the cheesecake and used as decoration on top.
Baileys and White Chocolate Cheesecake
The Baileys and white chocolate cheesecake is a mix of indulgent flavours. They are classic and sophisticated tastes and this simply elegant cheesecake is one of the most popular recipes on my blog. It is great all year long and definitely one to try if you love white chocolate.
Go the Baileys and white chocolate cheesecake recipe
Individual Mini Egg Cheesecakes
A great Easter treat no matter your age. The individual mini egg cheesecakes have dyed using colour pastes to make them match the mini eggs which sit on top when you serve. I love the pastel colours and they didn't last long once the family spotted them.
Cinnamon and Orange Cheesecake
Cinnamon and orange is one of the most well known flavours combintions for Christmas. It really does give that wonderful festive feeling to those who eat it and is a cheesecake which will be become a family tradition to enjoy.
The Best No Bake Halloween Cheesecakes
Halloween no bake Cheesecake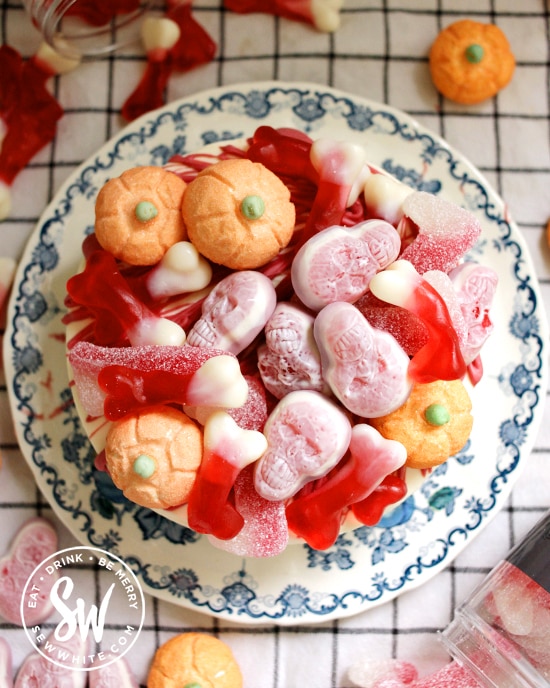 Are you looking for a delicious way to use up your Halloween candy? Then check out this delicious No Bake Halloween Cheesecake. This no bake cheesecake is so easy to make and only has 6 ingredients to make the cheesecake. Then it's just topped with your favourite sweets and can be made ahead of your Halloween party and topped with your delicious Trick or Treat candy. A fantastic centre piece and show stopper for a Party food too! It really is the best of all Easy Halloween Desserts.
Pumpkin Spice Cheesecake
I love pumpkin spice! It's pumpkin spice season and that means it's time to enjoy this gorgeous no bake pumpkin spice cheesecake. It's a smooth fridge bake cheesecake made with all the iconic flavours of the classic pumpkin pie. This is a great dessert for Fall and Autumn, lovely for a Thanksgiving pudding, a tasty treat for a fire works night party and will be a family favourite once you try it too.
Toblerone Cheesecake
Toblerone is such a popular chocolate that of course I had to add it to a cheesecake. There are pieces of chocolate in the cream cheese and chopped up on top. Over the cream cheese layer I drizzled thick pieces of molten chocolate. It looks wonderful drizzling down the sides and is thin enough to easily slice through to cut in to.
Guinness and Chocolate cheesecake
Do you love Guinness and cheesecake? If so you will love this easy no bake Guinness cheesecake with added chocolate for sweetness. Then topped with pipped double cream to help the finished cheesecake look more like a glass of the iconic drink. The dark base with a white frothy top. From there I had to add some sprinkles to this delicious Guinness chocolate cake. It would be rude not to! This is a great St Patrick's Day treat and a wonderful way to use Guinness in a no bake cheesecake.
Funfetti Cheesecake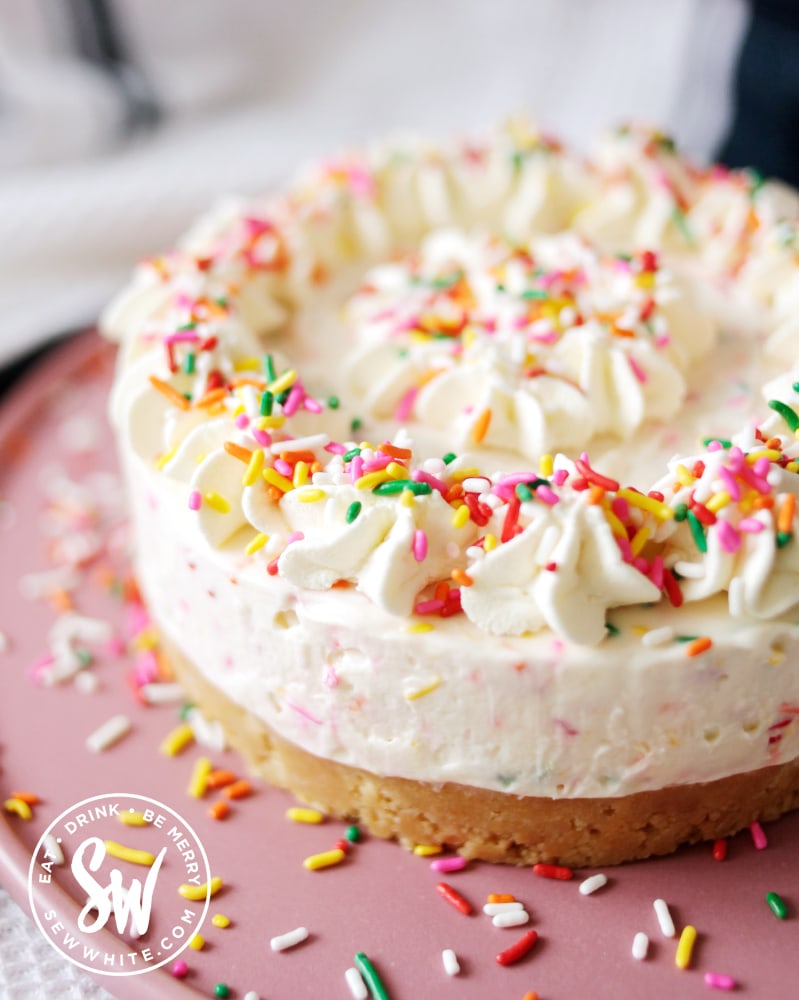 This bright and colourful sprinkle packed Funfetti Cheesecake is a joy to make and eat. This easy cheesecake recipe is packed full of flavour and looks so beautiful. It's a great no-bake dessert and the colour of the sprinkles really allows you to taste the rainbow. It's a great birthday cheesecake and can be updated with your favourite sprinkles. I love rainbow sprinkles but if you can make it any colour you like! Enjoy making and eating this Easy no-bake sprinkle cheesecake with your family and friends.
Go to the Toblerone cheesecake recipe
Follow me on Instagram to see what I've been making recently. www.instagram.com/sewwhite