This no bake Toffee Popcorn Cheesecake is an easy recipe and the perfect party food and easy summer fridge bake. The added popcorn makes it even more delicious. A great treat for a classic movie night when you want to make the popcorn course even more special.
This toffee popcorn cheesecake is heaven if the crunch and toffee popcorn delicious flavour is one of your favourites. The mix of creamy cheesecake and toffee works so well and I hope you enjoy this as much as me. Scroll down to the bottom for the recipe for the toffee cheesecake.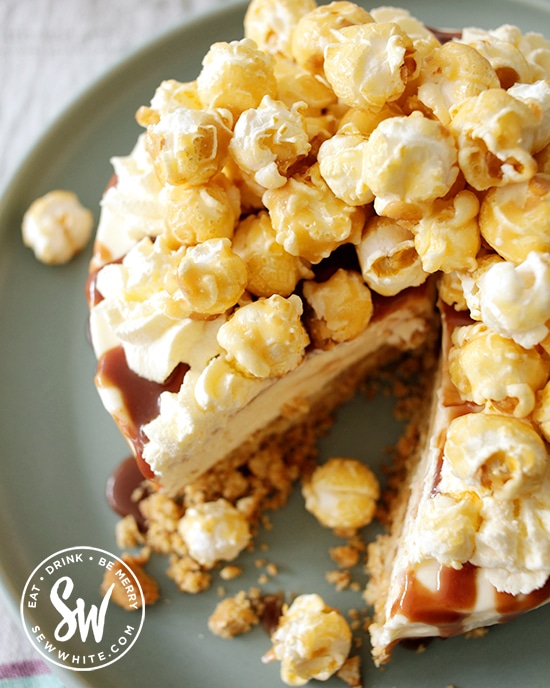 No bake toffee cheesecake
This no bake toffee cheesecake is so simple to make and absolutely delicious. If you don't want the popcorn then remove it and add something like sprinkles or more toffee pieces to the top. You will love it!
How to make Toffee Popcorn Cheesecake
This Toffee Popcorn Cheesecake is so easy to make and like all my cheesecake recipes they are fridge bake / set in the fridge. To add toffee in to the cheesecake I used a simple vanilla mix and added some chopped up toffee pieces.
On top of the set cheesecake I added a drizzle of toffee sauce. The soft sauce on top and the small bits to bite on in the mix definitely bring out the best toffee flavours.
Toffee popcorn cheesecake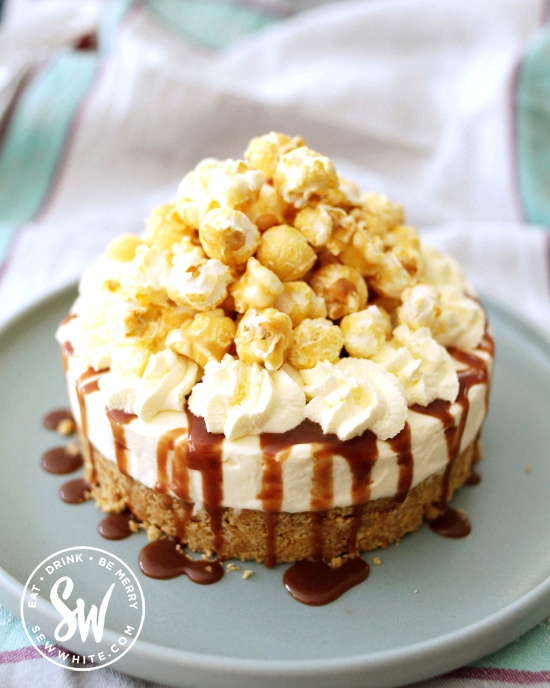 No bake Toffee Cheesecake
No bake cheesecakes are my favourite. Don't get me wrong a baked cheesecake is also delicious but I love the cool creaminess of the no bake cheesecake variety. They are hugely versatile and can be adapted to so many flavours and tastes for all your love and all the seasons.
For the no bake toffee cheesecake I have added a wonderful range of toffee flavours to make this new family favourite.
Easy fridge bake cheesecake
Cheesecakes are so wonderful to make and with this recipe like all my cheesecake recipes this is a fridge bake recipe. You create this recipe in layers, starting with the biscuit base which you 'bake' in the fridge first to harden and set. For this recipe I used a 6inch cake tin. This is enough for 12 nice sized portions.
While the base is setting mix the cream cheese and sugar together, along with the vanilla and toffee chunks if you want them. Whip up the double cream in a different bowl until thick and mix them both together. Remove the base from the fridge and add the cream cheese to it.
Pop it back in the fridge for at least an hour to set too. If you are making this in advance for an event or party you can do this up to a day before. If it's been in the fridge more than 2 hours leave it at room temperature for a while before trying to get it out of the tin as it will difficult to get out.
Once removed from the cake tin and on a fancy serving plate, it's time to decorate. For this recipe I used a whipped up cream for a frame to hold the popcorn on. On top of a toffee drizzle. Plus of course with some popcorn on top. It looks divine and I can't wait to try this again soon.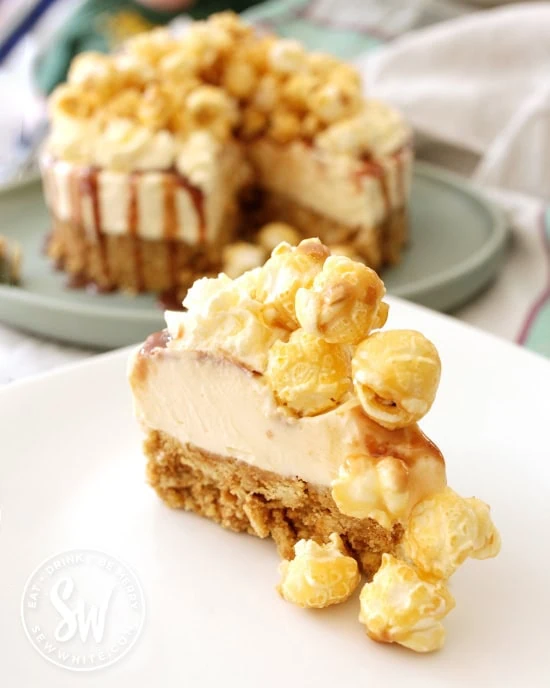 What do I need to make a Toffee Popcorn Cheesecake
For the no bake cheesecake base and creamy layer you only need 6 ingredients – 7 if you want extra toffee goodness.
100 g Unsalted butter
200 g Digestives biscuits
300 g Soft cream cheese
60 g Caster sugar
1 teaspoon vanilla extract
150 ml Double cream
60 g toffee pieces – I used Thorntons toffee carefully chopped up (optional)
To decorate the finished cheesecake I wanted to keep it simple but also beautiful. First of all I used a toffee sauce which I drizzled all over the cheesecake. It looked beautiful and I loved how easy it was to use.
I then went on to whip up the double cream until it was thick and pipe it on to the cheesecake. I did it in little swirls around the outside. Sort of like a dam to hold the free flowing popcorn in as I piled it high.
To decorate I only used 3 ingredients. How brilliant is that.
150 ml double cream
toffee sauce (often found with the home baking or with the ice cream accessories in the supermarket)
toffee popcorn
No-bake cheesecake with popcorn
In this easy no bake cheesecake I have used a simple vanilla cheesecake layer and added some beautiful toffee flavour plus extra flavour on top. To make it extra special I topped it all with toffee popcorn.
A favourite of mine for the cinema and movie nights. Last time I went to the cinema I had a thought about could I use popcorn on a cheesecake.
After a few trials of putting the popcorn in the cheesecake mix and and a 50/50 try and popcorn just on top. From my experience this combination of toffee and cheesecake with popcorn is the best as it is in this recipe.
Easy Cheesecake Popcorn recipe
How amazing does this cheesecake popcorn look! Let's get making this popcorn cheesecake recipe.
Pin me for later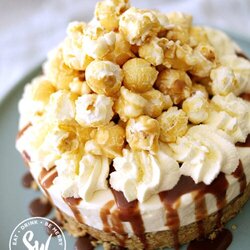 Toffee Popcorn Cheesecake
This no bake Toffee Popcorn Cheesecake is an easy recipe, the perfect party food and easy summer fridge bake. The added popcorn makes it even more delicious. A great treat for a classic movie night when you want to make the popcorn course even more special.
Equipment
6 inch lose bottom cake tin
Ingredients
100

g

(

3.53

oz

)

Unsalted butter

200

g

(

7.05

oz

)

Digestives biscuits

300

g

(

1.32

cups

)

Soft cream cheese

60

g

(

2.12

oz

)

Caster sugar

1

tsp

(

1

tsp

)

vanilla extract

150

ml

(

150

ml

)

double cream / heavy cream

60

g

(

2.12

oz

)

toffee pieces – I used Thorntons toffee carefully chopped up

(optional)
Decoration
150

ml

(

150

ml

)

double cream / heavy cream

toffee sauce

(often found with the home baking or with the ice cream accessories in the supermarket)

toffee popcorn
Instructions
Lightly grease an 6 inch loose base cake tin. (I also added a greaseproof paper circle at the bottom to help it off the base later).

Melt the butter gently in the microwave in short bursts or in a pan on a low heat and then take off the heat, once melted so it doesn't burn.

Crush the biscuits in a food processor, or put it in a plastic bag and use a rolling pin to break them up (my preferred method to leave them as a larger crumb).

Put the biscuit crumbs in a bowl and add the melted butter. Stir until all the biscuits are coated in the butter.

Scoop the crumbs into the tin and push down gently to make a hard layer. Place the cake tin in the fridge and leave to harden for 30 minutes while you make the cream layer.

In a bowl cream together the cream cheese and caster sugar until the sugar has dissolved and is well distributed. Then add in the vanilla extract and toffee if you want to add it.

In a new bowl lightly whip the double cream until it starts to thick.

Stir the double cream into the cream cheese mixture together. Be careful not to over mix.

Remove the cake tin from the fridge and add the cream cheese to the base and put back into the fridge to set for at least an hour. Longer is fine if you want to make it ahead of time for an event.

Remove the cheesecake from the tin and place on a plate.

Take your toffee sauce and drizzle all over the cheesecake.

Whisk the remaining double cream until it starts to thicken. Add a star nozzle to a pipping bag and add the cream. Pipe the cream into swirls on to the cheesecake around the outside.

Gently fill the centre of the cheesecake with the popcorn when you're ready to serve. After a while they can go a bit stale.
Notes
-If you want to serve this on a warm day keep it inside the fridge or somewhere cool until you need it. Warm weather will make the cream soften.
-If the toffee pieces are too hard for pop on a low heat in the oven for it soften slightly. Be careful as it will melt completely if left.
-If you can't find toffee pieces fudge pieces work really well too and are available in most supermarkets.
Nutrition
Calories:
322
kcal
Carbohydrates:
20
g
Protein:
3
g
Fat:
26
g
Saturated Fat:
15
g
Cholesterol:
80
mg
Sodium:
170
mg
Potassium:
76
mg
Fiber:
1
g
Sugar:
11
g
Vitamin A:
912
IU
Vitamin C:
1
mg
Calcium:
47
mg
Iron:
1
mg
Please note that the nutrition information provided above is approximate and meant as a guideline only.
Follow me on Instagram to see what I've been making recently. www.instagram.com/sewwhite
Lotus biscuits and the newer Biscoff spread are so delicious that I had to turn them into the ultimate no bake Biscoff Cheesecake. This delicious and creamy cheesecake is small but perfectly formed so it's perfect for entertaining or just as an everyday dessert. Plus it's made without gelatin and perfect to make ahead of time!
Toblerone Cheesecake is delicious! If you love those milk chocolate Toblerone packed full of nougat, honey and almonds, you can give it no better treatment than to make this super easy no-bake Toblerone cheesecake. With a buttery shortbread biscuit base, an extra drizzle of milk chocolate and fresh whipped cream, it's worth heading to duty free just to stock up and make this dessert!
This Black Forest Cheesecake is inspired by the gorgeous chocolate cherry and cream flavours of a traditional Black Forest Cake. Juicy kirsch spiked cherries are piled onto a super creamy no-bake cheesecake layer and bourbon biscuit base then topped with lashings of dark chocolate shards. Small but perfectly formed, this is an ideal dessert at any time of year!
This delicious No Bake Terry's Chocolate Orange Cheesecake is the perfect dinner party or special occasion dessert. The creamy white cheesecake is flavoured with orange zest and studded with chocolate pieces. With a simple buttery biscuit shortbread biscuit base, fresh whipped cream topping and chocolate orange segments for decoration; it looks as good as it tastes. Chocolate oranges are available to buy year round so no need to save this recipe until Christmas!
This delicious small batch Christmas Cheesecake with Orange & Cinnamon is filled with iconic flavours of the season and is the ideal make-ahead dessert for any festive occasion. With a no-bake creamy cheesecake layer spiked with orange and chocolate orange Lindor Truffles on a buttery shortbread base, it even makes a showstopping lighter alternative to Christmas pudding!