Lotus biscuits and the Biscoff spread are so delicious that I had to turn them into the ultimate Biscoff Cheesecake. This delicious and creamy cheesecake is small but perfectly formed so it's perfect for entertaining or just as an everyday dessert. Plus it's made without gelatin and perfect to make ahead of time!
This biscoff cheesecake is so delicious and it is one of the best cheesecakes I have created. It's had a regular place at family events since I first made it. The Biscoff spread gives the cream cheese layer an incredible flavour and it is so unbelievable moreish. It's really hard to only have one slice.
Using the Biscoff biscuits for the base adds even more epic Biscoff flavour. Biscoff everywhere can only be a good thing.
I wanted to keep the decoration really simple so I've used whipped cream and piped it with a star nozzle into a swirl. Its finished off with some whole Biscoff biscuits. The only difficulty is making sure that you don't eat the biscuits while you're baking!
Top Questions
What cream cheese is best for no-bake cheesecake?
What flavour is Biscoff?
What is Biscoff and Biscoff Spread?
What else can I use Biscoff spread for?
How many people does a 6″ cheesecake serve?
Why make a no-bake cheesecake?
biscoff cheesecake, lotus biscoff cheesecake, lotus cheesecake, mini biscoff cheesecake, biscoff cheesecake recipe,
Why you'll love this recipe
The buttery spread mixed with the cheesecake is wonderful, and the lotus biscuits make for a wonderful cheesecake base.
You can make this biscoff cheesecake a mini biscoff cheesecake by setting it into smaller spring away cake tins. It makes for perfect mini desserts.
You can decorate the biscoff cheesecakes with lotus biscuits for even more biscuit flavour! It really is a full lotus cheesecake!
Ingredients
For the full recipe and instructions scroll to the bottom of the page for the recipe card.
CREAM CHEESE
There are so many different types of cream cheese available and having tried a few different ones I think they all work pretty well.
Philadelphia is probably the most well known brand in the UK and US and this is obviously great to use. But I mostly use supermarket own brand varieties and they are just as good.
I would however recommend that you avoid using super savers versions as sometimes they can be a bit bitty and not have the nicest flavour. I would also recommend that you avoid any flavoured varieties.
BISCOFF SPREAD
I just love the Biscoff spread, it's buttery and biscuity and mixes so well in the cheesecake mix. You only need a few tablespoons of the spread for this lotus Biscoff cheesecake.
How to make – step by step
For the full recipe and instructions scroll to the bottom of the page for the recipe card.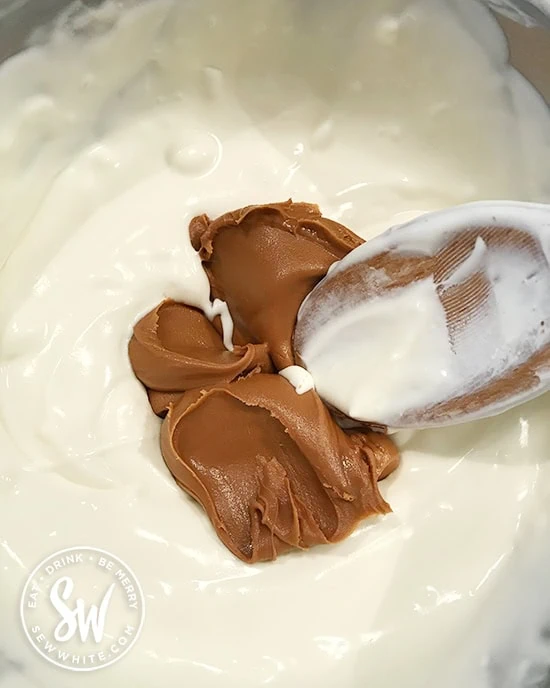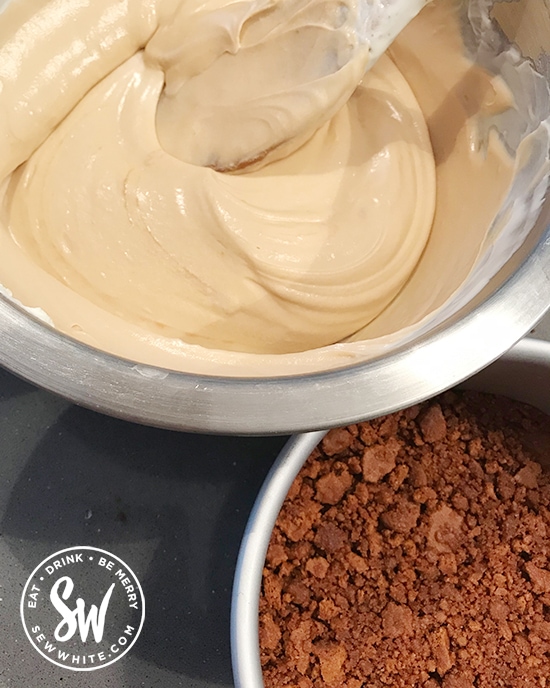 Start this lotus cheesecake recipe by grinding your lotus biscuits and mixing them with some melted butter. This will form your biscoff cheesecake base.
Press your biscuit base into the cake tin and leave it to set in the fridge while you make your cheesecake. Mix together the biscoff spread, whipped cream & cream cheese with a little sugar until combined but still voluminous.
Add this mixture to your biscoff biscuit base and leave in the fridge to set for at least 4 hours.
To decorate your mini biscoff cheesecakes pipe some whipped cream onto the top and push a few leftover lotus biscuits in. Sprinkle some cinnamon over the top to really enhance the spiced biscuit flavour.
Top Tips
Using full-fat cream cheese works better for no-bake cheesecakes as it has a sharp flavour that compliments the sweet butter biscoff so well.
Decorate your biscoff cheesecake with even more lotus biscuits! I loved studding the top of my mini biscoff cheesecake with biscuits or crumbling a few and sprinkling them on top.
Leave your cheesecake to set overnight, that way it will be firm enough to come out the tin without any mess.
Serving Suggestions
A biscoff cheesecake can be served on its own, it looks incredible, tastes even better and needs no introducing.
I love serving my biscoff cheesecake after a hearty roast dinner when there's only just room for the best dessert.
Equipment
This list contains affiliate links
For this biscoff cheesecake recipe you only need a few items:
6 inch lose bottom cake tin
Mixing Bowl
Substitutions and variations
You can make this biscoff cheesecake recipe using any of your favourite biscuits or spreads.
NUTELLA CHEESECAKE
Swap the Lotus biscuits for bourbons and add a few tablespoons of Nutella into the cheesecake mix. This will create a wonderfully smooth hazel-nutty cheesecake with a rich chocolate base.
CUSTARD CREAM CHEESECAKE
Fancy something lighter? Try creating a base for your cheesecakes with custard creams and then adding a teaspoon of vanilla extract to the cheesecake mix.
Storing / Making ahead of time options
You will need to store your cheesecake in the fridge. It is a good idea to cover it if you can to prevent it from absorbing other flavours from the fridge.
A well stored cheesecake will keep for up to 3 days. This means that you can make it up to several days in advance. I do recommend that you do not add the whipped cream and biscuit decoration until you are nearly ready to serve.
If needed you could add the whipped cream the day before but the biscuits should be added last minute or they will go soft and sad.
You can serve and eat the cheesecake chilled straight from the fridge.
Freezing no-bake cheesecake
No bake cheesecakes are ideal to freeze. You should remove the cheesecake from the tin and wrap it in clingfilm (saran wrap) then freeze. Storing it in an airtight container will add an extra layer of protection if you have room in the freezer.
To thaw the cheesecake, take it out of the freezer the day before and leave it in the fridge overnight to defrost.
I would not recommend decorating the cheesecake before freezing so this should be done once the cheesecake has thawed.
FAQS
What Flavour is biscoff?
Biscoff is a butter biscuit flavoured with cinnamon, they are light and perfect for dipping in your posh coffee. It's often described as a mix between cinnamon and cramel.
What is Biscoff and Biscoff Spread?
You know when you go to a nice cafe in Europe and they give you a single biscuit on the side of your drink? Chances are it a biscoff cookie. They're caramelised biscuits with a hint of cinnamon.
Biscoff is a brand name version of a traditional cookie called Speculaas which originated in the Netherlands. The original version was associated with Christmas and quite highly spiced. The Belgian version of the same cookie is called speculoos and is based on caramelised sugar with less spices.
This is the biscuit that Lotus biscuit is based on. So you will often hear the terms biscoff and speculoos used interchangeably.
The spread is simply biscoff cookies whizzed up with some oil to make a delicious paste. It has became very popular in the 2010s and is now a regular baking staple. You might also hear it referred to as the more generic "cookie butter" especially in the USA.
What else can I use Biscoff spread for?
Other than simply dipping in and eating it with a spoon, there are so many things you can use biscoff spread for. Cakes, traybakes and of course this delicious cheesecake.
I knew that it is a little ironic to take a spread made out of cookies and make…cookies out of it. But my Biscoff Cookies are soft and delicious. Not like the original cookies at all so they are certainly worth a try. I've also make Biscoff Chocolate Chip Cookies which are simply next level!
How many people does a 6″ cheesecake serve?
This recipe uses a 6″/15cm tin to make a fairly small cheesecake. I often find that cheesecake recipes can involve large and often expensive quantities of ingredients to make really large cheesecakes.
Making a smaller cheesecake with 8 portions means that it can be a more regular treat for a smaller family and doesn't need to be saved for a special occasion.
But that doesn't mean that you can't easily scale up the recipe to make a bigger version. If you want to make this to feed a lot more people then double or triple the recipe.
To make an 8″/20cm cheesecake, you should double the recipe. This will serve 12 to 16.
To make a 12″/30cm cheesecake you should triple the recipe. This will serve 16 to 20.
If you want to make little portions but a lot of them, try using a square tin and cutting the cheesecake into nice little squares. A little square of cheesecake is rather lovely.
Why make a no-bake cheesecake?
Simple – they're really easy as well as being creamy and delicious.
A traditional baked cheesecake is a thing of beauty but simply by their nature, they do take longer to make. They can also be trickier to master and they can crack or curdle. So I am a huge fan of the no-bake version – in fact I have developed lots of delicious varieties.
Many no-bake cheesecakes use gelatin to help set the cheesecake but I do not find this necessary. This means that this cheesecake recipe is suitable for vegetarians.
You can find my whole range in this handy roundup post – The Best No Bake Cheesecake Recipes. There is everything from fruity and boozy favourites to halloween and christmas themed cheesecakes.
Other Recipes you might like
Pin this recipe to enjoy later
Pin me for later or follow me @sewwhiteblog on Pinterest for my latest recipes and to discover my others.
Recipe
No Bake Biscoff Cheesecake
Lotus biscuits and the newer Biscoff spread are so delicious that I had to turn them into the ultimate no bake Biscoff Cheesecake. This delicious and creamy cheesecake is small but perfectly formed so it's perfect for entertaining or just as an everyday dessert. Plus it's made without gelatin and perfect to make ahead of time!
Equipment
6 inch lose bottom cake tin
Ingredients
Cheesecake
60

g

Unsalted butter

200

g

Biscoff biscuits

300

g

Soft cream cheese

60

g

Caster sugar

150

ml

double cream / heavy cream

4

tablespoons

Biscoff Spread
Decoration
150

ml

double cream / heavy cream

8

Biscoff Biscuits for decoration
Instructions
Lightly grease an 6 inch loose base cake tin. (I also added a greaseproof paper circle at the bottom to help it off the base later).

Melt the butter gently in the microwave in short bursts or in a pan on a low heat and then take off the heat, once melted so it doesn't burn.

Crush the Biscoff biscuits in a food processor, or put it in a plastic bag and use a rolling pin to break them up (my preferred method to leave them as a larger crumb).

Put the biscuit crumbs in a bowl and add the melted butter. Stir until all the biscuits are coated in the butter.

Scoop the crumbs into the tin and push down gently to make a hard layer. Place the cake tin in the fridge and leave to harden for 30 minutes while you make the cream layer.

In a bowl cream together the cream cheese and caster sugar until the sugar has dissolved and is well distributed.

Mix in the delicious Biscoff spread.

In a new bowl lightly whip the double cream until it starts to thicken.

Stir the double cream into the cream cheese mixture together.

Remove the cake tin from the fridge and add the cream cheese to the base and put back into the fridge to set for at least an hour. Longer is fine if you want to make it ahead of time for an event.

Remove the cheesecake from the tin and place on a plate.

Whisk the remaining double cream until it starts to thicken. Add a star nozzle to a pipping bag and add the cream. Pipe the cream into swirls on to the cheesecake.

Decorate with a Biscoff biscuit on each swirl of cream and serve while it's still chilled.
Notes
If you want to serve this on a warm day keep it inside the fridge or somewhere cool until you need it. Warm weather will make the cream soften.
Nutrition
Please note that the nutrition information provided above is approximate and meant as a guideline only.