Raspberry White Chocolate Cookie Traybake
This super easy to make raspberry white chocolate cookie traybake is a family favourite. The perfect bake for tea afternoons or even an easy party. food treat. This is an epic chunky cookie in a traybake.
There are fresh raspberries mixed into the cookies partnered with delicious white chocolate. Fruity and fresh fruit and rich and creamy from the chocolate. This is an easy bake and wonderful if you love a fat cookie and want an easy traybake recipe.
I think my addiction for raspberry and white chocolate anything is growing every day. Especially on lockdown they seem to have been the most easy flavours to pick up in the supermarket. Luckily for me there were.
Anyone else find it really sad to see the empty baking aisle with nothing else left. Luckily the shops are now far more stocked and things are mostly normal there.
I love raspberries. I snack on them most days. If I'm lucky I occasionally the they get used in bakes too if I can have some self control. It is definitely right and proper to snack on both main flavours while making them.
Raspberry white chocolate cookie traybake
If you love big chunky cookies you will love this. This is the ultimate bake in chunky cookies. By creating it as a traybake you keep the depth of the cookie as big as possible. It also makes it easy to make at home as you can pop it all in one tray and it's ready to cook. Once cooked divide it up and enjoy.
I love these ones with a scoop when still warm and served with a scoop of vanilla ice cream.
The cookie traybake tastes so good warm or cold. It microwaves really well, do it in 10 second bursts so it gets warm and squidgy up to a good temperature. What I love about this traybake is that it travels really well.
As soon as lockdown is done, I can't wait to use it will be great for picnics and parties. Don't forget lunch boxes too. I can't wait for a picnic with friends soon!
White chocolate traybake
White chocolate and cake go very well together. In this case the mix of cookie cake mix holds the white chocolate chips very well. They won't sink to the bottom so you get a beautiful bite all the way through.
If you want you can use white chocolate chips. Or you can take a bar of white chocolate and using a knife gently chop off shards of chocolate. Mix in and you will get a great mix of larger and smaller pieces mixed in through out.
Pin the raspberry white chocolate cookie traybake for later
My Blueberry Cookie Traybake is the perfect mix of a chunky cookie and fruity cake bake. The blueberries add such a beautiful flavour to finished traybake.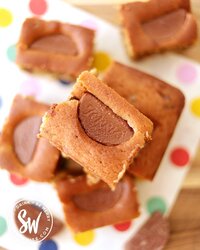 This delicious Chocolate Orange Tray Bake is a wonderful mix of an epic chunky cookie and traybake cake. Terry's chocolate orange cookie bars or chocolate orange tray bake… whatever you want to call it will become a family favourite bake that you make time and time again. Fruity and rich and creamy from the chocolate. This is an easy bake and wonderful if you love a fat cookie and want an easy traybake recipe.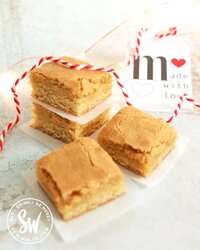 This Easy Blondie Recipe will become a family favourite bake in no time. It's the best blondies recipe that can be adapted to include your favourite chocolates or candy. A blondie is a brownie without the cocoa powder and is like a delicious chunky vanilla cookie. Explore my recipes on how to make blondies at home.
This easy Blondie Recipe is perfect picnic food, easy party food and a lovely bake to make at the weekend with children. This simple recipe will be the best thing you've baked all week! I hope you enjoy my squidgy blondies recipe.
My Mini Egg Cookie Traybake takes my cookie tray bake recipe and gives it a super Easter twist. It's pretty much a chunky cookie dotted with mini eggs.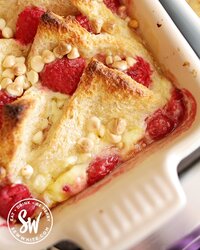 This Raspberry Bread & Butter Pudding with White Chocolate Chips recipe is wonderful twist on a classic hot British dessert. The fresh raspberries pair beautifully with the creamy custard bread pudding. This family favourite is easy to make in advance and is perfect when you want a lighter pudding with fresh flavours. So all that remains is to decide on custard, cream or ice cream?
Looking for easy Christmas cookies? Then look no further, this is the Christmas recipe for you. My Cranberry White Chocolate Cookies are my favourite bake at Christmas. The creamy white chocolate and sweet cranberries are fantastic together in these oat cookies. Cranberry and oatmeal cookies are loved by the whole family and Santa has enjoyed them too when we've left them out for him. These finished results of these cranberry white chocolate chip oatmeal cookies are Delicious Crunchy & Soft Cookies which are the perfect Christmas cookies.
Cookie Jars are a super low effort but fabulous present which are perfect as birthday or Christmas gifts for kids and adults alike. They're low cost, easy to scale up and always loved! Plus this cookie mix in a jar is long lasting so you can make them in advance with the topping of your choice. My free printable labels with baking instructions included will make this perfect gift even easier to make and super cute too!
Biscoff Chocolate Chip Cookies are delicious. Using the biscoff spread
and crushed up biscuits makes the final cookie packed full with biscoff
goodness.
Linked up to CookBlogShare this week with Recipes Made Easy
Follow me on Instagram to see what I've been making recently. www.instagram.com/sewwhite
Raspberry White Chocolate Cookie Traybake
This is an epic chunky cookie! It is my super easy to make raspberry white chocolate cookie traybake. Now a family favourite and the perfect bake for relaxed afternoons or even a party.
Equipment
9 x 9 inch square cake tin
Ingredients
140

g

unsalted butter

or a baking butter like stork

60

g

caster sugar

140

g

light brown soft sugar

(if you don't have any you can use all caster sugar)

2

medium eggs

vanilla extract

300

g

plain flour / all purpose flour

tiny pinch of salt

1

teaspoon

bicarb of soda

100

g

raspberries

100

g

white chocolate chips

3

tbsp

milk

add a little extra if the mix is really thick
Instructions
Preheat the oven to 180ºC/160ºfan. Grease and line a 9inch x 9inch cake tin.

In a mixing bowl, cream together the butter and sugar. Use a fork to break up the sugar if it's lumpy before adding to the butter.

Stir in the eggs and vanilla.

Sieve in the flour, salt and bicarb and stir together.

Add the milk and stir together.

Leave a handful of raspberries for the topping. Stir the rest into the mix along with the white chocolate chips.

Spoon the cookie dough into the pan and level out.

Stud the last raspberries on top.

Place in the oven and bake until golden brown. If you like your cookies slightly gooey take them out at 20 minutes. 20-25 minutes if you want them to be set more. Both work really well.

Serve and enjoy.
Notes
•Best enjoyed warm warm.
•They make great puddings so reheat them in the microwave for about 20-30 seconds and serve with ice cream.
•Brilliant for lunch boxes and taking on picnics.
Nutrition
Please note that the nutrition information provided above is approximate and meant as a guideline only.