Mini Egg Cookie Traybake
My Mini Egg Cookie Traybake takes my cookie tray bake recipe and gives it a super Easter twist. It's pretty much a chunky cookie dotted with mini eggs. This is a perfect Easter recipe and delicious Easter bake. It's also a great cookie traybake which travels well for picnics and parties.
After making a batch of blueberry cookie tray bake last week, to use up some blueberries, I wondered if I could make them with mini eggs. The answer is yes I blooming can and it was divine. This is a next level bake! I'm bragging because I can't believe just how really good it is.
They are super easy to make. All you need is a bowl, a wood spoon and some elbow grease to get mixing. The texture of the tray bake is like a big cookie. Chunky cookie with a gooey centre. If you don't like soft centre, bake it for a minute or two more.
Mini Egg Cookie combined with a traybake to make a truly epic bake
At the supermarkets at the moment there are so many packets of mini eggs available so I've been buying loads. I think I am becoming a tad addicted to mini eggs by this point of being home. For the cookie chop up most of the mini eggs and stir in. Using mini eggs is like using the most mega and epic chocolate chips. They give a great amount of chocolate to in the finished bake.
Mini Egg Cookie
I love mini eggs, I'm sure you've noticed by how many recipes I have with them. Usually I turned them into a big mini egg cookie that I don't have to share. Naughty but technically I'm only eating one, even if it is a one that I snack on all day.
Easter traybake recipe
I love a traybake as they are so easy to make and brilliantly easy to slice up and share. The Easter traybake is the best combo of cookie and cake studded with the delicious mini eggs. The soft centre is like a gooey cookie but the top is more like cake. They travel well and are brilliant for Easter cake sales and parties. This will definitely be a family favourite once you try it.
How do I make mini egg Easter cookie bars?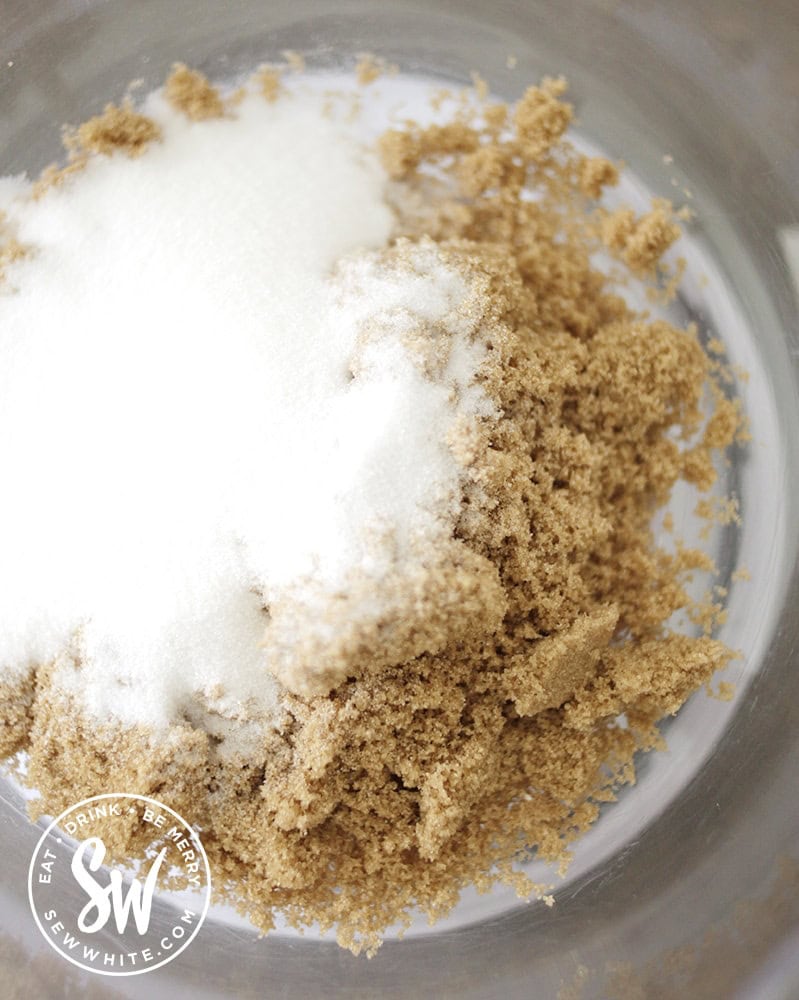 Measure out the sugars and use a fork to break down any lumps.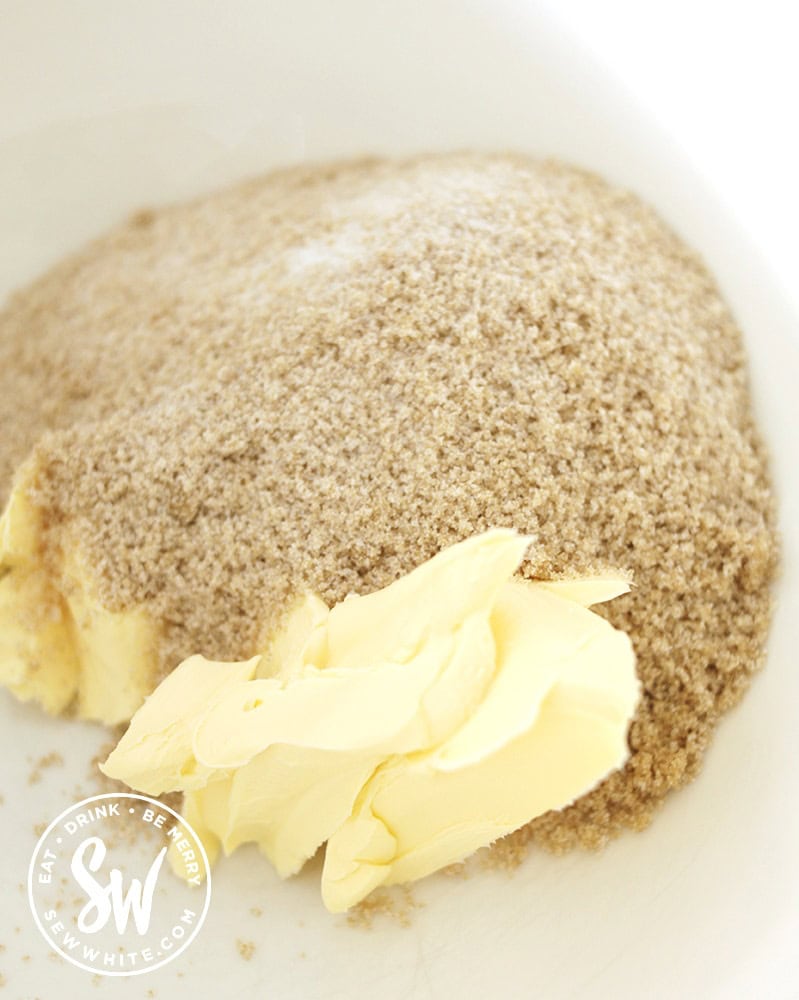 Add the sugar and the butter into a mixing bowl.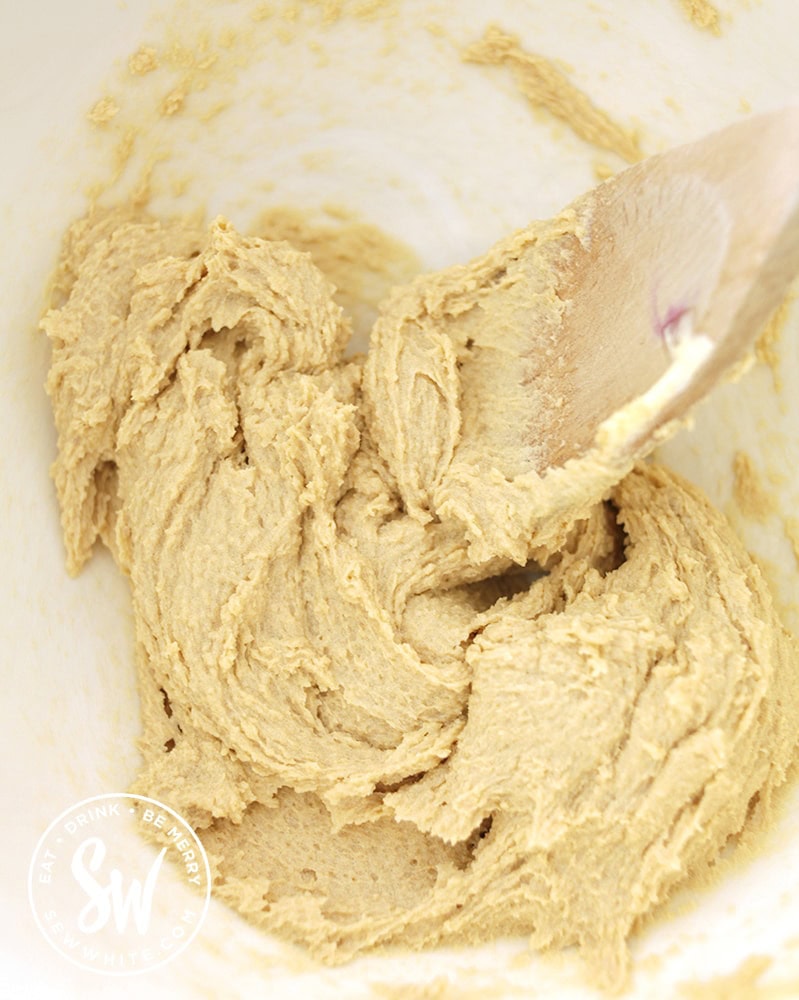 Cream together until light and fluffy.
Stir in the eggs and vanilla.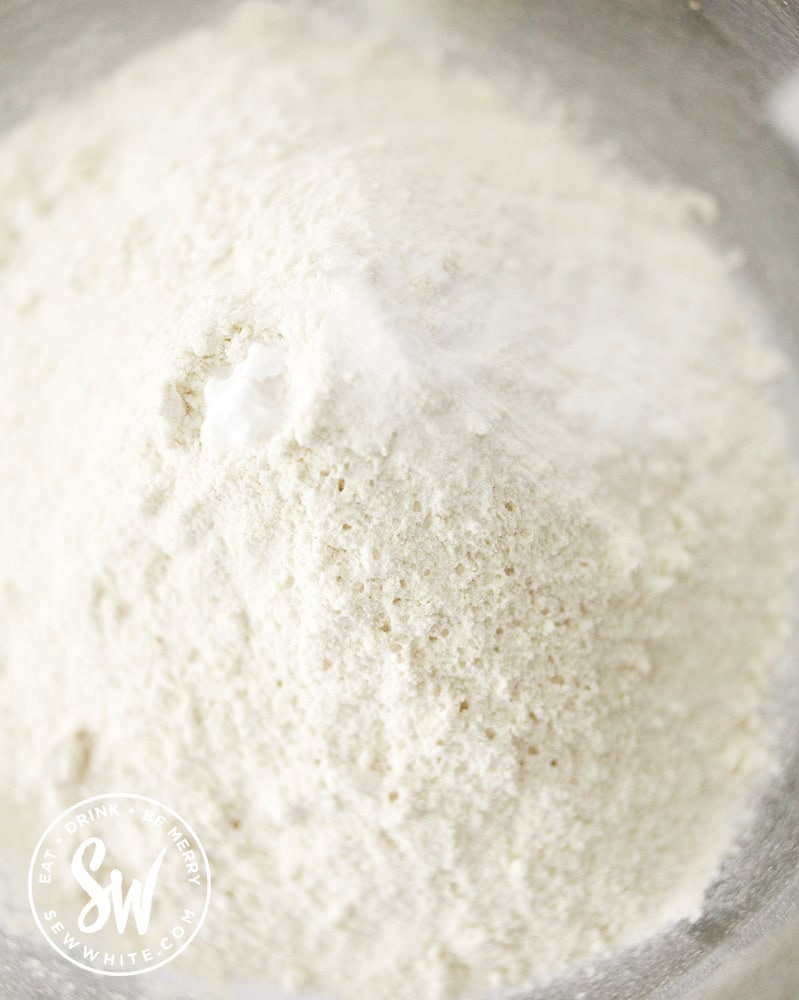 Sieve in the flour, salt and bicarb and stir together.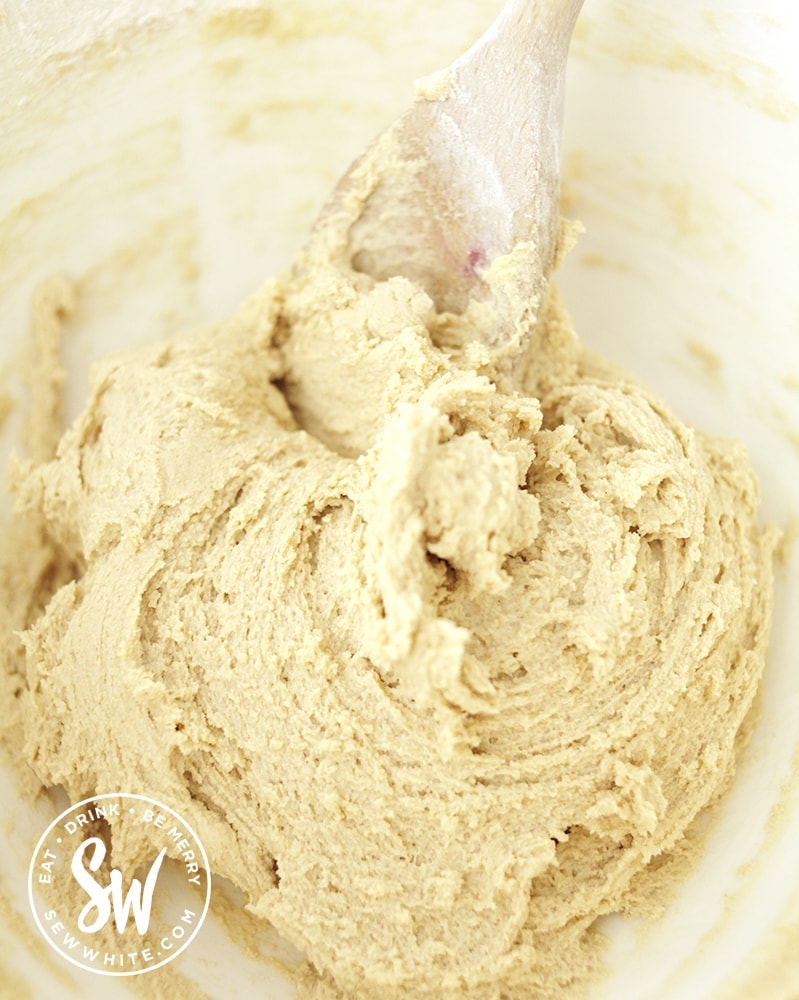 Add the milk and stir together.
Chop the mini eggs, leaving a few to stud the top of the cookie bar with.
Mix in the mini eggs.
Add to the prepared tin and stud with the left over mini eggs. Then bake.
What can I use instead of mini eggs?
If it isn't Easter of you don't want to use mini eggs you can use so many other things instead. If you would like to use white chocolate chips instead then try. Want to add some nuts or berries then lets do it! If you can imagine it in a cookie or cake it might work. It will least be a baking adventure where you can enjoy everything you make.
Really quick traybake
I love the incredible texture of this cookie traybake no matter what is mixed in. Cooking it for about 20 minutes gives the outside a delicious crisp outer layer and a soft slightly gooey middle. I'm sure you will be addicted to them too. I've already made a few new batches. These have now been popped into the freezer for later for tasty times with the family.
Freezer cookie traybake
What is so wonderful about this recipe is once cooked and cooled you can wrap it tightly in a cling film and pop it in the freezer until later. When you are ready to eat it, bring it out and allow it to defrost while still wrapped up. This will keep the moisture on the outside of cling film and stop the cookie going soggy. After freezing and defrosting they definitely enjoy a little microwave burst to warm up and taste delicious.
I love mixing in the mini eggs to the mixture. It gets me really excited about eating the finished cookie traybake. I love traybakes and if you enjoy my recipes I will happily make more. Let me know what sort of flavours you want and I will get baking.
Pin me for later
Other Cookie Traybakes to try
My Blueberry Cookie Traybake is the perfect mix of a chunky cookie and fruity cake bake. The blueberries add such a beautiful flavour to finished traybake.
This is an epic chunky cookie! It is my super easy to make raspberry white chocolate cookie traybake. Now a family favourite and the perfect bake for relaxed afternoons or even a party.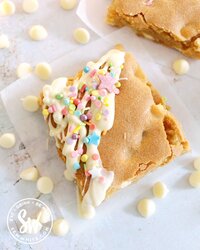 If you are looking for the best white chocolate brownies recipe you have come to the right place. These white chocolate chip blondies are so delicious and great picnic food, a lovely lunch box home-made treat and yummy party food.
White chocolate is a great flavour to add to these no cocoa brownies and keep the chocolate theme going. As well as having white chocolate chips in the blondies I have also drizzled white chocolate over the top too. Adding sprinkles is just extra bit of fun to finish off the white chocolate blondies.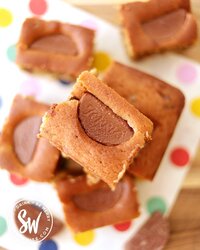 This delicious Chocolate Orange Tray Bake is a wonderful mix of an epic chunky cookie and traybake cake. Terry's chocolate orange cookie bars or chocolate orange tray bake… whatever you want to call it will become a family favourite bake that you make time and time again. Fruity and rich and creamy from the chocolate. This is an easy bake and wonderful if you love a fat cookie and want an easy traybake recipe.
Easter and Other Mini Egg Recipes
My Easy Mini Egg Pancakes are a super delicious treat for mini egg fans, with mini eggs chopped up inside and on the top. Breakfast and Brunch sorted.
These Easy Mini Egg Individual Cheesecakes are a super easy and cute way to make an Easter desserts. These no bake Easter cheesecakes are made of a vanilla cream base with chopped in mini eggs stirred in. Mini cheesecakes are so easy to make perfect for a quick dessert but also great for summer picnic food too! I hope you enjoy these individual mini egg cheesecakes.
A wonderful and beautiful show stopping Pinata Easter cake. The Duck egg blue icing is speckled with cocoa powder and when you cut in, you will find there are hidden Easter eggs inside. This Easter Pinata Cake will wow your guests and act as a beautiful centre piece for your Easter lunch.
If you love chocolate and cookies you will absolutely love my Easter Chocolate Mini Egg Cookies. Chocolate cookies studded with Cadbury mini eggs are a tasty treat and an easy Easter cookie recipe.
Who wants to make an Avocado Easter egg? I love Avocados and the chance to try making an Avocado Easter egg was just something I couldn't pass up.
These Easter Chocolate Fridge Tray Bake are always a fabulous addition to an Easter party or event. Quick to mix up and they fridge bake in about an hour.
Every time of year deserves a cocktail. For Easter it had to be a chocolate one! My rum Easter chocolate cocktail is pretty strong and can be served as a pudding too.
Follow me on Instagram to see what I've been making recently. www.instagram.com/sewwhite
Mini Egg Cookie Traybake
My Mini Egg Cookie Traybake takes my cookie tray bake recipe and gives it a super Easter twist. It's pretty much a chunky cookie dotted with mini eggs.
Equipment
9 x 9 inch square cake tin
Ingredients
140

g

unsalted butter

(or stork/baking block)

60

g

caster sugar

140

g

light brown soft sugar

(if you don't have you can use all caster sugar)

2

medium eggs

half a

teaspoon

vanilla extract

300

g

plain flour / all purpose flour

tiny pinch of salt

1

teaspoon

bicarb of soda

200

g

mini eggs

3

tablespoon

milk

(if the mix is really thick add a little extra)
Instructions
Preheat the oven to 180ºC/160ºfan/356ºF. Grease and line a 9inch x 9inch cake tin.

Measure out the sugars and use a fork to break down any lumps.

Add the sugar and the butter into a mixing bowl.

Cream together until light and fluffy.

Stir in the eggs and vanilla.

Sieve in the flour, salt and bicarb and stir together.

Add the milk and stir together.

Leave a handful of mini eggs for the topping. Chop up the rest of the mini eggs and stir in too. Be careful when chopping them up.

Spoon the cookie dough into the pan and level out.

Place in the oven and after 5 minutes remove and add the remaining eggs to the top (this keeps some on the top). Bake until golden brown. If you like your cookies slightly gooey take them out at 15 minutes. 18-20 minutes if you want them to be set more.
Notes
Best enjoyed warm.
They make great puddings so reheat them in the microwave for about 20-30 seconds and serve with ice cream.
Brilliant for lunch boxes and taking on picnics. They travel really well when wrapped up.
They also freeze and defrost really well if you want to save some for later.
Nutrition
Calories:
252
kcal
Carbohydrates:
34
g
Protein:
4
g
Fat:
12
g
Saturated Fat:
7
g
Trans Fat:
1
g
Cholesterol:
41
mg
Sodium:
91
mg
Potassium:
45
mg
Fiber:
1
g
Sugar:
20
g
Vitamin A:
285
IU
Vitamin C:
1
mg
Calcium:
44
mg
Iron:
1
mg
Please note that the nutrition information provided above is approximate and meant as a guideline only.