My Mini Egg Cookie Bars take my easy cookie tray bake recipe and give it a super Easter twist. Mini egg cookie bars are pretty much chunky cookies dotted with mini eggs. This is a perfect Easter recipe and a delicious Easter bake. It's also a great mini egg cookie traybake recipe that travels well for picnics and parties.
What's better than mini egg cookie? A whole traybake of mini egg cookie bars!
At the supermarkets, at the moment there are so many packets of mini eggs available so I've been buying loads. I think I am becoming a tad addicted.
After making a batch of blueberry cookie tray bake last week, to use up some blueberries, I wondered if I could make them with mini eggs. The answer is yes I blooming can and it was divine.
This is a next-level bake! I'm bragging because I can't believe just how good it is.
They are super easy to make. All you need is a bowl, a wooden spoon and some elbow grease to get mixing. The texture of the tray bake is like a big cookie. A chunky cookie with a gooey centre. If you don't like the soft centre, bake it for a minute or two more.
Top Questions about Mini Egg Cookie bars
How do I chop mini eggs?
What's the difference between cookies and cookie bars?
What Sugar should I use for mini egg cookie bars?
What can I use instead of mini eggs?
Why you'll love this Mini Egg Cookie bars recipe
This mini egg cookie bar family-friendly recipe is super simple and can be personalised to use your own favourite Easter chocolate!
It's no secret that I love Cadbury's Mini Eggs so making them into Cadbury Mini Egg Cookie Bars was a no-brainer.
The cookie tray bake recipe is tried and tested, it's my go-to now just follow the few simple steps and decorate with your favourite coloured mini eggs!
Ingredients
For the full recipe and instructions scroll to the bottom of the page for the recipe card.
Light brown soft sugar and caster sugar
Brown sugar is perfect for making cookie bars. It's sweeter and richer than normal sugar or caster sugar and the extra molasses just creates the most wonderful flavour in the mini egg cookie pie.
The mix of brown sugar with caster sugar creates the perfect sweet blend for your cookie bar recipe.
Vanilla extract
Vanilla extract is the seasoning to your bake. Think of it like the salt and pepper of your easter egg cookie bars. You only need about 5g or a teaspoon of vanilla essence or extract.
Mini Eggs
One of the best Easter chocolates in my opinion. The creamy chocolate centre with the crisp shell is divine. I loved adding the mini eggs to the easter cookie bars. There just so happened to be a few leftovers… so I had to try them for quality control.
How to make mini egg cookie bars – step by step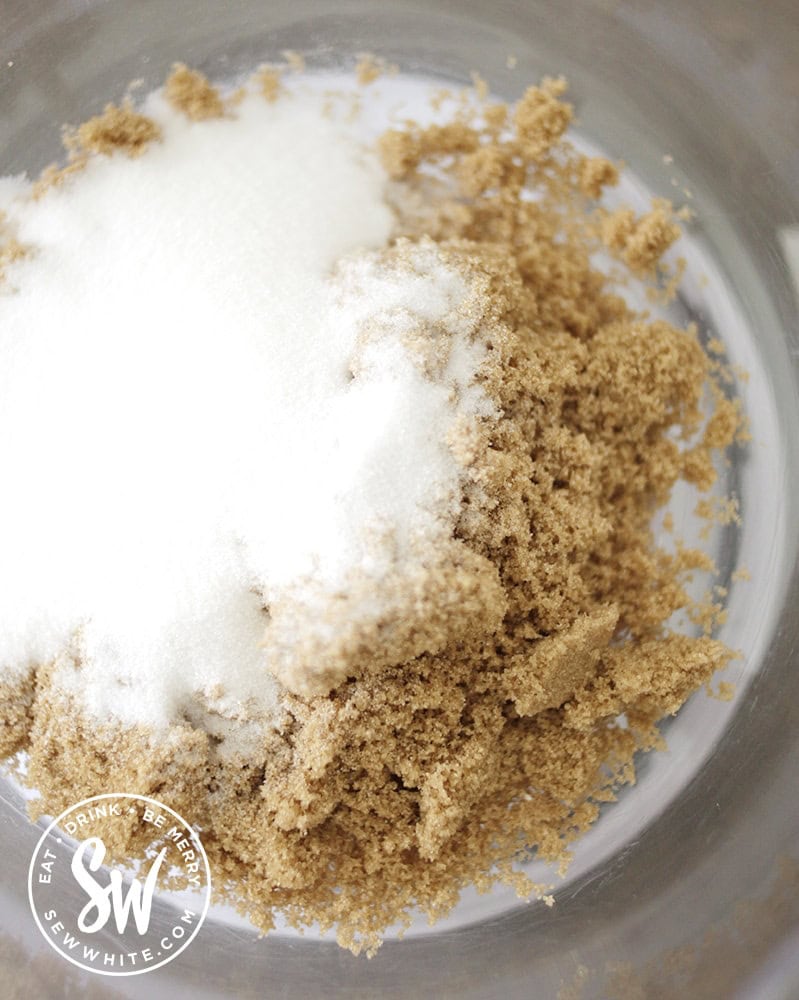 Measure out the sugars and use a fork to break down any lumps.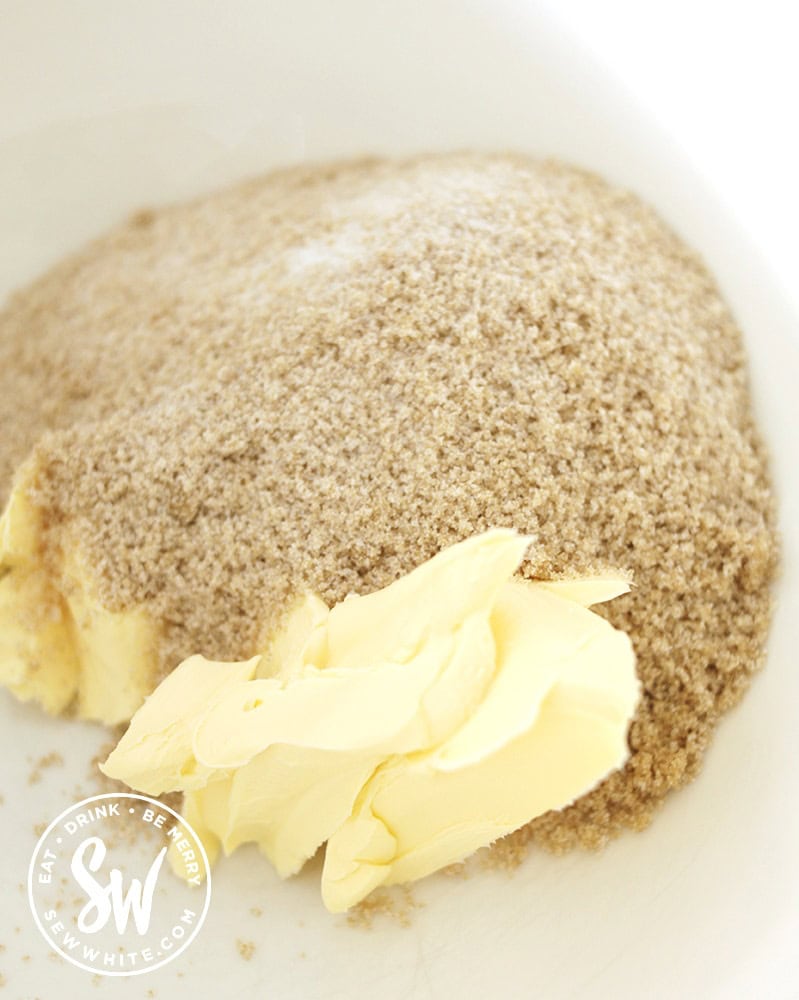 Add the sugar and the butter into a mixing bowl.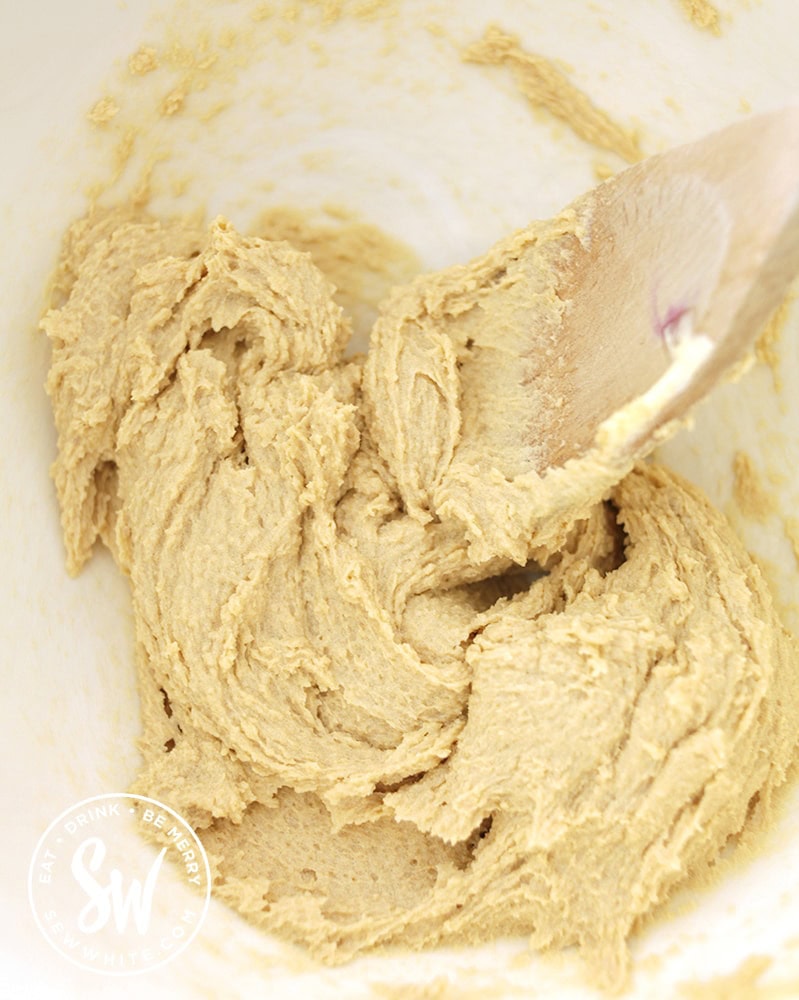 Cream together until light and fluffy.
Stir in the eggs and vanilla.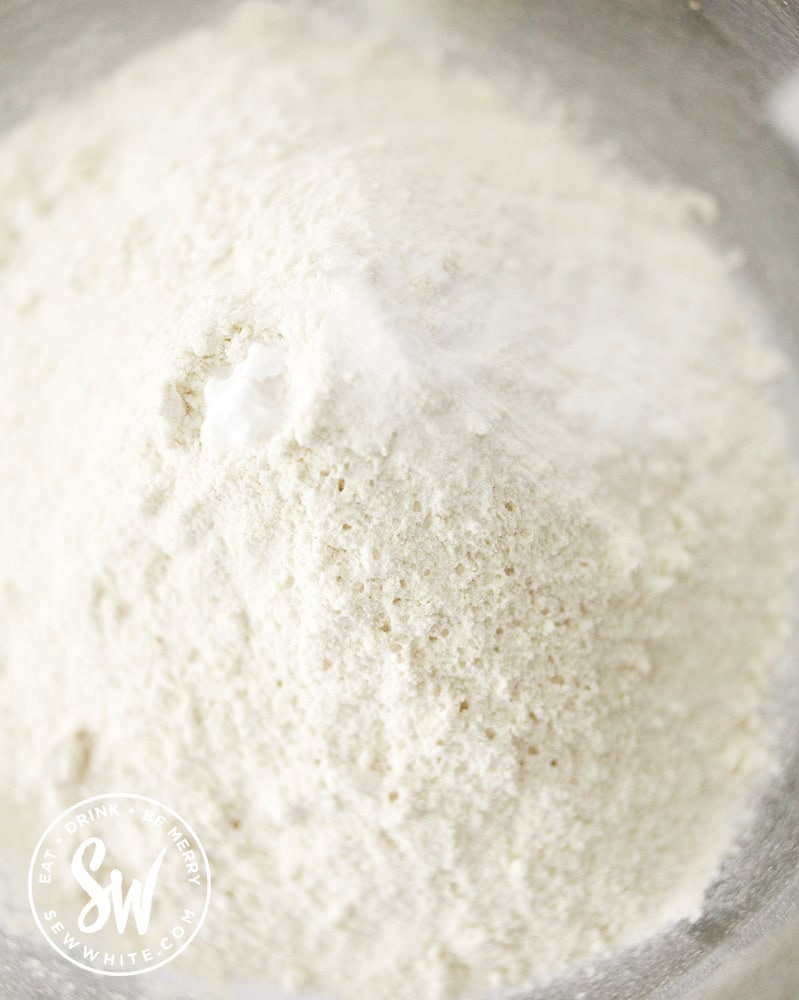 Sieve in the flour, salt and bicarb and stir together.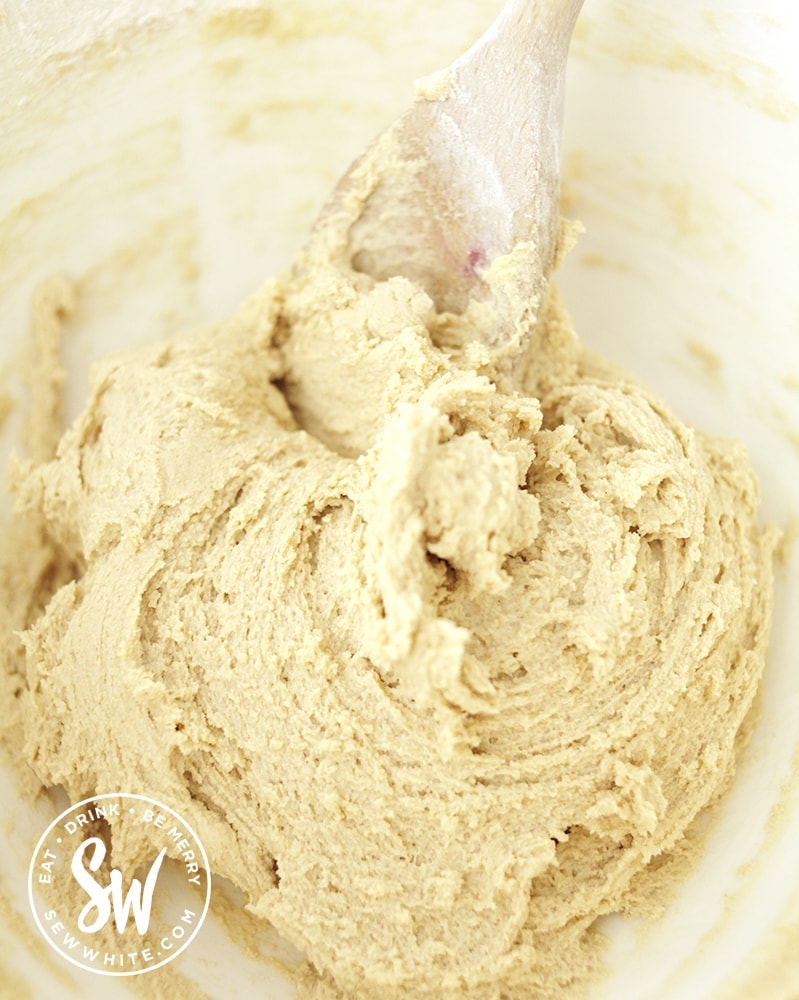 Add the milk and stir together.
Chop the mini eggs, leaving a few whole to stud the top of the cookie bar with.
Mix in the mini eggs.
Add to the prepared tin and stud with the leftover mini eggs. Then bake.
Slice when still warm and enjoy!
Really quick Easter Mini Egg Traybake Recipe
I love the incredible texture of this cookie traybake no matter what is mixed in. Cooking it for about 20 minutes gives the outside a deliciously crisp outer layer and a soft slightly gooey middle.
If you prefer a crispier cookie, you just need to bake this mini egg recipe for a bit longer.
I'm sure you will be addicted to them too. I've already made a few new batches of easter egg cookie bars and now these have been popped into the freezer for later ready for tasty times with the family later on.
Top Tips for mini egg cookie bars
Make sure your butter is at room temperature before mixing it into the mini egg cookie bars mixture. This will make your arms ache less and will create a much smoother batter also, sieving your flour will help.
Leave a handful of mini eggs out of the batter and then press them into the top just before baking. This makes for lovely decoration and you get an extra chocolate chunk!
These Easter cookie bars make excellent gifts. Wrap up a few slices and give them away for a homemade Easter gift.
Serving Suggestions for Mini Egg Cookie bars
WARM FROM THE OVEN
There is nothing better than a slice of this mini egg cookie bar warm from the oven.
If you have let it go cold you can reheat it in short 20-second sharp bursts in the microwave. I promise waiting the extra 20 seconds is so worth it for the warm cookie bars.
WARM WITH ICE CREAM
These mini egg cookie bars are best enjoyed warm from the oven with a big dollop of ice cream. Cut a big square off and enjoy as part of your Easter Sunday dessert when you've run out of Easter eggs!
WITH STRAWBERRIES AND CREAM
Summer is just around the corner and if you fancy a light and fruity dessert then try this mini egg traybake warm (20-second bursts in the microwave should do it) with cream and a few chopped strawberries. Spring may be in full swing but my heart is forever in summer picnics.
These mini egg cookie bars also travel well, so if you are having a may day picnic or just out enjoying the rare rays of sun, then wrap up the mini egg traybake squares and enjoy outside.
MORE CHOCOLATE
If unlike me, you are fed up with mini eggs then you could swap out the mini egg chocolate chips for your own favourite chocolate or any other Easter leftovers, making Easter egg cookie bars.
I love Cadbury's dark milk buttons in contrast to the vanilla cookie bars or you could go full vanilla and choose Caramac buttons to stud your cookie bars with.
Easter Cookie Bar Recipes
I love a traybake as they are so easy to make and brilliantly easy to slice up and share. The Easter traybake is the best combo of cookie and cake studded with delicious mini eggs.
The soft centre is like a gooey cookie but the top is more like cake. They travel well and are brilliant for Easter cake sales and parties. This will definitely be a family favourite once you try it.
Other Cookie Bar Traybakes you might like
Equipment
This list contains affiliate links
All you really need for this recipe is a 9×9″ square cake tin to bake your mini egg traybake in.
Of course you'll also need a mixing bowl, wooden spoon and baking parchment.
And lots and lots of mini eggs… not for the recipe, for you to snack on whilst baking.
Storing / Making ahead of time options
FREEZER MINI EGG COOKIE BARS
What is so wonderful about this recipe is once cooked and cooled you can wrap it tightly in a cling film and pop it in the freezer until later.
When you are ready to eat it, bring it out and allow it to defrost while still wrapped up. This will keep the moisture on the outside of cling film and stop the cookie going soggy.
After freezing and defrosting they definitely enjoy a little microwave burst to warm up and taste delicious.
Substitutions and variations
Swap out chocolate eggs for other chocolates
You could swap mini eggs for your favourite chocolate chips or leftover easter chocolate if you are mini-egged out! Easter cookie bars are so delicious.
Add more chocolate
You can make this even more chocolatey by taking out some of the flour and replacing it with cocoa powder. Chocolate cookie bars with chocolate chips would be delicious.
I would recommend removing 20% flour and replacing that amount with the cocoa powder.
Make these gluten free cookie bars.
You could easily make this recipe gluten-free by using your favourite gluten-free flour. It is easy to turn this GF and a gluten-free mini egg traybakes are just as delicious.
Or if you fancy something a little more chocolatey, check out my Leftover Easter Chocolate Traybake. Or if you want a more epic Mini egg cookie then try out my giant mini egg cookie.
Mini Egg Cookie Bars FAQS
How do I chop mini eggs?
First of all please note that chopping mini eggs can be tricky. As they are hard and roll around please be careful.
This is a Sew White therapy session. Keep your Mini eggs in their bag, make a tiny cut and let out the air. Then, take a rolling pin or chopping board and hit those mini eggs! This is a great way to relieve some anger. (I would recommend this is done by the adults).
Just watch out for fingers!
Breaking the mini eggs like this creates uneven chunks of chocolate which is great for the mini egg cookie bars. If you don't want to break them up you don't have to. They will be easier to cut when in the cookie bar.
What's the difference between cookies and cookie bars?
Cookies come in all shapes and sizes but mini egg cookie bars call for a slightly different recipe. These are incredibly similar to individual cookies but they have a slightly different ratio of ingredients making for a bake with more structure. Similar to a brownie!
What Sugar should I use for mini egg cookie bars?
For the best cookie bars I would suggest using a mix of light brown sugar and caster sugar. This combo makes for perfectly sweet and gooey cookies that will leave you wanting more. If you don't have brown sugar can you swap out and use all caster sugar. Just keep the measures the same.
What can I use instead of mini eggs for a cookie bar?
If it isn't Easter or you don't want to use mini eggs you can use so many other things instead. If you would like to use white chocolate chips instead then try it!
Want to add some nuts or berries then let's do it! If you can imagine it in a cookie or cake it might work. It will at least be a baking adventure where you can enjoy everything you make.
Other Mini Egg Recipes you might like
Mini Egg Recipes – Cookies
I love mini eggs, I'm sure you've noticed by how many recipes I have with them. Usually, I turned them into a big mini egg cookie that I don't have to share. Naughty but technically I'm only eating one, even if it is one that I snack on all day.
Other Recipes you might like this Easter
Pin this mini egg cookie bars recipe to enjoy later
Pin me for later or follow me @sewwhiteblog on Pinterest for my latest recipes and to discover my others.
Mini Egg Cookie Bars Recipe
Mini Egg Cookie Bars – easy mini egg cookie traybake
My Mini Egg Cookie Traybake takes my cookie tray bake recipe and gives it a super Easter twist. It's pretty much a chunky cookie dotted with mini eggs.
Equipment
9 x 9 inch square cake tin
Ingredients
140

g

(

4.94

oz

)

unsalted butter

(or stork/baking block)

60

g

(

0.3

cups

)

caster sugar

140

g

(

0.64

cups

)

light brown soft sugar

(if you don't have you can use all caster sugar)

2

(

2

)

medium eggs

half a

teaspoon

(

0.01

teaspoon

)

vanilla extract

300

g

(

2.4

cups

)

plain flour / all purpose flour

tiny pinch of salt

1

teaspoon

(

1

teaspoon

)

bicarb of soda

200

g

(

7.05

oz

)

mini eggs

3

tablespoon

(

3

tablespoon

)

milk

(if the mix is really thick add a little extra)
Instructions
Preheat the oven to 180ºC/160ºfan/356ºF. Grease and line a 9inch x 9inch cake tin.

Measure out the sugars and use a fork to break down any lumps.

Add the sugar and the butter into a mixing bowl.

Cream together until light and fluffy.

Stir in the eggs and vanilla.

Sieve in the flour, salt and bicarb and stir together.

Add the milk and stir together.

Leave a handful of mini eggs for the topping. Chop up the rest of the mini eggs and stir in too. Be careful when chopping them up.

Spoon the cookie dough into the pan and level out.

Place in the oven and after 5 minutes remove and add the remaining eggs to the top (this keeps some on the top). Bake until golden brown. If you like your cookies slightly gooey take them out at 15 minutes. 18-20 minutes if you want them to be set more.
Notes
Best enjoyed warm.
They make great puddings so reheat them in the microwave for about 20-30 seconds and serve with ice cream.
Brilliant for lunch boxes and taking on picnics, they travel really well when wrapped up.
They also freeze and defrost really well if you want to save some for later.
Nutrition
Calories:
252
kcal
Carbohydrates:
34
g
Protein:
4
g
Fat:
12
g
Saturated Fat:
7
g
Trans Fat:
1
g
Cholesterol:
41
mg
Sodium:
91
mg
Potassium:
45
mg
Fiber:
1
g
Sugar:
20
g
Vitamin A:
285
IU
Vitamin C:
1
mg
Calcium:
44
mg
Iron:
1
mg
Please note that the nutrition information provided above is approximate and meant as a guideline only.