My Blueberry Cookie Traybake is the perfect mix of a chunky cookie and fruity cake bake. The blueberries add such a beautiful flavour to finished traybake.
These are the ultimate in chunky cookies. These are about an inch thick and squidgy and gooey in the middle. Just like a proper cookie should be. I used fresh blueberries to add that gorgeous fruity flavour. It breaks up that cookie sweetness and gives a fresh fruity sweetness. It also keeps the mix moist and absolutely moreish. I love where the blueberries have turned lightly jam like in the cookie traybake.
Blueberry Cookie Traybake
This is so easy to make and it is a mix between cake and cookie. It definitely has a cookie feel but the lightness of a bake. A beautiful combination. The blueberries look great studded in the mix before and after cooking.
How gorgeous to see the blueberries vibrantly dotting the finished bake.
The cookie dough is definitely slightly thick but it works a treat.
I love how the blueberries turn from blue to rich crimson and purple tones when they are cooked. It's such a beautiful colour. You can see below the mix of the more cooked pieces and the more gooey versions. I love them slightly gooey. It's like brownies, you want them gooey in the middle. As they cool they will dry out a little but nothing bad at all.
If you love them hot pop them in the microwave and heat them and get them warm and gooey again. I love having on for pudding with a scoop of vanilla ice cream.
This is also a great picnic and lunch box traybake. It stores really well and travels well too. If you want to move the whole thing easily, remove from the tin and allow to cool and cut up. Then put back in the tin to move. It will however be strong enough to travel just on a plate.
I need to make this again. Writing it up has made me ever so ever so hungry.
Is it a cookie? Is it a traybake?
It's a happy combination of both. It is like one very chunky gooey cookie cooked in a tray to make it easier to cut up and keep them chunky. It works and now is my favourite way to enjoy cookies. Bigger and chunkier the better.
What else can I use for flavours?
If you want to have a play about with the flavours of the Blueberry Cookie Traybake then go ahead. I've added some lemon in before instead of the vanilla which worked really well with the berries. If you want to add some spices like cinnamon to make it more festive then try. It's a hugely versatile bake and can easily be adapted to your favourite flavours.
Can I use other berries?
Yes of course, I went for blueberries this time around but I have used raspberries too which work really well. I'm looking forward to autumn so I can some juicy blackberries to add in. If you love cherry you could add some cherries and dark chocolate and turn it in to a black forest cookie traybake. I think I will have to make that combo myself soon.
Linked up this weeks #CookBlogShare round up with Recipes Made Easy.
Follow me on Instagram to see what I've been making recently. www.instagram.com/sewwhite
My Mini Egg Cookie Traybake takes my cookie tray bake recipe and gives it a super Easter twist. It's pretty much a chunky cookie dotted with mini eggs.
This is an epic chunky cookie! It is my super easy to make raspberry white chocolate cookie traybake. Now a family favourite and the perfect bake for relaxed afternoons or even a party.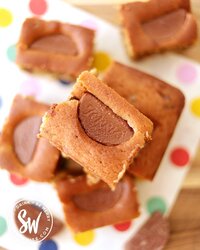 This delicious Chocolate Orange Tray Bake is a wonderful mix of an epic chunky cookie and traybake cake. Terry's chocolate orange cookie bars or chocolate orange tray bake… whatever you want to call it will become a family favourite bake that you make time and time again. Fruity and rich and creamy from the chocolate. This is an easy bake and wonderful if you love a fat cookie and want an easy traybake recipe.
These mini blueberry cake bars with almonds are a super treat – perfect for picnics and lunch boxes! They're very similar to friands – made with ground almonds and fresh blueberries. These blueberry almond cakes are a unique sweet and sharp treat!
My Summer Fruit Tray Bake is a simple lemon sponge dotted with raspberries, blackberries, blueberries and cherries. An easy tray bake cake.
Biscoff Chocolate Chip Cookies are delicious. Using the biscoff spread
and crushed up biscuits makes the final cookie packed full with biscoff
goodness.
Looking for easy Christmas cookies? Then look no further, this is the Christmas recipe for you. My White Chocolate and cranberry Cookies are my favourite bake at Christmas. The creamy white chocolate and sweet cranberries are fantastic together in these white chocolate cranberry cookies. Cranberry and oat cookies are a quick and easy bake perfect to dunk in your coffee or give as gifts at Christmas.
Biscoff Cookies I think are a way of elevating that incredible Lotus Biscoff flavour from it's delicious biscuit to something far more delicious.
Cookie Jars are a super low effort but fabulous present which are perfect as birthday or Christmas gifts for kids and adults alike. They're low cost, easy to scale up and always loved! Plus this cookie mix in a jar is long lasting so you can make them in advance with the topping of your choice. My free printable labels with baking instructions included will make this perfect gift even easier to make and super cute too!
Lemon and Blueberry Muffins are a classic recipe and taste delicious. These are a simple bake and one that you will make time and time again.
Blueberry Cookie Traybake
My Blueberry Cookie Traybake is the perfect mix of a chunky cookie and fruity cake bake. The blueberries add such a beautiful flavour to finished traybake.
Equipment
9 x 9 inch square cake tin
Ingredients
140

g

unsalted butter

or a baking butter like stork

60

g

caster sugar

140

g

light brown soft sugar

(if you don't have you can use all caster sugar)

2

medium

eggs

vanilla extract

300

g

plain flour / all-purpose flour

tiny pinch of salt

1

teaspoon

bicarb of soda

200

g

blueberries

3

tbsp

milk

(add a little extra if the mix is really thick)
Instructions
Preheat the oven to 180ºC/160ºfan. Grease and line a 9inch x 9inch cake tin.

In a mixing bowl, cream together the butter and sugar. Use a fork to break up the sugar if it's lumpy before adding to the butter.

Stir in the eggs and vanilla.

Sieve in the flour, salt and bicarb and stir together.

Add the milk and stir together.

Leave a handful of blueberries for the topping. Stir the rest into the mix.

Spoon the cookie dough into the pan and level out.

Stud the last blueberries on top.

Place in the oven and bake until golden brown. If you like your cookies slightly gooey take them out at 20 minutes. 20-25 minutes if you want them to be set more. Both work really well.
Notes
•Best enjoyed warm warm.
•They make great puddings so reheat them in the microwave for about 20-30 seconds and serve with ice cream.
•Brilliant for lunch boxes and taking on picnics.
Nutrition
Calories:
195
kcal
Carbohydrates:
29
g
Protein:
3
g
Fat:
8
g
Saturated Fat:
5
g
Trans Fat:
1
g
Cholesterol:
40
mg
Sodium:
81
mg
Potassium:
55
mg
Fiber:
1
g
Sugar:
14
g
Vitamin A:
260
IU
Vitamin C:
1
mg
Calcium:
19
mg
Iron:
1
mg
Please note that the nutrition information provided above is approximate and meant as a guideline only.